Indian vegetarian restaurant Komala Vilas looking to open outlets in East Coast, Tampines
Komala Vilas is a Singapore heritage restaurant, where PM Lee Hsien Loong and wife Ho Ching once took Indian PM Narendra Modi to dine. Amid tough times for the F&B industry, Rajakumar Gunasekaran shares what it's like to run the family-owned business, and his plans for the road ahead.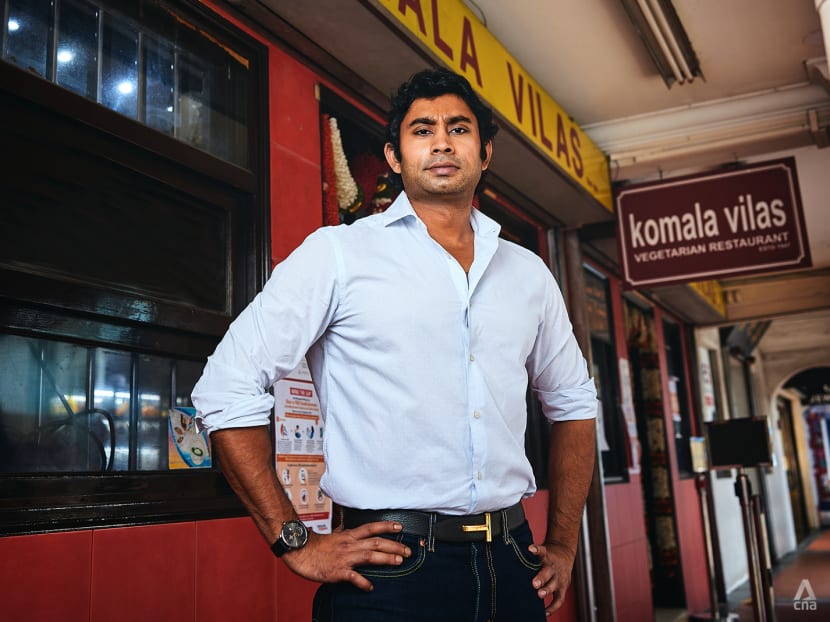 For as long as Rajakumar Gunasekaran can remember, his life has always been intertwined with the family business. "Growing up, I was very aware that my family owned a very famous restaurant. It's an Indian vegetarian restaurant, and everyone liked it," he shared.
That "famous restaurant" is none other than Komala Vilas, one of Singapore's oldest Indian restaurants. Situated on Serangoon Road in the cultural enclave of Little India, Komala Vilas is known for its delightful vegetarian fare – with dishes such as thosai, vadai, biryani, idly and more – served on fresh banana leaves. 
Gunasekaran's childhood is filled with memories of the restaurant. "I remember my mom used to drop me off with our cashier when she had errands to run. Our cashier would take care of me for hours. I would sit with her, just observing the hustle and bustle of the restaurant," the self-professed introvert recalled.
The family also operates a neighbouring sweet shop, Komala Vilas Sweets and Savouries, where Gunasekaran spent much of his teenage years. "It was always packed and when we needed more manpower, I would go down to help," he said.
The 36-year-old had always known that one day, he'd take over the family business. The Komala Vilas legacy dates back all the way to the 1930s, and its origin story is one Gunasekaran calls a true blue "Singapore success story".
In 1936, his grandfather, OM Rajoo, travelled to Singapore from his hometown in Tamil Nadu, India. He was just 16 years old then and ended up landing a job at an Indian restaurant. He worked hard, climbing his way up the ranks. In 10 years, he had managed to save enough to buy over the restaurant, renaming it Komala Vilas as a tribute to the wife of the original owner, who had taken care of him since he first came to Singapore. The restaurant was established in 1947.
After Rajoo retired, Gunasekaran's father, Rajoo Gunasekaran, took over the business. He passed away last year, at the age of 68, and Gunasekaran stepped up to take over leadership of the restaurant.
It's a job he has spent his youth preparing for. "The restaurant was always a big deal in my family. My dad worked here, all my uncles worked here. My mum joined the business as well," he said. "I have three sisters and I am the only son. And as the only son, I was expected to take over one day."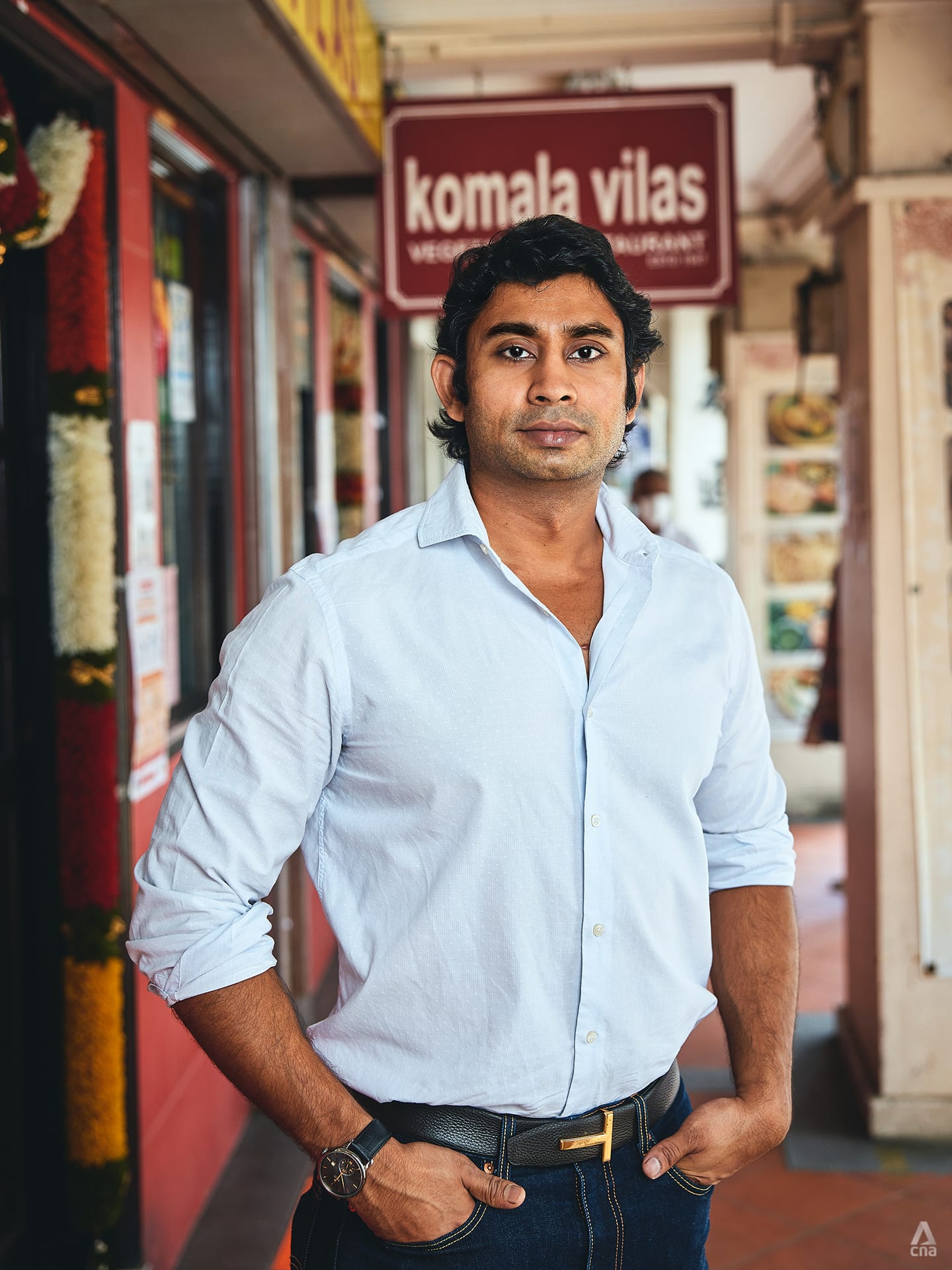 At 22 years old, straight after completing National Service (NS), Gunasekaran was called into the business to start learning the ropes. He describes the experience as a "baptism of fire". "My dad wasn't the teaching type, so I had to stand in the restaurant and observe for myself how the customers were, how the staff worked. What the food is about, its culture. It was a very steep learning curve," he recalled.
Even though he left Komala Vilas temporarily for two years to pursue his studies overseas, holidays back in Singapore were spent working in the restaurant. "I would fly in and go back to work on the same day," he said of the gruelling schedule.
Back then, he didn't even have an official title. "I was known as the boss' son, that was my title," he shared matter-of-factly. After his father's passing, he officially took on the title of Operations Director.
Gunasekaran's career path may have been laid out for him, but leading the historic restaurant is a responsibility he doesn't take lightly.
"It's our legacy and it's a big deal for my family. I have to preserve it," he believes. "I've always been aware that we are well off because of this restaurant. You can't take that for granted. You have to work hard. Even if one day I want to do something else, the restaurant has to always be one of my priorities."
STEPPING UP AMID TOUGH TIMES
Taking over from his father, Gunasakeran understands that he has big shoes to fill. F&B, after all, is a tough business. "When I tell people that I work at Komala Vilas, they think it's all fun and games. But my weekends are gone, public holidays are gone," he lamented.
The COVID-19 pandemic hasn't been kind to the industry either. As Gunasekaran puts it, "This is the worst period for most businesses, unless you're Amazon or Elon Musk."
Patrons of Komala Vilas will know that the restaurant is always bustling. Its food has been well-loved for decades, but Gunasekaran would be the first to tell you that there's no secret recipe. "If you look at other Indian restaurants, the recipe is always the same," he insists.
What sets Komala Vilas apart is the fact that it only hires trained, skilled cooks from India. These cooks start their apprenticeships as young as 12. "It's the only way we keep the taste of our food," said Gunasekaran.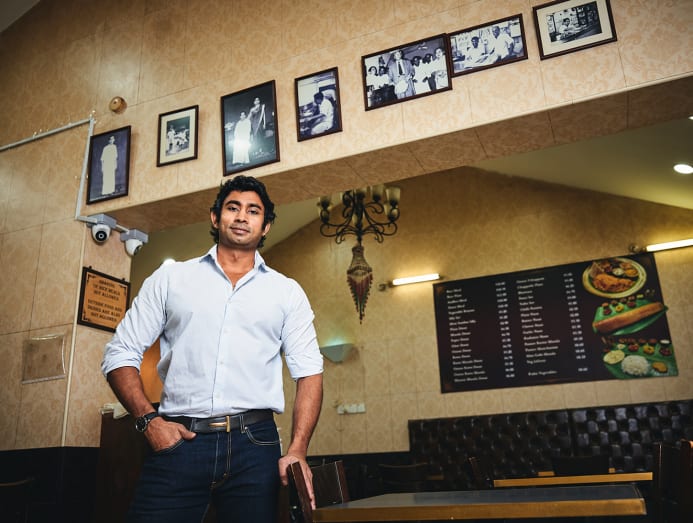 Due to the pandemic, however, this practice has been thrown into question. With borders closed, it has been difficult for the restaurant to hire staff from overseas. The lack of a tourist crowd in Little India, which used to account for 30 per cent to 40 per cent of the restaurant's business, has also led to a drop in revenue.
Aside from the main flagship restaurant, Komala Vilas previously had two other outlets, one on Race Course Road and the other on Buffalo Road. The Race Course Road outlet was shuttered three years ago due to manpower issues, while the Buffalo Road outlet closed its doors last year for the same reason.
"There is always a crowd at our main outlet, so we decided to put all our efforts and resources into this restaurant instead. But I knew that we couldn't survive on just one restaurant, so we opened Fennel," said Gunasekaran.
Fennel, a sister restaurant to Komala Vilas, is a hip, trendy eatery on River Valley Road which opened its doors in December last year. It is Gunasekaran's way of wooing the younger generation.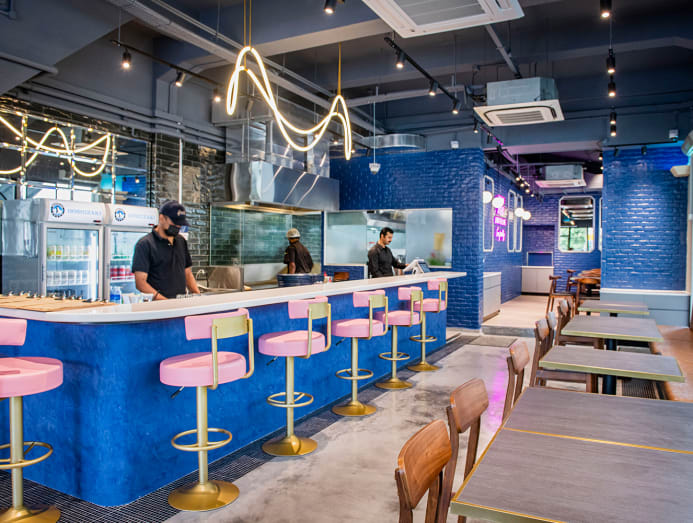 The restaurant serves the usual thosais, biryani and prata sets, albeit in a trendier setting. There is also an Indian tapas menu with dishes such as tapioca rasam pani puri, paneer chappathi roll, plant-based rasam chicken mini burger and more.
"At Komala Vilas, I noticed that the younger generation is not as into vegetarian food. So we wanted to bring vegetarian food into a bit more of a hip, trendy place, and do more fusion food as well," Gunasekaran explained. "Fennel wouldn't have happened if not for the pandemic, actually. When the pandemic hit, we knew that we had to move into urban areas where people live."  
Other ways that Gunasekaran has adapted to the pandemic is by offering Komala Vilas on food delivery platforms. "Even so, we try to do it our way. We pack the banana leaves into the boxes, just to allow our customers to bring a bit of Komala Vilas into their homes. We want to show our customers that they may be buying our food as takeaway, but we try our best to emulate the dining experience," he shared.
MEMORABLE MOMENTS
As tough as managing the business may be, there have been several highlights as well, Gunasekaran shared. One of which was the 2015 visit of Prime Minister (PM) Lee Hsien Loong, his wife Ho Ching and India's PM Narendra Modi.
PM Modi had been in town for a two-day visit, and PM Lee and Ms Ho had hosted the minister to dinner at Komala Vilas. In a tweet, PM Modi said that he had enjoyed "delicious Indian food" at the restaurant.
"A huge crowd gathered outside our restaurant on that day. It was easily a thousand, two thousand people," Gunasekaran remembers of that day. "I think that was one of our biggest highlights. I had just finished my studies overseas and returned home and a few months later, this happened. It was nice to see our PM in person as well."
Running an F&B business comes with perks for the family, too. "We did the catering for all of my sisters' weddings," shared Gunasekaran. "We had three weddings in a span of 18 months. Two of my sisters got married on the same day. I shut down the restaurant for the events and all my guys were there, taking care of the food and everything. It was a proud moment for me to cater for my sisters' weddings."
All of Gunasekaran's sisters have been involved in the family business at one point in time. "My eldest sister worked here before she went for her university studies. My second sister worked here for four years before she got married and went away," said Gunasekaran.
At present, only his youngest sister, 29-year-old Vasanthi Gunasekaran, is still involved in the restaurant as its business development executive.
FROM DAD TO SON
Speaking about his relationship with his late father, Gunasekaran admits that they "used to fight a lot". What the two had in common, however, was a love for sports.
"I used to play football all the time. I tried everything, from tennis, to swimming to basketball, but football was the one that stuck," he said. "I think I get it from my father. He was a huge sports person. He was into running and triple jump."  
When asked about the biggest leadership lesson he has learned from his father, Gunasekaran says it's the importance of treating his staff with respect. "He taught me not to be too harsh on them. If you give them a bit of respect, you will get it back," he shared. "Our business depends on our cooks, right? If they don't cook, we don't have a business. So be firm when you need to be, but most of the time, just show them respect."
What he believes he is doing differently, however, is prioritising the customer experience over profit. "I don't really follow the standard that every year, you need to make more profit. I try and do what's best for the restaurant. Are customers happy? Are customers satisfied? Can we do a bit more? Even if it costs us, if customers are satisfied, they will always come back. That's how I intend to keep going."
When the dust settles after the pandemic, Gunasekaran hopes to expand the company's footprint. While there are no concrete plans at the moment, he is looking at opening an outlet in East Coast, and another in Tampines.
"My family home is in East Coast, so I know the area quite well. It's always been a dream of mine to bring Komala Vilas there." As for Tampines, "I think there is a very big market there," he shared.
Looking back on the past year since his father's passing, does he think that dad would be proud of what he has achieved? "I would say it's too early to tell," he answered. "Maybe in another two to three years, we'll see where we are. If I open another Fennel and another Komala Vilas, I think he would be proud."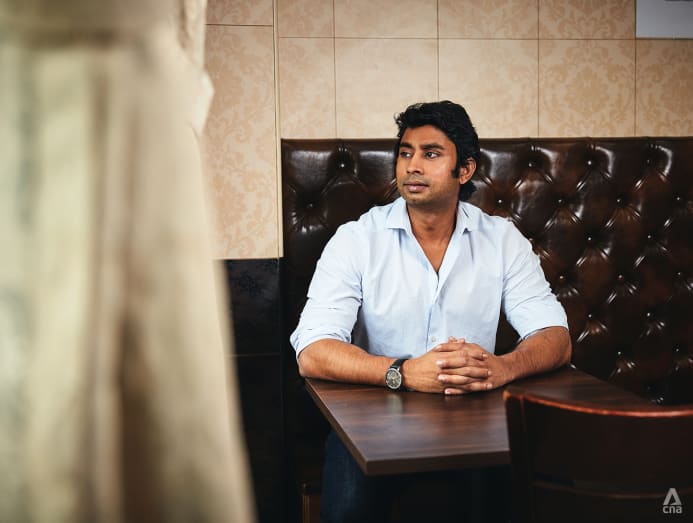 'Till then, Gunasekaran is focused on keeping the business afloat during these times, so that the family legacy will live on. "Outside of India, there are not many third-generation restaurants, especially an Indian vegetarian restaurant. But we are still going strong. I am lucky, I am fortunate. We are serving good food for a decent amount of money, and that's something I can be proud of."