How this chef turned obstacles into opportunity, one spicy dish at a time
Rishi Naleendra was about to open Singapore's first Sri Lankan restaurant. Then COVID-19 hit. But with clever thinking, this Sri Lanka-born chef found a way round the crisis.
Last February, Singapore's foodie community was abuzz with news of the imminent opening of the city's first Sri Lankan restaurant. That it would be established by Rishi Naleendra, chef and owner of feted eateries Cheek and Cloudstreet, made it even more compelling. Since he started Cheek By Jowl (now rebranded as Cheek) in 2016, Naleendra has earned a devoted following for his pleasingly unique cuisine that brings together Australian produce, modern European techniques and Sri Lankan touches.   
We all know how this story goes. COVID-19 arrived, stayed, and has changed our lives in unthinkable ways. Restaurants can barely operate under today's circuit breaker rules, let alone flourish.
But Kotuwa, it turns out, was always going to be a hit.
Despite its delayed opening (it was set to begin operations in early April at the revamped Wanderlust Hotel), Kotuwa's food has already earned much praise. In a quick turn to adapt to the situation, Naleendra conveyed Kotuwa's concept to Cloudstreet's kitchen and began selling its menu for takeaway.
"We could not have done a lot to make Cloudstreet work in a home setting," Naleendra said of his fine dining restaurant. "And even if we did, it wouldn't appeal to as wide an audience as Kotuwa does. Also, this gives us an opportunity to try out some of the things we would like to do with Kotuwa when it officially opens." 
Naleendra hopes to open Kotuwa once the circuit breaker measures are lifted, and when Singapore is ready to welcome foreign arrivals again – two Sri Lankan chefs will join him here once that happens. 
Nevertheless, ever hungry for new culinary experiences – perhaps even more so now with the stay-home mandate – Singapore's foodies have responded eagerly to Kotuwa's showcase of distinctively Sri Lankan dishes. Some, like the Kottu (from S$18), are familiar – chopped roti prata fried with chicken or jackfruit to yield a satisfying one-dish meal that wouldn't be out of place in a sarabat stall.
Others are more unique, like the Dallo Baduma (S$22), battered and fried calamari tossed in an addictive chilli butter that packs a real punch. Its heat can be tempered with a mouthful of Kaju Curry (S$16), a creamy concoction of cashews and green peas cooked in an aromatic coconut curry; or a Dhal Curry (S$8), another lush stew of red lentils flavoured with black mustard seeds that imbue it with resonant savouriness.
There is a fantastic black pork curry (S$22), not unlike vinegar-laced Goan vindaloo, braised with toasted coconut, pepper and chillies, which pairs wonderfully with the Seeni Sambol (S$8), a more-ish caramelised onion relish.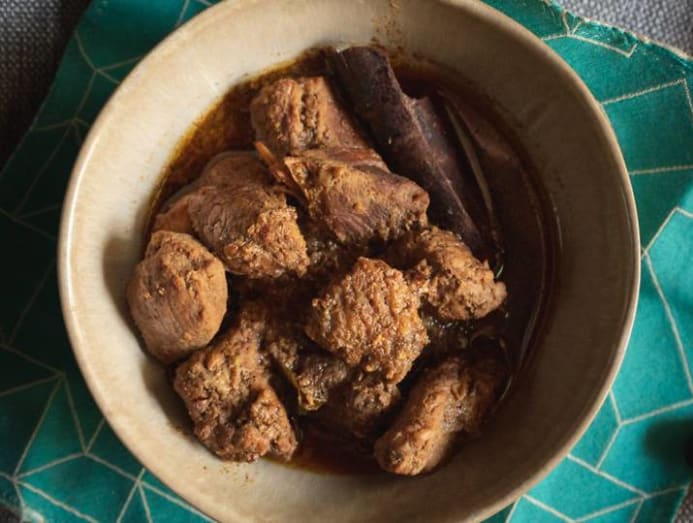 Vibrant, rib-sticking fare like this is exactly the sort of thing for enjoying in the comforts of home, grubby fingers and all. Which goes to prove that you can indeed turn an obstacle into opportunity while waiting for the tides to turn.