Not just for travellers: How KrisShop reinvented itself in a pandemic
How did Singapore Airlines' flagship inflight retailer cope when flights were halted? And how will the inflight shopping experience change now that travel is slowly resuming? We speak to CEO Chris Pok to find out.
Inside KrisShop's office in Changi Business Park, there are two TV screens mounted on the walls of its foyer. The company's CEO, 45-year-old Chris Pok, tells me that one day, he envisions seeing a live flight tracker displayed on the screens, with real-time information on flights that are generating sales, types of products flying off the shelves, and passenger profiles on who's buying them.
It's a distant dream, but it's something that the company is slowly working towards.
KrisShop is known as the flagship inflight retailer of Singapore Airlines (SIA). But in recent years, it has undergone a major revamp to reposition itself as a premium omni-channel retailer catering to both travellers and non-travellers alike.
The premise is simple – you don't have to be travelling in order to shop on KrisShop.
Leading the charge is Pok, who has spent over 20 years of his career with SIA. Pok first started out in logistics, before moving into internal audit and eventually sales and merchandising. Or as he summarised, "The first part of my career, I spent money, then went into checking how people spend money, and the rest of the time, figuring out how to earn that money back."
Pok's career in SIA also included overseas stints in Australia, Indonesia, China and other locations, before he returned to Singapore in 2017. When KrisShop was established as a separate subsidiary in December 2018, Pok took on the role of CEO (or shopkeeper, as he indicates on his LinkedIn profile).
"At the time, what we were seeing was that the traditional airline travel retail model has not changed for a long, long time," shared Pok. In a sum, the model revolved around a sales catalogue, which isn't updated for three months, and an inflight sales cart that is limited in space, Pok explained. "There was a huge mismatch in demand and supply."
At the same time, the company observed that over the years, sales on KrisShop's website kept growing, especially after KrisFlyer Miles was introduced as a payment option in 2015.
Understanding that there were opportunities in the online space, the company then spent two years on an extensive brand revamp, culminating with the launch of a new KrisShop e-commerce website, unveiled in August 2019.
AGILITY IN CRISIS
On hindsight, the decision to rebrand KrisShop as a holistic omnichannel platform boded well for the company.
After its rebranding, the company hit a record high in sales in December 2019, but not long after, the COVID-19 crisis struck, effectively upending the entire travel industry.
"We were looking forward to 2020 with great hope. But then came January 2020, the first sign that something was happening. February and March rolled around, and that's when we hit a low," Pok recalled.
SIA had begun cutting back on flights, leading to a slowdown in KrisShop's inflight sales. "The majority of our customer base was passengers. At that point in time, we had to make a decision – do we close down and go into hibernation while waiting for business to restart, or do we look for other opportunities? We knew that we couldn't go into hibernation because we didn't know how long this crisis would last."
With KrisShop.com already fully operational, the team made the decision to channel all its efforts online. "We came to the important realisation that hey, our customers are still around. They're just not passengers. They may be landbound, but they are still our customers," said Pok.
"We knew that we couldn't go into hibernation because we didn't know how long this crisis would last." – Chris Pok
A GO-TO LIFESTYLE PLATFORM
In the face of a crisis, KrisShop pivoted quickly. The company embarked on a rapid expansion of its assortment of brands and products, at the same time sharpening its home delivery strategy so that customers could receive their orders as early as possible.
So, what can shoppers purchase on KrisShop.com now? Well, it's an extensive range of lifestyle products, from health supplements, work desks, bicycles, kitchen appliances, toys, pet food, bedding, smart watches, mobile phones and more.
Pok shares that the platform's bestselling products thus far have been a reflection of the immediate needs of its customers. With COVID-19 bringing the importance of wellness to the fore, "I can see a lot of people buying stuff that helps them maintain their state of happiness, for example, Banyan Tree spa products and essential oils," Pok said.
"I have also personally tried LED face masks and I realised why they are really worth buying because they really give you that 10 minutes of Zen," Pok quipped.
Fitness products such as yoga mats and golf watches have also been popular on the platform, along with ergonomic chairs and gadgets to aid in working from home.
"When homebased learning is implemented, we also see a lot of toys sell," Pok added. Pok himself purchased several activity kits for his seven-year-old daughter during this time, including the reusable Colour Me Mats. "It gives children repeated happiness because they can wash and redo their colouring again, and you get 30 minutes of your own time," he said.
FINDING A NICHE
To stand out in a competitive e-commerce landscape, KrisShop launched a series of concept stores, with products curated according to themes. The KrisShop@Home concept store, for example, was launched during the pandemic lockdown for shoppers to browse a selection of products catered towards elevating the stay-home experience.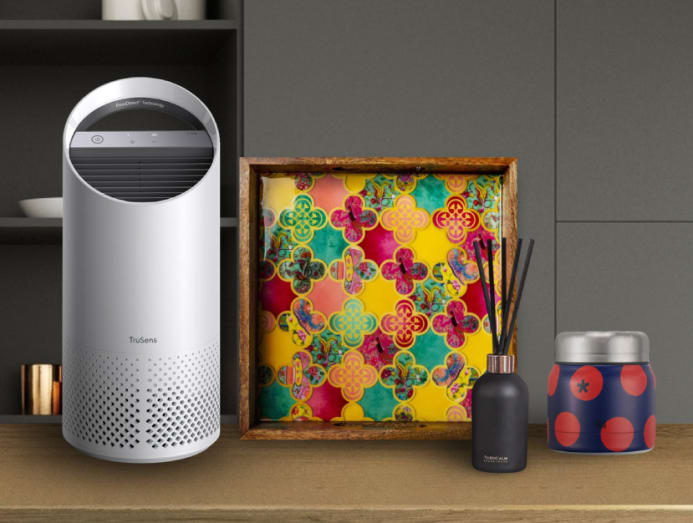 With Singaporeans stuck in their home country, the KrisShop Moments concept store aims to entertain with floral arrangement workshops, dining experiences, spa treatments, diving classes and more available for purchase.
The With Love, SG concept store, on the other hand, was launched to support and champion local brands.
"From my experience, when you live overseas, you tend to miss home. When you miss home, you talk about products that you can buy from home," shared Pok. "When I came back [to Singapore] and started running KrisShop, I realised that we can do a lot more for our local brands. We created the With Love, SG concept store to use our platform to help interesting local brands match up and meet a global customer base."
KrisShop now has more than 140 local brands listed on its platform, spanning food, fashion, accessories, health, beauty, home and living. Brands include Fossa Chocolate, Golden Duck, Bynd Artisan, Janice Wong, Palola and more.
In addition, the company has signed a three-year partnership with the Singapore Tourism Board to jointly market homegrown brands and grow their e-commerce reach. KrisShop.com is also the exclusive e-commerce platform for Design Orchard.
Meanwhile, the Batik Label by KrisShop concept store features a curated selection of exclusive products featuring SIA's iconic batik design.
The limited-edition Singapore Airlines mahjong set created quite a bit of buzz when it was launched in December last year. It sold out within two weeks.
Fans of the batik print can look forward to more of such unique products in the coming months. "The mahjong set really took us by surprise. That gave us a lot of encouragement and a lot of opportunities to work with brands [to co-design products]. We have a lot more lined up, which will be launched towards the end of the year," teased Pok.
LEVELLING UP THE INFLIGHT SHOPPING EXPERIENCE
Now that Singapore has launched more Vaccinated Travel Lanes (VTLs) with several countries including Germany, South Korea, the UK, France, Italy, the Netherlands and others, Pok believes this marks a "much-needed turning point for the travel industry". "We take an optimistic view on the development and are of course hopeful about its potential to spur the recovery of leisure tourism-related retail," he said.
However, the company remains "cognisant that the initiative is in its early stages". "We're keeping our ears to the ground and are prepared to meet travellers with a renewed in-flight experience once they start boarding planes again, and are, at the same time, also focused on engaging consumers who remain landbound," Pok commented.
What SIA passengers can look forward to on board, however, is a new live online inflight shopping experience launched across its A350 fleet in June this year. In a world-first, KrisShop.com is now directly connected to SIA's KrisWorld inflight entertainment system, allowing customers to shop the site's wide array of products while on board, with live updates on product availability and credit card authorisation.
They can then choose to have their purchases delivered directly to their homes or to their next SIA flight, delivered 60 minutes before departure from Singapore.  
While flights were halted, KrisShop also looked into upgrading its sales carts into smart carts by equipping them with RFID technology. "In the past, we needed 45 minutes to pack the sales cart. By bringing RFID into the picture, we are now able to shorten the time down to 15 minutes," Pok explained.
This also gives the company the ability to change the composition of its smart carts to meet different passenger profiles on different flights. While the smart carts are already ready for launch, the exact period is dependent on when the inflight duty-free trolley service is allowed to resume, having been halted during the pandemic, the company said.
'WE ARE NOT LIKE THE PREVIOUS KRISSHOP'
On a personal level, now that more VTLs have been launched, Pok is looking forward to travelling again. Which countries is he excited to visit?
"Personally, anywhere would be great!" Pok shared. "I imagine just stepping through the cabin doors and being greeted by our friendly crew colleagues will evoke strong emotions for me."
On a business level, Pok shares that now that travel is slowly resuming, "I hope to entrench in our customers' minds that you can buy quality products, exclusive merchandise and beautifully designed batik-related products from KrisShop, and you can buy those items whether you are travelling or not," he said.
"We are not like the previous KrisShop that is one-dimensional, where we could only sell to customers when they were flying," Pok added. 
Moving forward, KrisShop remains committed to enhancing its shopping experience. "We are very fortunate to have a strong brand that we have inherited from our mothership, but we cannot purely rely on this. We have to build our own achievements, we have to find our own niche and we have to build our own engagement with our customers," Pok believes. "Of course, we cannot let the brand down."
"We're keeping our ears to the ground and are prepared to meet travellers with a renewed in-flight experience once they start boarding planes again." – Chris Pok