How Kwong Cheong Thye's fifth-gen scion is modernising his family's 131-year-old soya sauce business
Alvin Choo, the 29-year-old co-owner of soya sauce manufacturer Kwong Cheong Thye, believes stability for his family business will only be achieved through innovation.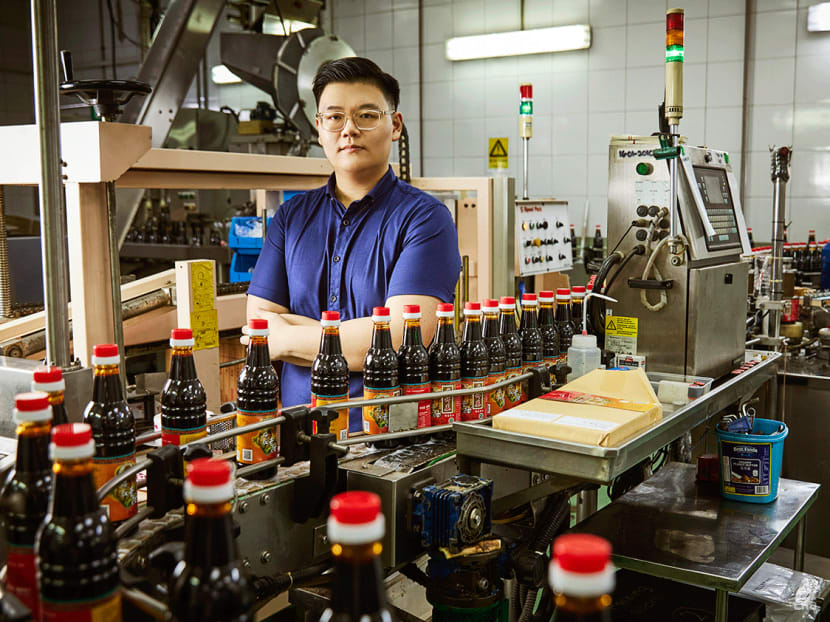 Gourmands who have dined at Singapore's Michelin-starred Chinese restaurants, or at its popular Chinese food chains, are likely to have tasted Kwong Cheong Thye's (KCT) soya sauce.
According to the company, its signature soya sauces are used by more than 90 per cent of the top hotels and restaurants in the country, including the likes of Summer Palace, Peach Blossoms, Crystal Jade, Putien and more. Its products are also distributed globally, with China and Dubai being its two biggest overseas markets.
It is an achievement that its fifth-generation co-owner, 29-year-old Alvin Choo, doesn't take lightly. Soya sauce, he believes, is the "soul of a dish". "Although it's not the main star, it's a very important ingredient that complements a dish. We have to keep giving our best," he said.
Over the course of 131 years, Choo's family has perfected its soya sauce recipe. But the young boss is determined not to let the company rest on its laurels, and is constantly looking for ways to innovate.
FERMENTING A LEGACY
KCT's roots date all the way back to 1892, when its founder Choo Cheong Chan left China for Singapore. He set up the first Kwong Cheong Thye site in Jalan Sultan, manufacturing soya sauce for food suppliers.
The business has since expanded into manufacturing chilli sauce, sesame oil, oyster sauce and more. Its product range also includes noodles, dim sum skin, mooncakes and food pastes such as chilli crab, laksa and Hainanese chicken rice.
Choo, the second child of three siblings, has fond memories of helping out with the family business in his younger days. "In primary school, we would come to the warehouse to help pick up stocks. That was a good experience because we got to learn more about the products we have," he recalled.
Choo would also visit the family's retail shop in Geylang, serving customers and "helping aunties bring their goods to their cars". Tagging along with his parents to trade shows overseas were also par for the course. Then there were family dinners at their customers' restaurants, where he learnt the importance of maintaining relationships and listening to feedback from chefs.
His parents, meanwhile, encouraged him to explore his passions outside the business. In his schooling years, Choo took up various internships, including working as a PA at a production house and doing marketing at a radio station.
It was filial piety that eventually drove him back to the family business. "I saw that my parents weren't getting any younger and they would have to keep working until we decided to take over the business," he said. It helped too, that Choo has always had a passion for food, he laughingly confessed.  
Choo formally joined the family business straight after completing his National Service (NS). His older sister helms the administration department, while his younger brother looks after operations. Choo, on the other hand, takes care of product development and marketing.
Naturally, stepping into a heritage business, Choo had to earn his stripes. He started out by learning about the process of making soya sauce – "there's a batch of KCT soya sauce made by me" – and spending long hours shadowing the company's general manager.
"I sat with her in her office for a good five to six months, just looking at how she works from day to day," Choo recalled. At the same time, he took notes of what the company could improve on. "I wouldn't say anything was wrong. Everything worked in the past, but how could we make things better, easier and more efficient?"
'EVERY GENERATION HAS ITS OWN STORY'
Choo's determination to ensure his family business keeps up with the times is palpable as he talks about the new ways he is modernising the company. "To be a five-generation heritage brand doesn't mean that we have to be very old school," he quipped.
"I always say that every generation has its own story," he shared. "The first generation of Kwong Cheong Thye set up the company, the second generation continued running it and ensured its transition. The third generation, which was my grandfather's generation, started working with the top hotels and restaurants in Singapore. And with my parents, the fourth generation, they started exporting our products worldwide."
Priorities for the fifth generation, Choo continued, are automation, digitalisation and product innovation. The company recently expanded its single storey production facility in Senoko into a five-storey building, with state-of-the-art machinery for every stage of the soya sauce making process, including packaging. The rationale is two-fold – first, to improve productivity and second, to meet the demands of local and global customers.
"Automation should be efficient; it should be effective. We cannot stick to the traditional way of doing things. Automation can help us to come up with consistent, good quality products," Choo said.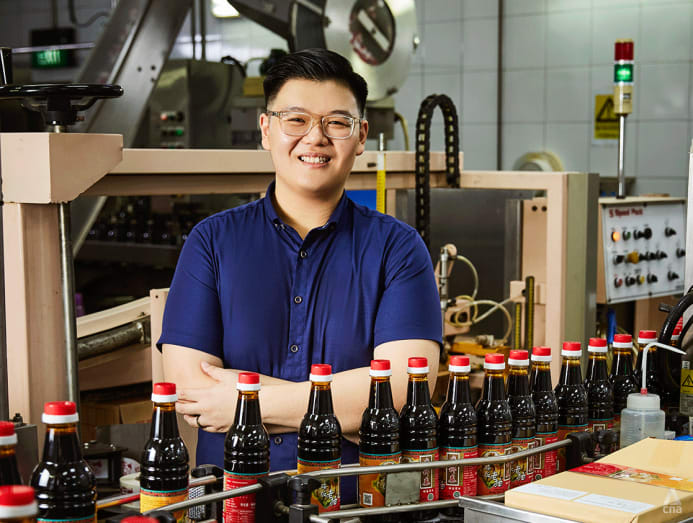 The pandemic also led to the creation of KCT's e-commerce store. "When the circuit breaker was announced, we actually didn't have our own e-commerce platform. So we created a Google form, listed our products, and people started buying from there," Choo recalled. The Google form has since translated into an online store on the company's website.
While the business has been traditionally B2B, Choo wants to reach out to more consumers. He spearheaded the launch of KCT's social media platforms on Facebook, Instagram and even TikTok as a way of engaging a new generation of customers. "We have to move with the times in how we market to people," Choo said. "We can no longer say that our target audience is housewives from the older generation. Soya sauce is a product that can be used by everyone, which is why we are reaching out to younger families. We now have smaller bottles, which are easier for them to use."
The company will soon roll out more products, including "zi char" pastes focused on convenient cooking for the modern family. "We have the technology and machinery here, so why not make more sauces," Choo mused. It's important for the company to contribute to Singapore's food security, he added.
"We have a lot of Singaporean products here. Some of us believe that products from Europe or Japan are good. But we also have some pretty good products here too. That's our role, to help our consumers understand more about our locally made products."
"To be a five generation heritage brand doesn't mean that we have to be very old school."
FAMILY TIES
Choo calls it an "honour and pleasure" to be at the helm of a 130-year-old heritage company. "My parents, and the earlier Choo generations, created a very good business for us. It's stressful because we are a relatively big business and we are growing. We don't want to fail by doing too much, but what my siblings and I are doing is helping the company move forward so that we are not stuck in the past. That's how companies die off, when they hit a plateau and don't do anything about it," he said.
To decompress from work, Choo enjoys cooking, photography and spending time with his wife and two-year-old daughter. Learning about the fermentation of soya sauce has also led him to develop an interest in other forms of natural fermentation, such as wine and kombucha.
Pressure may be inevitable when leading a historic business, but Choo need only draw inspiration from the name of his family's business to be reminded of its mission and purpose. While it was common for entrepreneurs in the 1800s to name their businesses after their family name, KCT's Chinese name – "Guang Xiang Tai" – is derived from Mandarin phrases that mean vast ("guang da"), prosperity ("ji xiang ru yi") and stability ("wen ru tai shan"). The latter holds the most meaning for Choo.
"Different generations will have different perspectives as to what stability means. To my great-great-grandfather, stability meant to have a good, solid business, just making soya sauce. But for our generation, we believe stability is achieved through innovation. We have to grow the business in order to be stable," he mused.
And when it comes to succession plans, "we wish [for the company] to always stay in the family, but we are always open to anything", Choo shared. "The most important thing is that the legacy of KCT goes on. If it's someone in the family [leading it], then that's better. That way, we'll always have a Choo at the helm."
"Different generations will have different perspectives as to what stability means. But for our generation, we believe stability is achieved through innovation."