Why Lady Gaga keeps her nine Grammys and Oscar in her 'kitchen area'
And also on a shelf "that leads to the bathroom". It's so that the pop icon can remind herself of the fruits of her labour when she wakes up every morning.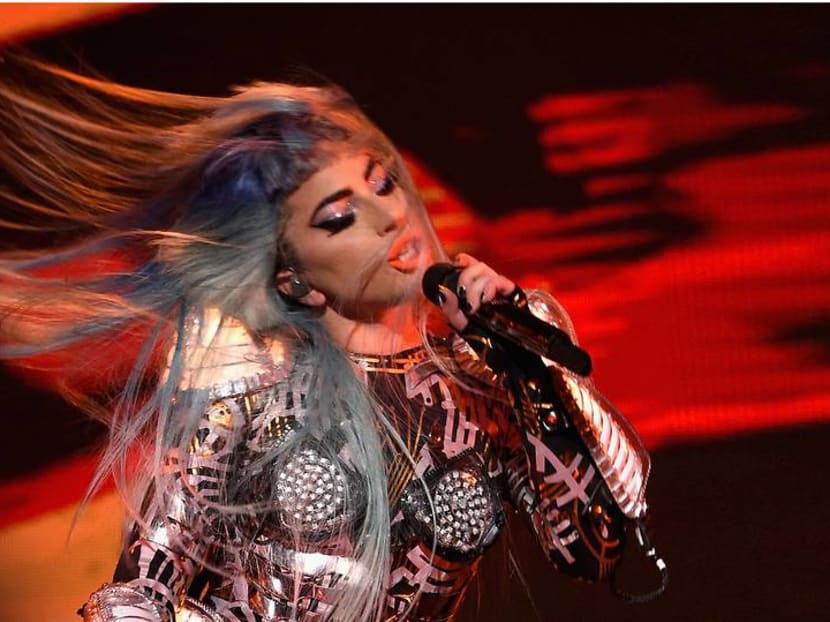 Las Vegas, Lady Gaga will have you know, is not a town where performers past their prime wind up for one last hurrah. "I wanted to sort of eliminate this idea that Vegas is where pop stars go to die," she told a select group of global media gathered at a press conference in Vegas's Waldorf Astoria hotel one June afternoon.
The pop icon was vehemently defending her two-year residency at the Park MGM Las Vegas that began on Dec 28, 2018 and runs until May 16, 2020. There, she performs two shows: Enigma, an anthology of her greatest hits, with all its attendant theatricality; and Jazz and Piano, a classic Vegas-style production with show tunes, jazz standards and pared-back versions of her popular songs.
Dressed in a sleek black Celine pantsuit, and with her platinum blonde hair pulled back in a bun, she continued: "I didn't want to show up in Las Vegas and just do what I've done before. I really always want to push and push the limits."
That was readily apparent in both her performances, which CNA Luxury attended the weekend prior at the invitation of Tudor, the brand of timepieces that Gaga represents. In Enigma, she seemed intent on overwhelming the mostly 30-something audience with her slick dance moves, painstakingly choreographed sequences, laser-and-pyrotechnic displays, and an interactive AI segment.
"I speak to 'myself' throughout the show … and that was scripted. I went off-script a couple times when we were doing the motion capture of my body, and it enhanced the show, but that was all scripted out and designed very particularly for Las Vegas," she explained.
And while her foray into jazz might seem at odds with her highly cultivated pop persona at first, it's actually a throwback to her childhood – fans often overlook the fact that she began playing piano at the age of four. "I came to Vegas, and I sort of said to myself, why only offer one part of what I do when there's this other thing that I've been doing since I was a little girl, which is jazz music? And why wouldn't I bring all of the weapons in my arsenal with me to tackle this town?"
The audience of 50- and 60-somethings surely approved; they lapped up every second of her uptempo revue, which culminated with a special guest appearance from Tony Bennett (the pair first collaborated on 2014's Cheek to Cheek).
Unconventional though her decision was, there was some initial trepidation.
"As a white woman singing jazz, I have tremendous respect for the genre of music, as it is a genre that was birthed by the African-American community, and out of New Orleans specifically from the rhythm-and-blues and ragtime movement," she said. "And I was very nervous about it because I wanted to make sure that the show is really a true representation of jazz and not a spin on it in a contrived way or in a way that took away from the real, true cry for freedom that is in jazz music."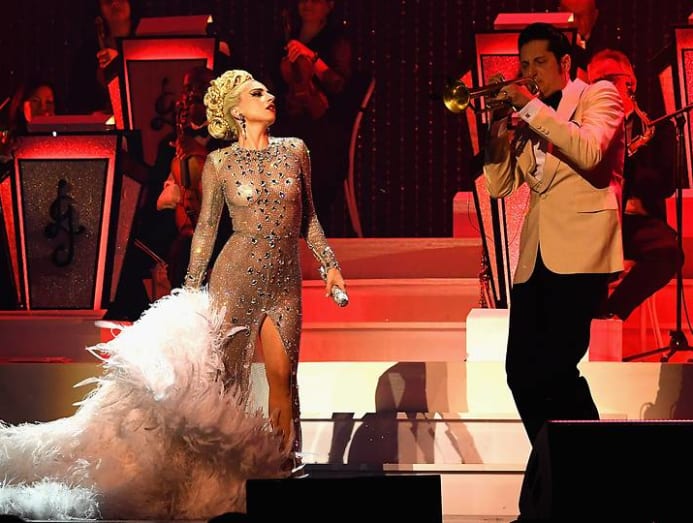 You read that right: Lady Gaga does get nervous. This, in spite of her showman persona (which, in hindsight, seems thoroughly suited to Vegas culture) and decade-long success (come Aug 19, it will be 11 years since she debuted The Fame). Not to mention the tremendous year she's had: In 2019, she became the first person to win an Oscar, a Grammy, a BAFTA and a Golden Globe – for the soundtrack to A Star Is Born and its lead single, Shallow.
In May, she virtually stole the show at the Met Gala – which might as well have been renamed the Met Gaga, considering its Camp theme. And, just days ago, she announced a new line of cosmetics, Haus Laboratories, that will launch in September on Amazon.
"Oh, yeah, I get nervous. Well, you know, I was inventing Enigma during award season, so that was a challenge. But I have the Haus of Gaga, which is my collective creative artistic team, and we're quite an interesting machine. I'd like to think I've achieved my dreams of being a bit of an Andy Warhol in my life. There's a lot of blackboards all around us with mood inspiration, everything from fashion to choreography to stage design to feeling, storytelling."
And what of being so accomplished in 2019?
"I haven't quite digested it all yet. I've been doing so much that I don't have a lot of time to really let it sink in. But I have my nine Grammys and my Oscar and my other awards that you just mentioned, I have them sort of in the kitchen area and also on a shelf that leads to the bathroom. So, when I wake up, and I go into the kitchen, I once in a while will just glance up at those awards, and I go, hm, wow, okay, you did that. 
"But the truth is that the reward is in the creative process, for me. And those were things I always dreamed of, but I've grown, and I've become the artist I always wanted to become, and that is an artist that loves to create and loves the process, and that's also something that Tudor loves."
The brand, Gaga said, has never given her any creative pushback, a fact for which she is thankful. "They were like, 'we want you to be who you are'. In this industry, sometimes people just want to use your face and use your fame to sell a product, and that is not at all what this is. I'm working with people that celebrate who I am and don't try to change me to sell their company. As someone who's been in this business for a while now, it's a rarity, and it's a diamond."
During the Jazz and Piano show, she revealed to the audience how she never stopped being true to herself, and how she never sought fame for fame's sake. ""I was talking with my friends the other day, and I sort of had this breakthrough. I never ever was trying to make it, thinking, 'won't it be great if I make it and become really rich and live in a mansion and have all these perks and luxury'.  
"And here I am in Vegas, and I'm sitting next to an Italian fountain with people serving me, and I'm looking at my best friend going, 'how the f-hell did we get here?' Because, you know, we used to sit on street corners, on stoops of somebody else's house, talking with our friends and just hanging out, and that's really who I truly am.
"The truth is that I felt famous before I was ever famous, and that was because I, within myself, was like, 'I've got this like musical talent and I can sing and perform', and I was famous on the inside. And it was like a collective fame. Me and my friends on the Lower East Side, we all performed different arts in different mediums. But the truth is that we really loved what we did, and it had a purpose."
Gaga doesn't wear watches during her performances, but when she does, it's usually her favourite Clair de Rose watch, which she likes because of its wordplay. To her, the name is a sort of portmanteau of Claude Debussy's Clair de Lune (French for moonlight) and Edith Piaf's La Vie En Rose (which has no direct translation but implies seeing the world through rose-tinted glasses). "So it's sort of a play on… moonlight and romanticism as well as the history of the Tudor rose watch."
Fun fact #1: Gaga performs La Vie En Rose in a scene in A Star Is Born. Fun fact #2: Clair de Lune features on the soundtrack to 2001's Ocean's Eleven – appropriate, considering our location.
Wordplay aside, Gaga also appreciates how the company gives back to the community in Geneva. "You get to this point, and then you go, okay, I've made it, I look at my Oscar, and then I go, what am I going to do now to help people? Because that's really what we should be doing."
Philanthropy plays a big role in her life, she said, thanks to her Born This Way Foundation, which aims to create a "braver, kinder world for youths". "We're bringing teen mental health first aid to the United States for the first time. We're in eight schools now. We will expand and add 20 more. We've already saved eight lives," she said, without elaborating.
In 2017, when Tudor approached Gaga to front their new #BornToDare campaign, they couldn't have picked a more apt spokesperson. When asked what legacy she would like to leave behind, she replied: "Sure, I'd love people to remember my music, my art. But I think I would prefer to be remembered as brave and unafraid to speak my mind. I don't think that God gave me this voice to be famous, I think he gave me artistry and my voice and music as a vehicle to change the world, and that's what I really want to do.
"I want to be someone that's breaking rules for good reasons. So maybe that's part of being daring, is breaking some rules, but breaking rules for the right reasons."