From Lady M to Luke's Lobster: The entrepreneur bringing cult brands to Singapore
For Caerus Holding's CEO Vijay K. Pillai, it's not just the popularity of these cult brands but the people behind them that matters.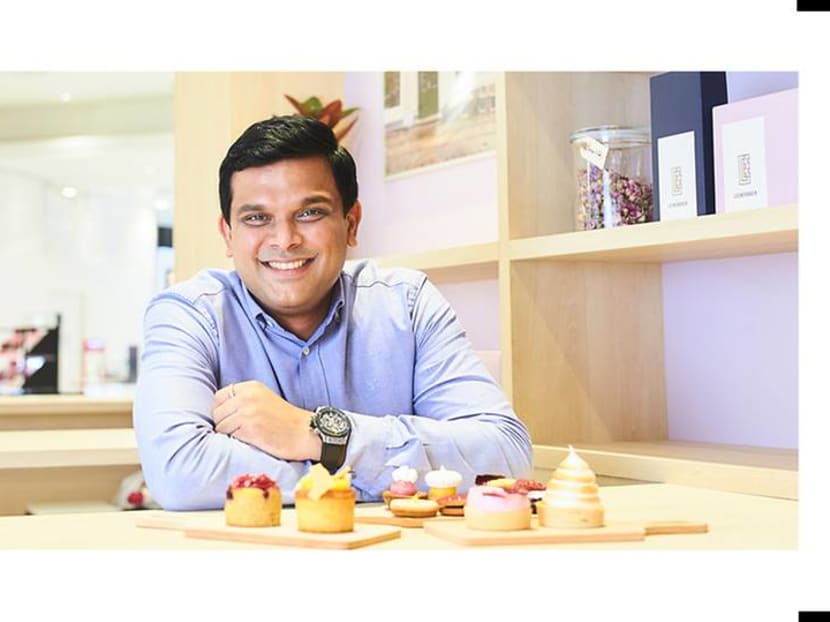 Caerus Holding may be named after the Greek mythological persona of opportunity, luck and favourable moments. But its CEO Vijay K. Pillai is all carpe diem when it comes to pursuing cult brands to open in Singapore.
In 2016, Pillai emailed Jakob Baer Mogensen, chef-owner of Danish pastry brand Leckerbaer to propose the idea of opening in Singapore after researching and reading rave reviews about them online. When he received a somewhat reserved reply, he lost no time in convincing Mogensen to let him fly over from the UK for a meeting the next day.
"This in spite of him saying that his wife was giving birth that evening," said Pillai, with an embarrassed chuckle at the memory of his insistence. "The moment I landed, I took a taxi to his store, tried the products, thought they were great, and talked to him for about an hour. Then he said. 'I gotta go. My wife's going into labour soon.' My first trip to Copenhagen literally lasted three hours."
More visits and many conversations later, Leckerbaer's first overseas store opened in Isetan Scotts on July 23. "We wanted to take time and make sure we did it properly," said Pillai. "We looked at everything from sourcing ingredients to having people trained in Copenhagen before coming back to Singapore to set up the kitchen."
Pillai's north star for partnerships is simple: Like-minded owners fully involved in the business. Quality products. Social media champions. This includes New York confectionary chain Lady M, whose mille crepe cakes has defined chi-chi teatime treats since its 2013 opening, and Los Angeles gothic-inspired soft-serve ice-cream Little Damage that was launched last year.
The Luke's Lobster deal took a year from talks to signatures, and the outlet is targeted to open next to Leckerbaer this month. Pillai flew to Maine at least three times to get acquainted with owner Luke Holden and his team.
"We got to know them as people, they came over as well, and we talked about each other's plans for the business and how we see it growing. That's where we get the feeling we've aligned vision and focus for what we want to do.
"Luke's company is fully vertically integrated, which tells me that cost is always going to be under control. They control every aspect of their business, from the piers and the processing facilities to the packaging, except the fishermen. It tells me that these guys believe in what they're doing, and it helps a lot as we're also a family business. They understand the problems we face and how personally invested we are."
Pillai said: "When we first started out, we tried to create our own concepts. Then we started thinking how much it was going to cost us to scale and market them and if it's worth the effort, or do we take a proven concept and help them spread the brand out. We went with the latter."
His strategy is to replicate the same quality and experience that well-travelled Singaporeans would get at these overseas F&B outlets, and accentuate familiar local tastes. After stabilising the brand in Singapore, the next step is to take it to the Southeast Asia region.
Pillai said: "With Leckerbaer, it's bringing back the blue-tin butter cookies which we all know while growing up, but with better quality products and ingredients.
"With Luke's, it's bringing great seafood that all Singaporeans love. I've seen the facilities for Luke's Lobsters. The lobsters are flash frozen so you're eating it as if it was caught and cooked right on the spot. And the crabs too, their sweetness is fantastic. We're not trying to reinvent the wheel, just taking things that we know the local market can accept, and upping the game on it by bringing better quality products."
With a discerning consumer base and a competitive F&B landscape riddled with thin margin and high rentals and labour costs, Pillai says that it is all about running a very precise business where costs are kept in check.
"If that formula and that brand can work in Singapore, we generally feel very confident to bring it around the region. What we're selling is a combination of complementing brand experiences with which we can spread expansion costs, instead of one brand bearing the burden," he added.
The concept of dining within a retail mall is also a first for Pillai. "We've never done it but we like the idea of being able to bring different customer experiences into different parts of a mall to spice it up. We're confident it will do very well."
Nevertheless, the entrepreneurship road has its potholes with COVID-19 adding another one.
The Little Damage outlet at Haji Lane remains closed, as tourist footfall in the area, which it mainly depends on, has dropped drastically. When dining-in wasn't allowed during the circuit breaker, Pillai made sure that Lady M was on delivery platforms within a few days. The team has also been busy strengthening its back-end systems and streamlining its processes for greater efficiency. Lady M currently has its own central kitchen while the rest of the brands share another.
The conversation inevitably turned to the famous Japanese Pablo cheese tarts that sizzled in and fizzled out within 19 months from 2017 to 2019.
Pillai called Pablo a "very, very expensive journey and very painful lesson", as costs spiralled despite the business making "good money". It reinforced his belief that the traditional franchise model no longer worked, and that a mutual understanding between partners was essential.
"With changing times, business models must change. The people behind the brand are also very important. They need to have an understanding of the problems we face in running a business. A key part of it is costs. If you're not helping us to keep our costs down, then it's never going to work."
That mistake has evidently not stopped Pillai from an expansion blitz since.
A fourth new-to-market brand is targeted to land by year-end, although details are still under wraps. Pillai said: "I can tell you that it's from the US and it will be in the confectionary space, though not so much on the sweet side. It will be entrepreneur-owned, like Leckerbaer."
Watch this space for updates.
"With changing times, business models must change. The people behind the brand are also very important. They need to have an understanding of the problems we face in running a business." – Vijay K. Pillai