Lazada Singapore CEO looks back on a decade of online shopping: 'We need to be locally relevant'
As the e-commerce giant celebrates its 10th anniversary, we speak to Loh Wee Lee, CEO of Lazada Singapore, on how the platform is riding the e-commerce wave while remaining plugged into the needs and desires of the local community.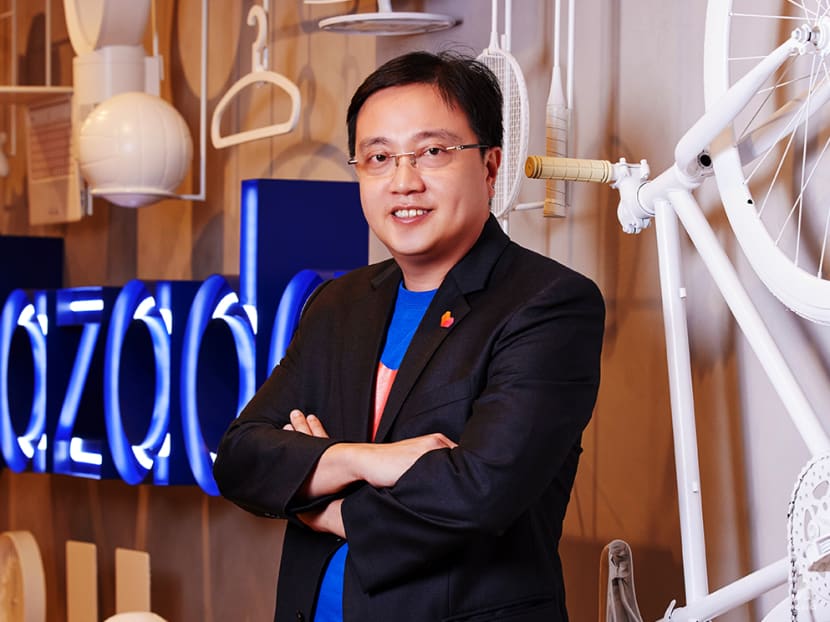 Loh Wee Lee remembers a time when e-commerce was in its nascent stages. Back in the early 2000s, he was studying in Cornell University in upstate New York. "We couldn't always find what we wanted. I did my fair share of shopping across Amazon, eBay and, in those times, Overstock.com, to find great deals as a student. I saw how convenient it was for a buyer to access sellers and inventory from all over the US," he recalled.
Back in Southeast Asia, it was not until the 2010s that e-commerce began taking off. German tech incubator Rocket Internet had entered the region with several e-commerce ventures, Zalora, Foodpanda and Lazada in 2012. The latter is now owned by Chinese tech giant, Alibaba, and is present in Indonesia, Malaysia, Singapore, the Philippines, Thailand and Vietnam. 
Lazada has grown from a fledgling e-commerce platform to one of the leading players in Southeast Asia. Since its inception, it now has 150 million customers and 1 million active sellers on the platform across the region. 
In Singapore, customers can buy just about anything from the site, from groceries to electronic products, household items and yes, bubble tea vouchers, too. 
Loh joined Lazada Singapore four years ago after helming various senior management roles in Singapore-listed companies. He was also previously a consultant with McKinsey & Company. "I come from a corporate finance background, looking at growth, and e-commerce was definitely a fast-growing industry," he said. "Being a Southeast Asian and born and bred Singaporean, I thought [joining Lazada] would be an interesting way for me to contribute to the regional and local ecosystem."
Prior to Loh's appointment as CEO of Lazada Singapore in December 2021, he was chief of staff and head of CEO Office at Lazada Group and Lazada Indonesia, where he was based for two years. Fun fact: Loh also speaks Bahasa Indonesia, which he picked up during his stint in the country. 
Now back in his home country, the first Singaporean CEO of Lazada Singapore has a clear vision for the local arm of the e-commerce giant. "We need to be locally relevant," he says. "From a consumer's perspective, how best are we able to serve the local communities?"
DIVERSE OFFERINGS
Indeed, Singapore is a melting pot of cultures. Aside from hosting sale campaigns in conjunction with festive celebrations such as Chinese New Year, Hari Raya, Deepavali and Christmas, the platform also commemorates other Singapore observances.
"On Feb 15, Lazada Singapore was the only e-commerce platform in Singapore that commemorated Total Defence Day with a solemn banner on our platform," said Loh. "It's a reminder that we are here, we are relevant and we need to be plugged into the ecosystem."
The platform also makes it a point to be attuned to the needs of Singapore's communities. For the upcoming Ramadan month, Lazada announced a new partnership with One Kampong Gelam to drive digitalisation and support businesses in the area to go digital. In order to better cater to the Muslim community, the company's online grocery business, RedMart, also introduced a new Halal Channel category on the platform to highlight Muslim and halal-related products.
The Halal Channel sits alongside other specialist channels dedicated to specific food products on RedMart, such as China Mart, India Mart, K Mart (for Korean food items) and J Mart (for Japanese food items). After all, it's not only the main four racial groups that Lazada caters to, but also the "large international community within our midst, whether its French, Korean, or Japanese", said Loh.
On what makes the platform uniquely Singaporean, Loh says the range of local communities that it needs to engage is "a bit more unique to Singapore, because of our cosmopolitan set-up".
"Just as a fun fact, our people are just as representative of the customers that we serve. Within my team, we have French, Italians, Indonesians and Koreans and this diversity is something I'd like to maintain," Loh added. 
Believing that "food is the way to the heart", Loh's office in the newly opened Lazada One building is stocked with all sorts of snacks from all over the world, sourced from RedMart. He describes it as a showcase of RedMart's offerings, which are offered to his colleagues and guests during meetings.
"I continue to try many of the interesting assortment of snacks offered on RedMart…I get to test and eat many of these snacks from our international wholesalers, some of which are exclusive to Lazada," he quipped.
THE PANDEMIC E-COMMERCE BOOM
The pandemic has given e-commerce adoption an unprecedented boost, which Lazada hopes to continue building upon. According to the newly released Lazada 10th Anniversary Consumer Study, digital commerce has taken hold as an everyday convenience in Singapore. Seventy per cent of respondents consider online shopping as indispensable from their routines, with 46 per cent saying online shopping became important to them in the last two years.
In this line, Lazada has been onboarding more sellers and brands onto its platforms, both as a way to continually enrich the customer experience and to help more merchants embark on their digitalisation journey. 
Said Loh: "From our sellers' perspective, many of them faced challenges during this time with a lack of footfall or traffic. We helped many sellers as well as brands by onboarding them onto our platform to grow their online business."
In June 2021, Lazada partnered with Enterprise Singapore to offer the E-Commerce Booster Package to local small and medium enterprises (SMEs) and brands who have not digitalised and moved online.
It is also lending support to hawkers and HDB heartland merchants. In February 2022, it signed a Memorandum of Understanding (MoU) with Radin Mas constituency to help merchants and hawkers sell their goods and services on a new dedicated page. The partnership will also see Lazada educate Radin Mass stallholders on how to engage with younger customers through newfangled technologies such as live streaming.  
To further assist brands and sellers on their e-commerce journey, Lazada runs an in-house incubator programme that aims to equip sellers with the skills and knowledge it needs to succeed in the e-commerce landscape. Some local brands that have benefitted from this programme include diaper brand Rascal & Friends, noodle shop Fishball Story and electronics company PRISM+. The latter has been with Lazada since the start of its journey and is now expanding in the region.
"I personally find such efforts that we do very meaningful," said Loh.
'SHOPPERTAINMENT' AND STANDING OUT FROM THE CROWD
Pandemic boom or not, the e-commerce landscape is a competitive one. Battling alongside Lazada for e-commerce supremacy in the region is Shopee, founded in 2015 by Singapore tech conglomerate, Sea.
According to statistics by price comparison website iPrice, Shopee currently ranks in first place in terms of traffic, with 16.1 million web visits in Q4 2021. Lazada ranks in second with 9.2 million. 
To capture attention, Lazada has gone big with viral marketing stunts. During its mega 11.11 campaign in 2021, the company gave shoppers the chance to win a million-dollar condo in Singapore, which was eventually won by a retired hawker. For its Epic 10th Birthday celebrations, Lazada put up for grabs 10 Singapore Airlines First Class plane tickets to anywhere in the world.
"We continue to innovate to provide interesting mechanisms for our users to engage with us as a platform," said Loh. Calling it "shoppertainment", Loh says this is a strategy to make shopping "fun and interesting" for users of the platform.
In this line, Lazada was also the first platform to pioneer the concept of livestreaming in Singapore and Southeast Asia. Its in-app LazLive feature allows users to interact in real-time, and also features a "see-now-buy-now" feature which offers a closed loop for in-app purchase.
Livestreaming has exploded in popularity in China, but has only now taken off in the Southeast Asian region. "Lazada has benefitted from being a part of the Alibaba ecosystem," commented Loh. "[Livestreaming] has become an important tool for sellers to promote and build awareness on their products. We continue to invest in technology and mechanisms to enable sellers and brands to continue to host many of these livestreaming content as a shortcut to their user education process."
'TREMENDOUS GROWTH' ON THE HORIZON
With the platform celebrating its 10th anniversary on Mar 27, Loh says Lazada is "glad to be the pioneer of e-commerce in Southeast Asia. We've built and developed the ecosystem along the way and brought it to a new milestone."
But while the platform has approached double digits in age, "10 is actually still very young. It's still not pass teenage years in the life of a human," he continued.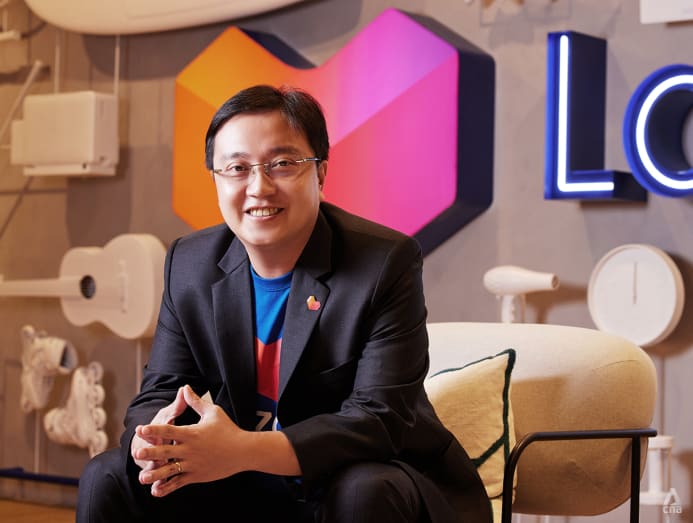 Loh believes it is still early days for Lazada in this stage of e-commerce penetration, with room for "tremendous growth" on the horizon both in the region and in Singapore. It's a crucial time then, for the man who's in the driver's seat. To unwind from work, Loh spends time with his wife and three young children.
Now that Lazada has reached a new milestone, Loh believes it's a time to express its gratitude to the players who have contributed along the way. "Being at 10 makes us appreciative of many of our stakeholders who have allowed us to be where we are on our journey," Loh reflected. "We are thankful for all the consumers who have supported us, the sellers who have come along this journey with us, as well as our ecosystem partners. We will continue to grow together."