Meet Lelian Chew, the Singapore-based wedding planner to Asia's ultra-rich
Lelian Chew went from private banker to planning weddings and events for A-list clients such as billionaire heiress Kim Lim. This is how she brings epic love stories to life.  
Lelian Chew remembers the first party she ever planned. It was prom night for her secondary school graduation. The theme was A Midsummer's Night To Remember, inspired by the play written by William Shakespeare. "A lot of things we had to DIY, because we didn't have many resources back then," Chew recalled. "There was also the planning of the programme, as well as rallying to get other students involved." 
Planning her school's prom is "not unlike what I do now", Chew quipped. Today, she is the founder of The Atelier & Co, parent company of her two businesses: The Wedding Atelier, a wedding and events planning company, and The Floral Atelier, a floral design studio, retailer and events decoration company.
Chew's clients are typically the ultra-rich of Asia, ranging from tycoons to celebrities from places such as Singapore, Hong Kong, China and Indonesia. In Singapore, she recently planned and styled the lavish wedding reception and "guo da li" ceremony for billionaire heiress Kim Lim, as well as Lim's joint carnival-themed birthday celebration with her son. Chew is also reportedly the planner for actress Rebecca Lim's upcoming wedding to Matthew Webster.
A BEAUTIFUL ACCIDENT
Funnily enough, it was a case of "lost in translation" that led to Chew's start in the wedding industry. For several years, Chew was a private banker with Goldman Sachs, servicing a high-net-worth clientele. She had also moved to Hong Kong to cover the China market.
"At one point, I just decided that I had spent 10 years, fresh out of school, with the same bank, doing the same thing. It wasn't so much a push factor, but a pull factor to really sit back and think, is there anything more to life than this? Could I be doing something else?"
Chew eventually left banking. While contemplating the next steps in her career, she decided to focus on planning her own wedding. That was when she got a call from a former client. "It was a call to find out where I had gone to. I told him that I wasn't going to join another bank and if I was going to do something, it would be something different. I said that I was just going to take my time to plan my wedding," Chew recounted. "English is not this client's first language. So he said, 'What? You're planning weddings? My son is getting married. Why don't you help?'"
Chew decided to run with it. She flew to Indonesia for an interview, and eventually became the eighth wedding planner hired by the family. There were 3,000 guests at the wedding, and the family needed planners to take care of different aspects of the event.
Soon, word-of-mouth began to spread among Chew's former clients that she was now in the wedding industry. By the end of the year, she had done enough weddings to build a portfolio. "Some people say that it was a beautiful accident. I almost feel like maybe it was meant to be," Chew said of her start.
The Wedding Atelier was founded in Hong Kong, but Chew has since moved its headquarters to Singapore. Besides weddings, the company also organises and styles events for luxury brands. Her second venture, The Floral Atelier, was founded to complement the wedding and events business by providing floral decorations, but it has also expanded into a retail business selling unique floral arrangements and other products.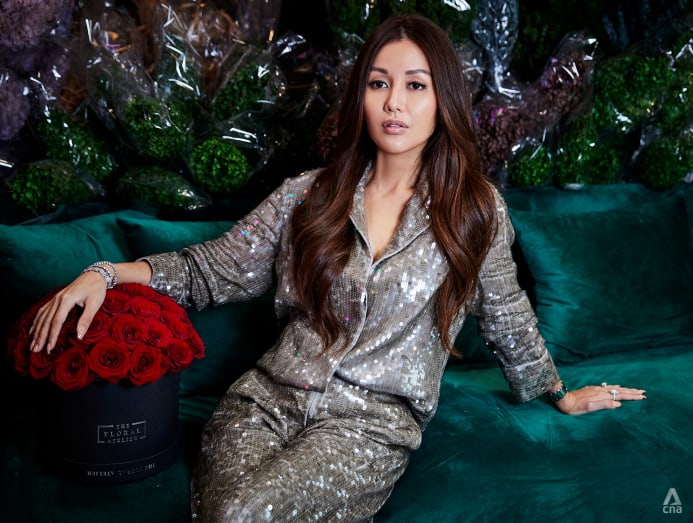 THE TRUTH BEHIND THE MAGIC
Events organised by Chew typically take place in exotic locales such as the  the Maldives, where she organised and styled a proposal for a client right in the middle of the Indian Ocean. Her work has also taken her to Guangxi, China, where she planned a wedding reception against the stunning backdrop of Yangxuo's Li River and majestic mountains. On top of the snowcapped Jade Dragon Snow Mountain in Yunnan, China, with nothing around, "we created a Coachella type rave in the middle of nowhere," Chew said.
Due to the scale of the festivities, the company only takes on 10 to 15 weddings a year, Chew revealed. The Wedding Atelier handles all aspects of the celebrations, right down to its nitty gritty details. "We are the designers, we are the planners, we are the organisers. Many times, we are also relationship consultants. With VIP guests on the list, we manage things such as who sits where? Who gets invited first? Who speaks first?"
Harper's Bazaar US once called Chew's weddings "cinematic", but she wants people to know that there's more to it than meets the eye. "A lot of people are charmed by how magical our business is. All that is real, but that is just 1 per cent of the entire process. The behind-the-scenes work is what gets that one day to happen. And there is so much hard work, sweat and unglamorous labour that happen."
What did The Wedding Atelier do when they were planning a wedding on an untouched private island, with no trucks around to transport furniture, flowers and structures? They shipped in their own. Battling with different weather conditions are just par for the course.
"We've gotten rained on, hailed on, battled huge waves splashing in the middle of the ocean, tornadoes. Those are just part and parcel of the job," said Chew matter-of-factly. Once, the team had to rebuild a tent three times. "The typhoon just kept going and I just didn't want to execute Plan B indoors. We had worked so hard and put in so much time and effort to achieve the bride and groom's dream design. I just wanted to push through."
Then there is the pressure to outdo themselves with each event, especially so when it comes to a wedding. "We really need to always be pushing the boundaries, in many ways. Nobody wants to repeat a destination. Nobody wants to feel like they are second best. Everybody wants something that is original and never been done before," said Chew. "The team has worked very hard to constantly push the envelope. If it's a birthday party and you don't get it right, there's always next year. For a brand launch, you can wait for the next collection and do something crazier. But most of the time, everybody only gets one shot at a wedding."
Naturally, working with ultra-rich clients also comes with its own unique challenges. But even if strange requests are sent her way, Chew doesn't bat an eye. She credits that to her many years of experience working with Asia's high-net-worth individuals. To Chew, no request is ever truly impossible. One of the strangest demands she has ever received? Clients who wanted to sleep only on their own bed. "We flew that bed around the world to wherever they were. Things like this happen, and I don't flinch. Because it is possible to make it happen, it's just a lot of work," she said.
"A lot of people are charmed by how magical our business is. All that is real, but that is just 1 per cent of the entire process."
FUTURE PLANS
The last two years lost to the COVID-19 pandemic haven't been the easiest for the events and weddings industry, but Chew is optimistic that the company is now out of the woods. In order to tide through the pandemic, The Atelier & Co had pivoted early on to focus on growing its retail business, introducing new products and florals for sale. "It worked out very well because gifting was the only thing people wanted to do when they couldn't meet," she said.
Even as weddings and events pick up again, Chew hopes to continue building on her retail business and the lead it has established in the industry by launching more lifestyle product lines. "COVID has taught us that to really ensure longevity, you need to build a well-rounded business," she said. In October, the company unveiled Bonbon, a range of luxury lollipops for adults, featuring edible flowers encased in sugar-free candy.
Chew is also working on incorporating an education arm into the business. "I give a lot of talks and I do a lot of mentorships. Because it is such a fragmented industry, I think there is a need for standardisation in the events and floral industry," she shared.
Chew's passion for event planning trickles into her personal life. In her downtime, she enjoys cooking and hosting friends. "I know it sounds like work but I enjoy putting things together for people that I care about, even on my off days," she laughed. "So I do everything from scratch, from coming up with a menu, cooking, setting the table, curating the music and ensuring that everybody has a great time at one of my parties."
On what she finds most rewarding about her job, Chew says it is the ability to "tell epic love stories over and over again". "It's very special. It's like being a scriptwriter or a book author. But for us, it's non-fiction and we're working with real love stories. And every love story that we've come across is an epic love story."