Luxury or laid-back? Life as a digital nomad in Bali
Living a digital nomad lifestyle has never been more popular, so we speak to Singaporeans and others who have made the move  and what they've learnt along the way.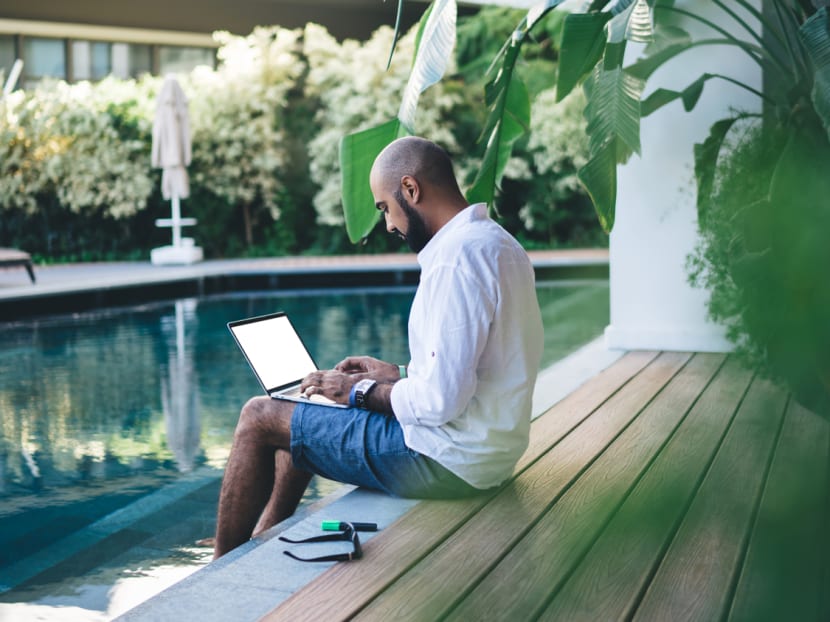 It's an enviable lifestyle that many stressed-out individuals are clamouring for. Sick of the daily commute, cramped home and lack of work-life balance? Frustrated with short vacations and predictable weekends?
How about working from your spacious villa that overlooks a breath-taking coastline and jaw-dropping sunsets? Or wander downstairs for a spot of yoga before settling in to your home office instead of rush hour traffic?
If your job allows ‒ and post-COVID, many more companies and roles now positively encourage working from home ‒ you could do worse than look at becoming a digital nomad.
While it's a term which has undoubtedly gained traction and popularity in recent years, being a digital nomad is not a new phenomenon. The precise origin of the phrase is debatable, but a 1997 book of the same name clearly spread it, as the book's publicity presciently explained: "Digital Nomad tells us how current and future technological possibilities, combined with our natural urge to travel, will once again allow mankind to live, work, and exist on the move."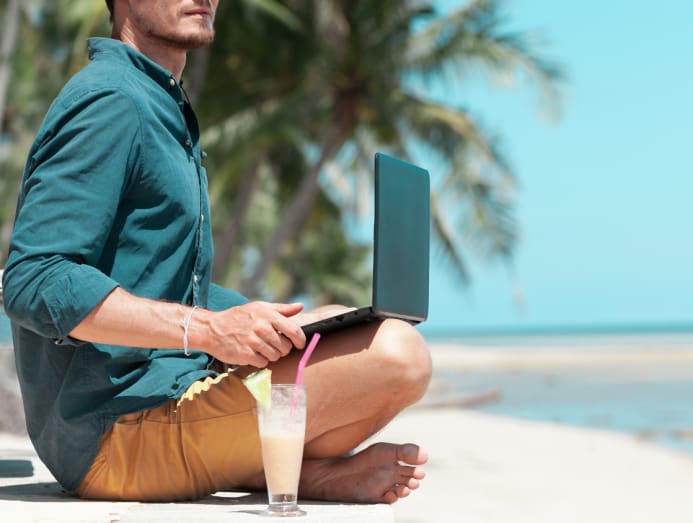 Following the dawn of the millennium, the first intrepid few gave up their deskbound lifestyle and hit the road, becoming the first to work-from-anywhere. Certain professional sectors, including tech, graphic design, publishing and digital marketing, were early adopters. In their wake, freelancers and entrepreneurs of all hues.
One destination which immediately became popular ‒ and has remained so ever since ‒ has been sun-kissed Bali. Back in the 1960s and 1970s, surfers and hippies had first made it their own private escape, so it was a natural progression when others followed in their sandy footsteps.
Even if Bali's internet access back in the early 2000s was, to put it mildly, challenging, the lure of a gentle lifestyle with a much cheaper cost of living won out.  
In 2023, two decades of huge growth in the island's popularity and tourism has meant that prices have risen substantially. As a result, the ability to live on a few US dollars a day has largely disappeared. In its place, there has been a rise in digital nomad lifestyles offering greater levels of comfort and luxury.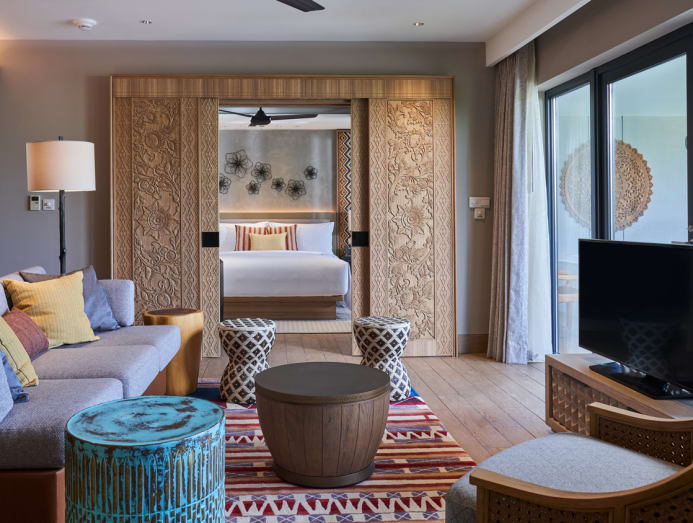 Accommodation and experience providers have understandably been quick to react both to the growing digital nomad trend and to those wanting to move overseas full-time.
On the Island of the Gods, a Marriott Vacation Club property recently opened in Nusa Dua Terrace, barely 20 minutes from the airport yet also close to iconic beaches and cultural sites.
The spacious villas with outdoor terraces and private plunge pools boast fully-equipped kitchens and spa-like bathrooms, making them a big draw for digital nomads set on longer stays in luxurious surroundings.
Olivier Le Quinquis,  GM of Marrriott's Phuket Beach Club and Marriott's Mai Khoa Beach Club, explained: "Over the last few years, we've certainly seen an increase in guests who have come for extended stays because people are able to work while traveling. We've even received questions about providing extra desks or computer screens in the rooms, which made it clear that people plan to work during their stay."
Other options for nomads with deeper pockets include Boundless Life, an organisation that offers complete 'experiences' for those wishing to live overseas but let someone else take care of the details. Launching in Bali this July, they charge €3,500 (S$5,000) a month for a fully furnished three-bedroom home, including utilities and weekly cleaning. They also offer education at €1,500 per month, per child, while there's even a community and workspace option at €600 per parent, per month.
Fees can run north of S$10,000 per month for a couple with two kids, but to date they have worked with more than 200 families across their programmes, which also run in Greece, Italy and Portugal.
Singaporeans who took the plunge to move to Bali include Gabriel Wong and Zoey Sin, a couple who co-founded a digital marketing agency called Ascend Marketing.
Wong couldn't be clearer regarding why he made the move: "The cost of living has gone up significantly in Singapore and it's getting overcrowded. It's starting to feel like an endless chase to keep up. I wanted to go somewhere where I could slow down a little to enjoy simple things in life like spending more time with my wife and daughter before she grows, instead of running the rat race and chasing more material wealth."
He adds an anecdote, explaining his long-held fear that he would end up like a 50-year-old uncle facing a mid-life crisis because he had sacrificed everything to get rich, only to realise he had already lost all that precious time with his family.
Another key factor which attracted them to Bali was when they read about Lifestyle Arbitrage. "Simply put, it means saving big by earning income in a strong economy while living and spending somewhere low-cost," he said.
"Because everything is now digital, I could be making Singapore dollars online while staying in another country with much lower expenses. This way I can have a better lifestyle without increasing my expenses and use the money I save to accelerate my path to financial freedom. Based on my current cost of living, I can save at least $10,000 per month ‒ that adds up to $120,000 a year that I can put into investments for my children."
Their savings have come in areas including rent, dining out and socialising but their time in Bali has also seen them view certain Singapore spending habits in a whole new light: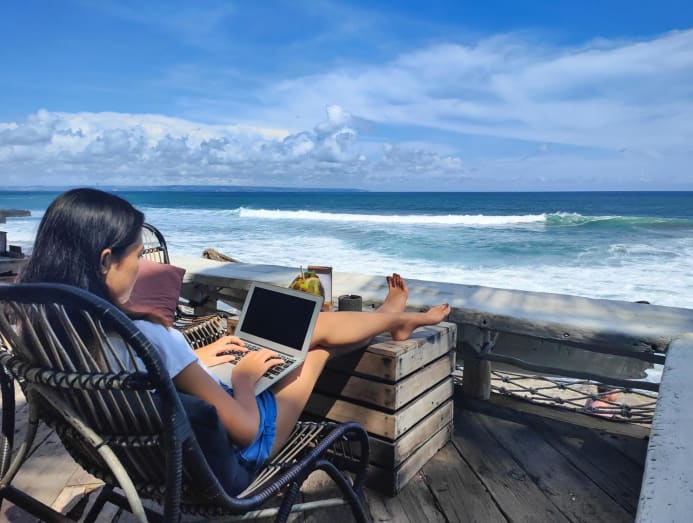 "Life in Bali is much simpler," Wong continued. "It's about lifestyle and mental well-being. People are less concerned with material wealth. When we go out for dinner with friends, everyone is in T-shirts and tank tops. It doesn't feel like we need to dress to impress. Hardly anyone carries branded goods."
He elaborated: "There's nothing wrong with buying branded goods if you like them, but I feel that a lot of the culture in Singapore is the need to show how well you are doing because it's such a competitive culture. People buy things they don't like with money they don't have to impress people who don't care."
While Bali is big enough to allow for memorable experiences in weekend vacations across the island, Wong is also pragmatic regarding the island's systemic challenges and the trade-offs compared to famously efficient Singapore.
Negatives include the 'really bad' traffic and inconveniences in finding a villa or getting the right visa, but ultimately Wong and Sin say how they most value freedom and family time. They said: "Try moving here for one or two months. If you don't like it, you can always move back. It's better to deal with the pain of inconvenience than the pain of regret."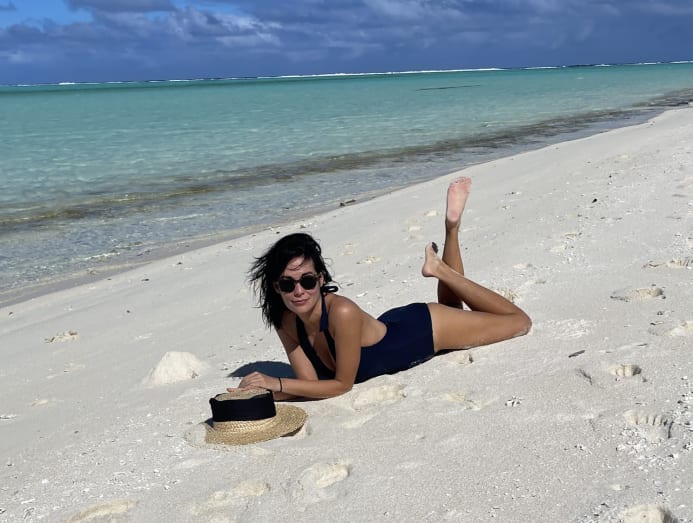 Another Singaporean, Stephanie Chai is someone who saw the future lure of the digital nomad lifestyle when she launched her aptly-named brand the Luxe Nomad more than a decade ago.
The portal for booking luxury villas features more than 50 in Bali alone and has seen a significant uptick in interest amongst those seeking to work for extended periods. She explained: "Back in 2012, the whole digital nomad phrase was not in the general lexicon! The great thing about The Luxe Nomad is that our villas are perfect for digital nomads, and since the pandemic we have seen a jump in demand as destinations like Bali and Thailand launch digital nomad visas."
Although she is based in Singapore where she has an apartment, Chai still calls herself a 'quasi digital nomad', given how much she travels for work. She clearly understands the lifestyle implicitly.
For people who are considering making the jump, she advised: "I would say for those who want to go full steam into that nomad life, streamline every facet as much as possible ‒ from your clothes and possessions to how you travel. Spend a month in one place as traveling non-stop takes away the fun of discovering a new place properly."
While Bali remains hugely popular, she also suggests keeping an eye out for new digital nomad spots such as Niseko or Furano in Japan. Although expensive in winter, they are much more affordable in summer and offer stunning landscapes.
Canadian-American couple Taryn Elledge and Martin Penner have three kids and they have been on the road for almost five years, typically spending from one to three months in each destination, including Denmark, Ireland, Japan, Greece, Portugal, Morocco, Egypt ‒ and Bali.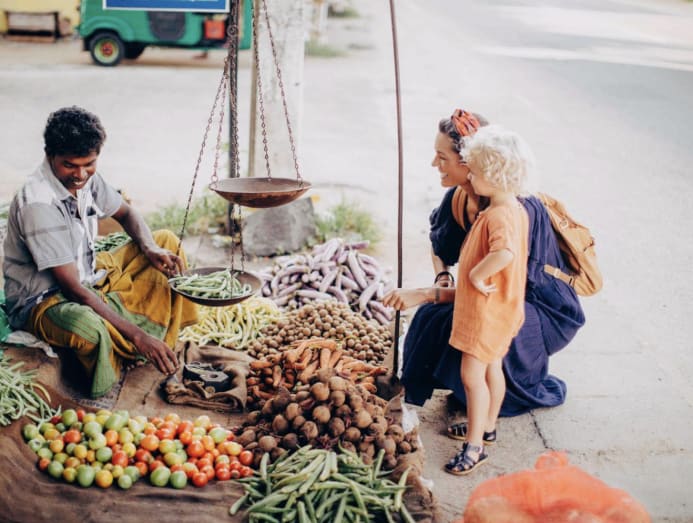 Given their considerable experience, they set up their company Quartier Collective to allow families to travel together in experiences that they call 'Pop-Up Life'. Essentially, it empowers travelling families to dip their toes in the world of the digital nomad lifestyle.
"The pandemic grabbed all of us, sat us down hard and forced a good think about what matters most, how we spend our time, who we spend it with. The result was a swell of families who have seen the patterns starting to crack, and who are curious and brave enough to explore beyond them."
They're keen to underline the importance of slow travel, emphasising quality over quantity.
"Don't overcommit to a life change by selling your house. Don't treat being a digital nomad with kids like being on vacation. Take things slowly ‒ there's no need to tick off cultural sights every day."
To that end, this spring, they are running two child-centred learning programmes in Bali, visiting beaches and waterfalls, temples and markets.
Running for almost a month and including four days a week of learning programmes, the Bali Pop-Up Life event starts from US$3,000 (S$4,000) for one adult and child, but don't include accommodation, flights or meals.
Next up for them and their largely north American clientele in 2023? Similar programmes in Japan, Greece, Portugal and Morocco. The pull of the digital nomad lifestyle clearly remains a strong one.