A Day In The Life of… Korean chef Louis Han, founder of restaurant NAE:UM
The chef-founder of the hottest Korean table in town, NAE:UM, has his days full juggling business operations and meetings while planning for his wedding in Seoul (sorry ladies, he's taken).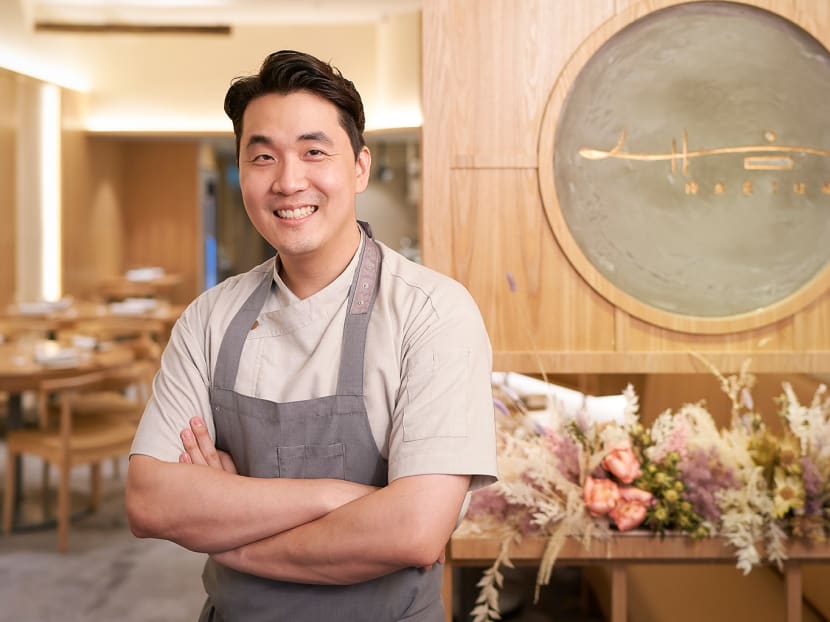 Opening a new restaurant in these uncertain times requires nerves of steel and 31-year-old chef Louis Han has demonstrated an abundance of it. Barely three weeks into the debut of his first restaurant NAE:UM at Telok Ayer Street on Jul 1, he had to launch a delivery menu and system as Singapore went into another round of Phase 2 (Heightened Alert) measures.
Since dining resumed, NAE:UM – a literary reference to memories evoked by aromas – has won fans with dishes that bear imprints of Han's growing up years in Seoul's trendy Gangnam district as well as stints in West Asia and the kitchens of lauded Korean restaurants Meta and Kimme in Singapore.
Some highlights: A delicious dry-aged Irish duck marinated in gochujang commemorates his first-time experience of eating the meat in a jumulleok grilled dish, while an aged kampachi sashimi brightened by a chilli yuzu sauce riffs on the popular summer cold, spicy raw fish soup mulhwae.
As he fulfilled his restaurant dream, Han also created another new beginning. He registered his marriage with his girlfriend Monica of three years last September over a virtual ceremony while he was in Korea. The couple recently did a pre-wedding photo shoot ("My wife wanted to do it before both of us 'deteriorate'," said Han) and are now waiting for travel restrictions to be lifted to have their wedding in Seoul.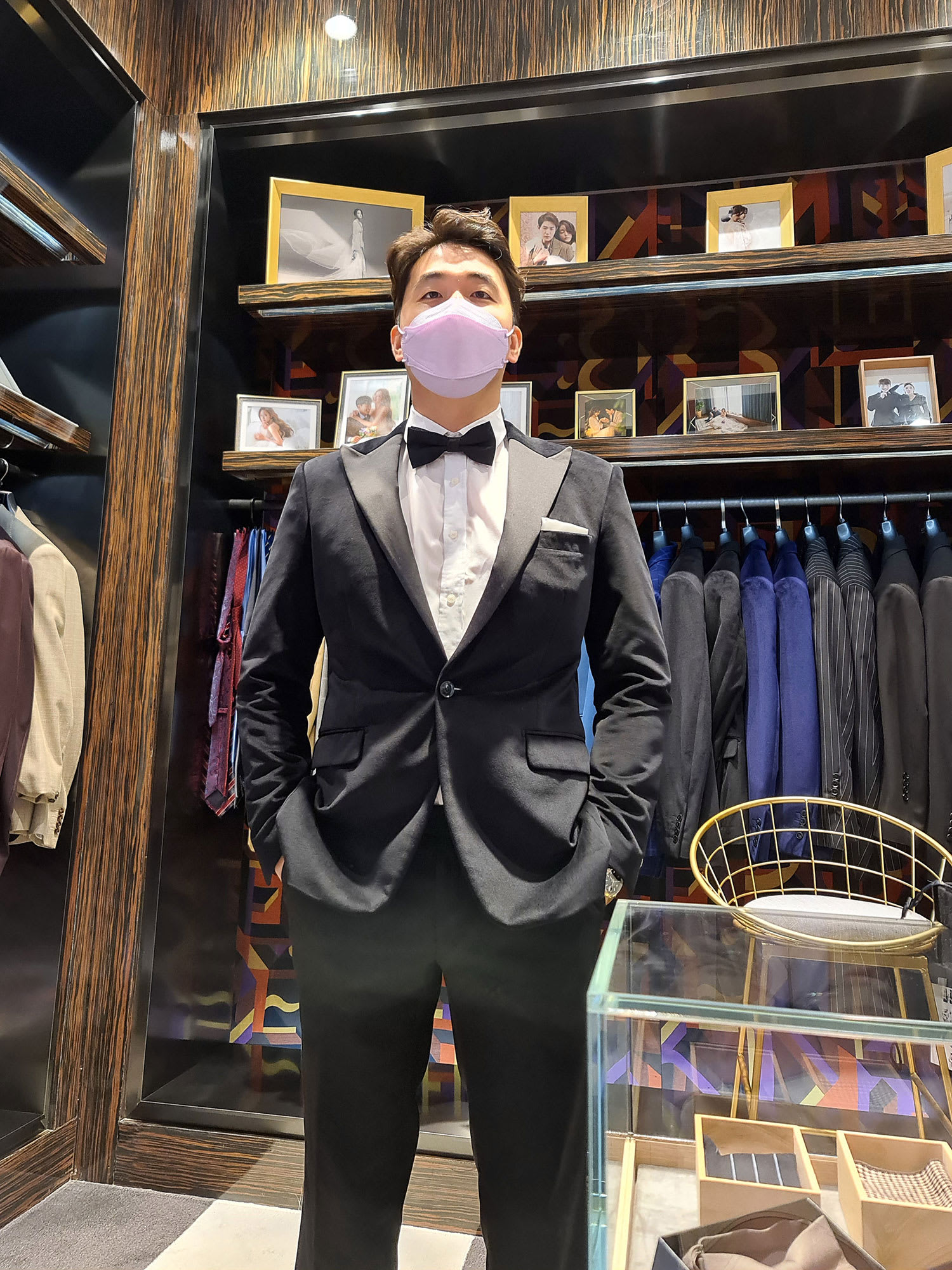 We catch up with the affable, fresh-faced chef on his daily routine.
7.30am
Wake up, send my wife off to work, start of my bachelor day.

9am
Gym time to get more energy. I usually focus on weight training by targeting a different part of the body each day, and end off with a sprint on the treadmill. I dread leg days though! My gym time used to be a two-hour affair but recently, I try to finish within an hour.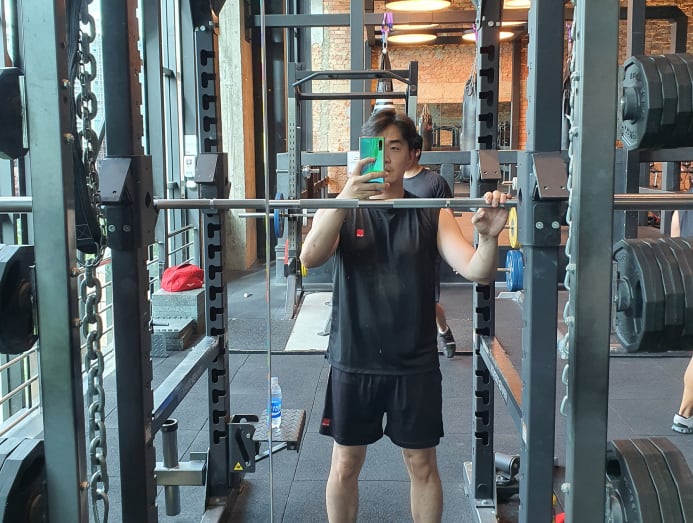 10.30am
A 10-minute breakfast at Amoy Street Hawker Centre. In my rotation are ban mian, chicken rice, beef soup, fishball noodle, hor fun and duck kway chap. I can't pinpoint exactly what I like about these hawker dishes, but I've been enjoying them since I first came to Singapore in 2016.
Ten minutes may sound like a short time, but if you visit my family in Seoul, you will realise that all of us eat very fast. We can finish a family meal in 15 minutes. A typical breakfast for me in Korea usually consists of bread or gimbap (seaweed rice roll).
10.45am
To start the day, I greet the team loudly and they respond in unison "Good morning chef!". Every morning we start preparing the ingredients for the night. NAE:UM currently runs only a dinner service, but we will introduce lunch in the future.
11.30am
In between prep work, I have half-hour meetings with event coordinators to discuss potential collaborations, supplier meetings for ingredients and tableware, and interviews with potential applicants for the kitchen and front- of-house teams. We continue to hire since we are a new set-up and are still growing.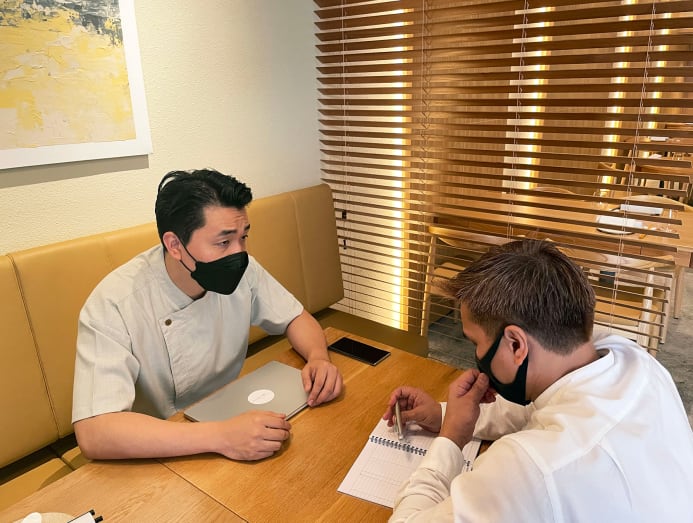 I wanted to hire my juniors from Seoul, but due to the pandemic, and on top of getting the necessary work permit quotas, any overseas hire would have to be fully vaccinated. I would love to take on as many collaborations as possible too. But unfortunately we are a small team and if I were to attend an event, I can't be present at the restaurant and that just won't do.
In between I constantly research various ways to ferment and pickle ingredients based on the techniques that my grandmother taught me – I find them fascinating. You can find a variety of our very own fermentation jars on display in the main dining room.
2.30pm
Occasionally, I take a breather from the restaurant by going on a 15-minute walk around the vicinity. I walk from Telok Ayer to Chinatown or Tanjong Pagar and circle back. I gain inspiration for the next menu by walking around, jotting things down on my phone on the go, and chatting with my family in Korea over KakaoTalk (a Korean mobile messaging app).
3pm
Meal time with the NAE:UM team. We take turns to cook lunch for each other. One day we may eat a kimchi jjigae (kimchi stew) that I cook, and the next day my sous chef will cook claypot rice. Every team member has their own food cravings, so we take turns to cook whatever we feel like eating.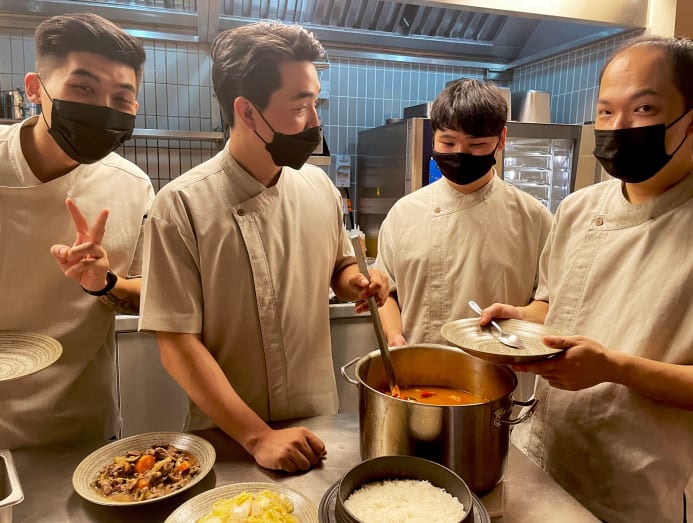 4pm
Between 4pm and 5pm, the team gets their "me time" before dinner service kicks off. There is sadly no break for a chef-founder though. I utilise this time to plan out the day's service based on the reservation timings, review the mise en place my team has done, and oversee the table settings with my restaurant manager.
The menu went through several rounds of critiques before we presented it to the public when NAE:UM was launched. My wife was the harshest critic of them all. Luckily, we've been receiving kind feedback from our diners.
5pm
Team briefing for the day's service. During the briefing, we will plan alternative dishes for guests with dietary restrictions based on the ingredients of the day. I respect all my guests' diets. However, we are currently unable to cater for a gluten-free one since wheat is often used in the Korean fermentation process. We also plan any surprises for guests who are celebrating special occasions.
6pm to 10.30pm
The time where magic happens – dinner service at NAE:UM!
11pm
Post-service debriefing with the team. We review the day's service, discuss what worked and what didn't, and aim to improve each day. We also double check our inventory and place orders for ingredients such as fresh seafood from Japan, wagyu beef from Australia and rice powder from Korea. Some of our produce are exclusively made in-house, such as our nuruk (a traditional Korean fermentation starter) that is used for ageing beef.
Phase 2 (HA) in May took us by surprise. It was the worst weeks of our operations. We scrambled to get our delivery menu and ordering system up in three days, and given the rainy season, we struggled with last-mile delivery fulfilments. When things get tough, I talk it out with my wife. She usually has a different perspective and suggests ideas. There were also many times we had to think quickly on our feet and resolve any difficult situation we were facing.
12am
I reach home and "argue" with the wife about having supper until she relents. While eating, I relax by checking social media feeds and YouTube videos. I recently followed a Korean ajumma's cooking channel on YouTube and it really evokes my memories of home.
Due to my schedule, I usually have breakfast and a late lunch, but no dinner. My supper would actually be my dinner but the choices available in the late hours aren't usually the healthiest. Sometimes, I'll heat up dumplings or pizza but I have to negotiate with my wife first.
1am
If I'm really tired, I'll fall asleep on the sofa around this time. Sometimes, it takes all my strength just to get up and even shower!