A day in the life of … Singapore Watch Club founder Tom Chng
More accustomed to fiddling with mechanical watches than smartwatches, content creator Tom Chng dons the new Louis Vuitton Tambour Horizon Light Up connected watch for a change. In partnership with Louis Vuitton.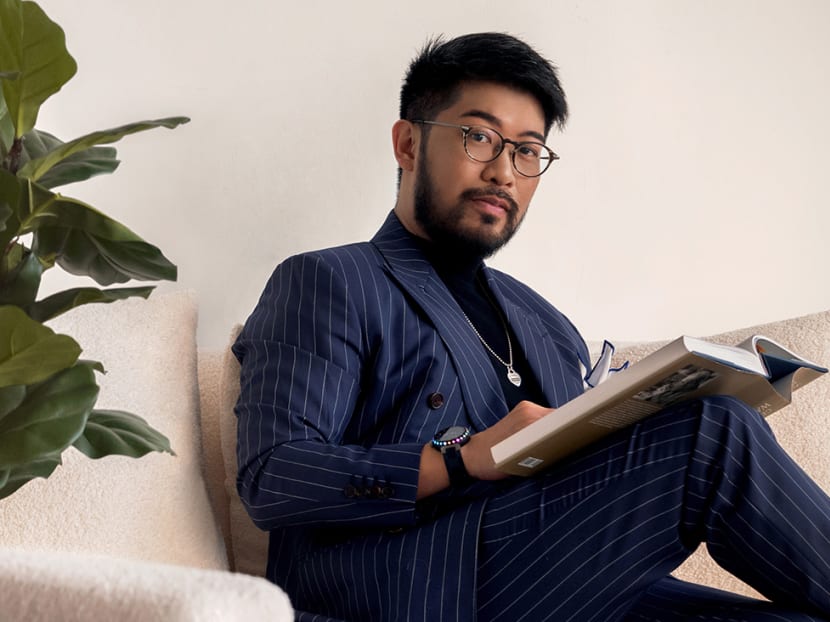 Singapore Watch Club (SWC) founder Tom Chng (@tom.chng) is one of the fortunate few who have turned their passions into professions. He started off his career investigating financial crimes, and now, the watch specialist is immersed in his hobby full-time, including building a friendly community of enthusiastic collectors on Instagram (@SingaporeWatchClub).
Chng started the account with a few horological-minded buddies in 2015, and has since amassed more than 37,000 followers.
It helps that fiancee, photographer Hosanna Swee (@hforhozzie), shares the same appreciation for time. Besides relaxing over an aromatic brew in their home located in the Bukit Timah area, the couple spends their free time shopping for timepieces and attending watch exhibitions and auctions.
Chng added: "We also share a common interest in photography, with Hosanna, of course, much deeper in this craft than me. We enjoy documenting our travels as much as working on meaningful social media campaigns together."
Although he has a penchant for mechanical watches, any extraordinary timepiece still fascinates him, such as Louis Vuitton's latest smart dazzler, the Tambour Horizon Light Up. Chng takes it out to play one weekend and discovers surprising aspects about the smartwatch.
9AM
I'm usually up at this time, and the best start to it would be a glass of iced latte. Hosanna and I both love a classic iced latte; we might be biased but we like our homemade ones best.
After that I'm catching up on watch news on websites such as Revolution Watch. I'm currently also reading Watchmaking by George Daniels, considered by many to be one of the finest horologists in the world during his lifetime. I love reading about watches, learning about them, and meeting new people who share that same attraction to these mechanical marvels.
11AM
I start creating content for Singapore Watch Club, including taking pictures. Recently, we've been focusing on interesting vintage watches with amazing histories.
My iPhone is not with me but the Tambour Horizon Light Up reminds me of my afternoon appointments, which I easily acknowledge with a swipe on the screen. I would have liked to access more iOS apps through the watch, but the generic notifications such as calendar and messages are sufficient for now.
1PM
Hosanna and I usually lunch together on weekends. Today, we head to Zion Food Centre for char kway teow. I love local hawker classics and we often explore the options in different hawker centres around Singapore.
When I go out, I like to pair my accessories with my outfit. The Tambour Horizon Light Up's matte black strap with subtle Louis Vuitton monograms was a no brainer as I'm often dressed in minimalist grey, blue or black.
The rounded bezel presents a stylish endless screen feel and I like the vivid animated lighting in the "Blossom" mode whenever I hold up my wrist. I love mechanical watches but I can appreciate the offerings of this smartwatch without compromising on my preferences.
The LV 24 watch face that displays all the time zones is an iconic LV design that I particularly appreciate – I was pleasantly surprised that they brought it to life digitally.
2PM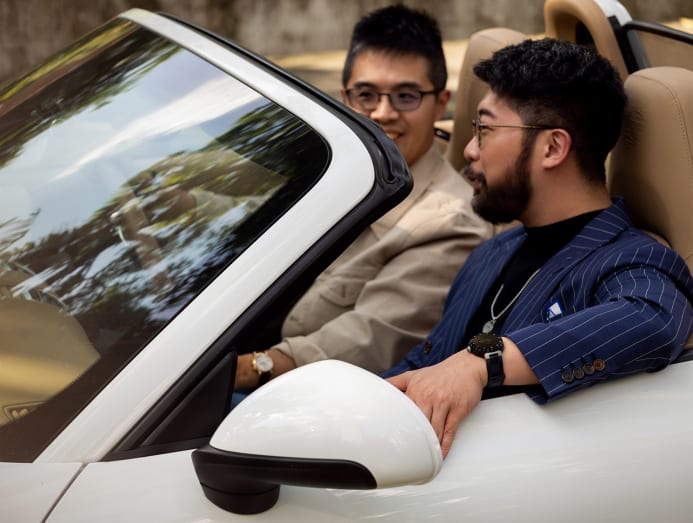 I meet my friend Kin after lunch to work on the designs of the next limited edition SWC watch. Awfully nice of him to pick me up in his swanky new ride today!
Usually, I'd call a ride for my commutes and use the time to kick back and relax to clear my mind for the next appointment. It's deep house music like Lane 8 for the best results.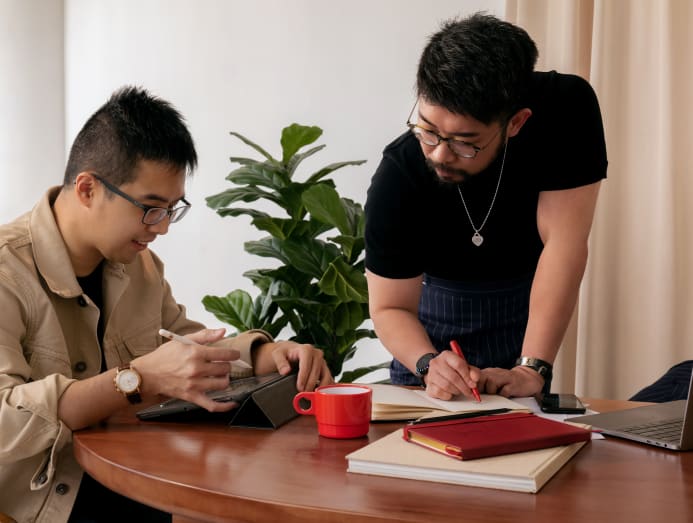 5PM
I switch out the matte black strap for a blue rubber option and hit the gym – it took only seconds with the nifty strap-change system. I go to the gym every other day on a moderate strength training routine with high repetitions. I work on a different muscle group every session, and I'm flat out by the end of the hour.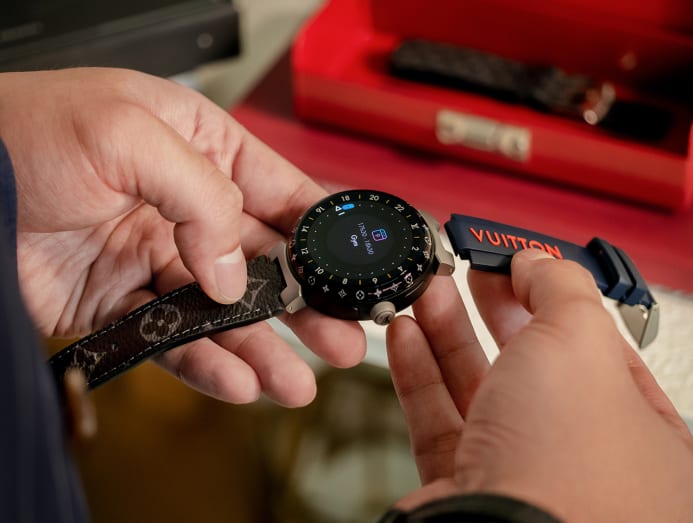 On days when I feel more motivated, I'll end the session with 15 minutes of cardio, but it doesn't happen as often as I wish. Accompanying me would be my classic rock Spotify playlist of Motley Crue, Motorhead and Guns N' Roses, which I can easily control from my watch without the need to reach out for my phone especially during cardio. I can also monitor my heart rate and time my rest.
7PM
Dinner is again at a hawker stall or restaurant. I love prawn mee, chilli crab and chicken rice and we've been to the hawker centres at Old Airport Road and Hong Lim Complex. We like steamboat, too, especially the ones at Coca and Beauty in a Pot.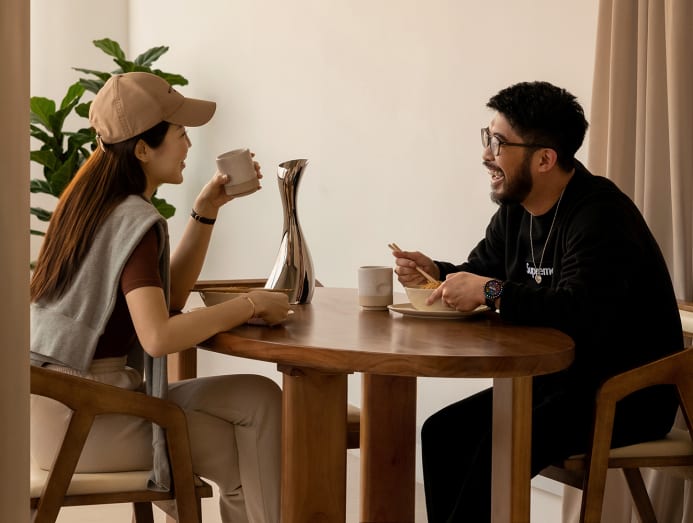 9PM
We unwind at home by watching TV or listening to music. We put on some mellow tunes from my iPhone to the Louis Vuitton Horizon Lightup Speaker, which can be controlled via the LV Connect app.
As for a wind-down beauty or wellness regimen, I don't have any! I'm super low maintenance and Hosanna's always wishing I'd take better care of myself. A glass of whisky to power down is how I like to end my day.
Visit the Tambour Horizon Light Up Pop-In at the Louis Vuitton Ion Orchard store from Jan 14 to Jan 28 to experience the newly launched Tambour Horizon Light Up, Horizon Light Up Speaker and the Horizon Wireless Earphones. No registration is required. Walk in or make an appointment by calling +65 6788 3888 or visiting louisvuitton.com