From Wall Street to seafood shack: Who's the Luke behind Luke's Lobster?
You've had their famous lobster rolls, but do you know how Luke's Lobster came to be? Founder Luke Holden talks about the company's early days, its foray into Singapore, and why a chilli crab-flavoured lobster roll might just find its way to the US.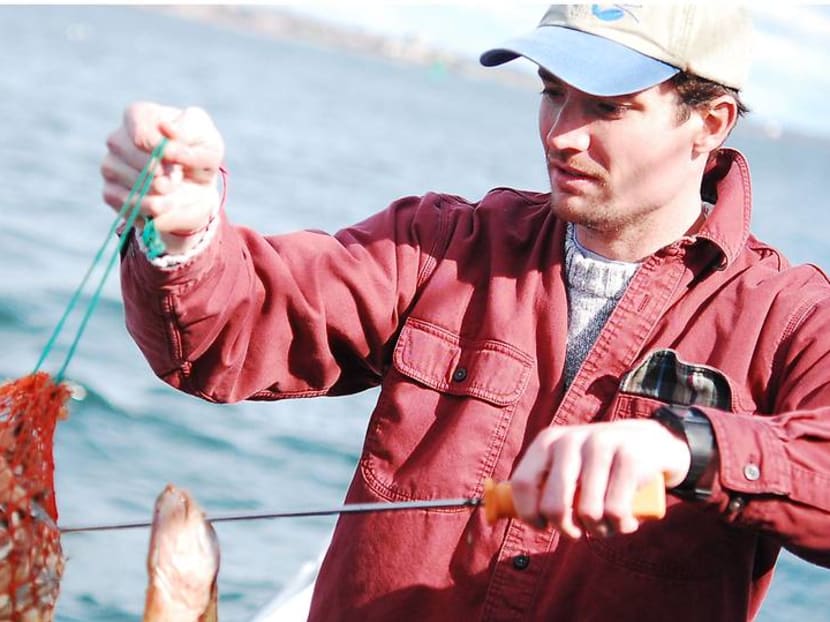 As a big seafood (and of course, lobster) fan, imagine my delight when the famed Luke's Lobster opened its first outlet here in Singapore in September last year. When I finally sunk my teeth into a lobster roll, I couldn't help but crave for more.
Well, we're now almost midway through 2021, and I may or may not have gone back to Luke's a couple more times. I'm probably not the only one either, as owing to popular demand, Luke's has since opened its second outlet at Jewel Changi Airport.
Juicy, succulent lobster rolls aside, it is 7.30pm here in Singapore, and I'm scheduled to get on a Zoom call with Luke Holden, founder of Luke's Lobster. And yes, he named the business after himself.
Holden dials into the call a little after 7.30pm. It's 7.30 am in the morning where he is based in South Portland, Maine, but he's already at his work desk. He apologises for the wait. He spent the morning making smoothies with his two little daughters, "and we made a mess, so we were running a bit late," he said.
Holden calls himself a "third-generation lobsterman". For the uninitiated, a "lobsterman" is a fisherman who catches lobsters.
"My father was a lobsterman-turned-lobster dealer. Eventually, he opened the first licensed lobster processor here in the state of Maine 40 to 45 years ago," Holden shared.
The 37-year-old spent his childhood "growing up on the back of boats". In his youth, he worked at his dad's production facility. Even through high school and college, Holden kept on lobstering.
"In my second year of studying business at Georgetown University in Washington, DC, my parents basically told me that if I was going to continue lobstering, they were not going to support my education. If I wanted to keep doing it, they'd teach me what I needed to know. I wouldn't need to go to college for four years and rack up all this debt," Holden said.
Eventually, Holden took up an internship working at an investment bank. "That was fine, I was good at it, and I liked the people I worked with," he said.
In his junior year, Holden ended up accepting a full time position as a financial analyst in an investment bank in New York, so he packed his bags and moved to the Big Apple. "It was rewarding. I got to work with smart people, solve big problems and make some money. But there was no passion behind it," he admitted.
One afternoon, seated at his work desk, Holden started feeling a little homesick. He decided to search for something that reminded him of Maine. "That was a lobster roll, but there was really no affordable high quality lobster rolls in New York at the time. So I wrote a business plan and decided to team up with my dad."
At the time, Holden's dad was still running one of the largest lobster production facilities in Maine. Together with business partner Ben Conniff, the pair "bought all our seafood from him and opened up a tiny little shack in the East Village in 2009. It was extremely popular and so much fun."
A LABOUR OF LOVE
In the early days of Luke's Lobster, Holden was running the business while still holding his job at the investment bank. "I was working 70 to 80 hours a week, and sleeping a couple of hours a night," said Holden.
Holden would wake up early to help set up the restaurant in the morning before clocking in to his day job. As soon as work was done, he would head back to the restaurant to "help clean up, count the jar, manage inventory, and get set for the next day".
It must have been exhausting, I offered. But Holden shrugged it off. "It was just so energising," he quipped. "It really helped that I was 25 years old. You have a lot of energy at that age."
Aside from having youth on his side, it did help that Holden didn't have any other commitments either. "This was my focus, I had no distractions. I had an apartment lease, a gym membership, and a running bar tab. That was about it for responsibilities. It was an interesting time to be all in and entirely consumed with Luke's."
So what was the push that made him eventually leave Wall Street? "Well, I wanted to go from a cushy job with a high salary and benefits to a job that only paid me US$30,000 a year with no healthcare. In a startup business, where 80 per cent of restaurants fail in the first two years," he joked. "But honestly, I was just passionate about the business. I've always loved the lobster industry."
"I was just passionate about the business. I've always loved the lobster industry."
BRIGHT SPOTS IN A PANDEMIC
Fast forward to today, and Luke's Lobster has expanded all over the US with restaurants in Boston, Chicago, New York, Philadelphia, Washington, DC, Miami, San Francisco and Las Vegas. Its first international outpost opened in Japan in 2015.
What's lesser known about Luke's, however, is that the company is one of the US' largest supplier of lobster products. Not only does it supply seafood to its shacks around the world, it also supplies frozen lobster products sold in supermarkets such as Whole Foods.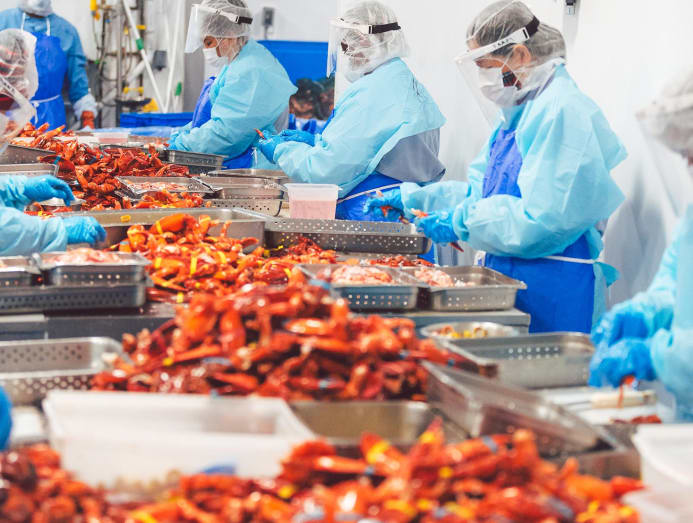 At the time of our chat, Holden revealed that it had been a "trying year" for the company, what with the pandemic. In the US, all but its flagship shack in Portland was shuttered, and the company had to furlough 90 per cent of the team. "It was gut-wrenching," he said.
Nonetheless, there have been some bright spots for the business. For one, Luke's Lobster made a pivot to e-commerce, selling seafood products such as lobster, crab, bluefin tuna, scallops and more on its online marketplace. "We stood that thing up in a matter of days," Holden shared. The e-commerce business has now become a sustainable revenue stream for the company.
Then there is, of course, the company's expansion into Singapore, its first Southeast Asian foray. The first Luke's Lobster outlet in Singapore was a long time coming, said Holden. The company's shacks in Japan, famous for their long queues, had built pent-up demand among Singaporeans. "We had close to 300 enquiries from Singaporeans asking to license Luke's."
Eventually, the company decided to partner with Vijay Pillai, CEO of Caerus Holding, to franchise the business in Singapore. Holden describes initiating what he called a "dating process" with Pillai. 
"We started 'dating' Pillai almost four years ago. We brought him to New York and had him work in some of our shacks. I had him stay with my family in South Portland, I took him out on my boat. It's really important to understand who we're partnering with, both on a personal and professional level."
Much to his regret, Holden could not be present in Singapore when the first outlet opened at Shaw House, nor the second at Jewel Changi Airport. Nonetheless, Holden said that "sales are going very well", and he can't wait to fly down here to "spend some time in the shacks and with the team".
A spokesperson from Caerus Holding shared that "compared to the US, the food culture here in Singapore is fast-paced as consumers are always seeking new experiences and flavours".
To that end, Luke's Lobster Singapore has launched several seasonal rolls to excite local fans. At the start of the year, it introduced a Truffle Butter Lobster Roll. Available from April to May is the Hot Honey Lobster Roll – a spiced-honey version of the signature roll aimed at spice-loving locals.
We locals really love our unique flavours, like our beloved chilli crab, I shared. "Yes, and what we would love to do is take these recipes that work very well in Singapore, and then share them in our domestic shacks in New York, Boston, Chicago, DC and more. We set up the franchise in a way that allows us to share limited time offers across borders," Holden responded.
Does that mean we'll see a chilli crab lobster roll in New York in the future? "I hope so!" Holden quipped.

"What we would love to do is take these recipes that work very well in Singapore, and then share them in our domestic shacks in New York, Boston, Chicago, DC and more." 
LIFE OUTSIDE LUKE'S
Though Holden said that recovery for Luke's restaurant business in the US has been slow, he remains hopeful. "There's momentum on our side and things are steadily improving every week."
When he's not busy running one of the world's most beloved lobster restaurants, however, the proud dad enjoys spending time with his family. "But I also love spending time at our restaurant, so this past weekend, I brought my two little rugrats there and we had a wonderful time," he said, sharing a video of his three-year-old bravely touching one of the restaurant's live lobsters through the computer screen.  
His girls are big fans of Luke's lobster rolls as well. "But I'll be honest and say that my oldest prefers the lobster bisque the most," shared Holden.
Holden is also an avid ice hockey player, and plays in what he calls an "old man's league" that gathers around 10pm at night for a game. "We have a beer and play hockey. It's not that competitive. It's about having fun and getting a sweat in."
And if you're curious to know what his favourite item on the Luke's Lobster menu is, Holden says that his go-to is always the classic lobster roll.
Outside of the Luke's Lobster menu, however, his favourite food is baked haddock. "A baked haddock platter is just so, so good," the avid seafood lover chirped.