Meet the Singaporean couple collecting Chanel handbags as art pieces and future heirlooms
Over the years, husband and wife Patrick Chan and Ng Shubing have amassed a sizable collection of luxury bags, which they view not just as art objects but as pieces that can one day be passed down to their three young children.
When entrepreneur Patrick Chan bought his wife Ng Shubing her first Chanel Classic Flap bag, she went back to the store a few days later to get it exchanged.
The medium sized bag, crafted of diamond-quilted caviar leather in black with silver hardware, was meant to be a gift to celebrate the end of her maternity leave following the birth of the couple's third daughter, and her return to work.
"I wanted to go back to see if there were any other colours available," Ng, an adjunct teacher, shared, adding that she prefers light, pastel colours over black. "He actually told the sales advisor that whenever he buys me a bag, I will surely want to change it," she laughed.
However, the sales advisor managed to convince Ng to keep the bag – it's a classic and difficult to get, she was told. Instead, she ended up buying another three more bags on the same day, sparking off the couple's collecting journey.
A GROWING COLLECTION
Today, Ng and Chan have amassed a collection of around 70 luxury bags and small leather goods. In particular, they have an affinity for Chanel handbags. Over the years, they've collected more than 40 bags from the fashion house, of which 18 are mini flap bags. Other designs in their collection include the Vanity Case, Chanel Boy, Coco Handle and this season's most-coveted piece, the Heart Bag.
"I find Chanel bags are quite easy to match and can be used for daily wear or special occasions. For example, you can carry a Chanel bag to go shopping, or to high tea or brunch with a friend. It can also be carried to dinner," said Ng.
She also cites the craftsmanship of the bag as a pull factor. "It's a very sturdy and structured bag that doesn't change its shape," she said. "My first Chanel mini flap was bought in Milan by my sister in 2014. The lambskin leather still looks as good as new. My first Classic Flap in caviar leather was a gift from my husband and the quality of the bag is amazing. With good care and proper storage, these bags can last a long time."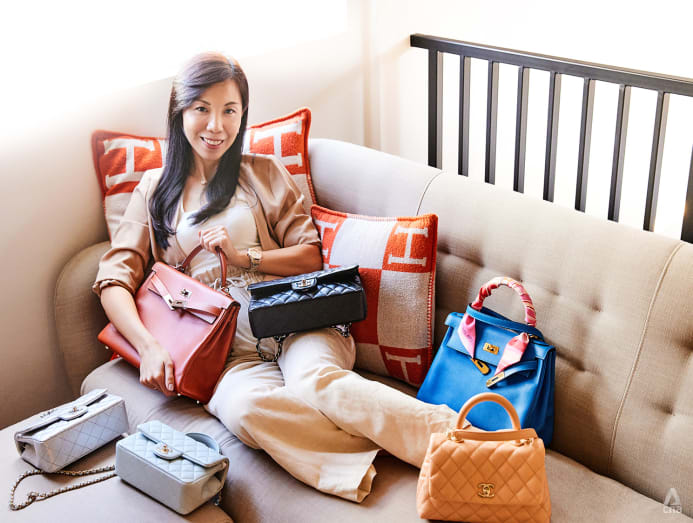 While she describes Hermes bags as "more serious" and suited for certain events, her collection also includes a Kelly 32 in brique, purchased to celebrate the birth of the couple's second daughter, and a Kelly 28 in blue, commemorating the birth of their third daughter. A Chanel Grand Shopping Tote was purchased to celebrate the birth of their first daughter.
HEIRLOOM HANDBAGS
Both Ng and Chan also view the handbags in their collection as valuable assets and heirloom pieces that can be passed down to their daughters one day, much like buying gold. "In the long run, they do appreciate in value and I can pass them on to my girls," Ng commented. "All the pieces that we buy are timeless and classic, so they can still use them by the time they are older."
Once considered a frivolous purchase, luxury handbags have slowly emerged as an investment class. According to the 2021 Knight Frank Luxury Index, collectible handbags rose in value by 7 per cent over a 12-month period.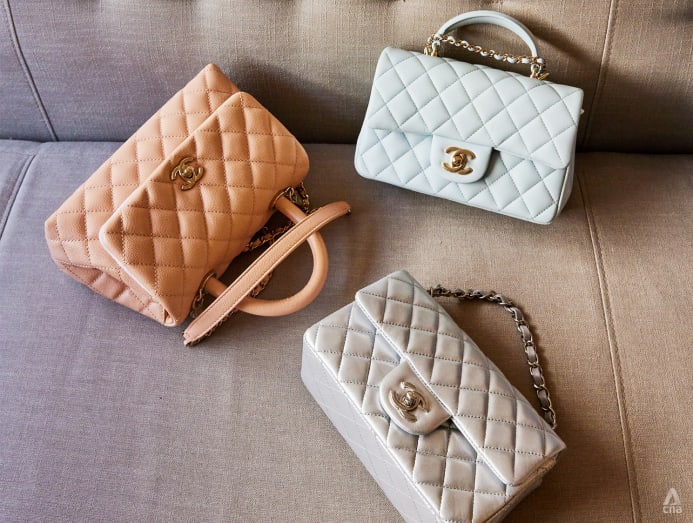 "Luxury handbags are a great investment in two aspects – they retain their value in time and can resell at even higher prices, and the sophisticated craftmanship behind each bag lasts for decades," said Morgane Halimi, Sotheby's Head of Handbags and Accessories. According to Halimi, Hermes, Chanel and Louis Vuitton bags are the most "investable".
Chanel vintage classics from the 90s during designer Karl Lagerfeld's era, for example, are "super in demand" today, Halimi said. "Vintage Chanel bags from Lagerfeld's early time with Chanel sell for multiples of their original retail price on secondary marketplaces like Sotheby's. There's also strong demand for some of the house's new collections such as the Heart Bag, this season's most sought-after bag that resell for much higher than their retail price."
HANDBAGS AS ART PIECES
Female bag collectors are certainly not unusual, but what is relatively rare is having your husband on board the collecting journey. "Normally you would never associate a man with appreciating women's bags," Chan, who runs an F&B and catering company, admitted. "But I've grown to appreciate my wife's passion as they are stunningly good quality bags that will be relevant even in many years to come."  
The couple often discuss which bags to purchase. "Sometimes when we're offered a bag, she rejects it. But I will tell her to just take it," said Chan. "But it depends because she likes certain colours, while I like others. In the end, I will respect her decision."
"He tends to go for darker colours, while I like pastel colours," Ng explained.
The pair keep their collection in full glass cabinets located in a room on the third floor of their home. "People collect art [to display], we collect bags," quipped Chan.
"We always look out for bags of the same design but in different patterns, different materials, different shapes. When we display them in our cabinet, it looks very nice. When there's an empty spot, we fill it up," he said.  
Some of Ng's favourite bags at the moment include a Chanel mini flap in silver, a size that she says is "just nice for my petite frame". "The colour is versatile and matches with all my outfits."
Her daily bag, however, is the Louis Vuitton Monogram Pochette bag that holds her cards, phone and a lip balm. "I have three young daughters and it's a durable and useful bag for me as most of the time, I will be carrying or holding my children."
Aside from bags, the couple also collects luxury timepieces. Their collection includes a few Audemars Piguet Royal Oak and Royal Oak Offshore timepieces. Chan was particularly drawn to the Royal Oak collection's iconic octaganol bezel, a unique design he believes lends to a "distinguishable look from afar".
When building their collection of luxury items, the pair consider themselves brand loyalists. "When we like a brand, we continue buying from them. That's just the way we are," shared Chan.