In good spirits: Meet Malaysia's first independent whisky bottler with a cult following
One may not expect a spirit bottler to be Malaysian and/or a lady, but Eiling Lim defies stereotypes with an impressive track record of highly sought-after bottlings of whisky, gin, rum and vermouth.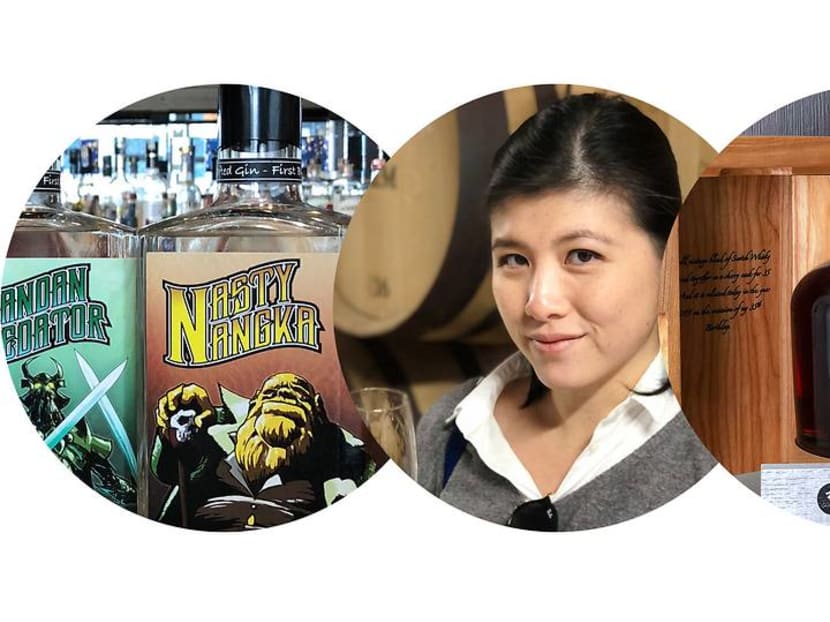 Whisky was not Eiling Lim's first love, but this spirit has charted not just her career but also how she met her husband. Lim has the particular distinction of being Malaysia's first independent whisky bottler in 2014 and since then, she has become a well-regarded player among distributors, bartenders, bar owners as well as spirits enthusiasts.
Born in 1984 and raised in Ipoh, Lim moved to Kuala Lumpur to study Business Administration. She went on to handle sales and marketing for a company producing gourmet chocolates for the duty-free market, and then for Mars Foods in Travel Retail. There, she had to visit Duty Free outlets in airports across Southeast Asia on a regular basis.
During this time, she started to attend whisky tastings wherever she travelled to and fell in love with single malts – with the help of generous friends who shared their precious drams. Eager to explore different whiskies, she reckons that the many tastings involved in her job primed her for this.
"I remember having to try about 20 different chocolates every week and writing tasting notes for them so that the chef could make changes to the creations," she reminisced.
"When I got into whisky, I attended whisky masterclasses and learned from online articles, but I felt that the most important learning experience came from tastings. The more you taste, the more you learn."

As fate would have it, Lim met her now-husband, Luc Timmermans, at a whisky tasting at The Auld Alliance in Singapore. In 2014, Lim moved to Belgium, her husband's home country, and the couple happened to taste a 1990 Littlemill 23 Year Old in Antwerp.
They were so impressed, they decided to buy the rest of the cask, which yielded 68 bottles. Since they couldn't finish all the bottles themselves, Timmermans encouraged Lim to start her own independent whisky bottling brand as she always dreamt of bringing more single malt varieties to Malaysia.
This first eponymous release sold out in two weeks, which Lim credits to Timmermans' reputation – he's a retired whisky bottler – in the whisky world. Since that auspicious start, Lim has done 23 different whisky releases: An official bottling with Glenfarclas for a 1979 cask, as well as joint bottlings with La Casa Del Habano in Belgium, Wholly Spirits (her distributor in Malaysia), and Shinanoya in Japan.
"I have very strict requirements in selecting casks to be bottled. Together with my husband, we try 20 to 30 different casks on average every time we choose a whisky to bottle." – Eiling Lim
She has also sold some whiskies for private bottlings, where customers can have their own labels printed on the bottle.
"I have no fixed schedule in releasing my whisky bottlings because I believe in choosing quality casks which are affordable. If I don't find anything I consider worthy to be bottled, then there will be no releases," she stressed.
"Bottling is my passion so it's not just a business. Therefore I select only the best to be bottled because my name is at stake."
While Lim's whisky bottling journey may seem charmed, she is emphatic that her success did not come overnight. Being Malaysian and female, she had to work harder to get the word out about her brand. It took her a few years, through word of mouth, critical reviews and positive auction results to gain the confidence of consumers.
However, she believes that there are plenty of opportunities for independent bottlers because many young consumers are eager to learn and try new things in Malaysia.
To convince this segment of whisky drinkers, Lim sets herself apart from the big players in terms of variety, quality, scarcity and price. "I have very strict requirements in selecting casks to be bottled. Together with my husband, we try 20 to 30 different casks on average every time we choose a whisky to bottle," she said.
She primarily selects scotch whisky from a single cask and every release is bottled at cask strength, without colouring and chill-filtration. This is what makes her whiskies scarce because every bottle drunk is one less in the world.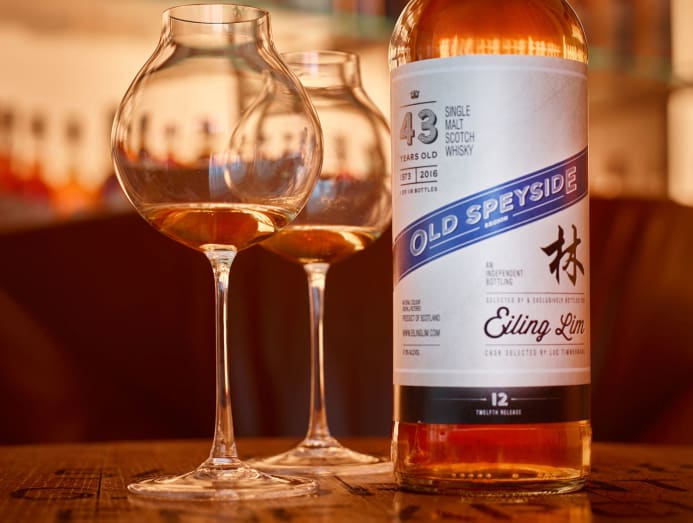 "The whisky bottlings were mostly offered to end-consumers and I wanted a product which I could also offer to the bars. I played with the idea of creating my own gin for two years and after speaking to Malaysian bartenders and a Belgian distiller, I finally decided to go ahead with the idea," she recalled.
Lim subsequently created three locally inspired flavours named Nasty Nangka (jackfruit), Pandan Predator and Gawky Galangal, each made with 17 different types of raw botanicals in small batches of 500 bottles. Distilled and bottled in Belgium by De Cort Distillery, Lim chose this "field-to-bottle" distillery because she liked that they used only raw produce from farms.
The distillery also doesn't use artificial flavourings and steeps its ingredients for 36 hours before distilling them in copper Holstein stills. "A lot of thought and effort went into the gin because one can easily tell the quality from tasting the gin neat. I even airfreighted the jackfruit over to Belgium for this gin," she enthused.
Despite this, she found that bottling a product like gin was not without its challenges. "When marketing my gins, I realised that many bars prefer to sell more cost-effective gins," she revealed.
"I'm competing at a premium level and that is not easy because many consumers think that a gin is just a gin, unlike whisky where the consumer can easily differentiate between a premium whisky and others by the vintage."
Since the pandemic, Lim hasn't been able to return to Malaysia, but she reports that the virus has not dampened "spirits" in Europe, as sales of whisky and wine spiked. However her dedicated distributors in Malaysia (Wholly Spirits), Singapore (The Auld Alliance) and Australia (Select Spirits) who sell her gin at bars were affected during lockdown.
In the meantime, Lim is looking at champagne: "I bought a 2018 single cask Champagne and I'm returning to Champagne at least [once] every year to taste the Champagne I've bought to see when's the right time for disgorgement. It'll be really refreshing and exciting to bring out an independent bottling of single cask Champagne, which I believe is still a rare sight in the market."