How Malaysia's first lady of luxury fashion is taking the lead in rallying local retail
Founder and president of the Melium Group, Farah Khan – who is Singaporean – is steering her fashion empire through uncertain times by leaning on the relationships she's cultivated over the years.
Name-checked in Business of Fashion's elite 500 list in 2015, Farah Khan is the founder and president of Malaysia's leading luxury retailer, The Melium Group, and creative director of her eponymous label, Farah Khan.
Since founding Melium in 1989, Khan has been responsible for distributing more than 100 international luxury fashion brands including Givenchy, Max Mara and Tod's. As much a savvy fashionista as an astute businesswoman, she also introduced multi-label stores like Aseana and M Store stocking edgier labels such as Balmain, Victoria Beckham and Mary Katrantzou.
The Singaporean's first foray into fashion was the highly successful The Link boutique in Mandarin Hotel, which was established in 1974. In 1982, she sold the business to fashion retailer Tina Tan-Leo and moved to Kuala Lumpur to marry KL-based Singaporean businessman Akbar Khan.
Five years later, Khan opened multi-label fashion boutique Le Salon, which retailed brands like Versace and Alberta Ferretti. Le Salon was eventually rebranded as the Melium Group, with Aigner and Hugo Boss coming on board as partners.
Khan's impeccable taste and effortless style found expression in her namesake label, launched in 2007. The label's aesthetic marries intricate Southeast Asian beadwork with easy silhouettes, and regularly graces the red carpet thanks to fans like Selena Gomez and Gigi Hadid.
Thirty-one years on, Khan now presides over an empire of over 40 fashion boutiques, as well as the franchise of Dome cafes in Malaysia. She has created a unique company culture built on teamwork and trust, to which she attributes the Group's success and longevity.
"We are almost like a family and have had staff that have been with us for decades. We have also been serving customers and their children and grandchildren so our client base is in some ways generational," she told CNA Luxury.
Khan's philanthropic streak is evident in the way she chose to mark Melium's 15th, 20th, 25th and 30th anniversaries: By organising charity auctions to raise funds for deserving institutions.
The 30th anniversary raised RM4.5 million (S$1.48 million) for 20 charity organisations, which Khan said was made possible only from years of forging strong relationships.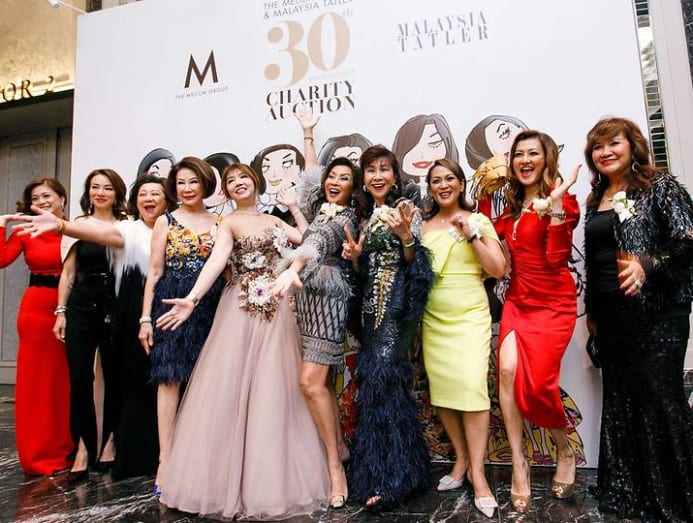 "The entire Melium family was involved in the project for over six months leading up to it. I worked with a committee of some of Kuala Lumpur's most intelligent, stylish, dedicated women to raise these funds. Relationships are the most fundamental thing in life; it's two-way and it's about communication. Everything of value in life, comes down to the relationships you've built over time."
Those relationships were tested during the COVID-19 pandemic when the retail and F&B industries were hit hard.
Khan believes that Melium has navigated these unprecedented times well, and continues to face challenges with renewed investment in people and technology.
"We launched FarahKhan.com which focuses on the 'New World Fashion' essentials like masks, message sweaters and bomber jackets. That's what women and men are looking for these days. The days of formalwear will return but for now it's back to basics," she said.
Khan also revealed that Melium will be launching its own e-commerce platform in the last quarter of 2020, a curated space for shoppers to browse from the comfort of their homes.
Moving forward in this new retail climate, Khan's sales strategy has been to focus primarily on the local market. What better way to do this then by reminding shoppers that beauty and glamour still exist in a light-hearted campaign with an important message – #SupportTheEconomy.
Working with friends of Melium like hip-hop artiste and entrepreneur Joe Flizzow, fashion icons Ezurin Khyra and Magie Abang Saufi, stylish couple-about-town Kavita Sidhu and Roberto Guiati, Indonesian model Whulandary and the inimitable Chef Wan, Melium produced a series of videos to support the fashion, arts, food, music, and local travel industry.
"It's our hope that other local businesses will use the hashtag and that it'll gain momentum to showcase what everyone is doing," she enthused.
"I need to be here for Melium and in a way that's a fantastic thing. We are still here and fighting the good fight when so many other brands have sadly fallen to this pandemic." – Farah Khan
As to how the pandemic has impacted her, Khan is stoic in her resolve. "From a personal perspective, I know that while I have wanted to take some time off for a while now – having been in the business of fashion for over 30 years – I simply cannot," she stated. "I need to be here for Melium and in a way that's a fantastic thing. We are still here and fighting the good fight when so many other brands have sadly fallen to this pandemic."
Even as the pandemic shows signs of easing, her heart is firmly in her adopted home. "While I'm looking forward to travelling again, I really miss being in Greece and Bali, my other homes that I take the time to spend with family and friends in the summer. Realistically, that will be a while coming," she opined.
"The truth is we are all just rolling up our sleeves and getting on with things. My focus is firmly on… my business, strategising for the next two years, strengthening our bricks-and-mortar outlets while building the e-commerce platforms."
In the absence of travelling, which Khan cited as her constant source of inspiration,  she now looks to people instead: "The people who inspire me are my incredible friends, who have shown me their unshakeable love and support. And, it goes without saying, the frontliners who've sacrificed so much to help keep the virus under control here in Malaysia and all over the world. We wouldn't be here without them."
As the world adapts to the new normal, Khan's unfaltering vision for Melium continues to transcend the vagaries of time: "Whether design, architecture, art or antiques, the narrative behind beautiful objects has always fascinated me. The concept for Melium has evolved from when I started it in KL almost three decades ago.
"It took years to build the right teams, the buyers, the retail operations, the right principal partnerships but what started it all off was my appreciation of beautiful, well-made things. It's never been about trends, it's about style and I like to think that that's the essence of Melium."
"Relationships are the most fundamental thing in life; it's two-way and it's about communication. Everything of value in life, comes down to the relationships you've built over time." – Farah Khan