At 18, he dropped out of ITE to join his family's durian confectionery business
Marcus Chan, now 27, is the general manager of local durian confectionery company, Four Seasons Durians, but he has set his sights on expanding the business beyond the king of fruits.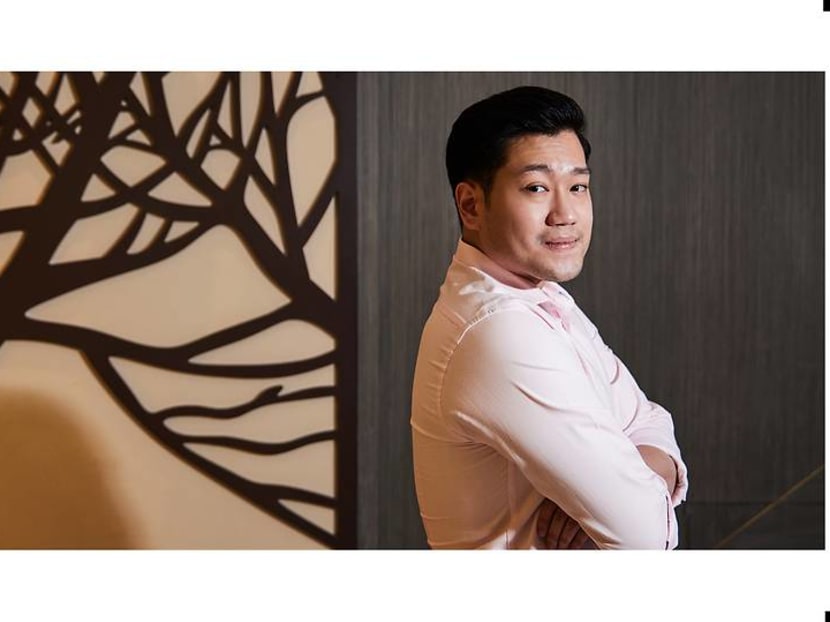 Even for a food-obsessed nation like Singapore, nothing can quite top our love for durians. It's a durian paradise here – while the country boasts a good many durian fruit sellers, it is also home to several confectionery businesses that serve delightful desserts year-round with the king of fruits as the main star.
One such enterprise is family-owned Four Seasons Durians. Established in the early 1970s as a fresh fruit stall along Thomson Road, Four Seasons Durians has been around for decades. Baking instructor Victor Chan took over the company in 2002 and, together with his wife, turned the company into a full-fledged durian store selling not only the fruit, but durian-infused desserts as well.
Four Seasons Durians first gained popularity after Chan established a kiosk in Takashimaya Department Store. While its original outlet has recently shuttered, it still has two more kiosks in the Singapore heartlands – the first at AMK Hub shopping mall and the other at NEX Serangoon – as well as a durian specialty restaurant at Jewel Changi Airport.
Following Chan's retirement five years ago, Marcus Chan, the youngest of his two sons, came on board and is now the company's general manager. At 18, the younger Chan dropped out of school to join Four Seasons. He had been studying at an Institute of Technical Education (ITE), but left to join the retail side of the business, helping out at its outlets and learning about the business's operations. After completing National Service (NS), he officially took over the company at the tender age of 22.
"My parents poured their hard work, blood, sweat and tears into this company. They started it from ground zero. So I felt that it was my duty as a son to take over. I don't think I could ever live with myself if I let the business go to waste," the now 27-year-old said.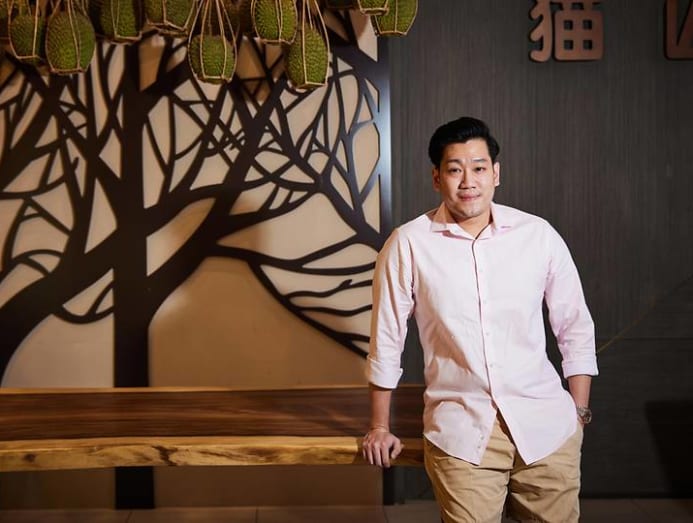 ALL THINGS DURIAN
Since young, Chan has always been a durian fan. "After tasting so many durians over the years, I think my favourite is still Mao Shan Wang. My mother loves to tell her friends that when she was pregnant with me, she loved eating durians. That's why I grew up loving to eat durians too," Chan quipped.
Some of Chan's fondest childhood memories include being a "guinea pig" for his father. "My dad is a professional baker, so he would come up with all sorts of exotic durian products. He would then ask my brother and I for our opinions. We would also help out by pasting Four Seasons stickers on the product packaging."
Chan's older brother is currently not involved in the family business, having started his own durian dessert company, Golden Moments, in 2017. He sold the company in early 2020 and started confectionary company Chng Kae that same year.  
On what sets Four Seasons apart from its competitors, Chan says that the company uses only "the finest ingredients, with no preservatives added". Some of Four Seasons's most popular products today include its durian puffs and its Mao Shan Wang classic cake. Its seasonal durian mooncakes, specially created for the Mid-Autumn period, are also a hit.
"The recipe of our mooncake has been the same for the last 20 years. Nothing has been changed. Of course, there will always be changes in terms of taste because for each durian harvest, there are several uncontrollable variables such as temperature, age of the tree as well as soil conditions. All these factors play a part in how the durian will taste," shared Chan.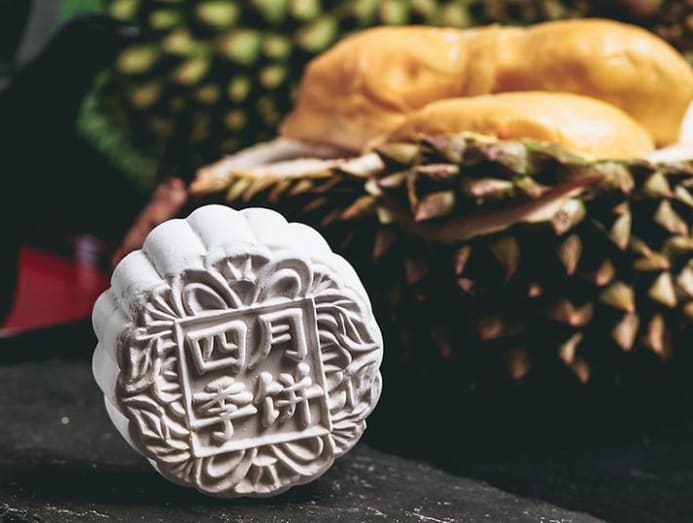 What is arguably Four Seasons' most exotic product to date, however, is its durian hotpot, a highlight on the menu at the Four Seasons Restaurant at Jewel Changi Airport. The dish features a soup stock boiled with durians. Into the broth, customers dip regular hotpot items such as beef, tofu, mushroom, cabbage, fish, clams and more.

Introducing this unique creation to Singapore was actually his father's idea, Chan revealed. "My dad is very innovative, he is always constantly thinking of fresh ideas. He was about to retire and wanted to impart any unique dishes that he had in mind."
Though some people are still quite skeptical about it, Chan says that the durian hotpot has been mostly well-received by those who have tried it. Other than durian hotpot, durian-infused dishes on the menu include Mao Shan Wang durian pizza, durian fried rice and crispy durian roll.
The restaurant, which is halal-certified, also serves non-durian dishes with a focus on Nanyang cuisine and other local favourites. Dishes include garlic fried rice, beef hor fun, crab bee hoon, as well as nasi ambeng.
"The business that I inherited was very much a pen and paper company. Digitalising would help to streamline operations as well as open up new revenue channels."

DIGITALISING THE BUSINESS
Taking over the business at a young age wasn't easy for Chan. Back in school, Chan admits that he wasn't the "studious type". When he decided to drop out of ITE, his mum "had a hard time swallowing [his] decision".
Less concerned about academic achievements, his father, however, felt differently. "He has always believed that being a morally upright person is more important."
When he first took over the company, Chan had a tough time gaining the respect of his colleagues and suppliers. "Some of the older staff didn't take me seriously. As a young manager representing a company that has been in Singapore for quite some time, some of my suppliers, who have been around longer, treated me as if I didn't know anything," he said.
Five years into his role, Chan has now found his footing. "I was a bit directionless back then," he admitted. "But my parents put in a lot of hard work into this company, and I really didn't want to fail."
After coming on board, Chan's immediate priority was to steer the company's digitalisation efforts. "The business that I inherited was very much a pen and paper company. Digitalising would help to streamline operations as well as open up new revenue channels."
Aside from setting up an online store, Four Seasons also began selling products on third-party e-commerce platforms Shopee and Lazada. On hindsight, this proved to be an astute move. After the pandemic hit, sales at the company's brick and mortar shops were affected, but with e-commerce strategies in place, the company managed to tide over the circuit breaker period.
"In fact, our two months' worth of pandemic sales was our two years' worth of online sales," said Chan. "We were aggressive with our online campaigns and more active on Shopee and Lazada. I guess one of the variables was that with the circuit breaker in place, everyone was locked at home and the buying behaviour of consumers was taken online."
"One of the main contributing factors as to why the price of durians have been increasing is because consumption in China has been at an all-time high."

'WE ARE A FAMILY THAT RUNS A BUSINESS' 
While Four Seasons has set its roots in Singapore for the last couple of decades, Chan has his sights set on international expansion. The Four Seasons Restaurant at Jewel Changi Airport was meant to be the first step for the company towards international recognition.
"It was Jewel's management team that invited us to come on board – the whole idea was to sell durians in an airport to appeal to an international audience," said Chan.
In particular, Chan is hoping to penetrate the China market. "One of the main contributing factors as to why the price of durians has been increasing is because consumption in China has been at an all-time high. They order directly from Thailand and Malaysia, and in huge volumes."
Pre-pandemic, the company managed to secure distributing channels into China, but plans have since been put on hold. "There are a lot of restrictions now, but once things got back to normal, we hope to resume our plans," Chan said.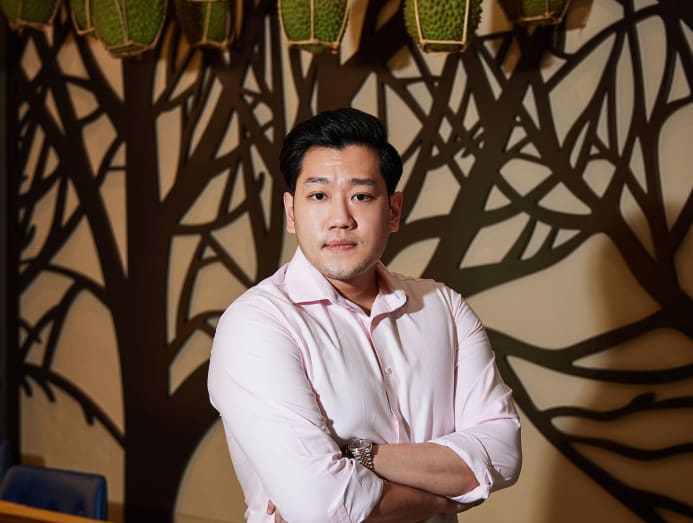 Four Seasons' may be known for its durian products, but Chan also has plans to expand the business beyond the king of fruits. He is currently working on launching a sister brand to Four Seasons, selling puffs, tarts and other confectionary goods made from other types of fruits.
With the price of durians constantly increasingly over the years due to supply and demand issues, Chan believes that it is important to expand the companies' offerings. "Our product margin has been affected, so I have to find new ways to maintain it without utilising durian as a core ingredient," Chan explained.
Starting his own brand is also a personal dream of Chan's. "At the end of the day, Four Seasons is still my parents' company. I can never take full ownership of it because it was them who built this up," he admitted.
Although he's now venturing outside Four Seasons, Chan still has family on his mind. The sister brand will be named Faie, a tribute to his late sister, Faye, who died at a young age. "Since young, my parents have taught me the importance of family values. At the same time, I was raised with so much love, so family is extremely important to me," said Chan.
"Honouring [my sister] with this brand is a way for me to commemorate her. After all, we are a family that runs a business," Chan added.
"Since young, my parents have taught me the importance of family values. At the same time, I was raised with so much love, so family is extremely important to me." – Marcus Chan