Meet Benjamin Boh, McDonald's Singapore managing director and burger lover
Boh unpacks Singaporeans' love for the fast food giant and reveals just how often he indulges in a McDonald's meal in a week.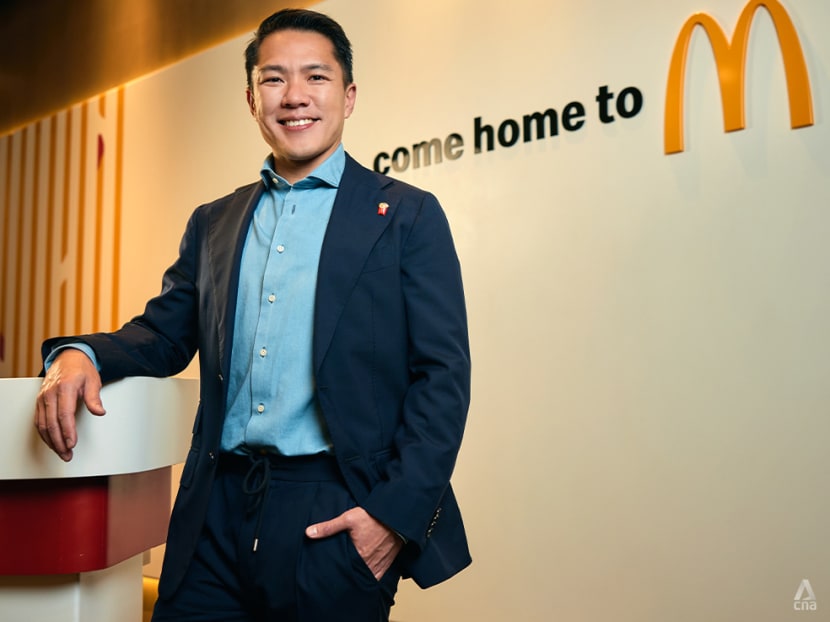 Like many who grew up in Singapore, Benjamin Boh is a self-proclaimed McDonald's fan. In fact, he recalls having his first Happy Meal with his parents at the age of five at the Plaza Singapura branch, then fondly referred to as Yaohan Orchard.
"I remember the experience of opening a box, because that was just unheard of at the time. Back then, food was just food, right?" the 41-year-old quipped.
A few decades later, another moment etched in his memory is taking his daughter to have her first Happy Meal. "It's very rare that a brand can transcend generations," said Boh.   
Boh's love for the brand has now come full circle now that he is the managing director of McDonald's Singapore and its franchise holder, Hanbaobao Pte Ltd.
It is a role he ascended to at the start of 2022, after previously helming other leadership positions within the company, including chief operating officer and more recently, general manager. Cumulatively, he has spent close to ten years with McDonald's.
But it's not just the Happy Meals that attracted him to the F&B giant. "McDonald's is such a big people company. That's how I decided to join this company. It has made me such a happy consumer and I wanted to find out how I can make not just more consumers happy, but employees as well," he said.
JOURNEY TO MCDONALD'S
Boh was born into a family of six, the only son and youngest of four siblings. His mum was a nurse while his father was a businessman. He remembers how as a child, the family would tag along on his father's work retreats. "I got to see how he interacted with his employees. My dad is a very hard, demanding person, but I saw how much people loved him. That was my first exposure to what a leader could be," he said.
Boh has always been a people-person, a quality that has come in handy now that he's in charge of possibly the biggest F&B chain in Singapore. Altogether, there are currently 137 McDonald's outlets across the island.
Growing up, Boh enjoyed singing karaoke with family (colleagues say he's a good singer), making music with his friends, and playing team sports such as football and rugby. He also loved running, but preferred taking part in team events as opposed to individual ones.
"I was always exposed to activities that required me to be around people. I enjoyed that much more than being alone," he recalled.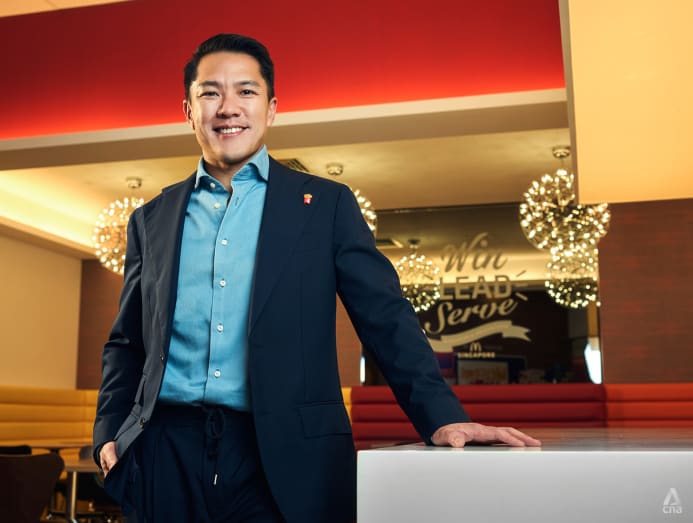 One time, his father tried to teach him golf. He found that he didn't quite like the one-on-one trainings, but enjoyed playing with other kids his age. "All that has shaped how I work around people," said the warm and personable Boh.
In university, Boh studied information systems with a second major in marketing. He was constantly intrigued by the marketing world, specifically by the "cool ads" put out by big brands such as Procter & Gamble, Apple and McDonald's.
"I was always fascinated… how do these guys work together to create a product or service that's so endearing to people across different life stages? How do they communicate with their consumers? How then do the employees work together? These are mega machines and big brands, so it was always amazing to read about these companies as a student," Boh said.
Upon graduation, Boh joined Procter & Gamble's consumer insights team. "I was working more on strategy, numbers and data. I love numbers, but I also love making sense of them," he said.
Six years later, he joined McDonald's first as regional director of strategy and insights for the Asia-Pacific, Middle East and Africa region. He then joined McDonald's Singapore in 2015 to head up its strategy and planning department, before moving to McDonald's Japan to take up a similar role. Though the stint in Japan was short, Boh describes his time there as an invaluable experience, both professionally and personally.
"McDonald's Japan is an older business than McDonald's Singapore. There are a lot of veterans there and I learned a lot from them. It was a nice mix of learning how to work on the ground and learning how leadership thinks," he said.
While in Japan, Boh travelled around its countryside, immersing in the local culture. Japan is also where his first daughter was born, the father of two shared.
Boh returned to Singapore in 2019 and took on the role as chief operating officer of McDonald's Singapore. He was then promoted to general manager in 2021, before taking over as managing director in January 2022.
KEEPING THE WHEEL TURNING
As managing director, Boh sees himself as a "caretaker of the brand". "The leadership teams before me have kept the wheel turning faster and faster, and I see my role as making sure it continues turning in a sustainable way so that future generations can carry it forward."
He is now focused on "working with the team to make sure the business and brand continues to grow and evolve, so that it stays relevant to consumers".
In recent years, a key focus of the company has been the digitalisation of the brand. In 2019, the company launched its ubiquitous McDonald's App, a one-stop shop for all its services. On the app, users can discover personalised deals, order McDelivery, find restaurants by location, calculate nutritional value of menu items and more.
The company has also refreshed the dining experience within its outlets to include self-order kiosks and cashless payment systems. "These changes are really about being in tune with our customers' lifestyles and how they have changed. What we are seeing is that customers are becoming more digitally savvy, and this cuts across all demographics," explained Boh.
In addition, McDonald's Singapore has in recent times expanded its retail offerings with exclusive products for sale. In November 2021, it launched two Jenga sets fashioned after its Big Mac and French fries. With COVID-19 dining regulations in place at the time, the company wanted to launch a product that would allow families to have fun together even if they were dining at home.
"The Jenga sets were something we launched to promote the idea that even if you can't come to our restaurants as a family, it's okay to dine at home. But there's something you can do together to make the experience more enjoyable," lent Boh.
In January 2022, the company launched limited edition crossbody bags in two designs – Sesame Seed and Big Mac 'N' Fries. The bags were a way for McDonald's to tap into the latest fashion trends. "People no longer carry big bags. So we wanted to create something that was trendy, but yet very useful."
In the future, Boh teased that customers can look forward to a more "personalised" and "seamless" McDonald's experience, including deals tailored to each customer. It is also rethinking the design of its restaurants in order to make guests feel more at ease.
THE MAGIC OF MCDONALD'S
It is almost unfathomable just how much Singaporeans love McDonald's. Take for example the circuit breaker period in April 2020, when the company announced it was suspending all takeaways, drive-thru and McDelivery orders. Singaporeans didn't hold back in voicing their devastation. On Facebook, one user called the news "worse than COVID-19". Another called it the "saddest day of my life".
Despite being essentially an American brand that evolved into a global franchise, Boh believes that the McDonald's here is "very woven into the Singapore fabric".
Apart from its core menu favourites, its limited time items, including the well-loved Beef Prosperity Burger, Nasi Lemak Burger and Hainanese Chicken burger, are well-catered to the local market. "We are not afraid to go local or colloquial in our marketing too," added Boh.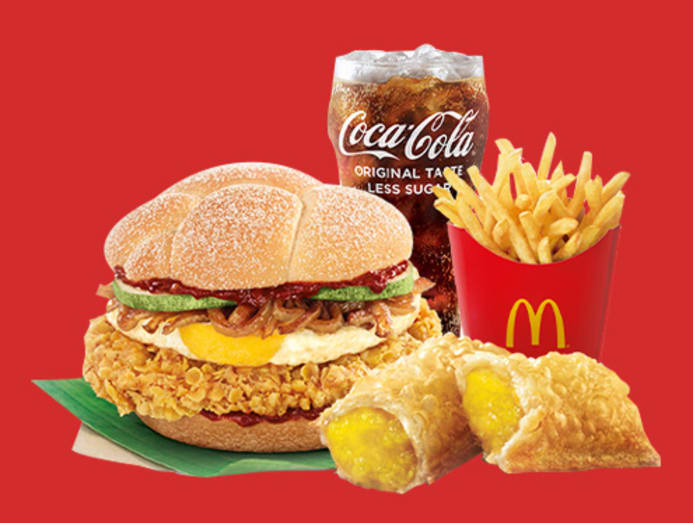 The magic of McDonald's Singapore is also the fact that it has successfully embedded itself into the lives of Singaporeans, journeying with people through different stages in life.
As Boh puts it: "As a kid in primary school, I remember going to McDonald's at the Science Centre. In secondary school, it was at Ang Mo Kio, where I used to hang out. In the army, every time we had a night out, we would go to McDonald's. That was our break away from cookhouse food."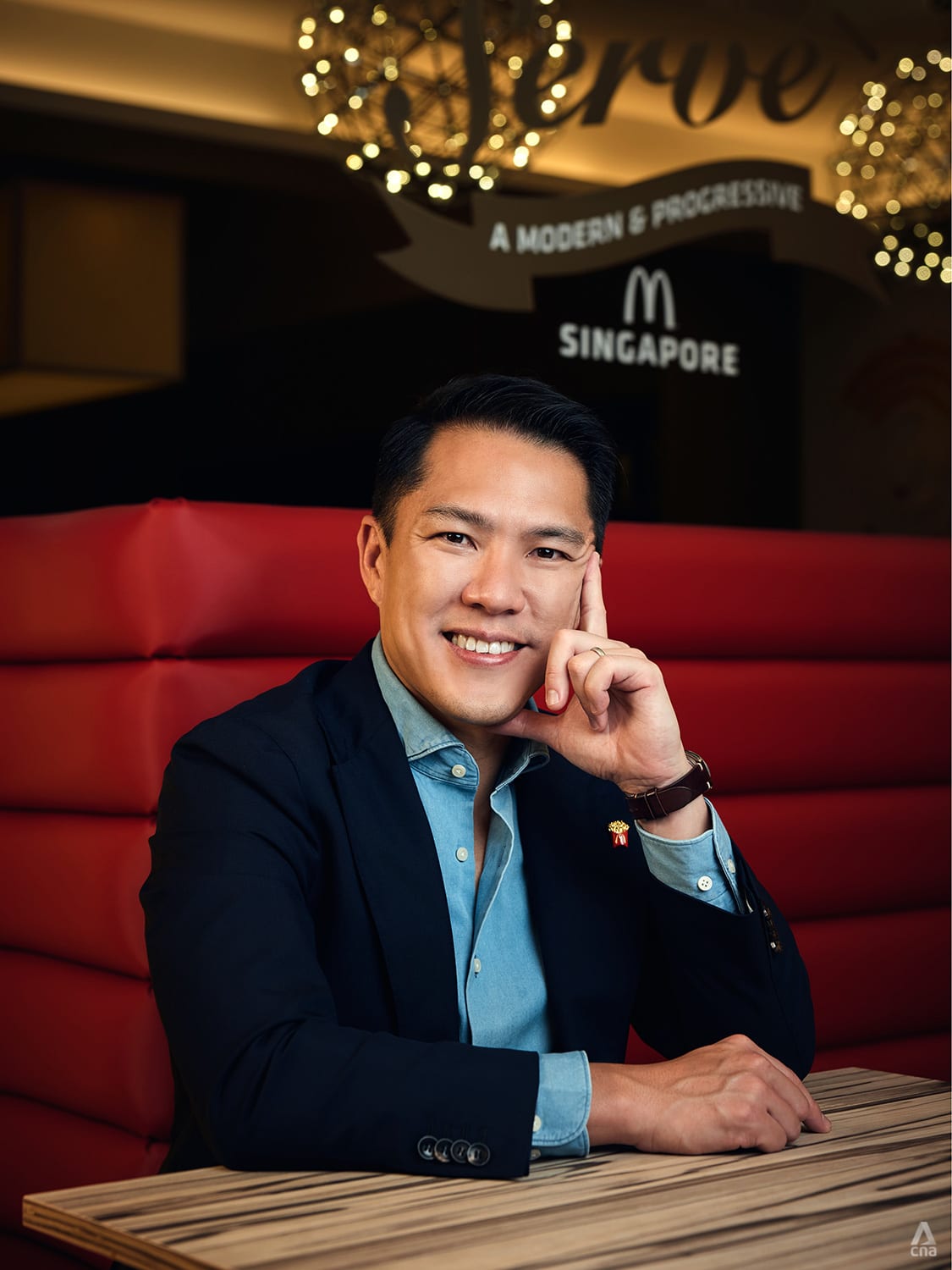 Today, McDonald's remains a big part of Boh's diet. Just how often does he eat it? "Four times a week," he answered without missing a beat. "But I spread it out. Weekends, it's definitely breakfast with the family. And on weekdays, its either lunch or dinner."
His current go-tos are the Double Cheeseburger and the McSpicy. For breakfast, it is usually a Sausage McMuffin with Egg, or the Breakfast Deluxe if he's sharing with his daughter.
But Boh believes it's not just the food that makes the brand so endearing, but the entire McDonald's experience too. "It's the whole setting and what it means to you. My job here is to continue that for people. Only brands that can really relate to people can continue to survive."
5 Questions with Benjamin Boh
Filet 'O' Fish or Cheeseburger?
Filet 'O' Fish! The mayo sauce with the fish, it's just heaven.
Hot Fudge Sundae or McFlurry?
Hot fudge sundae. It reminds me of my childhood. It was the first ice-cream dessert I had as a kid.
Early mornings or late nights?
Early mornings. Oddly enough, I used to be a really late-night person. But I realised with an early start, the day feels longer.
Staycation or vacation?
Vacation, for sure. I love travelling and my Japan experience really opened my eyes to what travelling can actually do for people.
Coffee or tea?
Coffee. I love its bitterness but yet, you can taste the flavours of the coffee beans. It's amazing. I used to love tea, but these days, I love my coffee black, with no sugar.