Meet Kian Liew, the Singaporean behind one of Kuala Lumpur's hottest restaurants right now
Head of global interior design by day and restaurateur by night, Liew is one-half of bol, a new restaurant in Malaysia serving modern Peranakan cuisine.
Since emerging from unending series of lockdowns, diners in the Klang Valley have embraced eating out again with gusto. Amid the frenzy, one restaurant on the lips (and IG feeds) of foodies, influencers and the society set is bol, an elegantly realised restaurant in downtown KL. Serving "reimagined Asian" food, the buzz has not just been about the exquisitely plated dishes and extremely photogenic premises, but also the sheer deliciousness of bol's Straits Chinese-inspired menu.
While Peranakan food is not alien to the average Malaysian, a modern interpretation of this cherished cuisine is not readily found in the city's capital, unlike Singapore, where one may discover elevated versions in the likes of Candlenut and Violet Oon. Bol has changed this since it opened in May this year, with one-half of the duo behind this being Singaporean Kian Liew.
Liew, along with Malaysian Patrick Hong started bol with the former handling the restaurant's communications and creative culinary direction and Hong (an accountant by profession) overseeing bol's legal and financial matters. However, the duo go beyond their official roles and are very much the heart of this restaurant - both of them often take the lead in bol's front of house most nights.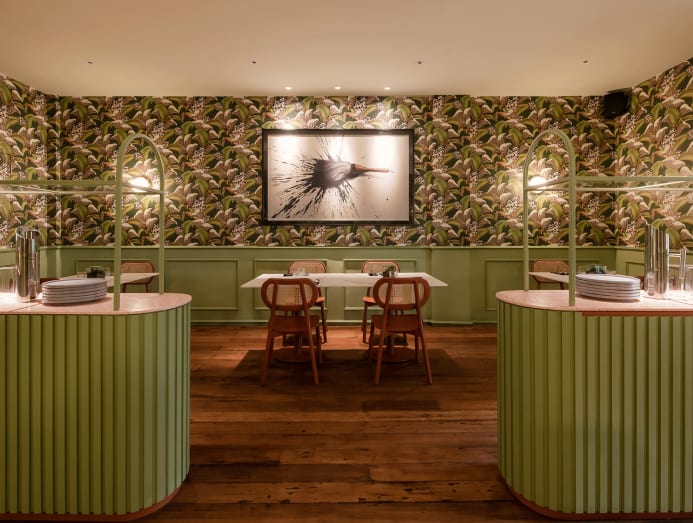 For Liew, whose day job is head of global interior design for an international hospitality group based in Singapore, opening a restaurant has always been on his bucket list. In fact, every dish on the menu is a refinement of Liew's many years of experimentation in his home kitchen, culminating in a pop-up in Paris in collaboration with his best friend, Catherine Nam Hee's restaurant, Bol Bienfaisance (which bol is named in homage of). The reception to the pop-up was so wildly popular that it gave Liew the confidence to create a more permanent home for his menu.
Liew's love for cooking started from an early age. "When I was 11, mum would usually be too busy with work to cook, leaving it to me to ensure the family was fed for the day," he shared. "This was when I developed a fascination for how combining ingredients and spices in different ways could create different flavours and perceivable layers within these flavours. I eventually went to school at the Chelsea college of design to read interior architecture, but never lost my passion for culinary creativity." His fascination for complex and nuanced flavours led him to experiment with Peranakan cuisine. "There is an undeniable richness to its flavours, but this richness is juxtaposed with subtlety and layering, affording one a gastronomic experience of the interplay of different ethnic cultures," he said. "These flavours are also imbued with nostalgia, a sense of home that is inextricably linked with the cultural identity of Southeast Asians."
These nuanced flavours evoking taste memories can be found in bol's menu. This includes dishes like Itek Tim, which reimagines the classic Peranakan dish in the form of pulled duck tortellini and duck consommé and Buah Keluak Lamb Shank, a decadent dish pairing the unmistakable smokiness of buah keluak with a red meat not often found in the cuisine.
Instead of opening in Singapore, Liew was so charmed with KL that he picked a quaint pre-war house in the burgeoning Sin Chew Kee neighbourhood to realise his dream. "It was love for a person that brought me to KL, but it was my newly discovered love for the city that made me decide to set up shop here," mused Liew. "KL is a charming combination of vernacular heritage and cosmopolitan palates. So the vision we had for bol dovetailed perfectly with this setting."
Nevertheless, setting up a restaurant in the thick of a pandemic not only took a vision but also great courage and belief in his product. "From manpower to supply chain considerations, anything that could go wrong almost went wrong. However, we were fortunate enough to work with a competent team that enabled us to weather this storm and see the project to fruition. My hospitality design and project management background also granted me an in-depth familiarity with construction detailing, allowing me to better collaborate with the builders and contractors," Liew explained. Indeed the effortlessness of bol's interiors belies any challenges Liew may have faced. He wanted diners to feel as if they were dining at the home of a well-heeled Peranakan connoisseur and conceptualised to mirror the menu. "Employing a sleek, bespoke palette of materials and detailing, contemporary design sensibilities are juxtaposed against the vintage charm of colonial-era architecture. This uncanny yet endearing relationship between modern and vernacular design is manifested differently throughout the space," opines Liew.
Like the menu, bol's interior takes you on a beguiling journey, beginning from the ground floor where the outdoor terrace juxtaposes modern Driade Roly Poly chairs against the crisp white exterior before entering the foyer where you're welcomed by the gentle curves of the sage and saffron foyer and bar. The dining room on the first floor is clad in mesmerising Cole & Son wallpaper reminiscent of Peranakan floral motifs punctuated by famed Korean artist Lee Jung Woong's magnificent brush painting and the journey's end rewards you with a glass house on the top floor inspired by conservatories clad with a faint imprint of the Cole & Son wallpaper.
With the setting in place, one wonders how Liew's dishes translated from being cooked at home to being served commercially. "It involved a steep learning curve," he laughed. "Quantities and measurements had to be extremely precise to maintain consistency, no more 'agak-agak (guesstimating)'. We also had to pay more attention to the cost of ingredients. So while bol is a chance for us to share our love for Peranakan cuisine, we have to make prudent decisions to ensure economic viability. Above all, the biggest challenge was striking a balance, ensuring that the business side of things never compromises our love for the food.
Even throughout this experience, Liew has been juggling his day job with being a restauranteur. This may seem daunting to many but Liew is philosophical about it. "Honestly, it feels like I'm living the cliche of never having to work a day because I'm constantly engaged with things I am passionate about - food and design. During the week, my day job sees me working with a talented and competent team of designers. The restaurant is less busy during the weekdays, allowing me to focus on my design work." he said. "Over the weekends, I see bol as a labour of love. Rolling up my sleeves and getting into the thick of things with my team at bol might be tiring, but it is one of the most fulfilling things I've ever experienced. I feel incredibly fortunate to be able to shuttle back and forth between these two fields."