Why this mental health advocate personally tends to those feeling isolated
From being orphaned at a young age and left to fend for herself, to becoming executive director of Silver Ribbon and promoting mental health at Oxford and Cambridge, Porsche Poh has always championed one value above all else: Empathy.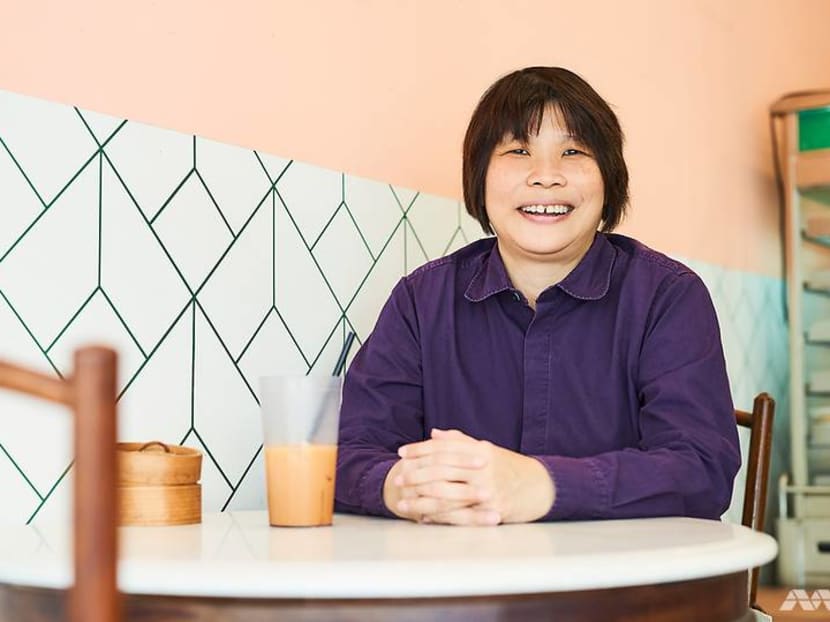 During the recently ended circuit breaker, Porsche Poh counselled a Muslim lady whose mother had passed away in the month of Ramadan. Her grief was compounded by the fact that she was unable to visit her loved one's grave, bar the funeral, due to safe distancing measures.
Poh, the executive director of Silver Ribbon (Singapore), revealed that such distress calls and pings to her mental health advocacy organisation's phone- and web-based helplines rose during the nearly two-month-long partial lockdown.
"Initially, we charted a 50 per cent surge in calls for help, with many clients unloading their anxiety and fear of being infected by COVID-19. Later, this shifted to more people experiencing family issues due to sharing confined spaces," she shared.
To prevent burnout among her team members, Poh herself lent a listening ear to many of these help-seekers after working hours.
It may seem like an anomaly for someone at the helm of an organisation credited for watershed legislative reform – more on that later – to be rendering assistance in such a personal capacity.
But the 49-year-old's solicitousness of others' welfare comes from a place of empathy. After all, her own past is tinged with pathos.
At 18, she was left to make arrangements for her mother's funeral alone; she had lost her father when she was just seven. Unable to keep her flat due to age restrictions, she joined the police force to stay in its barracks.
"My aunt was kind enough to invite me to live with her, but I did not really feel a sense of belonging in her home, and opted for a career that could provide me with accommodation instead. Interestingly, many other trainees back then with family issues joined the police force for the same reason," she shared, laughing.
Coming full circle as a police instructor, Poh later assumed the role of an unintentional aunt agony for such young rookies housed in the barracks.
Whether or not this informal counselling of sorts was a precursor to her current profession is debatable. However, she is certain her focus on helping the mentally ill was shaped in the crucible of her earlier struggles.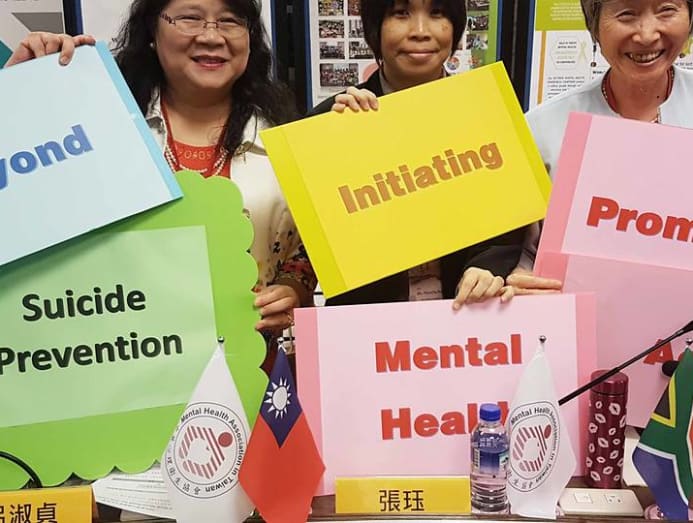 HOW TO START DIFFICULT CONVERSATIONS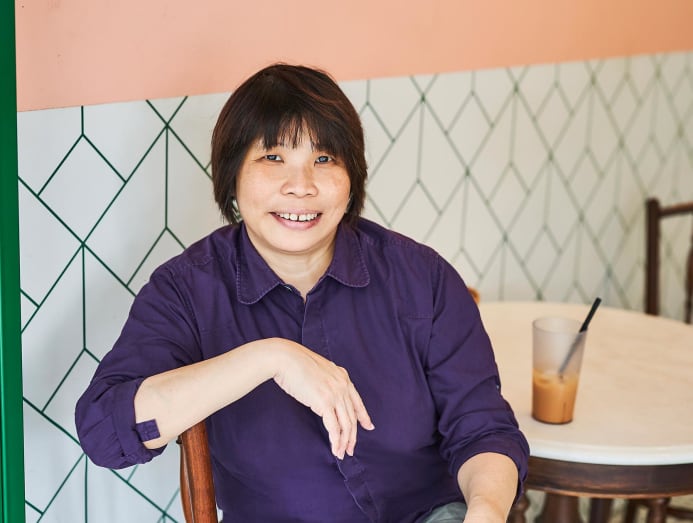 Driven by this impetus, Poh retired her blue uniform to work under the Institute of Mental Health's (IMH) early psychosis intervention programme. Here, she witnessed the stigma associated with mental illness in Singapore.
"Once, a mother declared to me that it was only over her dead body that her son would be treated at IMH. She was concerned that his medical records would prevent him from gaining employment," she recalled.
Determined to dissect mental illness stigma in Singapore, Poh studied psychology, and conferred with professionals in the mental health sector, as well as patients and caregivers.
"I discovered that some people saw the mentally ill as dangerous and unprofessional, while others felt their conditions are untreatable," said Poh, who explained that cultural beliefs also contribute to mental illness stigma.
"For all that talk about globalisation, we are still a very conservative society. There are actually people, who due to their limited knowledge of mental illness, perceive it to be possession by evil entities," she added.
In 2005, she co-established Silver Ribbon (Singapore), joining the US-founded Silver Ribbon Coalition that spreads awareness of brain disorders and disabilities globally. As a nascent Voluntary Welfare Organisation with limited resources, Silver Ribbon (Singapore) worked with grassroots organisations to reach the community and provide free counselling in the heartlands.
"Not having much support in my younger days shaped my emphasis on collaboration. Stop whining about receiving limited support; when you collaborate with others, you have enough manpower and funding," she shared.
More than a decade on, Silver Ribbon's work, which includes public education and outreach to schools, employers and foreign workers, has proven to be seminal. It has, for instance, successfully lobbied for top-down change to de-stigmatise mental illness.
In January – after years of discussion with Silver Ribbon – the Tripartite Alliance for Fair and Progressive Employment Practices (TAFEP) confirmed that it had updated its guidelines, which now advise employers to remove all declarations on mental health condition from job application forms. Failure to comply risks enforcement actions by the Ministry of Manpower, on the grounds of discrimination.
Further evincing Silver Ribbon's clout, is the decriminalisation of suicide in Singapore in 2019, following some six years of the charity's advocacy in partnership with AWARE Singapore. The move was timely, considering the country's steadily climbing suicide rates – the number of suicides in Singapore rose by 10 per cent in 2018 – over the years.
National transformation aside, the outward-facing change maker has also been instrumental in ushering the country into the global conversation about mental health. Poh has presented on mental health promotion overseas, including at the 5th Southeast Asian Studies Symposium at University of Oxford in 2015, and the Cambridge University Southeast Asian Forum in 2016. 
And in 2018, Silver Ribbon (Singapore), with the support of pharmaceutical company Lundbeck, hosted the 1st  Global Summit for Mental Health Advocates in Singapore. 
Despite there being a heightened awareness of mental health issues in the country, coupled with a wellspring of free services from both government and non-governmental bodies, Poh admits more needs to be done to diminish mental health stigma pervading Singapore's social milieu.
And the ongoing pandemic, with its widespread psychological impact, has introduced a new spectrum of challenges. Among a recent survey of 577 participants conducted by Silver Ribbon (Singapore), a quarter reported feeling lonely and experiencing low mood and anxiety during the COVID-19 outbreak.
How, then, can both society and individuals better support those susceptible to mental illness post-circuit breaker, in a time riddled with uncertainty? For Poh, who is no stranger to feelings of isolation, empathy is key.
"I spoke to an elderly man who sat at the void deck throughout the day during the circuit breaker. He told me that he preferred to stay out as he did not want to further strain his difficult relationship with his kids at home," shared the Social Service Fellow, who espouses compassion and understanding over vigilantism.
"It is easy to snap pictures of the elderly not observing safe distancing measures, but bear in mind that not all of them use social media or keep up with the various announcements. Can we instead treat them with dignity?"
Poh added that the same principle applies to panic buying, which she viewed as a reaction to an abnormal situation – one that did not need to be lampooned by online trolls. As Singaporeans navigate a new normal after a drawn out period of restrictions, empathy, which seems to frame Poh's narrative, may be a balm for a fresh wave of anxieties.
"It is easy to snap pictures of the elderly not observing safe distancing measures, but bear in mind that not all of them use social media or keep up with the various announcements. Can we instead treat them with dignity?" – Porsche Poh