Meet the 75-year-old chef from Barcelona who gladly shares family recipes from his Michelin-starred restaurant
Carles Gaig, chef-owner of the 154-year-old Restaurant Gaig in Barcelona, has no qualms about imparting knowledge to the head chef of his Singapore outpost even though the latter is not a family member.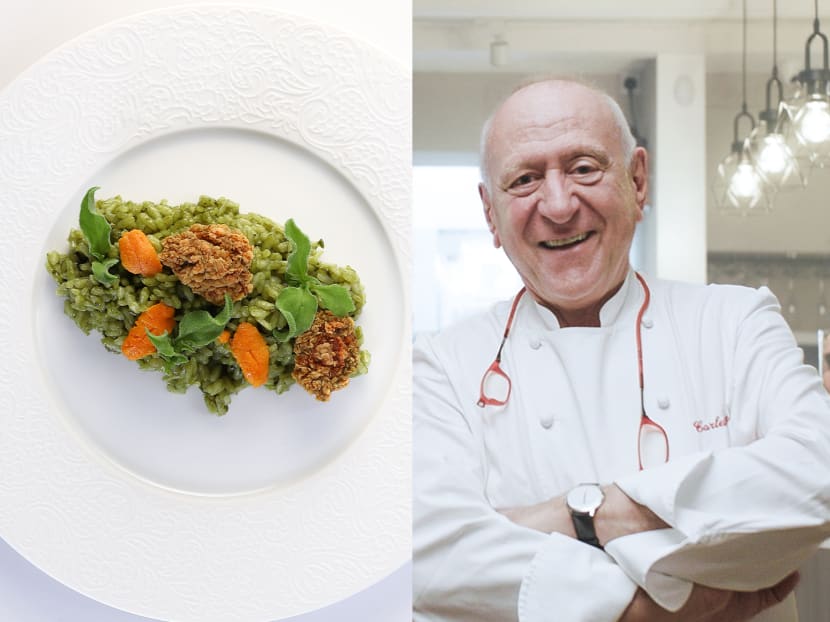 Rare is a meal so beautiful that it leaves one speechless. A dinner at Spanish Restaurant Gaig is one of them.
Carles Gaig, the fourth-generation owner of Barcelona's one Michelin-starred Restaurant Gaig, was in town recently to present a collaboration menu with his protege Marti Carlos Martinez, who has helmed the restaurant's Singapore outpost at Stanley Street since it opened in 2017.
At the one-night only media preview, the mutual respect between master and disciple was apparent. The six courses were stunning from the first to the last with balanced flavours, innovative touches and elegant plating.
Notably, it was the melo amb pernil that led our table into a few minutes of contemplative silence. The summer soup was made with Spanish Piel de Sapo melon, which literally went from plane to plate that day. The melon was blended with cava and a smattering of ginger, then topped with jamon iberico ice cream. The dish was a palate opener, refreshing soup and savoury dessert all rolled into one.
Other crowd pleasers include the mar i muntanya, a typical Catalan dish that presents land and sea produce on the same plate. In this instance, the guinea fowl's skin is made into a dehydrated crisp while the fowl meat is stewed and the lobster deep fried the traditional way. Gaig called it the perfect example of how heritage is given a refined brushing yet the dish remained distinctly Catalan in its robust flavours. For the arros verd, the green seafood rice gets its colour from green water extracted from locally sourced ice plant. The extract is then combined with fish stock to cook the bomba rice, which is served with crispy sea anemones and fresh Japanese sea urchin. The depth of umami was unforgettable.
Gaig comes from a lineage of chef-restaurateurs, starting from his great-grandmother who had owned Taberna d'en Gaig in Barcelona's Horta district since 1869. "I was born inside a kitchen," the 75-year-old joked in Spanish as he and Martinez chatted with CNA Luxury before the media preview. "When I was a kid, I was never attracted to this kind of life as I saw the sacrifices the family had to make. I refused to work in a restaurant." His daughter Nuria Gibert, who is the general manager of the Singapore restaurant, was also present to translate his replies.
Despite his reluctance, Gaig dutifully trotted along from the age of eight to be an extra pair of hands in the Barcelona kitchen, and eventually took over the reins when his mother became blind. Fuelled by a passion to raise the profile of Catalan cuisine on the international stage, he renovated and renamed the restaurant in 1989 and led it to their first Michelin star in 1993.
It was a series of fine-restaurant hopping in the 80s with Catalan chef greats like Ferran Adria (of restaurant-turned-museum El Bulli fame) and the late Santi Santamaria (who owned two Michelin-starred restaurants in Catalonia's Sant Celoni and the now-defunct Santi restaurant in Singapore's Marina Bay Sands) that convinced Gaig that knowledge must be shared.
The genial and affable patriarch said: "I love cooking. It's not about keeping recipes within the family. If we want our Catalan heritage to move forward, you have to spread the knowledge."
He attributed the advanced techniques displayed in Spain's culinary scene today to the openness of the community. He said: "In Catalonia, all the chefs have a good relationship. If you want to learn a certain dish, the chefs will invite you to their restaurants and teach you how to do it."
In Martinez Gaig has found a disciple who can distil the essence of Catalan cuisine while pushing it to the creative edge. "Marti has enhanced our cuisine into something avant-garde, but when you eat the food, the traditional flavours are still in your head. He understands the balance between modern techniques and traditional Catalan cooking and knows when to hold back."
Martinez had always wanted to be a chef since he was a teenager and had jumped at the chance to work with Gaig in Barcelona the moment the restaurant had a vacancy. It has been eight years now and the biggest lesson he has gleaned from his mentor is a deep respect for the ingredients he uses.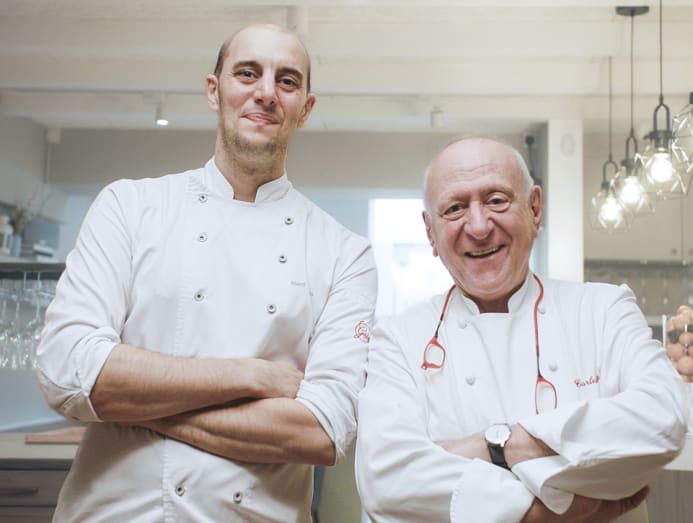 "If you use a good product you don't need to make it super fancy. Respect the produce, be nice to it and have patience — don't take shortcuts in the cooking," said the 34-year-old Martinez, the words tumbling out of his mouth like a mantra that has been etched into his consciousness.
Was he ever berated for his mistakes? The answer was swift: "Little things will always happen during service, sometimes there are misunderstandings, but he's always gentle and chill. He doesn't throw things or shout." At this point, Gibert quipped: "I've only seen my father angry two or three times in my life. But when he's upset, run!"
These days, Gaig leaves the Singapore operations in the capable hands of his daughter and Martinez, and comes here every six months to explore recipes and create special menus. He wishes Singapore has markets that give direct access to farmers, which he feels is important for developing new recipes and techniques. He said with a grin: "When I go to the market (in Barcelona) that's where happiness starts for me. I start buying this and that because everything looks amazing. And when I arrive at the restaurant with bags of produce to cook for the same day, I scare all the chefs!"
"We'd always pretend we were busy and couldn't do it," added Martinez, laughing.
After 55 years of being in the kitchen ("65 if you include my childhood years") Gaig is still seeking to break new ground. He is currently studying a book on ancient Catalan recipes from the Middle Ages that do not include the typical tomato and potato as ingredients; he wants to create a menu around these one day. His motivation to cook every day is simple. "I have fun!" he said, that wide smile and twinkle in his eye appearing once again.