Her struggles with dyslexia inspired this social entrepreneur to start an inclusive learning centre for kids
Mint Lim founded School of Concepts to offer quality education to children with different types of learning needs. The social entrepreneur – and first Singapore fellow of the Cartier Women's Initiative – shares her story.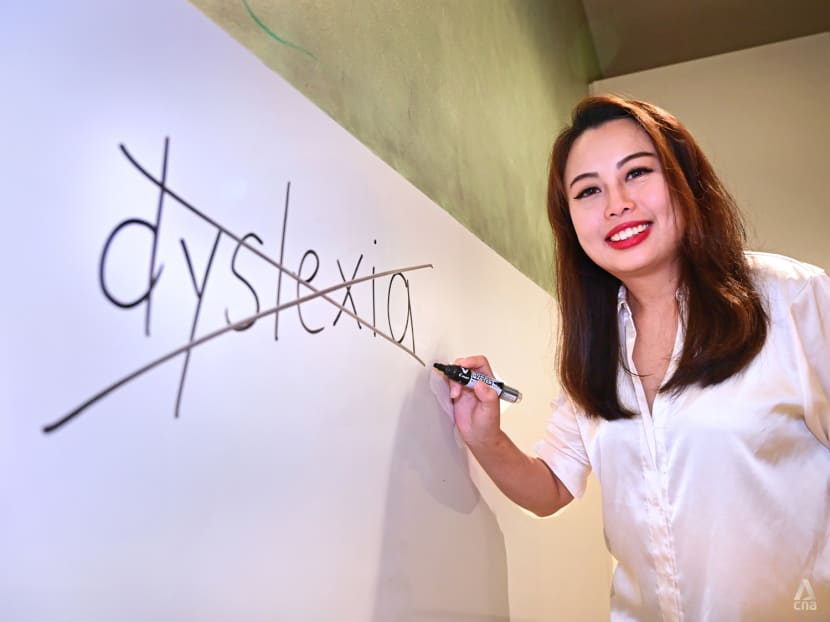 Growing up, Mint Lim always knew she was different from other children. In the classroom, she found herself having to put in more effort than other students in order to understand her teachers. 
"When I went into kindergarten, I felt like maybe I was a little bit slow, because people understood things a lot faster than I did," she shared. "Later on, when I went to [primary] school, I realised that I didn't really understand certain things the teacher was saying. I would have to ask, what's the meaning of this word? What's the meaning of that word? I didn't really get it."
Lim was also aware that her peers came from families that were financially better off. While other children spent their childhoods at the playground, "I was helping the ah ma (grandmother in Chinese) downstairs roll her cigarettes," she recalled. "I learnt math through watching people gamble. So it was really a very different kind of upbringing."
Lim later on realised that she has dyslexia, a learning difficulty that affects one's ability to read, spell, write and speak easily and effectively. Her struggles planted the seed for School of Concepts (SOC) – the learning enrichment centre she founded in 2017 with the mission to give every child, regardless of background or learning needs, access to quality education through its English learning programmes.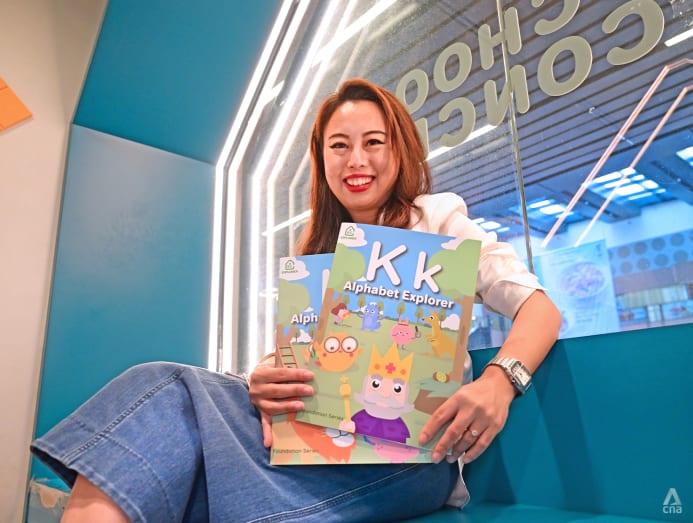 STRUGGLES WITH DYSLEXIA
While there are different types of dyslexia, Lim finds that in her particular experience, she often struggles to find the right words to express herself. "My mind runs very quickly, but what comes out of my mouth or in writing is always very different," she shared.
Lim has to make an intentional effort to keep her handwriting neat, simply because her hands cannot keep up with the pace of her thoughts. "There are many times, after writing an essay, I actually had to read through it multiple times to make sure that I'm not missing certain words," she added.
While she struggled to keep up in school, her father had always been encouraging. She shared: "My father would always say, it's okay if people only have to try once, and you need to try five times. You still get to the same endpoint."
It was a Sunday school teacher that eventually taught Lim how to read. Along the way, she also figured out her own learning method that helped her cope better in school. "I realised that I acquire information better by dissecting large pieces of information and learning how to 'uncode' them. So I created my own strategy to compute, dissect and sequence information, so that I would be able to easily acquire knowledge," she explained.
That strategy worked, so much so that Lim's PSLE score was good enough to earn her a place in Raffles Girls' School. Besides difficulties in learning, dyslexia also affected her self-esteem. "There were many times that I felt like I was left behind; I felt like I didn't belong. The imposter syndrome was very real."   
Basic socialising has always been a struggle for Lim. "I tend to always look away when I'm speaking to someone. Even as a child, I would say hello and look away, and people would think that I'm rude. But that's not the case. I really want to give the person my fullest attention, but it's very intimidating and daunting to be staring into a person's eyes."
Despite her struggles, Lim believes that there's a silver lining to being dyslexic. "Dyslexia gifted me with resilience and grit," she quipped. "So is it really a learning difficulty? Or is it a gift?"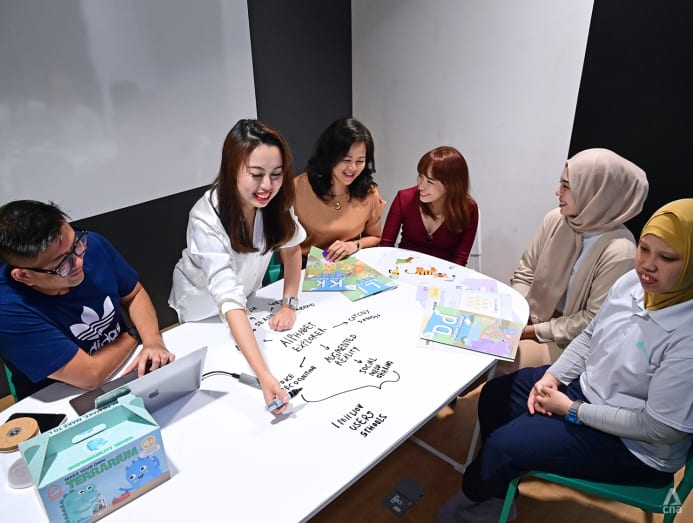 MAKING AN IMPACT
Lim's tenacity makes her a natural born entrepreneur. She discovered her inclination for business at a young age when she started several companies, including an autoparts distribution business, a floral business and a tutoring business helping children in low-income neighbourhoods. Through her tutoring work, she discovered that there were many children who were just like her, who had a harder time coping in school.  
Determined to help these children, she founded School of Concepts to offer customised education programmes to children of different backgrounds and learning needs. SOC has developed its own proprietary teaching methodology based on a visual, auditory and kinesthetic approach for pre- and primary-school children. It combines a phonics-based and play-based curriculum to create an interactive learning environment for its students. SOC has two centres in Singapore, the first at Singpost Centre and the other at Our Tampines Hub. Its programme is also used by various student care centres and partner education centres in the country.
SOC started off by first offering English language programmes. "The first step is for children to be able to read well and to be able to discern and accurately understand the information that they are looking to acquire," Lim explained. Today, SOC's curriculum has expanded to include financial literary as well as STEM (Science, Technology, Engineering and Math) programmes.
Lim describes SOC as a "double bottom line business". "We set aside 30 per cent of enrolment for children from low-income families, and we provide them with in-house subsidies from our revenue to support their learning." The school also practices inclusivity by hiring people with intellectual or physical disabilities, including a classroom assistant with selective mutism. Coming up with a sustainable business model and getting people to understand the mission of SOC has been a long and arduous journey for Lim. After all, SOC was founded when the concept of social entrepreneurship was still relatively new. "People would question us, saying 'you want to do good, yet you still take money from us?' Or 'which agency are you getting your subsidies from?' But we were doing so from our own profits. That was hard for people to understand," Lim mused.
Mint Lim founded School of Concepts (SOC), a learning enrichment centre, with the mission to give every child, regardless of background or learning needs, access to quality education through its English learning programmes.
But SOC has gained recognition over the years. In April 2023, Lim was announced as the first Singapore fellow of the Cartier Women's Initiative (CWI), an annual international social entrepreneurship programme started by the French jewellery brand that aims to drive change by supporting women impact entrepreneurs. In an awards ceremony held in Paris in May, Lim took home the third place prize for the region, which included a US$30,000 (S$40,250) grant funding.
Lim had applied for the programme while still in confinement after giving birth to her first daughter, who is now a year old. The CWI progamme also includes tailored mentoring, coaching, networking opportunities as well as education courses from leading business school INSEAD. Although Lim was initially afraid of the time and energy she would have to commit to the programme, especially as a new mum, she has no regrets.
She sees the recognition given by CWI as first an affirmation of the work done by SOC and its people. "SOC is not just about me, it's about a team of wonderful people who have so much heart in what they do, and who are all veterans in their own right."
"The second thing is gratitude," Lim added. "From the gratitude for the education I received as a child to the gratitude for the blessings and learnings I received along the way. It has not been easy but all the people I have met have contributed massively to the growth of our organisation."
"Dyslexia gifted me with resilience and grit. So is it really a learning difficulty? Or is it a gift?"
THE PATH FORWARD
Looking forward to the years ahead, Lim is focusing her efforts on scaling SOC and expanding into the region. She has plans to open an additional centre in Singapore while exploring a franchise model to open more schools in neighbouring countries.
SOC has also tapped into tech and artificial intelligence (AI) to launch its first mobile learning app – the Alphabet Explorer. The app – which is equipped with augmented reality (AR) and voice recognition functions – aims to help young children learn and explore the alphabet in a fun and interactive way. It will allow SOC to reach more children beyond geographical barriers. "Accessibility is a motivating factor for why we went into tech. When we have brick and mortar schools, we are geographically accessible, but only within wherever we are located," Lim explained.
Through the app, SOC hopes to "equip one million children by 2025 with basic English literacy through our mobile learning app," Lim shared.  
As SOC expands its curriculum, one of Lim's long-term plans is to turn the school into a content hub for educators around the world. "We identified that as much as there are children who require access to quality education, there are many excellent educators who are generating so much quality content that are limited to the geographical boundaries that they teach in in," explained Lim. Through tech, Lim hopes to give children from all over the world access to such content.
Lim's advice to fellow entrepreneurs – as cliche as it may be – is that "in all you do, do it with love". "In whatever we do, if it comes from love, it will really transcend a lot of things. Struggles become journeys, problems become lessons and achievements and victories become the formation of gratitude," she quipped.
"Our population is growing so much and our personal spaces are becoming smaller. But that also means that the ripple effect of our actions is getting larger," Lim continued. "So my message to fellow entrepreneurs is to continue to dream big, but let's all learn to love one another deeply and look for ways to collaborate so that we can empower and uplift one another."
"Our population is growing so much and our personal spaces are becoming smaller. But that also means that the ripple effect of our actions is getting larger."