Miuccia Prada: 'Me and my husband, we never woke up thinking about making money'
Instead, the billionaire fashion designer, along with her husband, Prada CEO Patrizio Bertelli, approached the company from a creative standpoint, which has served them well since the mid-1970s.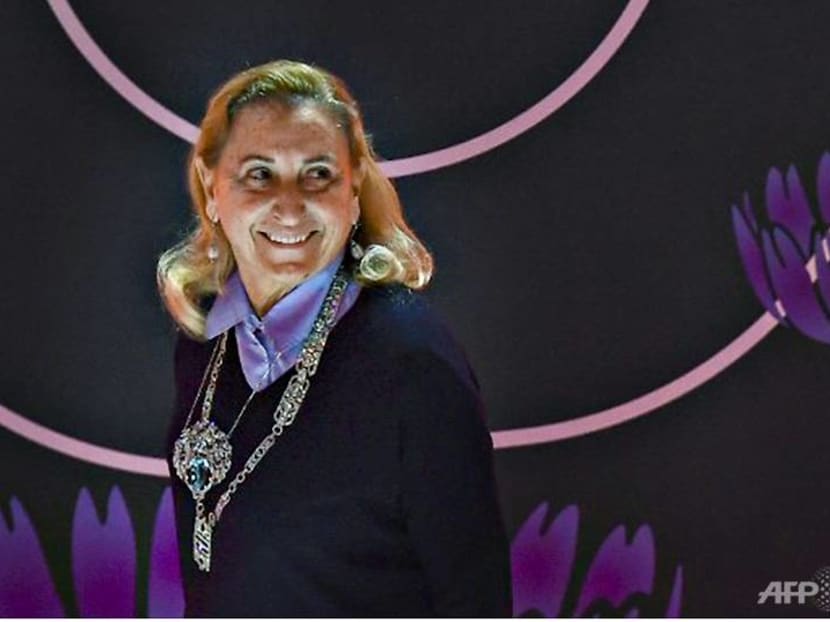 Miuccia Prada is speaking over Zoom from Milan about the presentation of her final collection as Prada's sole creative director. Titled The Show That Never Happened, the collection – utilitarian, elegant, rigidly minimalist, with overt references to her first womenswear show in 1988 – was, because of COVID-19, unveiled in a sequence of short films directed by artists including Martine Syms and Juergen Teller.
"At some point what you do isn't yours any more but in the hands of others," she said.
But in speaking of ownership, Prada could have been referring to what is now happening at her family's leather-goods business, which she took over in the mid-1970s and transformed, alongside husband and Prada chief executive Patrizio Bertelli, into a cultural force and fashion group with €3.2 billion (S$5.2 billion) in sales last year.
In February 2020, on the weekend before Milan went into its first lockdown, Prada and Belgian designer Raf Simons settled into a pair of plush swivel chairs at the company's via Bergamo headquarters and announced what many in the room already knew: That after more than four decades as Prada's creative architect, she would now share that responsibility with Simons, the former creative director of Calvin Klein and Dior.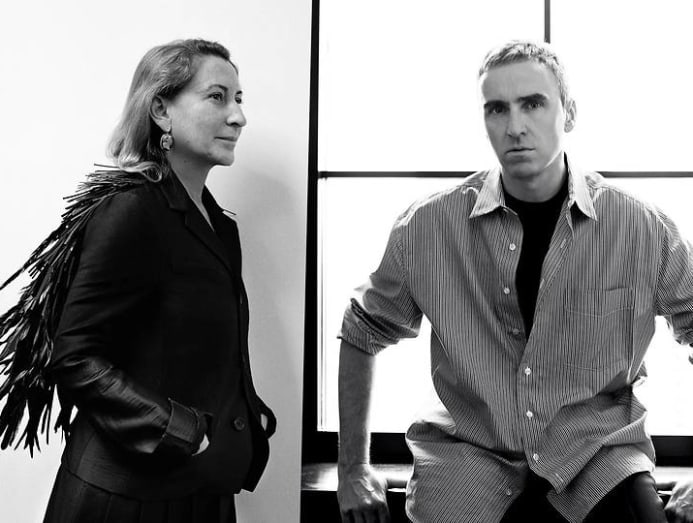 Such a move was unprecedented: Never before had two such well-known and well-regarded figures shared the creative responsibilities of a major fashion label. It was proof, once again, of Prada's prodigious capacity for change.
"It was about a moment of opening up. I was always very. . . I don't want to say independent but . . . I almost always said no [to collaborations]," she told me. "We joked in a [2016 joint] interview that it would be nice for designers who love each other to work together, and maybe to create a place for people who are serious, that respect each other, to celebrate creativity against marketing."
For most designers there is a point – usually five, sometimes 10 years in – where new ideas fail to bubble to the surface, where their work becomes self-referential, static, dated. That this has never happened to Prada has given her an almost mythical status. It is what makes her shows, season after season, so suspenseful: One never knows what will emerge from behind the curtain when the music starts.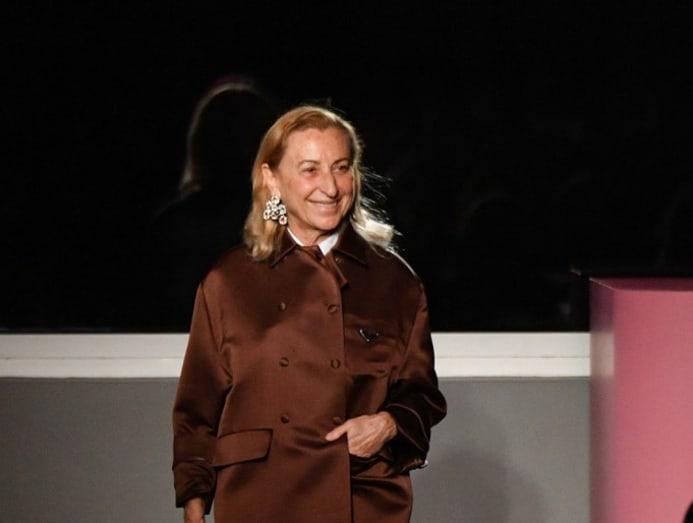 She has made bad taste chic, spearheaded the appropriation of vintage designs in high fashion and, in her revolutionary use of nylon, PVC or even bits of garbage such as crushed bottle tops and broken mirrors, exorcised preciousness out of luxury. In designing and dressing to please herself, she has taught others to do the same.

"I go on thinking, go on changing, go on facing the problem and the reality," she said, when asked why she thinks her work has kept pace with – and often steered – the zeitgeist. "I have a personal need to know what is going on… I always have this sense of not knowing enough."
RESISTING CLICHES
Prada's clothes are never straightforward. To wear them correctly is to wear them tongue-in-cheek, though many don't. She is a firm believer that too much good taste can ruin a collection, and so she'll often begin by exploring something she loathes, such as golf or crochet, trying to twist it into something she likes. Cliches of femininity – bows, florals, baby-doll dresses – are frequent targets.
"Miuccia's irreverence was the quality that first caught fashion's attention," said US Vogue editor-in-chief Anna Wintour. "She dared to ask the questions: What is beauty? What's good taste? All these years later she continues to fascinate because she's still challenging convention, still resisting cliches."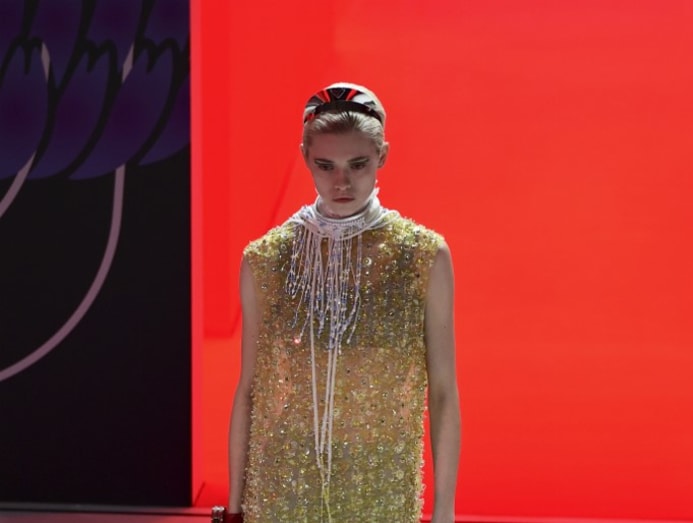 It is deliciously ironic that one of the world's most influential fashion designers doesn't sketch or sew. Instead, she surrounds herself with talented designers who translate her ideas into clothes, bags, shoes, jewellery. 
Fabio Zambernardi, who joined Prada in 1989 and became design director in 2002, has been by her side the longest. Some have gone on to lead their own brands, including Francesco Risso at Marni and Walter Chiapponi at Tod's. "Every time she said something, it opened your mind," Chiapponi gushed earlier this year.
Among her first tasks with Simons is defining what he calls the "ness" of "Prada-ness": A tallying-up of the things she likes. That is tricky for a designer who relies on instinct and tires of new ideas quickly. It's why she only gets dressed 10 minutes before she leaves the house and gives herself just 10 days to design a collection.
"The pressure gives me more excitement, more fear, so my brain is more quick," she explained. "If I think too long, I get bored."
"Miuccia's irreverence was the quality that first caught fashion's attention. She dared to ask the questions: What is beauty? What's good taste?" – Anna Wintour

AN ACCIDENTAL VOCATION
Miuccia Bianchi Prada never intended to have a career in fashion. A women's rights campaigner with a doctorate in political science, she once imagined a life in the ­theatre (she performed mime for five years). It was not until the mid-1970s that she reluctantly entered the leather goods business started by her grandfather, Mario, in 1913.
"Being, let's say, a leftist feminist, to work in fashion was a nightmare," she said, peering into the camera. I can glimpse a red-and-white gingham shirt under a V-neck navy jumper and a pair of antique drop earrings – her "uniform" of the moment – against a room wallpapered in mossy green velvet.
"I hated the idea. I felt so insecure, so guilty, because I was doing a job that was in my mind, back then, against my ideas."
At a trade fair in 1977, Prada met a young leather factory owner who would become her future husband. Described as brash and perhaps a touch overconfident, the young Bertelli had big ideas for her business and snapped up the exclusive licence to manufacture and distribute Prada's leather goods.
"Without him, probably I would not have gotten into this job at all," Prada said. "I saw with him a new world of possibilities; we were working together and also staying together." They still live in the same Milan apartment she grew up in, where they have raised two sons.
The early years of their relationship have been described as "volcanic". Does she like it when he offers opinions of her work? "I'm used to it," she laughed. "I think that working together helps marriages. If you build something in life, it's a way of staying together."
In 1984, Prada introduced her breakthrough design: A black, lightweight, minimally branded backpack in military-grade nylon. Such a material – plain, industrial, but in fact more expensive than leather – defied the long-held belief that luxury must be precious and timeless, something that would become a life-long theme in her work. Already, she was attuned to the minimalism that would sweep the design world in the ensuing decade.
It was not until February 1988, at the age of 39, that Prada presented her first womenswear collection, irreverently dubbing her discreetly luxurious clothes as "uniforms for the slightly disenfranchised". Their clean lines and mostly muted palette (black, brown, grey) were a tonic to the loud, lavish, frou-frou clothes then toasted on the catwalks in Paris and Milan.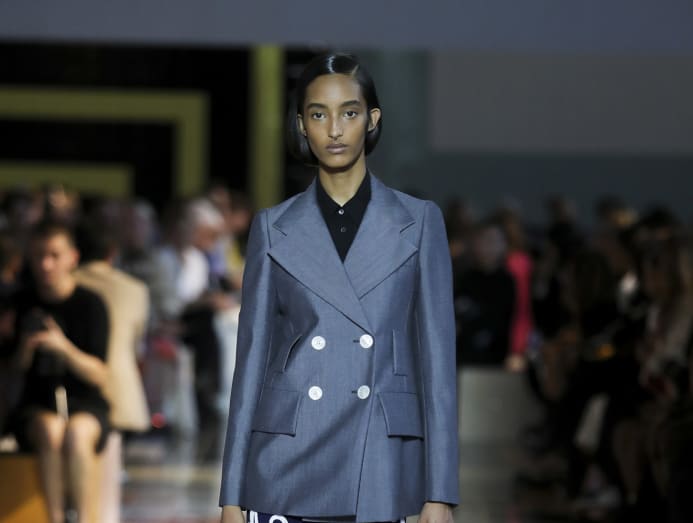 Prada began to push the edges of the austere, mannishly tailored garments of her early collections, introducing colours and designs that led critics to question her taste: Cowhide dresses and hot pants, bra tops and miniskirts stitched with seashells, dresses and tunics garlanded with large, floppy roses.
Certain designs became signatures. Whereas most women dress to draw the eye up – with jewellery, collars or lipstick – Prada tends to focus on the neglected lower half. Her speciality has been the skirt – prim and pencil-shaped, or cut longer into knife or car-wash pleats. Specific vintage silhouettes appear again and again, a way for Prada to reference period attitudes towards women.

"If I have done anything, it is to make ugly appealing," Prada once told the curator Andrew Bolton, adding that her work was "concerned with destroying – or at least deconstructing – conventional ideas of beauty, of the generic appeal of the beautiful, glamorous, bourgeois women".
"If I have done anything, it is to make ugly appealing." – Miuccia Prada

BOOM AND BUST… AND BOOM AGAIN
Prada's contributions weren't merely stylistic; she was also building a business. The 1990s and early 2000s marked a period of vigorous expansion for Prada: It introduced a menswear line and a secondary womenswear label, Miu Miu, in 1993, then began snapping up other labels, such as Helmut Lang, shoemakers Church's and Car Shoe, and Jil Sander (which Simons was hired to design). Eyewear and fragrance were added to the shelves. Sales grew from about US$400,000 in the late 1970s, according to Forbes, to €2.6 billion in 2011, when Prada held a buzzy initial public offering on the Hong Kong stock exchange.
But by 2014, fissures were starting to show. For the first time since its public listing, Prada's profits fell. Analysts say the company had opened too many stores and had missed the shift to digital and the boom in designer trainers. Its shares lost about three-quarters of their value between September 2013 and January 2016 as the company pursued a turnaround. Sales returned to positive territory in 2018, and even with the bottom-line damage brought about by COVID-19, shares are up a quarter from the start of 2020.
"Me and my husband, we never woke up in the morning thinking about making money," said Prada. "That is probably not appreciated by the financial community. But that is the truth. We always did things because we liked it, we thought it was interesting, and it worked.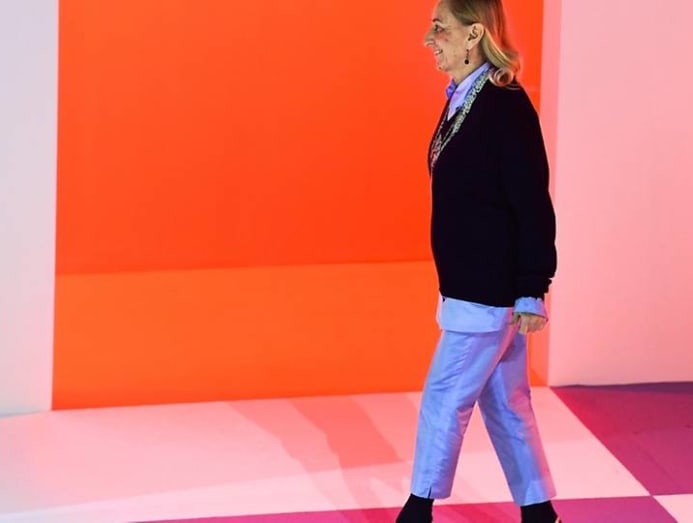 "Luxury at some point became about the one who sold more," she continued. "A lot of journalism doesn't care about the content, or the issue, or the effort, or all the thoughts you put in your job. You are mainly judged by how much money you make."
She paused. "Even if you want to stay small, you can't because you disappear. It's a machine that should be broken."
In 2017, Prada's elder son Lorenzo joined the business after spending most of his twenties in the driver's seat of rally cars and is now tapped to become the group's next chief executive. Analysts speak warmly of the digital transformation he has ushered in at Prada, and his environmentally driven push to phase virgin nylon out of the company's supply chain in favour of recycled by 2021.
At 72, Prada is now five years past Italy's official retirement age. But although many have seen Simons' appointment as the first step to an eventual succession, she has no plans to stop soon: "I like working. I'm here to work even more."
"Me and my husband, we never woke up in the morning thinking about making money. That is probably not appreciated by the financial community. But that is the truth. We always did things because we liked it, we thought it was interesting, and it worked." – Miuccia Prada

By Lauren Indvik © 2020 The Financial Times