Meet the third generation Malaysian soy sauce brewer who started her own artisan label
Mu Artisan's Shirley Chia is carving a space for artisan brewed soy sauce in Kuala Lumpur. She hopes it can one day be appreciated as much as artisan bread, coffee and wine.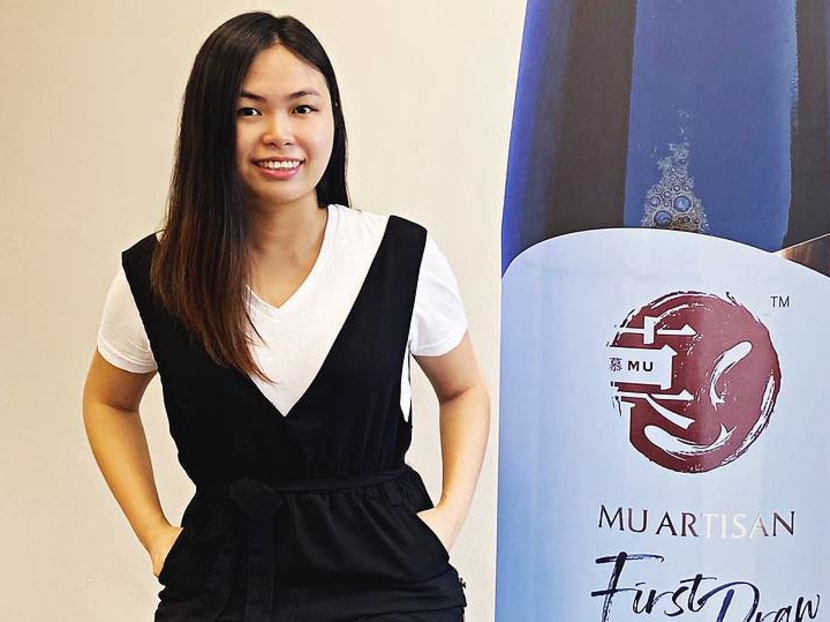 Soy sauce is one of the most fundamental condiments in any Chinese kitchen. Yet despite its ubiquity, many home cooks and professional chefs opt for mass-produced varieties. Shirley Chia, a third generation traditional soy sauce brewer in Kuala Lumpur, is hoping to elevate this umami-rich liquid into something more precious and delicious through her label, Mu Artisan soy sauce.
Chia didn't plan to join the family business, Xin Seng Fatt, which was established in 1957 – she started out working in private and investment banking. But after climbing the corporate ladder for 11 years, she found herself asking if it was what she was meant to be doing.
"Growing up, I imagined myself as a corporate person. But about four years ago, I reached the point where I was longing for something more meaningful and satisfying," she recalled.
"I observed my ageing parents struggling at their work and began to explore other avenues for the soy sauce trade. Handmade bread and coffee were so appreciated but not handmade soy sauce. I also wondered why artisan wine had value but not artisan soy sauce, which also requires effort to brew over long periods."
With these burning questions, she established Mu Artisan in 2019. "Mu is from the company name Musee which I started three years ago. 'Musee' is the French word for 'museum' and I wish to have a food museum one day. Handmade soy sauce is an art and I believe that it deserves to be celebrated and preserved for years to come," she stated.
Chia revealed that beginning this venture was not without its obstacles. Her family objected to her leaving a job which they felt had a steady income, especially when they had no plans to grow the business: "It was a tough fight at the beginning but when they saw the determination in me, they relented and now we have become a team."
Mu Artisan's product line up currently spans three flavours which Chia has painstakingly formulated. They can be used in different applications. "I spent a fair amount of time doing R&D to bring different characteristics to each of them, in terms of taste, fragrance, thickness and usage," she explained.
Organic Bean light soy sauce is a thin and light soy sauce which adds subtle flavour to everyday cooking. Aged six months, it's best for general use like stir-fries, braising and marinating and comes in the biggest bottle since it is usually used in large amounts.
First Draw comes from the first layer of soy sauce which has been aged nine months; as such it has a rich and full-bodied taste. Chia recommends eating it as is, without any extra cooking.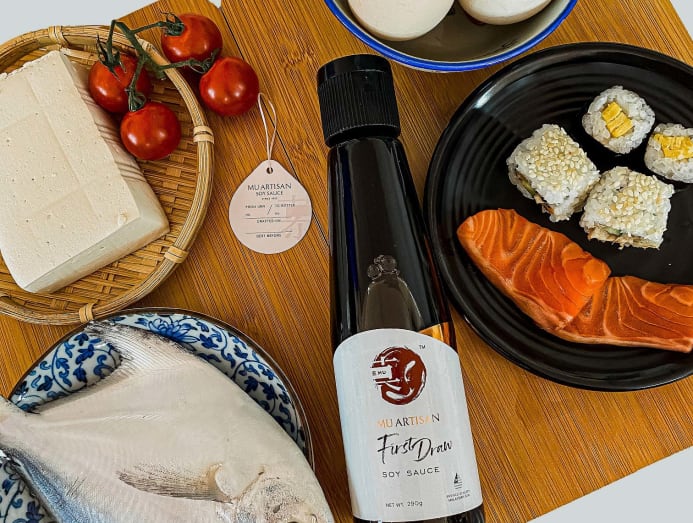 Rounding off the trio is Gula Melaka soy sauce which Chia describes as a speciality soy sauce featuring 100 per cent pure melted palm sugar in soy sauce. Each power-packed drop has the perfect balance of sweetness and saltiness and should be reserved for drizzling on fresh fruit or finishing special dishes.
"I hope to encourage more appreciation for traditional handmade soy sauce and that Mu Artisan will be able to represent Malaysia proudly as soy sauce brewed beneath the Malaysian sun."

Xin Seng Fatt caters mainly to the food services industry, producing commercial use soy sauce and other cooking condiments like oyster sauce and sour plum sauce.
Comparing the family business with her own label, Chia explained that while Xin Seng Fatt and Mu Artisan both share the same brewing plant that is managed by same team, the two labels differ in their methods of production. 
Xin Seng Fatt's soy sauces are mass produced in bigger vats and with shorter fermentation periods. Mu Artisan's soy sauces, on the other hand, are fermented in small batches in traditional pottery pots for upwards of six months, and contain no flavour enhancers.
"There are no added additives apart from just five ingredients that bring the naturally brewed, complex yet clean taste to your taste buds. Each bottle has a unique number that guarantees what we promise," enthused Chia. 
Despite Chia's evident passion for her product, she admits that she began the label on blind faith. "When Mu Artisan just started, it was without a label or brand. The bottles just had white barcode stickers which I brought to a local bazaar to test the market. I'm very grateful to the people I met there and we are honoured to have found favour from non-sponsored chefs and food bloggers. Since then, the business grew by word-of-mouth," she said.
Indeed, Malaysia's raw vegan celebrity chef, Raw Chef Yin, is an enthusiastic fan of Mu Artisan. "The soy sauce tastes really good. I like the depth and complexity of flavour. They're local, artisan, small-batch and use the traditional way of brewing with no shortcuts. Also, they use high quality ingredients to make the soy sauce and there are no added colourings or preservatives," she said.
"I like to sneak in the sauce in my chocolate desserts. That sounds surprising, but the umami from the soy sauce will bring out the chocolate flavour even more." Her sentiments are shared by Saveur nominated food writer and podcaster, Low Yi Jun, who loves drizzling the First Draw soy sauce on his eggs for breakfast.
"It's definitely a lot more intense and packed with umami than most brands of supermarket-shelf soy sauce. I distinctly remember being hit with a funky sweet salinity at the first taste and don't heat or cook it as it'll probably alter the flavour," he said.
For food blogger @lengluicooks, she loves that Mu Artisan is authentic and very transparent with how they make their soy sauce, which is chemical-free. The range has even inspired a dish which she calls Gula Melaka Soy Sauce Pork Belly.
Despite being a neophyte in marketing, Chia has done well by tying up with other Malaysian brands that are as passionate about their product lines, such as social enterprise Langit Collective. The collaboration resulted in a sold-out festive box of Lunar New Year essentials including a bottle of First Draw soy sauce.
Chia also collaborated with Inez Tableware for a gift bundle comprising their starter trio of soy sauces charmingly packaged with soy sauce saucers and chopsticks.
Mu Artisan is currently sold online, in gift shops and in speciality grocery stores in Kuala Lumpur, Johor Bahru, Penang, Melaka and Ipoh. Chia is exploring shipping out of Malaysia as well. She remains patient about the growth of her artisanal label and has no regrets about diverging from the corporate sector, saying that the only thing she would have changed is starting Mu Artisan earlier.
"I weighed the pros and cons for too long and believe now that the best time to start is yesterday," she laughed. Right now, she has two new products in the pipeline which she says will bring something new to the local traditional soy sauce brewer space.
"I hope to encourage more appreciation for traditional handmade soy sauce and that Mu Artisan will be able to represent Malaysia proudly as soy sauce brewed beneath the Malaysian sun."