After surviving war, this self-made billionaire in Singapore collects art depicting themes of hardship, progress and perseverance
Muhammed Aziz Khan, founder of Bangladesh's first independent power producer Summit Power International, lived through the Bangladesh Liberation War of 1971. Today, he is known as one of his country's most illustrious businessmen, and is also an avid connoisseur of art.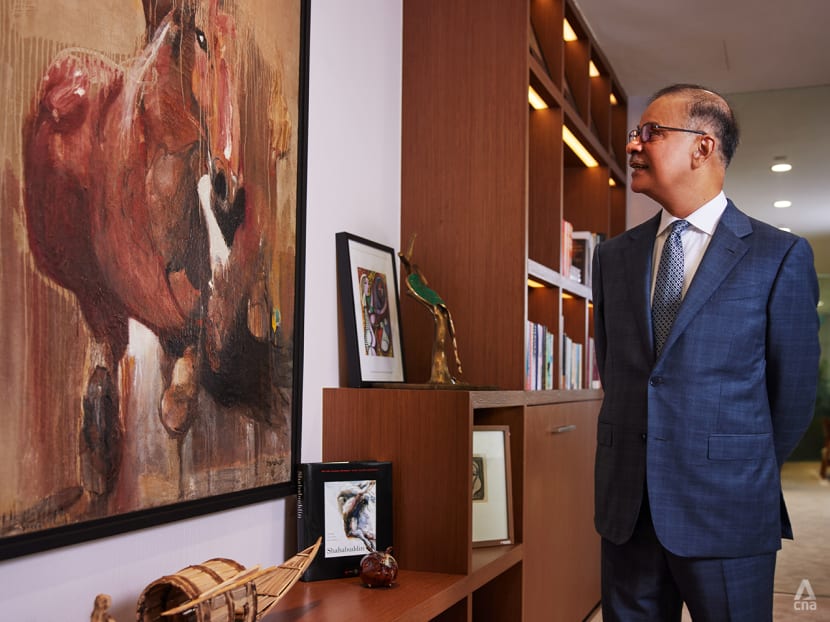 Muhammed Aziz Khan is a philosophical man. One of the first things we talked about as we sat down for a chat in his Singapore office is the advent of technology.
In the last couple of the days, the 68-year-old had been tinkering around with ChatGPT. "As a matter of curiosity, one of the questions I asked ChatGPT was how to be successful in life. That's the question young people tend to ask me," quipped Khan. "It gave me the same answer I have been giving them in the last 10 to 15 years – which is hard work and perseverance."
Khan's personal art collection – which adorns the walls of every room of his company's office premises – is a reflection of these values. Born in Bangladesh, Khan is the founder of Summit Power International, the country's first and largest independent power producer. The company is headquartered in Singapore. Its parent company, Summit Group, is the largest infrastructure conglomerate in Bangladesh. Aside from energy and power, it also has companies in communication, shipping, trading, real estate and ports.
One of the artworks that caught my eye in Khan's personal office is a painting by Bangladeshi artist Shahabuddin Ahmed. Titled Horse Racing, it depicts the scene of a man attempting to grab hold of a horse. "To me, as told by the artist himself, the horse represents time and the man represents a person's desire to hold on to time. But he never succeeds, as time moves faster than his ability to catch it," Khan explained.
Also taking pride of place in his office, right above his desk, is a painting by celebrated Singaporean centenarian artist Lim Tze Peng. "The painting showcases a scene of old Singapore some 40 years back. These boats featured in the painting have today transformed Singapore into a major shipping hub," shared Khan. The painting serves as inspiration for Khan. From his office, a 360-degree view of modern Singapore is visible – a reminder of just how far the tiny city has come.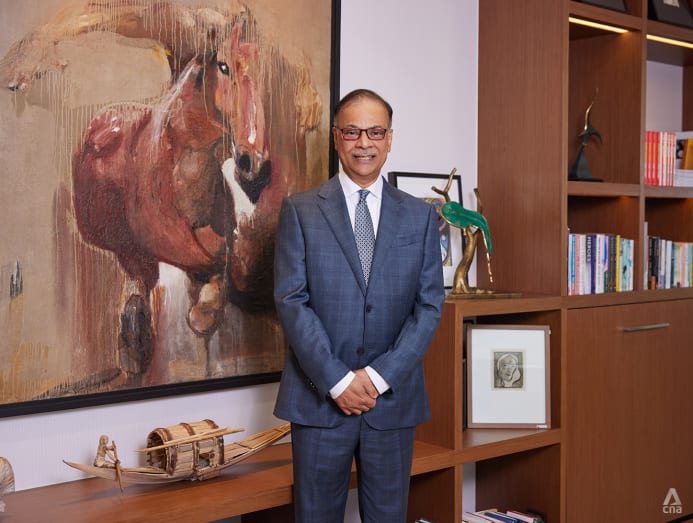 FROM WAR TO SELF-MADE SUCCESS
Born in 1954, Khan grew up in tumultuous times for his home country. As a youth, he survived the Bangladesh Liberation War of 1971 – a revolution and armed conflict sparked by the rise of the Bengali nationalist movement in East Pakistan, which ultimately resulted in the independence of Bangladesh.
"I was horrified during the war. How could men kill other men in cold blood?" he reflected. "I saw firsthand friends and neighbours shot dead because of their country of origin or the languages they speak."
Once, while driving his family vehicle, Khan recalled being shot at twice. "The military wanted to take the car for their own use. I tried to drive fast but they shot the vehicle in the back and I stopped," Khan explained. He desired to join the fight, but his father had been arrested and tortured by the military, discouraging him from doing so. "The learnings from surviving war is that you become a peaceful person. I hope I have been able to embody that," he added.
Despite the hardships, "I am very privileged to have grown up going to good schools," said the third of seven boys. "My parents provided for us. I had a good childhood and today, all my six brothers are well-educated and are good human beings. I was good at sports, I played badminton, table tennis and was the champion of the 100-yard race."
Khan graduated with a master's in business administration from Dhaka University. His experiences in war ingrained in him a desire to help rebuild his country. And so, at just 18 years old, he ventured into business, travelling to Singapore for the first time while working alongside a friend who had set up a wholesale business importing plastics into Bangladesh. He also began exporting fertiliser and later on, became a manufacturer after buying a plant to make PVC shoes.
Through the course of his business dealings, Khan often faced delays in port, caused by chronic power brownouts in the country. He ended up having to pay extensive demurrages on many occasions. So he went to the port authorities with an offer – "Let me set up a power plant for you, so that the ships don't need to stay at port for longer than they're supposed to."
In 1997, Khan established Summit Power. It is now the largest Independent Power Producer (IPP) in the country, reflecting 19 per cent of Bangladesh's total private installed capacity and eight per cent of Bangladesh's total installed capacity. It owns and operates a total of 18 power plants.
Khan moved the company's headquarters to Singapore in 2016, but he has been a permanent resident of this country since 1988.
In the course of the last few decades, Khan has cemented his name among his country's most illustrious businessmen. He is also a well-respected philanthropist, who has contributed to causes in education, healthcare, and social welfare.
According to the 2022 Forbes Singapore Rich List, Khan is the 42nd richest man in the country, with a net worth of US$1 billion (S$1.3 billion). Business chops aside, he is the father of three daughters, and a doting grandfather of five. Besides his art collection, photos of his grandchildren are also displayed around his office.
'ART IS A REFLECTION OF A MAN'S SOUL'
Khan's first encounter with art began in his college days, when he befriended the son of Bangladeshi painter Zainul Abedin. "I was studying with him at college, and sometimes we would go over to his house, which was near school, for a free lunch," Khan recalled with a laugh. "I would see his father working on his paintings. Amazed, I would sit with him and ask him about his paintings, because his son wouldn't sit and talk with his father," he chuckled.
Today, Khan owns several of Zainul Abedin's works. One of his most cherished works by Abedin is titled Rebel Cow, a watercolour painting depicting a cow attempting to escape a binding rope. "It is an amazing painting because it represents the desire for freedom, no matter how difficult."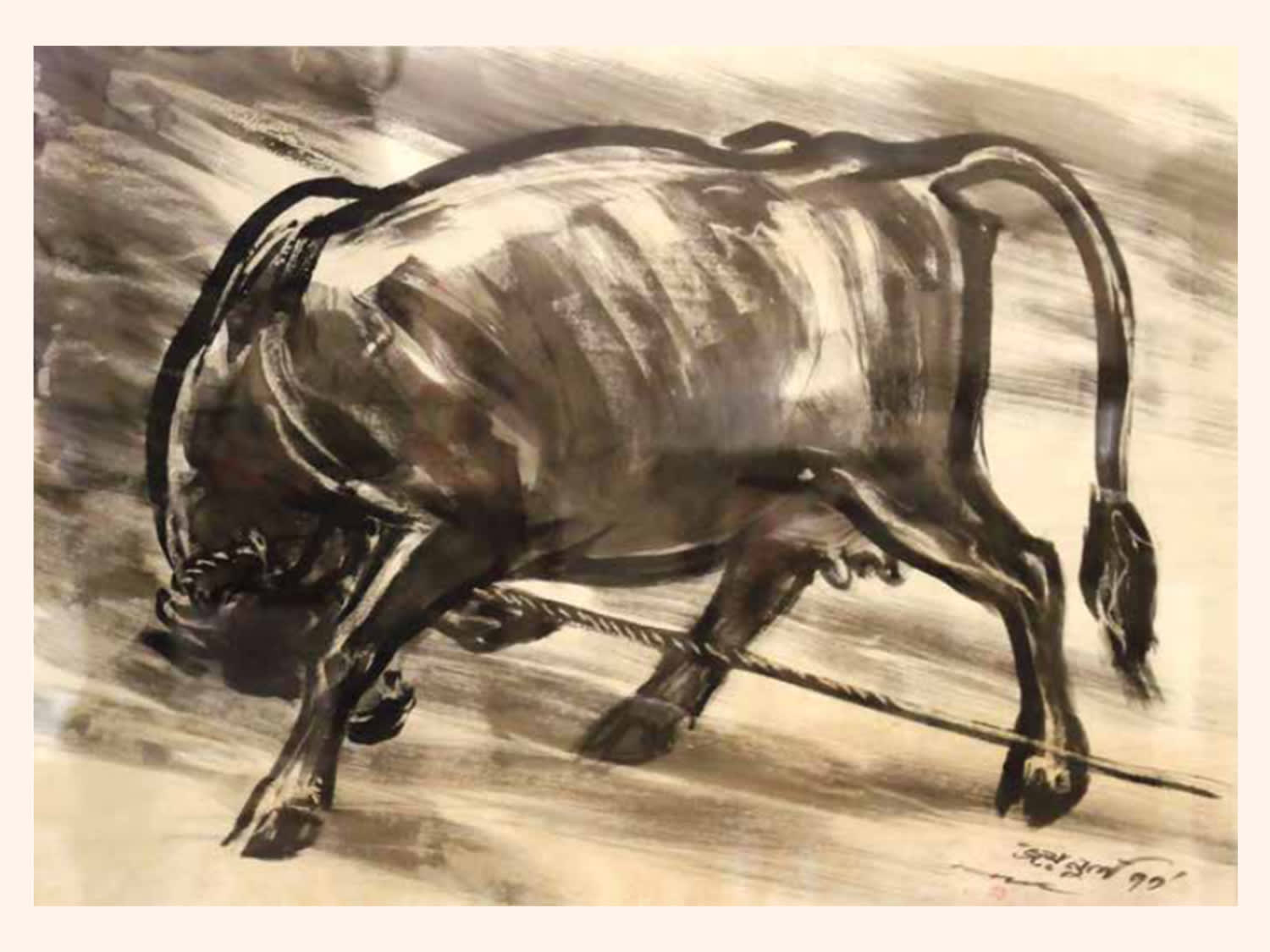 He also owns one of Abedin's most iconic paintings – Guntana Guntana – which depicts a group of workers carrying a fishing net on their shoulders, a representation of the hard work and toil of the fishing community in Bangladesh. Khan is currently in the process of loaning the painting to the National Gallery Singapore.
"Art is a reflection of a man's soul, it is his life's work," Khan believes. "I have my own art pieces in the form of the power plants I have built."
While art may be seen as an asset to some collectors, Khan has never sold a painting throughout his collecting journey. "My paintings are not at all for sale," he asserted. As for his favourite artists, he believes that it is "pretty arrogant of a person to say they like certain artists". 
"We prefer to be encouraged or inspired by their artworks," he relayed.
He does, however, have a particular affinity for lesser-known artists. After all, he started out his journey by supporting artists who could not sell their art. "People need to buy art in order for the artists to survive and flourish. I became a known collector not from buying masterpieces, but by supporting these artists."
Till today, Khan attends graduation showcases by university art students and shows his support by buying their pieces. He believes that valuable art need not be created by established artists – instead, what is important is that the artwork speaks to him. For one, one of his most recent acquisitions is a sculpture of a masked nurse during the pandemic. It was made by chef Leong Chee Yeng, who helms the award-winning Jade restaurant at Fullerton Hotel Singapore. Aside from being known for his culinary skills, chef Leong is also a passionate ceramicist. "I requested to buy the sculpture because it represented the resilience of Singapore against the COVID-19 pandemic," Khan explained.
While other art collectors dream of owning entire galleries to display their collections, Khan is most proud of creating something even more meaningful. He commissioned and built Bangladesh's first sculpture park, located on the grounds of Summit's power plant in Gazipur. Stretching across five acres of land, it features 19 sculptures created by renowned Bangladeshi artist Hamiduzzaman Khan, many of which were built by leftover scraps from the power plant.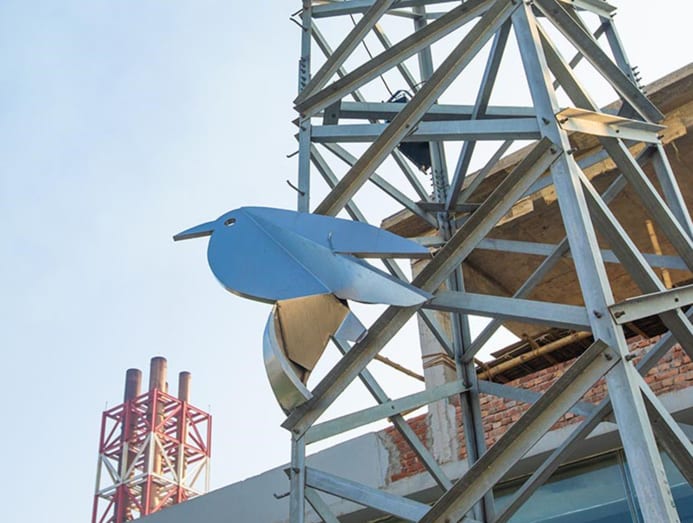 "Hamiduzzaman is a friend of mine. When he visited our power plant, he asked if he could take some scraps with him. I then asked him to build a sculpture park on our premises and he accepted," shared Khan.
Titled Remembrance 71, one of the sculptures featured is based on the suffering of civilians during the Bangladesh Liberation War, portraying the imagery of a dilapidated rickshaw with the bodies of its puller and passenger left unattended. A stainless steel bird sculpture sits atop a tower, a reminder for the need for peace. "These sculptures are made from scraps. Where others see nothing, how amazing that an artist sees something else?" Khan mused.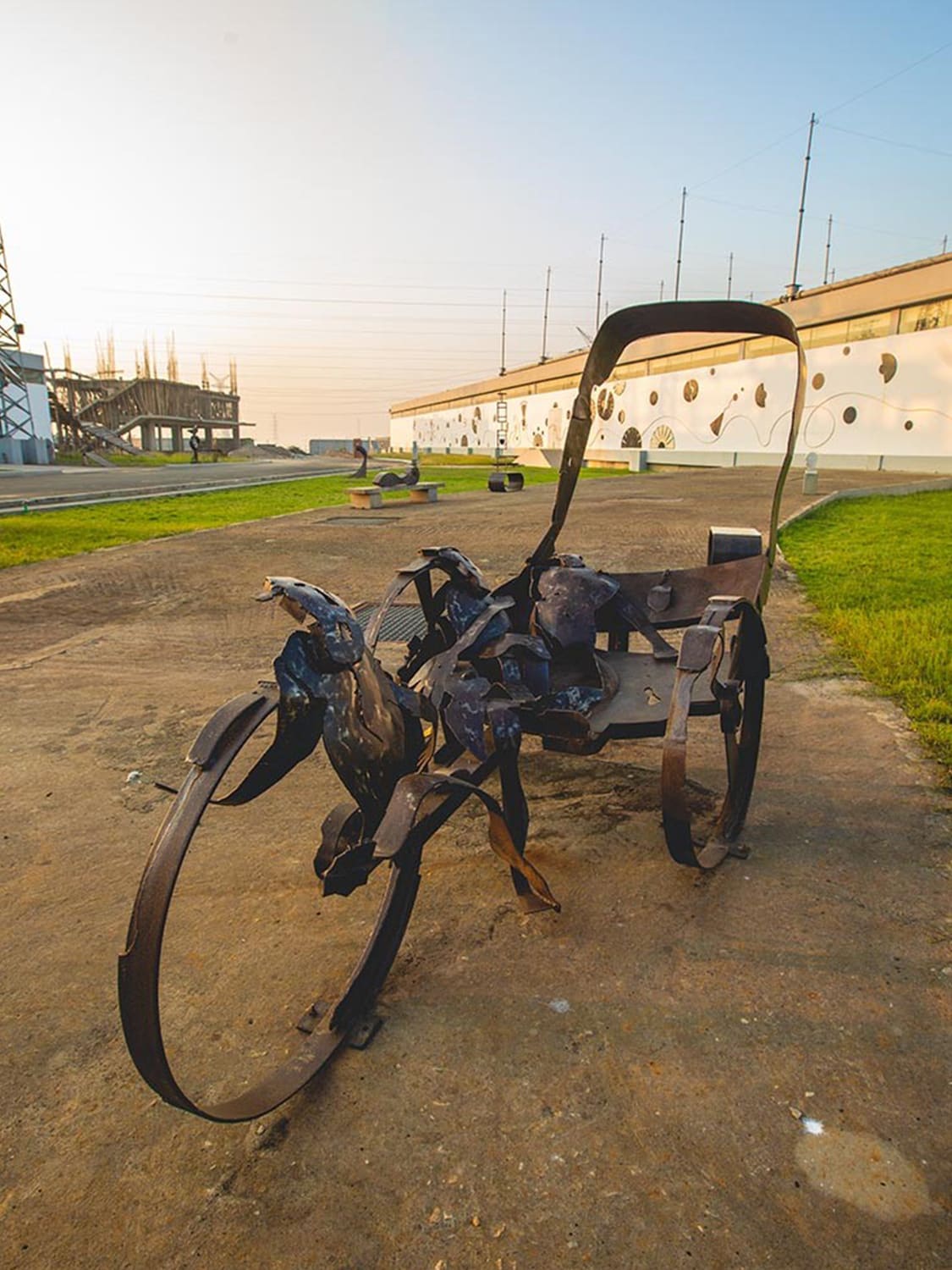 AN ART GALLERY HOME
As vast as his collection may be, what Khan considers to be his most prized and sentimental artwork, however, is a crayon drawing done by his grandson at the age of eight. The artwork is featured prominently in the dining room of the Khans' residence in Singapore.
"My grandson told me, Nana, which means grandfather, this is a colourful chicken. He told me he was inspired by Picasso. The fact that he was inspired by Picasso inspired me!" quipped Khan.
Khan often cheekily asks his guests for their opinion on his grandson's drawing. "I don't tell them it's by my grandson at first. They look at it and they say, yes, this looks like a pretty powerful piece of art!" he laughed.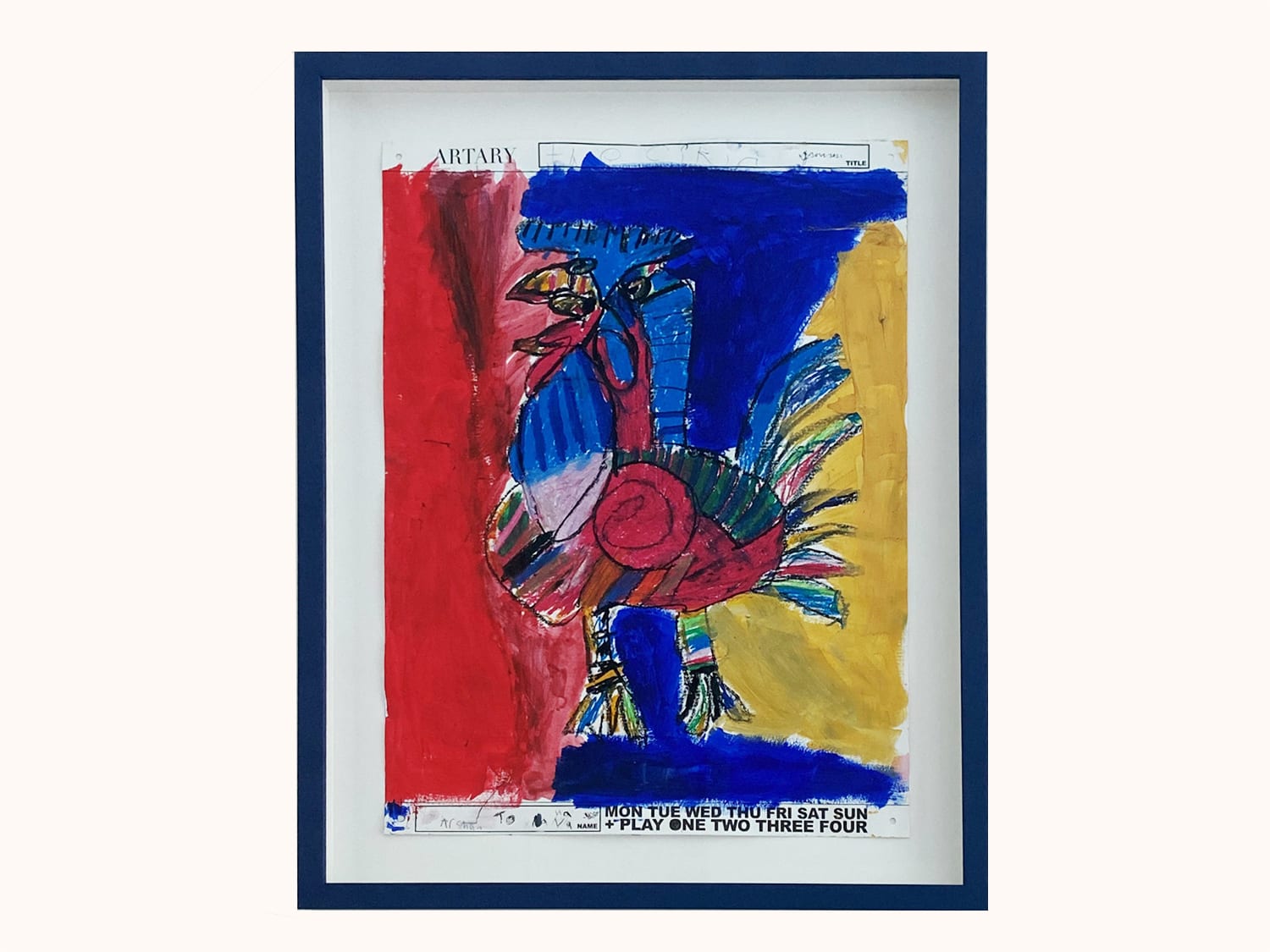 Khan's home in Singapore is akin to a gallery, with paintings adorning every wall and sculptures displayed at almost every corner. The Khans tend to swap around the artworks displayed, depending on the profile of guests they receive. The paintings also form the backdrop for Zoom meetings Khan takes from home.
On a visit to his residence, I was particularly moved by a painting by artist Biren Shome, which captured the juxtaposition of a life of suffering during the Bangladesh Liberation War, followed by freedom and happiness after independence. Also on display are several Lim Tze Peng paintings as well as a painting by pioneering Singaporean artist Chen Wen Hsi, who painted the gibbons featured on Singapore's S$50 note.
Khan hopes that anyone admiring the pieces in his collection can "appreciate the art, appreciate the work, and appreciate the human endeavour in making these artworks".
Before we part, I asked Khan to describe his art collection in three words. "I am happy, that's three words," he answered after a short pause. Indeed, for Khan, nothing brings him more joy than building an art collection of great historical significance – and supporting many artists along the way.