India's Mukesh Ambani: Bad boy billionaire or 'a simple man'?
With a fortune of US$80 billion, Mukesh Ambani is one of Asia's richest individuals, and as divisive as he is admired. On one hand, he is known to be ambitious and unscrupulous; on the other, a religious family man who practises moderation. Will the real Mukesh please stand up?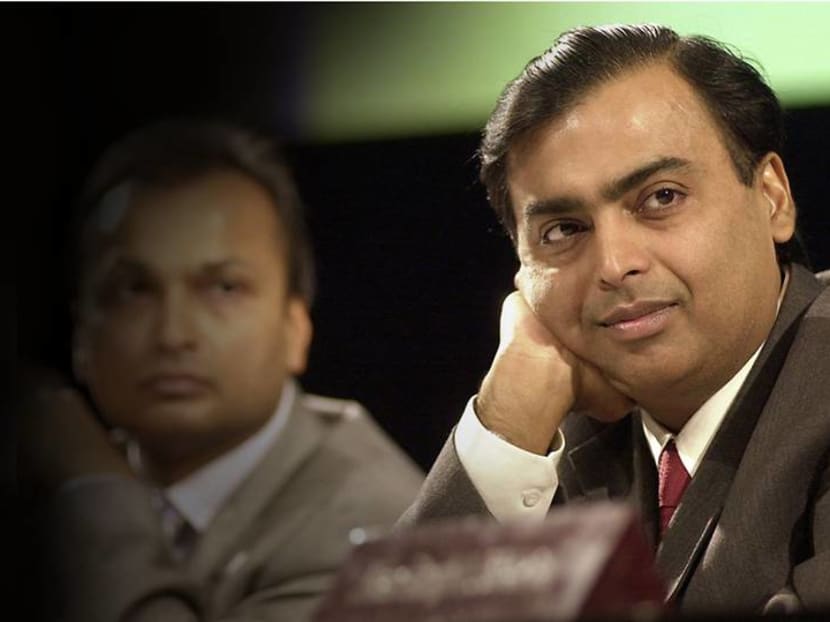 When Ajit Mohan landed in the swampy heat of Mumbai last December, he was a man on a mission. The 45-year-old media executive had recently joined Facebook to help reboot its fortunes in India. Although the social media giant had more than 300 million users in the country – more than anywhere else in the world – mis-steps and regulatory scuffles had scuppered its efforts to make any real money there. 
Mohan was joined by David Fischer, Facebook's chief revenue officer, and the pair were whisked out to the industrial suburb of Navi Mumbai. There, a series of meetings set the company's plan in motion: To form an alliance with the richest man in Asia.
Mukesh Ambani would not be particularly recognisable outside of India. Heavy set, with deep bags under his eyes and a penchant for white short-sleeve shirts, the camera-shy 63-year-old is a sober contrast to hoodie-wearing, device-clutching American tech bosses. But that appearance belies his importance in a country of 1.4 billion people, and the power that his US$80 billion (S$108.6 billion) fortune brings.
Reliance Industries was a lucrative, if unglamorous, petrochemicals and oil refining group when Ambani took control in 2005, three years after his father's death. But over the past decade, he has embarked upon a project that has made him one of the most talked about people in Silicon Valley.
Jio, the mobile operator he launched in 2016, has already muscled aside competitors to become India's largest. Ambani hopes it will become the country's answer to China's Alibaba, a home-grown tech giant in one of the world's fastest-growing internet markets. 
For the Facebook executives Fischer and Mohan, joining forces with the "game-changing" Jio was an opportunity that was impossible to ignore. And in April their courtship culminated with Facebook's US$5.7 billion investment in Jio – its largest foreign deal to date.
The deal sparked a spree that saw a dozen other foreign investors – including Facebook's arch-rival Google – write several billion-dollar-plus cheques for stakes in the fast-growing company. "It became a FOMO-kind of situation," said one person involved.
For Ambani, it marked the triumphant apex of a career remaking his father's energy juggernaut into a conglomerate fit for the 21st century. In addition to its dominance in energy and telecoms, Reliance runs India's largest retail business. Ambani and his family also own a number of news outlets, oversee a school and a hospital – and run the Mumbai Indians, a successful Indian Premier League cricket team.
"He combines exceptional vision, a huge ambition and outstanding execution," said Harsh Goenka, a Mumbai-based tycoon and friend.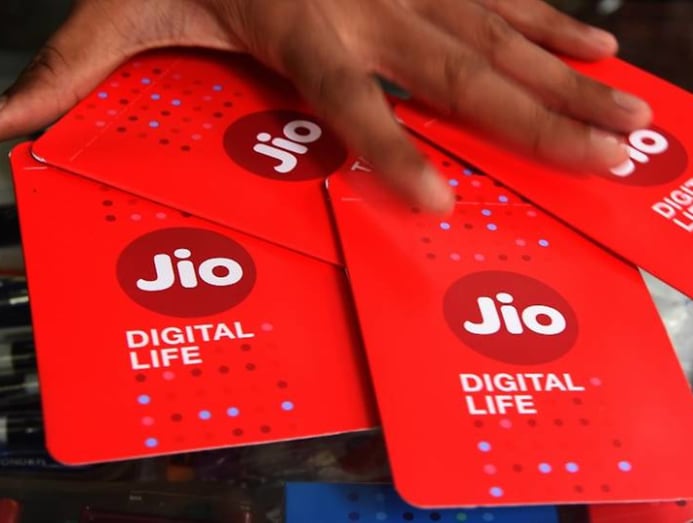 In his business victories and accrual of wealth, Ambani sees a clear benefit for his country, now under Prime Minister Narendra Modi's leadership. In 2018, the businessman argued that Jio was "the most powerful driver of change in India today". The message: Saying no to Ambani's growth, was akin to saying no to India's. 
Yet outside observers point to a near-unparalleled ability to leverage his wealth, political nous and Reliance's scale to build an ecosystem that works in his favour. Ambani is both respected and feared – friends seek his tacit approval before taking on new roles, while rivals try to avoid entering into a direct conflict.
One government official suggested Reliance's power evoked that of a nation more than a private corporation: "Reliance operates as an independent state within a state. Ministers are wary of Mukesh Ambani because he is so powerful and there is a sense that he needs to be handled with care."
Ambani's sprawling business interests – and his political clout – mean he is now perceived as a gateway into India's blossoming digital and consumer-led economy, one of the last great global growth stories.
Having completed the fundraising for Jio, he is raising billions more from top investors for his retail business. But critics fear that what he is building could become a monopoly that will crush competition and, ultimately, hurt Indian consumers, all while concentrating ever more power around himself and his family. "He wants to be Netflix, he wants to be Alibaba," one former employee said. "He wants to be everything."
THE EARLY YEARS
In Ambani's spacious, sofa-filled office, located in a nondescript south Mumbai building surrounded by chai and snack stalls, hangs a large portrait of his father. If Mukesh is shaping up to be India's most important tycoon of the early 21st century, Dhirubhai Ambani towered over the end of the previous one.
Born in 1932, he was raised in rural poverty in the western Indian state of Gujarat, emigrating to Yemen as a teenager to work at a trading company. Upon his return to India in the late 1950s, he started trading synthetic yarns, before branching into polyester manufacturing, building factories that turned Reliance into an industrial powerhouse. "Dhirubhai was a great leader," one person close to the company said. Mukesh and those around him "idolise Dhirubhai".
In their early years, Mukesh and his younger brother Anil witnessed their father's struggles to build up his business. Both inherited his outsider's edge, even as they went on to enjoy a life of luxury.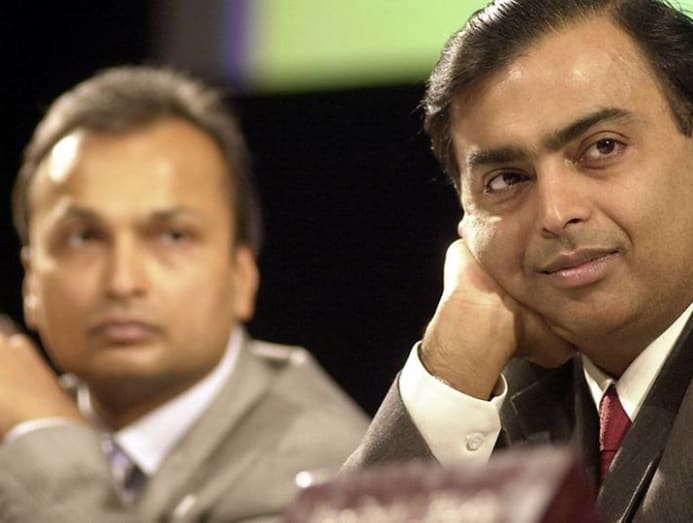 Dhirubhai Ambani was the most prominent newcomer to break into a business elite previously controlled by families who had made fortunes during the colonial era. He was known as a political fixer, maintaining a legendary influence operation in New Delhi that curried favour with bureaucrats and politicians in order to secure much-needed business licences. Critics historically claimed that in those days some officials received benefits, including funding for their children's education. The company and Ambani have always contested these allegations. 
One person close to the family acknowledged that Dhirubhai had to do "difficult things" in order to break past those elites that maintained a stranglehold at the time. It was a legacy memorialised in the 2007 film Guru, a fictionalised account inspired by his life and distributed by Anil's entertainment company, which portrays the protagonist as a swashbuckling entrepreneur who pursued growth at all costs and was unafraid to play hardball when shut out by big name business owners. 
Throughout the decades, the conglomerate's business practices have continued to attract scrutiny. In 2017, the Securities and Exchange Board of India fined Reliance Industries in connection with a market manipulation case (the company has appealed the order); campaign groups have also accused Reliance Industries of having inappropriate links with the government in a Supreme Court case over a gas exploration deal, something Reliance denies. 
Ambani, who rarely speaks to the press, declined to be interviewed for this article. Reliance declined to give responses for publication to various points put for comment, saying they appeared to be based on "inaccurate" information from sources of "doubtful veracity".
Ambani left Stanford Business School mid-degree in his early twenties to help run a polyester plant, and rose up through the company. But Dhirubhai's death in 2002 prompted a legendary clash between the brothers over how to run the empire. 
In a 2005 peace deal brokered by their mother, the pair divided the conglomerate. Anil, seen as the more stylish brother and married to a Bollywood star, spun off Reliance's finance, power and existing telecom businesses and ventured into film production. The comparatively unassuming Mukesh took the core oil products business.
But the brothers continued to trade barbs and to block each other in a fallout that gripped Indians at home and abroad. In an affront to a society that emphasises family loyalty and unity, Anil even became embroiled in a defamation allegation against his brother over comments in which Mukesh appeared to suggest Anil had overseen Reliance's corporate "intelligence" operations.
CLASH OF THE TITANS
It was the launch of Jio that would ultimately give Mukesh the upper hand in the bitter battle with his brother. While he had previously helped set up a telecommunications business under his father, he lost it to Anil under the terms of the 2005 split.
He, in turn, used his first right of refusal under those same terms to scupper a deal by Anil's Reliance Communications to merge with South Africa's MTN, which would have created one of the world's largest mobile companies. Then, in 2010, Mukesh made a decisive move that would ultimately quash his sibling's business, securing a spectrum licence for his new operator.
This renewed foray into telecoms puzzled many who questioned why a company that ran one of the world's most successful oil refineries would invest billions in a speculative venture at a time when India's energy consumption was growing fast.
But western energy industry executives who know Ambani say he has long called time on the age of oil. In years past, senior Reliance executives asked industry leaders about the possibility of peak global oil demand. "Now the questions tend to be about when [it] will happen, not if," said one person involved in such discussions.
Energy remains a key pillar of the Reliance empire but Ambani has sought to dilute his stake and is now pursuing a strategy to become a net zero carbon company. Last year, Reliance said it planned to sell 20 per cent of its refinery business to Saudi Aramco for about US$15 billion.
But the deal, slated to be one of India's largest ever foreign investments, has stalled after the kingdom baulked at the price tag following the sharp drop in oil prices during the pandemic.
As Ambani's focus has shifted towards tech, he has often repeated the cliche that "data is the new oil". India certainly presented one of the world's most promising markets. Hundreds of millions were buying mobile phones for the first time, though they continued to run on slower 2G and 3G data and were still too expensive for many.
Jio's plan was to leapfrog the incumbent companies by launching 4G services at radically lower prices. One former employee described this as part of a vision to "democratise access to the internet". The same source recalled Ambani's keen interest in the project: Having submitted a chunky research document late one evening, a copy annotated in Ambani's handwritten scrawl was returned to him the next morning. 
When Jio eventually launched in 2016, it quickly accumulated millions of users by offering its services at rock-bottom prices with extended introductory offers, undercutting its rivals and forcing them to bring down their own prices.
"He wants to be Netflix, he wants to be Alibaba. He wants to be everything." – a former employee
A boom in internet use occurred as millions of working-class and rural Indians could video call relatives, stream cricket matches or play online games for the first time. "It took the combined Indian telecom industry 25 years to build a pan-India 2G network," Ambani said in 2018. To build an advanced 4G network, "Jio took just three years."
But Jio's success has been marred by repeated allegations of bully-boy tactics to crush competitors, including predatory pricing. Critics also claim there has been favourable treatment by the authorities, including Jio being exonerated by regulators and competition authorities despite extending introductory price offers past the usual 90-day window.
Reliance's path was cleared after a 2013 regulatory change allowed it to convert its data licence to transmit voice calls as well. A draft report by the state auditor found that Jio had effectively underpaid by around Rs230 billion (S$4.25 billion) in securing the unified licence, but the final release of the report dismayed Jio's critics by finding its underpayment to be much smaller.
In the view of Prashant Bhushan, a public interest lawyer who has brought multiple cases against the company: "[Reliance] were quite smart in investing in the telecom sector. But more than that they have been helped at all stages by the government and now by the courts."
Since then, a wave of telecom companies have been forced to exit the mobile sector or gone bankrupt. Only two private competitors remain: Vodafone Idea and billionaire Sunil Bharti Mittal's Airtel. Mittal told the FT last year that competing with Reliance was "hard work . . . They want to be dominant". Both companies were dealt a severe blow after a court ruling last year ordered them to pay billions of dollars to the government in historic fees. The younger Jio, however, was asked to pay only US$2 million.
In the view of Rahul Khullar, a former chairman of the Telecom Regulatory Authority of India: "Biased and partisan regulation in favour of Jio has led to the general crisis in the industry." He added: "Jio was bleeding Airtel and Vodafone Idea in the hope that you'd have a last-man-standing situation . . . They didn't care because they had deep pockets elsewhere."
Reliance vehemently denies that it has received favourable treatment and attributes its success to Ambani's business acumen and bold vision.
One of the worst hit by Jio's rise was Mukesh's brother Anil: It proved a brutal blow to his shrinking half of the business empire. RCom was unable to keep up and quit the mobile sector in 2017 before going bankrupt. In 2018, Anil himself said that the telecom sector was becoming an "oligopolistic structure that . . . could eventually become a monopoly".
Mukesh's fortunes stand in stark contrast to his brother. "What [Mukesh] did right, he was the guy who was behind the core businesses. It wasn't Anil," said Sucheta Dalal, a veteran journalist, who has long covered them both.
Last year, Anil's mounting debt troubles were so acute that he was days away from being jailed for contempt of court over a missed US$77 million payment to Swedish group Ericsson. A last-minute bailout from Mukesh was made sweeter when Anil, in a humiliating capitulation following their feud, conveyed his "sincere and heartfelt thanks to my respected elder brother." 
A spokesperson for Anil Ambani said the payment was a business transaction, denying it was made in a personal capacity.
Anil is now being pursued by Chinese creditors, who, in May this year, secured a UK court order mandating he pay them US$717 million. The pressure ultimately prompted him, once the sixth richest man in the world, to claim in court earlier this year that his net worth had plummeted to zero.
SYMBOL OF EXTREME INEQUALITY?
Today it is Mukesh who is at number six on the Forbes list. He and his family live in a 27-storey skyscraper complete with a helipad, sports facilities and space for hundreds of staff.
The building, named Antilia after the mythical island, is believed to be the world's most expensive home, with a rumoured price tag as high as US$1 billion. It has also become one of the most potent and emotive symbols of India's already extreme inequality, towering over the slums that house four in 10 Mumbai residents without running water and with toilets shared by hundreds of families.
"There's a category of people, me included, who are outraged by the fact that he spent so much money to build a building," said one veteran Mumbai businessman, who views it as "an explicit attempt to flaunt his wealth".
In December 2018, the festivities to celebrate Ambani's daughter Isha's nuptials, rumoured to have cost as much as US$100 miliion, pushed the already elaborate genre of Indian weddings to new extremes. Beyonce gave a performance, guests included Hillary Clinton and Ban Ki-moon, and – in a bizarre turn – Bollywood superstars Shah Rukh Khan and Aishwarya Rai Bachchan were photographed serving food. 
Despite this, Ambani and his company push a carefully crafted image of a man of simplicity. Reliance says that Ambani caps his annual salary to Rs150 million "in order to set a personal example of moderation in managerial compensation levels". He is religious and regularly performs Hindu rites, shunning meat and alcohol.
One person close to the company says he has "a childlike curiosity", staying up late reading about emerging business trends. He is also a family man. "You hear stories about the weddings and the choppers and whatnot but, in person, he doesn't come across as someone who is suffering from megalomania. He is a very simple man," said one person who has had business dealings with him. 
Ambani's wealth and influence at home has opened doors abroad. Last autumn, he travelled to the Middle East, where he was born in Yemen in 1957. This time, the setting was an exclusive get-together aboard the megayacht of Saudi Arabia's crown Prince Mohammed bin Salman in the Red Sea, along with more than a dozen top business people including Masayoshi Son of SoftBank. Of the attendees, it was Mukesh that sat next to the crown prince.
He returned to the Gulf soon after for Riyadh's annual investment summit, dubbed Davos in the Desert. While there, he attended a dinner hosted by the heir to the Saudi throne, along with Narendra Modi, Jared Kushner, Brazil's Jair Bolsonaro and Steve Schwarzman of private equity company Blackstone. Although a private business executive, in some ways Ambani was acting as India's chief diplomat.
Ambani – who once sent a life-sized elephant made out of silver to Middle Eastern royalty – is a deft political operator. At the Riyadh conference, he showered praise on Prince Mohammed, who was facing international censure over the 2018 murder of dissident journalist Jamal Khashoggi. Ambani told the audience that the kingdom, like India, was "blessed with leadership that is unique in the whole world".
"You hear stories about the weddings and the choppers and whatnot but, in person, he doesn't come across as someone who is suffering from megalomania. He is a very simple man." – a business associate
"From Kuwait to Saudi Arabia, Abu Dhabi to Doha . . . [Ambani] has that trust," said Anshuman Mishra, a former banker who is a close confidant of Ambani and advised him on his international dealmaking. "Sovereign wealth funds, the US tech giants, they will all have to engage with Reliance at some point. That's the only serious game in town if you think of India."
Mounting tensions between the US and China have only increased Ambani's appeal to American investors looking for alternative partners in Asia. India's own souring relationship with China has also worked in Reliance's favour. The country's move to ban nearly 200 Chinese-made apps including TikTok, following deadly border clashes between the two nations in June, has created a vacuum for moneyed newcomers. 
Ambani himself helped to fan economic nationalism. In 2019, he warned about the dangers of "data colonisation" by foreign corporations. Yet, as the government mulled strict new curbs on foreign tech giants, he partnered with Google and Facebook, who between them control nearly two-thirds of India's digital advertising market.
He is also now said to be in talks about potential investments in his retail venture with online retail giant Amazon, whose expansion plans in India have previously been scuppered by unfavourable regulatory processes for foreign companies that have worked in Reliance's interest. Reliance has dismissed mention of such talks as speculation, and stressed that its partnerships with Google and Facebook would not compromise India's data.
At home, Ambani has proved expert at navigating India's changing political winds, cultivating ties to multiple political parties. But the tycoon's affinity with Narendra Modi has proved more visceral. Both devout Hindus from the state of Gujarat, Ambani shares Modi's sense of being an outsider smashing down decades-old power structures, something that Indians too have seized on, delivering two landslide election victories for Modi.
Ambani has aggressively used this alignment to advance Jio, which plastered the leader's face on its adverts and even pre-installed his controversial "NaMo" app on its low-cost JioPhones. In slogans Reliance has touted that, like Modi, it is "dedicated to India". 
But there is growing consternation about the systematic way Reliance is placing itself at the centre of critical sectors of India's burgeoning new economy, raising questions about whether Ambani's ability to overrun competition will ultimately be good for regular Indians in one of the world's fastest-growing consumer markets.
In September, protesting farmers burned Jio cards in a gesture against excess corporate power. Harsimrat Kaur Badal, an outgoing government minister, on television held up Jio as an example of the danger of monopolies. "They gave free phones . . . [users] got dependent on it," she said. "The competition was wiped out, [then] Jio jacked up their rates."
Reliance now runs one-third of all brick-and-mortar stores in the country's formal retail sector, making it several times larger than its next competitor. The recent tie-up with Facebook and its messaging service WhatsApp, which has 400 million Indian users, gives Reliance unique reach among consumers.
"It's very difficult to have another major player because of the intensity of what he does, the magnitude of what he does," one person who knows Ambani said. "When he enters a field, he enters to be the dominant player."
Ambani now has to prove he can make good on his bold claims. While he has touted Jio's enormous user footprint to investors, regulatory data for June shows that a fifth of Reliance's 398 million reported customer base is inactive. And, though at an early stage, many of Jio's forays beyond telecom such as its payments or chat apps have had limited success so far.
Yet competitors fear Reliance's ability to draw in billions in foreign investment, all while undercutting rivals, will leave India with fewer choices. "The trouble for us is that they'll scare investors," said one venture capitalist. "But whether they'll create the best products and services, it's hard to say."
"Reliance operates as an independent state within a state. Ministers are wary of Mukesh Ambani because he is so powerful and there is a sense that he needs to be handled with care." – an Indian government official
FAMILY TIES
In a Netflix series shadowing the Mumbai Indians IPL team in 2018, Ambani's eldest son Akash stands on a cricket field with the top of his white shirt casually unbuttoned. Akash, whose responsibilities in the family business include helping lead the team, banters with the camera while top cricketers train alongside him. "We want to win desperately this year, prove everyone wrong," he said.
The team went on to have a mediocre season but the younger Ambani's chutzpah fits with his father's winner-takes-all business mentality. The tycoon, who often turns to his wife for advice along with a tight-knit group of top executives, is slowly shifting his three children – Akash, his twin sister Isha and younger brother Anant – into ever more prominent positions within the empire in what many believe is the early stage of a succession plan.
Akash and Isha had a seat at the table during recent deal negotiations, including the one with Facebook. "It was the way I'd expect a grooming exercise to pan out. They were learning the ropes," one person involved said. "They were probably being blooded . . . so that one day they go on to run the company."
Indian business families, not least the Ambanis, have faced infamous succession problems; generations that grew up with silver spoons are treated with particular scepticism. People close to the tycoon say he is determined to avoid the messy familial spats that have marred his own career, pointing to the apparent symmetry of splitting his empire into three units centred on energy, retail and digital services.
By helping to transform Reliance's businesses into globally run ventures, including giving Jio board seats to experienced investors Facebook and Google, they say that he wants to ensure his children are shielded from perilous domestic politics. "Mukesh now wants to have less engagement with policymakers," one adviser said. "He doesn't want his kids to have to deal with it."
But Ambani also doesn't want to retire before he's succeeded in turning Reliance into one of the world's most valuable companies. In the words of one close to him, Ambani's plan is to create "not just a telecom player, but a serious tech player with a global footprint."
Benjamin Parkin is the FT's Mumbai correspondent. Anjli Raval is the FT's senior energy correspondent. Additional reporting by Amy Kazmin
By Benjamin Parkin and Anjli Raval © 2020 The Financial Times