How 'mumpreneur' Cheryl Wee juggles multiple roles during circuit breaker
Society fixture, mother-of-two, and founder of weight management firm Cheryl W, Cheryl Wee is expanding her company's online presence and finding enrichment activities for her kids.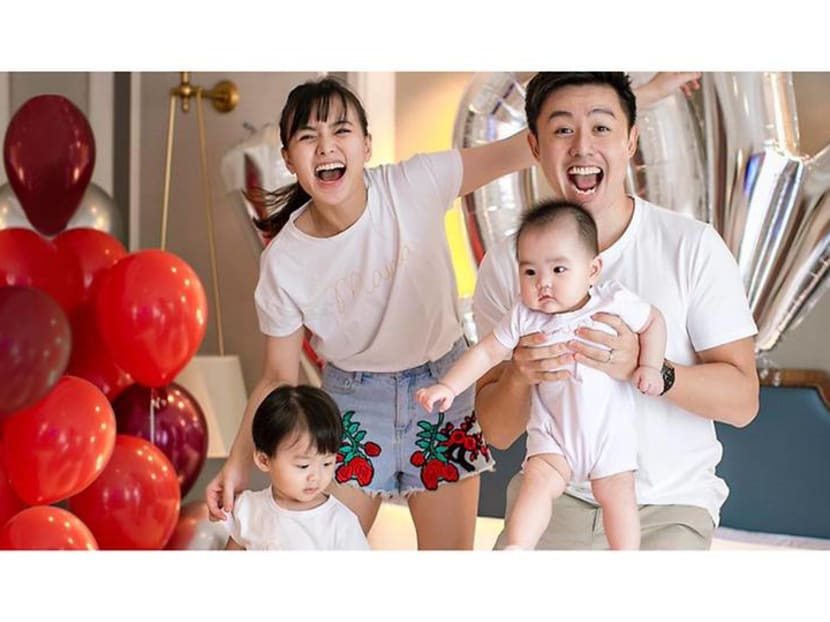 In this strange, troubling new world of uncertainty, safe distancing and self-isolation, it is hard even for the most optimistic among us to remain upbeat. But 33-year-old actress-entrepreneur Cheryl Wee chooses to look on the bright side despite having to cancel two overseas trips, as well as manage the uncertainties of running a business, while also juggling mummy duties in the last few weeks.
Wee told CNA Luxury that she feels "blessed" and has "nothing to complain about" even with the circuit breaker restrictions in place.
"All of our social activities have been affected to a certain extent. But what's that compared to the thousands of frontline staff working tireless to keep us safe? Yes, there's a lot more restrictions now but I also feel we must comply and cooperate, only then we can get through this (pandemic)," she said.
While the COVID-19 pandemic has affected many aspects of her life, it has also given the mum-of-two and business owner a crash course in perseverance and resilience – values that have helped shape her parents, Jean Yip Group founders Jean Yip and Mervin Wee's, success in a highly-competitive industry.
ADJUSTING AS A BUSINESSOWNER
The extended circuit breaker period has affected the operations of Wee's wellness and weight management business, Cheryl W. Services are currently suspended until June 1, but the brand's wellness drinks and products can still be purchased online.
"I think most businesses will agree that the traffic flow, staff restrictions and the general sentiments of uncertainty can be challenging for businesses, but I feel this is something out of our control," Wee said.
So instead of worrying, she has chosen to use the lull period to focus on training and re-training her team and finding ways to improve processes. The circuit breaker period has also pushed her and her husband Roy Fong to further expand the Cheryl W brand into the online market.
"This circuit breaker and COVID-19 situation have been a great motivation to push us to keep things on track and buckle down to expand and diversify in the online market." – Cheryl Wee
"I would say that this circuit breaker and COVID-19 situation have been a great motivation to push us to keep things on track and buckle down to expand and diversify in the online market. The Cheryl W team, including Roy and I, are working tirelessly now to expand our online presence and increase new product range for our online e-commerce store to be launched in the new future," she said.
Wee believes that prudence is another virtue that comes in handy in difficult times like these.
"It's definitely a tough year for businesses, with overheads and cost incurred despite drop in sales. Whether as an individual, a family unit or business owner, we cannot take the good times for granted," she said.
"If we had saved up for a rainy day during the good times, that money saved comes in handy at this time to tide us over the tough times when our cost exceeds revenue."
JUGGLING MUMMY DUTIES AND WORKING AT HOME
As a mum, Wee has also been adjusting to a new normal. When her helper left two weeks before the circuit breaker started due to personal reasons, the hands-on mum took everything in her stride.
To maintain her (and her kids') sanity at home, Wee has created a daily routine for her kids by scheduling activities between their after-nap and feeding times.
Her firstborn Marc is two years old while her daughter Emma is eight months old.
Although Marc does not have home-based learning as he has not officially started school, Wee said that she has been researching on toddler-friendly learning and play activities, and incorporating them into their daily routines.
For example, tennis with Daddy, water play, building blocks, making dough during baking sessions and reading storybooks.
Wee said, "It's a little easier for me now during the circuit breaker because Roy can work from home, which means he can help out with the kids without having to travel to work."
Living with her parents, aunt and brother has its perks as everyone helps out with the kids.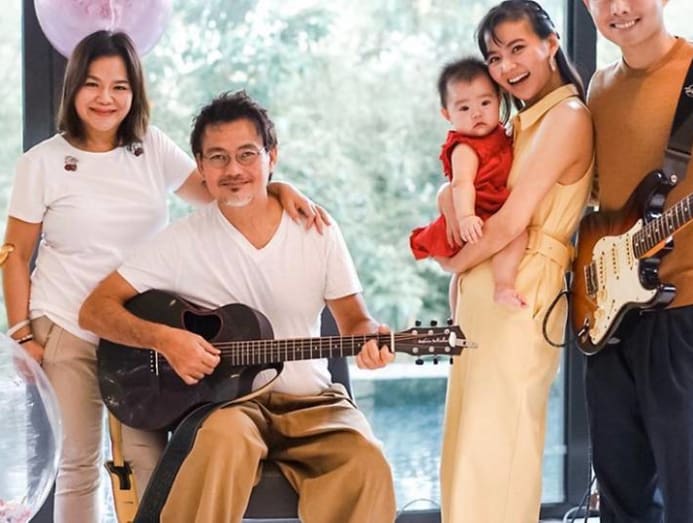 "They are happy to take over the kids, which helps a great deal when I have urgent things to do," she said, adding that her mum has also been cooking and feeding everybody well at home.
Still, like many work-at-home mums, Wee admits that she sometimes struggles to get work done when her kids need attention.
"With young kids at home, it's a lot more productive to work in the office than at home. There are good days when I'm on top of things, and also crappy days when I can't get any work done, the kids drive me insane and I'm downright tired at the end of the day," she said.
With the extended circuit breaker, Wee is bracing herself for another exhausting month but again chooses to look on the bright side: "It's a chance for us to build memories with the kids that will last a lifetime. I guess this is what life is. We can only have a general plan but things change, and we got to learn to adapt and take a step at a time."
She added that praying together with her family and attending Sunday mass online have also helped her during this period of uncertainty.
One of the things Wee especially misses right now is seeing her two-year-old son engage with his peers.
"As a mum, I feel the challenge right now is the lack of social interaction with kids his age. With safe distancing, we can't have playdates or take Marc to indoor parks or enrichment classes. It's mostly just him and the adults. Thankfully, he has Emma at home," she said.
"There are good days when I'm on top of things, and also crappy days when I can't get any work done, the kids drive me insane and I'm downright tired at the end of the day." – Cheryl Wee
HOW HER SOCIAL CALENDAR HAS BEEN AFFECTED
2020 is also the year when Wee has had to cancel her long-awaited honeymoon, which she and her husband Roy have put off since their marriage in 2017.
"We had planned to go to Spain and France three months after the wedding but one-and-a-half months later, I got pregnant with Marc and I was really sick with morning sickness," she shared.
"We postponed it until Marc turned six months old, and then I got separation anxiety and we changed it to a family trip to Sydney."
When they finally found the right time to go to Japan for their honeymoon, the pandemic happened. "Looks like I am not sure when this honeymoon is going to happen," she said.
They had also planned to travel to Perth for a family trip. But when the lockdowns and travel restrictions made it impossible to travel, they decided to do a short staycation at The Fullerton Hotel in March.
"It was nice to take a break from the usual routine," she said.
The busy mum said her beauty regime during the circuit breaker has also been affected. With salons closed, she cannot go for facials and body treatments.
To maintain her skin, boost metabolism and general wellbeing, Wee takes her brand's Ignite coffee blend, collagen and ling zhi supplements, and masks on alternate days. At this point in time, eating right and having healthy habits are also important, she added.
But there is one thing Wee does not have to worry about amid the tightened circuit breaker measures: Having her luscious tresses go out of shape.
"We've got the world's two best stylists at home – my mum and dad. We are really fortunate!" she said.
"I guess this is what life is. We can only have a general plan but things change, and we got to learn to adapt and take a step at a time." – Cheryl Wee