On its 40th anniversary, No Signboard faces its biggest challenges yet
No Signboard Seafood Restaurant's CEO Sam Lim talks about how he propelled the humble hawker stall that his grandmother founded into a listed company, and how the pandemic is reshaping its strategy.
A 40-year run is no mean feat in Singapore's competitive restaurant industry, especially when you've made the leap from hawker stall to household name. So it's no surprise that No Signboard Seafood Restaurant's story is one that's oft told.
For the uninitiated, it goes something like this: In the 1970s, a woman opens a humble stall selling seafood dishes to make ends meet. Decades later, her grandson makes a bold move, borrowing S$300,000 from a friend to transform the family hawker stall into a bustling restaurant, and eventually, a listed company.
Success stories like these, however, are often paved with challenges. Between its lines are years of physical toil, frayed nerves and obstacles to overcome. Keeping up with the ever-changing times is a hurdle all unto itself, but No Signboard Seafood has rolled ably with the punches.
Just two years ago, its once steadfastly traditional flagship at The Esplanade was given a dramatic transformation and its menu redesigned to appeal to younger foodies active on social media. Suddenly, its ceiling was framed with LED screens, its floors lined with stylish terrazzo, and the dishes that left its kitchen adorned with edible flowers and dollops of caviar.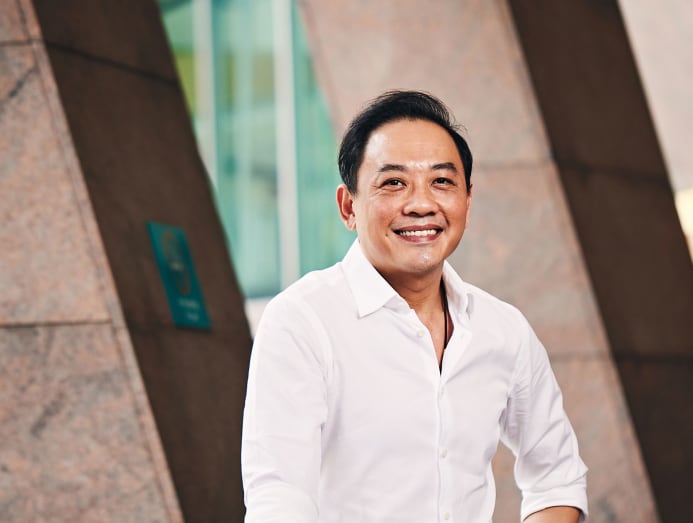 To cope with the downturn, the company has had to manage its cost structure and operational efficiency by reducing its staff strength, closing its Clarke Quay outlet and shuttering its outpost in Shanghai. "We have to preserve cash so that when things turn around, we will have the ability to move forward," Lim explained.
The 44-year-old certainly knows a thing or two about life's changing tides. Overcoming adversity, after all, is what led him to announce to his family that he'd borrowed S$300,000 from a friend to move No Signboard Seafood from their hawker stall in Race Course Road to a swanky restaurant space in Kallang 21 years ago.
HUMBLE BEGINNINGS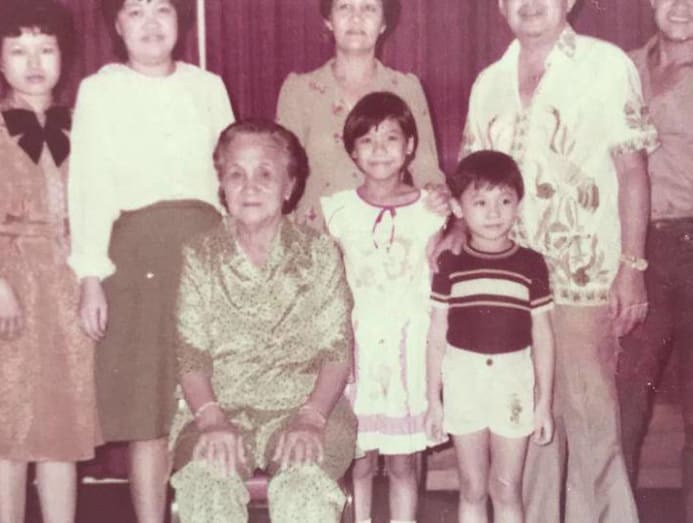 The Lim family grew up in a Tai Seng area kampung. In the late 1970s, as the kampung was earmarked for redevelopment, they were relocated to a three-room flat in Bedok North which eventually housed 10 family members.
Its matriarch, Ong Kim Hoi, started No Signboard Seafood at a Mattar Road hawker centre in the 1970s. Unable to afford a sign for the stall, they simply painted a plank above it orange and the stall soon came to be known as wu zhao pai (no signboard) in Mandarin. The name, obviously, stuck.
Not academically inclined, Lim – Madam Ong's grandson – took eight years to graduate from primary school and trained as a motor vehicle mechanic at the Vocational and Industrial Training Board (now ITE). As a child, Lim watched his grandmother wake at 5am to buy seafood, start preparations for her stall at 3pm, and retire to bed only at 2am.
"When I was young, there was a lot I didn't know. Sometimes people feel embarrassed to ask (questions), but if you don't know there's nothing wrong with asking."
Between the ages of 15 to 18, he took on various jobs as a petrol pump attendant, window cleaner and chef at Swensen's. When he realised that he was never going to make enough money in those vocations, he began looking for a way to earn a higher salary.
"I found a job at a cargo hold where I worked about 12 hours a day as a mover. Everything was heavy and it was very hard work. But I made a few thousand dollars, which was a lot of money. All this time, I just wanted to see what working outside [of the family business] was like."
After National Service, Lim joined his grandparents, mother and uncle at the stall. "Every day, I set up 20 to 30 tables and chairs and I would think, 'how can we expand this business?'," he said. "We cannot stay like this forever. So I thought of moving [the business] to a better location."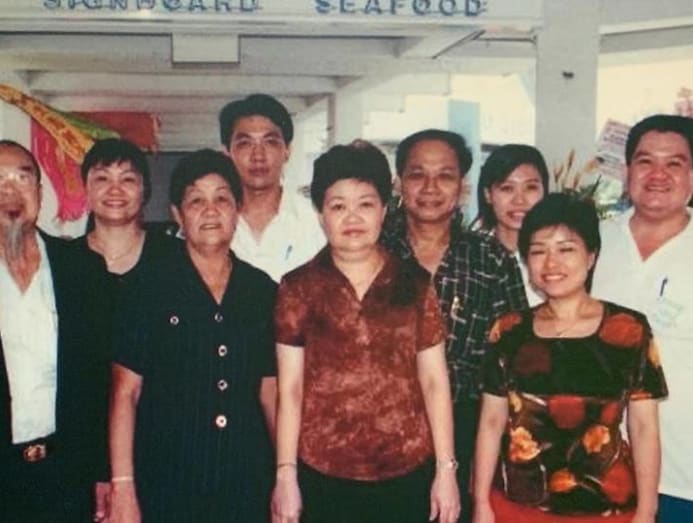 TAKING THE LEAP
Fate led him to Kallang Oasis in 2000. "It was a beautiful location, with two octagonal floating restaurants," he recalled. "I talked to the owner and we settled it the next day. I borrowed S$300,000 from a friend [to do it]. Everything happened quickly and I didn't really get a chance to explain it to my family members. I just told my mother that this was what we were going to do and she told my grandmother. You know, when you're young, you're just bold."
Even if his grandmother had objections to her 22-year-old grandson's big plans, she never raised them. In fact, she never said anything about it at all. "She probably thought it was risky to spend so much money on a project, but she just gave me a positive attitude," Lim said.
"From young, I've seen the changes in Singapore and in business. And I've changed myself to suit this society. Those who are not willing to change will lose out."
"The worst case is that I lose this S$300,000, but I could work hard to pay it back. Maybe it would take me three to four years if I took on extra jobs, but my dream was to be successful and provide a better life for the family."
Happily, it is a dream he's made come true. Today, No Signboard Seafood operates a chain of restaurants and various F&B brands and concepts that include Little Sheep Hotpot, Mom's Touch Korean Chicken & Burger, and a beer brand for Draft Denmark in Singapore. In November 2017, the company was listed on the Catalist Board of the Singapore Exchange Securities Trading Limited.
RECIPE FOR SUCCESS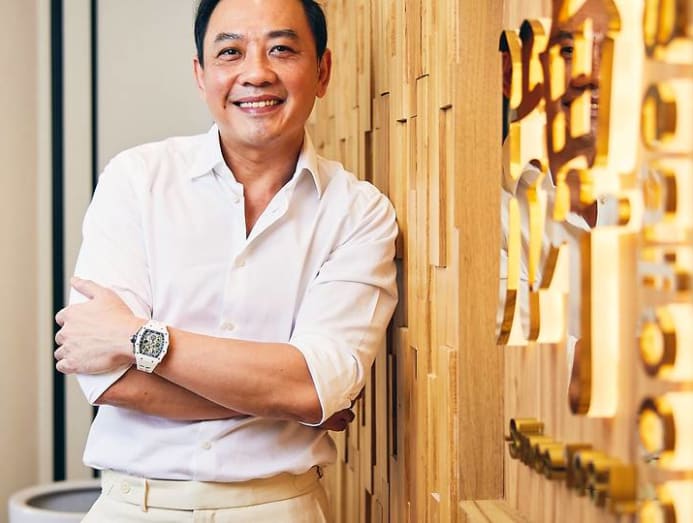 How did a man who took eight years to get through primary school lead a company to SGX listing? "I dared to ask [questions]," he said simply. "When I was young, there was a lot I didn't know. Sometimes people feel embarrassed to ask [questions], but if you don't know there's nothing wrong with asking. Even like how I can't speak good English. I just speak it anyway, and then one day, you just can."
A willingness to change is another integral ingredient for growth, Lim added. "From young, I've seen the changes in Singapore and in business. And I've changed myself to suit this society. Those who are not willing to change will lose out. Doing the right thing at the right time is not easy. No Signboard Seafood has been around for 40 years and has gone through a lot of difficult times… You have to make changes; otherwise, you cannot survive this long."
"It's difficult to predict what's going to happen next, but our strategy is to lay firmer roots in Singapore and expand our business within our shores before we head overseas again when this situation settles down."
Despite the fact that it is now a wholly corporate entity, No Signboard Seafood continues to operate from the legacy that Lim's late grandmother created. At its heart, it is about sharing meals with family and harking back to a simpler time when important bonds were formed around the dinner table. That, and the crab dishes that are synonymous with its name. "No matter what, our white pepper crab and chilli crab will always be on the menu. Without them, we cannot stay true to the brand no matter how we change or grow," Lim said.
When asked what his grandmother, who passed away in 2014, would make of the business's growth today, Lim said, "She would surely be overwhelmed that we are public listed."
Meanwhile, though they have retired from the family business, Lim's mother and uncle still serve as the guardians of the family's treasured recipes and ensure the quality of the food and ingredients that the restaurants serve.
As No Signboard Seafood's story continues to unfold, Lim and his team find themselves in yet more uncharted territory. The COVID-19 pandemic may present unprecedented challenges, but in these times, home is literally where the heart is.
"It's difficult to predict what's going to happen next," he said, "but our strategy is to lay firmer roots in Singapore and expand our business within our shores before we head overseas again when this situation settles down."