An ex-photographer's surprising journey to create resort wear for James Bond
CNA Luxury speaks to Adam Brown, founder of British swimwear label Orlebar Brown, on how his mid-life epiphany on the ugliness of men's swim shorts ended up becoming his true life's calling.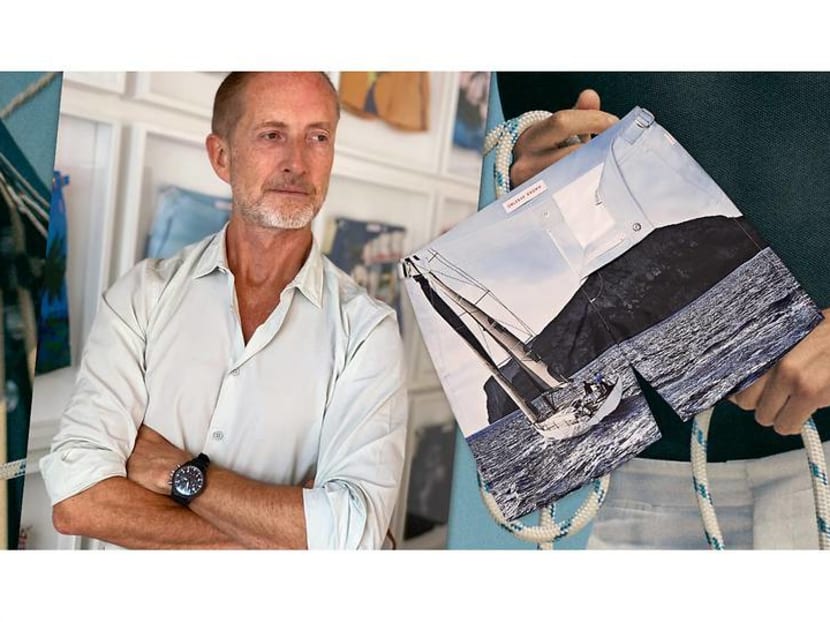 By the age of 40, many would expect themselves to have reached a comfortable place in life. This usually involves finally enjoying a career they've invested two decades in as they achieve a position of delegation and a paycheque with more zeroes.
Not Adam Brown.
At 40 years old, he had already made one radical job change – from charity fundraiser to portrait photographer – and was about to make another. He was going to dive into fashion retail and give the men the swim shorts they deserved.
Brown had been toying with the idea to start Orlebar Brown for about two years but it was after attending a friend's birthday party in Rajasthan, where he had to change out of his swimming shorts to be allowed into a restaurant for lunch, that he decided it was time to actually do it.
"Men's swim shorts at the time were all baggy, voluminous, shapeless boxer shorts," he told CNA Luxury via Zoom. "It was not celebrated as a standalone piece. It was just something you brought to go swimming, not something you packed to go somewhere fantastic."

With that conviction in mind, Brown went about capturing that mood of the suave, sartorial holiday-goer in his tailored swim shorts, and launched his brand online in 2007. Just two years in, the brand caught the attention of Selfridges, and the British department store cleaned out his stock.
"That was the first time I knew we were going to be okay," he recalled. "People were seeing the product, liking it and buying it."
Orlebar Brown is now doing much more than just "okay", having expanded – logically – into resort wear, and setting up more than 20 physical stores across Europe, North America, West Asia and Australia. In 2018, Orlebar Brown was acquired by no less than Chanel to serve as a complement to the latter's women's swimwear line, Eres.
The secret to his success? Having an attitude as breezy as his ad campaigns.
When asked what he's had to give up in service of his business, he shrugged: "I didn't go out last Thursday? Honestly nothing comes to mind. If you start something it's because you enjoy it. I was 40 years old when I decided to do this. My career wasn't going anywhere, I didn't have any money, so I had nothing to lose and everything to gain. Now I'm not doing anything that makes me sad so I don't see any of this as a sacrifice."
You've probably inferred from his past jobs that he's had no prior fashion or retail experience going into Orlebar Brown. People, understandably, laughed at his idea in the beginning, but none of it fazed him one bit.
"You just get on with it," he said simply.
"I was 40 years old when I decided to do this. My career wasn't going anywhere, I didn't have any money, so I had nothing to lose and everything to gain." – Adam Brown
And on with it he got: He enrolled himself in a week-long drawing course at London's renowned Central Saint Martins, followed by a three-day business course at Portobello Business Centre, found a factory and a fabrics supplier and started the company out of a spare room in his flat.
"It's not rocket science. You make a product, get it in a store, give your brand a personality with a well-crafted story and hope that you can engage the customer in those two seconds they see your product."
There are entrepreneurs who don't shy away from talking about their journey's biggest pitfalls, whether it's working out of their cars, fending off lawsuits or nearly bankrupting their businesses – because the glory is in the comeback, in the overcoming.
But it's a slightly different story for Brown, not just because he grew up travelling the world and going on enough yachting holidays with his family to inspire several collections. It's also because Brown stubbornly refuses to see his missteps as mistakes. "There have been no low points. Only learning," he declared.
Yet he's not blind to his previous lapses in judgments. "When you're starting a business it's like you've got a blank sheet of paper and you find yourself wanting to say yes to everything, but you have to say no," he said. "For three- to four years I got very distracted doing things I shouldn't have."
"When you're starting a business it's like you've got a blank sheet of paper and you find yourself wanting to say yes to everything, but you have to say no." – Adam Brown
He refers to the time Orlebar Brown dabbled in women's swimwear, long before Chanel entered the picture with Eres.
"It cost us a lot of time and money but am I pleased we did it? Of course. We learned how to prioritise, met with factories we wouldn't have met before, and thought about how to include women in our brand's journey. [One quarter] of our customers today are women who buy for men. So these are all things we wouldn't have thought about otherwise," he explained.
"I've also signed leases that were wrong, put up pictures that were wrong and made products that were wrong," continued Brown. "But I don't focus on the things that went wrong. Ultimately the goal is to always move forwards."
That clarity of vision is what led him to far-reaching partnerships. After Daniel Craig's 007 was seen wearing a pair of Orlebar Brown swim shorts in Skyfall, an opportunity for further collaboration blossomed, resulting in two limited-edition series of Bond film-themed shorts and resort wear.
The third instalment, now available on the Orlebar Brown website, was inspired by past James Bond movies that had notable resort, pool or beach scenes like On Her Majesty's Secret Service and Thunderball.
Orlebar Brown has even reached as far as the world of haute horlogerie, after IWC got in touch with Brown for a collaboration. Launching together with the IWC Portugieser Yacht Club Chronograph Edition "Orlebar Brown" is a nine-piece capsule collection of resort wear.
This is the first time Brown has worked with a watchmaker, after turning down requests from two other watchmakers before because of a difference in values. With IWC, the synergy was evident.
"You can't just have one party do all the talking. Christian (Knoop, IWC's creative director) was very involved with the clothing, from the texture, colour tones, trim and even the weight of the fabrics. They were also very respectful of our feedback on the watch, where we discussed colour options for the straps, the placement of the red detailing, the colour of the case and so on."
IWC has also partnered with Solaris Yachts at the beginning of the year to build a custom sailing yacht named the Double Moon, and Orlebar Brown will be taking care of the textiles in the interior cabins.
"We're starting to make our way into the Far East and South America, as well as considering other product categories like accessories, luggage and even skincare. Because why not? Why couldn't Orlebar Brown do a line of sun care products or expand the types of footwear we offer to accommodate different kinds of holidays? Why not an Orlebar Brown hotel?" he quipped.
"Okay we're not doing a hotel, but if we say Orlebar Brown only does swim shorts then that's all we'll ever be. We have to keep ourselves relevant and aware of the conversations happening within our life and culture. The brand can't just be about glamorous people on expensive boats."