How Italian designer Paola Lenti created an iconic line of colourful outdoor furniture
Paola Lenti's assiduous spirit led to the invention of new kinds of outdoor furniture, rendered in a profusion of colours.  
It is the early noughties and Italian designer Paola Lenti is fascinated with the idea of creating an innovative and weather-resistant material, in particular a soft round yarn similar to sailing ropes that can resist water and ultraviolet rays. Her research led her to polypropylene, which is lightweight and waterproof but was not thought for making outdoor furniture at that time.  
As information during the pre-Internet era was scarce, Lenti looked up shoelace manufacturers in the Yellow Pages, visited trade fairs, and sought the advice of weavers and even an automotive expert before coming up with a product that she refined at the Chemistry Department at the University of Turin.
The result is a high-tech synthetic yarn, which she called Rope. Introduced in 2002, it is 100 per cent recyclable, as well as resistant to water, ultraviolet rays, mould and bacteria. Its softness, akin to natural fabric, means it can also be applied to indoor furniture. Highly versatile, Rope would soon be rendered in diverse ways – from cords to weaves – and shaped into furniture as well as rugs.
This product changed the small furniture company Lenti had established in 1994 into a global brand. Lenti's unbridled use of colour also drew attraction. Fuchsia, lime, cobalt, lemon, teal, raspberry, lavender or even rainbow – the chromatic palette of now more than 400 shades is inexhaustible and still growing. At the Proof showroom where the brand is sold in Singapore, the Italian furniture brand has the most colourful display.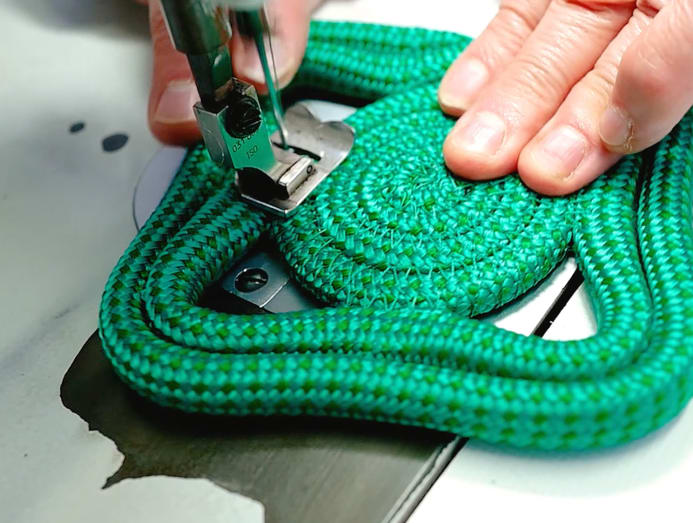 "My passion for colours was born with me; I always remember myself involved and attracted by them. One of my earliest memories is that as a child, playing with two sheets of coloured paper. One was light blue and one orange – two contrasting yet complementary colours," recalled Lenti.  
Even after so many years, Lenti still sees herself as that little girl playing with coloured sheets. "Along the years, I created a real 'library of colours'," she quipped. Her parents cultivated her creative side. "My parents were both entrepreneurs. Even though they were not artistic in the strict sense, they were naturally attracted by beauty and educated me about it. For both, it was an important value. I remember my father taking me along when he went to paint as a hobby in the countryside. That made me appreciate the beauty and colours of nature."  
Lenti started her company not long after graduation. She had studied graphic design at the Scuola Politecnica di Milano under design masters such as Bruno Munari, Pierangela Garau and Walter Ballmer. The following years saw her designing stage sets for fashion brands and dabbling in creative projects including handweaving carpets, which is a personal preoccupation.
"I found myself doing only what others wanted. I reacted to this situation by inventing a job that I managed alone for several years, and to which I approached with a completely personal view, shifting the focus from individual products to a more global vision of what decorating, and giving character to a room or garden means. Sure, I had many difficulties because I was young, inexperienced and lacked the support of a consolidated structure but I had my own ideas and did not want to compromise," said Lenti on the same doggedness that led to the invention of Rope.
The company was making felt rugs until 1998, when Lenti began collaborating with designer Francesco Rota. "I was looking for someone to help me make three-dimensional and two-dimensional material like felt," she shared. The Linea and Atollo sofas were born.
Also born was a strong and lasting partnership of more than 25 years. "I appreciate Francesco's ability to interpret the materials I study. We have always shared the same approach towards creativity and quality, in an open and constructive relationship, privileging the design aspect. We follow our intuitions, not trends," she said.
Rota returns the compliments. "I appreciate the enthusiasm and openness that Paola and I have in our discussions, and her courage to carry out new ideas about designs." The decision to release her unique outdoor collection is a key example, he highlighted. "No other company at the end of the 90s was offering the idea of bringing the indoor comfort of the living room into outdoor spaces. In fact, this led us to investigate and produce designs for numerous collections or families of products."
One example is the Ami, which uses tubular fabric filled with soft material, woven onto different product structures. Then there is Frame, based on the use of a tubular fabric wrapping an aluminium profile, which can be bent into any shape.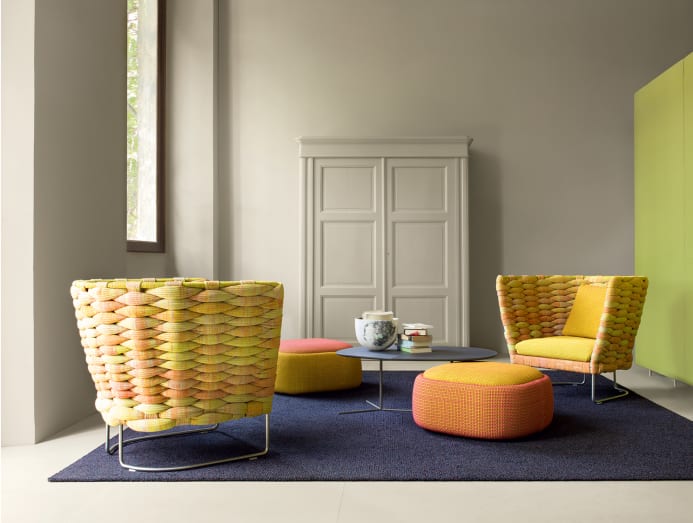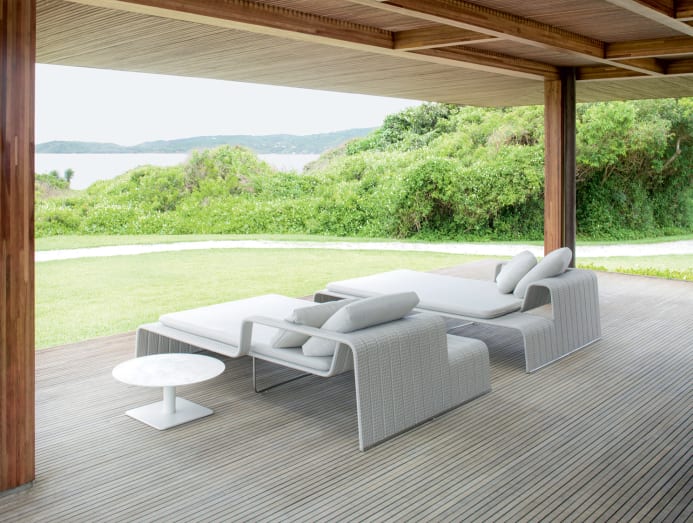 Today, the brand is headquartered in the furniture-manufacturing district of Meda in Italy, and has 300 showrooms in over 60 countries. Its products can be found in the most prestigious hotels, public spaces, luxury homes, and even the yachts of leading brands like Benetti SpA and Sanlorenzo.  
Lenti credits her younger sister Anna for the brand's international success. She joined the company in 2000. "In the beginning, I moved instinctively without any real planning. Only when Anna joined me did she transform what was then a kind of 'play' into a real industrial enterprise," Lenti remarked.   
Rigorous research, and the quest for new materials and technologies still form the bedrock of the company. Years of development resulted in the invention of the floss-like Twiggy thread, which can be twisted, shaped and flattened to create complex weaves. From it came Diade – Twiggy combined with a polypropylene sheet – whose flexibility imitates fabric. More importantly, being a mono material means that it is easily recyclable.
Environmental responsibility has been important to Lenti from the start, even before it became a prevalent concern. "We have always searched for new ways to limit consumption, choose eco-friendly materials and production processes, as well as favour local suppliers," she said.
In fact, she believes that beauty should not and must not be separated from ethical responsibility, which starts at the top. "The entrepreneur must act responsibly because his or her choices have significant effects on the territory and employees," she commented.
The factory does not use toxic substances or chemical treatments. The headquarters will be expanded this year to deploy technologies that improve the quality of working life for staff while maintaining attention to the environment. The architecture will feature insulation coating, reflective glass, the latest sustainable air-conditioning and heating systems, as well as green roofs. "The gardens, planted with numerous fruit trees and ornamental species such as Maple and Cornus, attest to the particular attention paid to the choice of native plants capable of absorbing carbon dioxide and pollutants," Lenti elaborated.
In another example, she conceived of the Metamorfosi collection, which gives new life to material remnants from the factory. Designed by Brazilian designers Fernando and Humberto Campana, it comprises five seats and a rug, made by hand at the social project CouLture Migrante in Como that offers job opportunities to migrant men and women at risk of social exclusion.
Pieces include an alien-like sofa with extending prods and a lounger upholstered to appear like topiary – such whimsy and unpredictability that is signature of the Campana brothers, melding art and design. This year, the collection won the coveted Green Good Design Award 2023.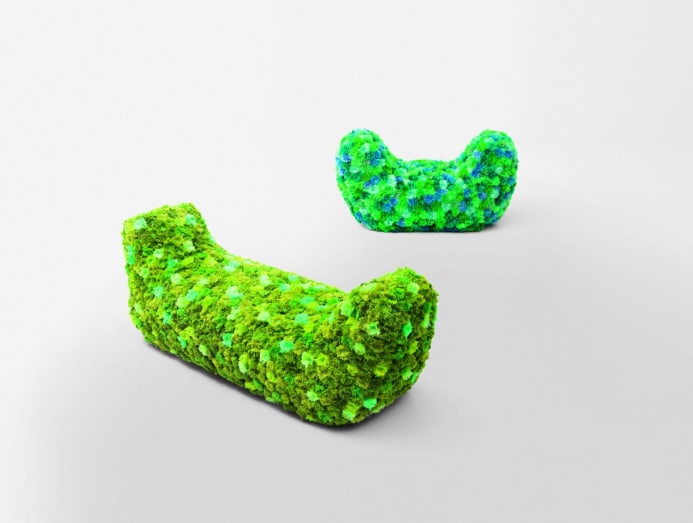 "In a historical period, characterised by an increasingly limited access to raw materials, the project is a tangible and authentic proposal that brings us back to values culturally close to our recent past, when reusing objects and materials was considered a value and not a defect," contemplated Lenti. "The collection embodies the company's philosophy 100 per cent as it encompasses environmental sustainability, material recovery and social responsibility."
Fulfilling the principles of a circular economy to produce in an ethical way requires a new mindset. "We made a courageous choice as for a company, it also involves a change in thinking and a new logistical re-organisation of the production and the warehouse. The process undertaken to manage production leftovers is really complex, but it is part of a growth that for us cannot be separated from social responsibility," she explained.    
Difficulties are part and parcel of the process of reinvention, accepts the indefatigable Paola. "I have always been very determined to reach my goals, and to test my ideas. I never leave off before I get an answer, be it positive or negative. I always want to make sure I did my best to get the highest results I can get. Sometimes good results do not come, but sometimes they do and when they do, they represent a new step in the Paola Lenti brand evolution and also in my personal one."