How a former motorsport mechanic's assistant built a multimillion-dollar engineering firm
Besides producing an aircraft that can reach the edge of space, as well as SCDF's Red Rhino vehicles, Peter Ho's high-tech empire Hope Technik is also responsible for a highly precise temperature scanner deployed across the region.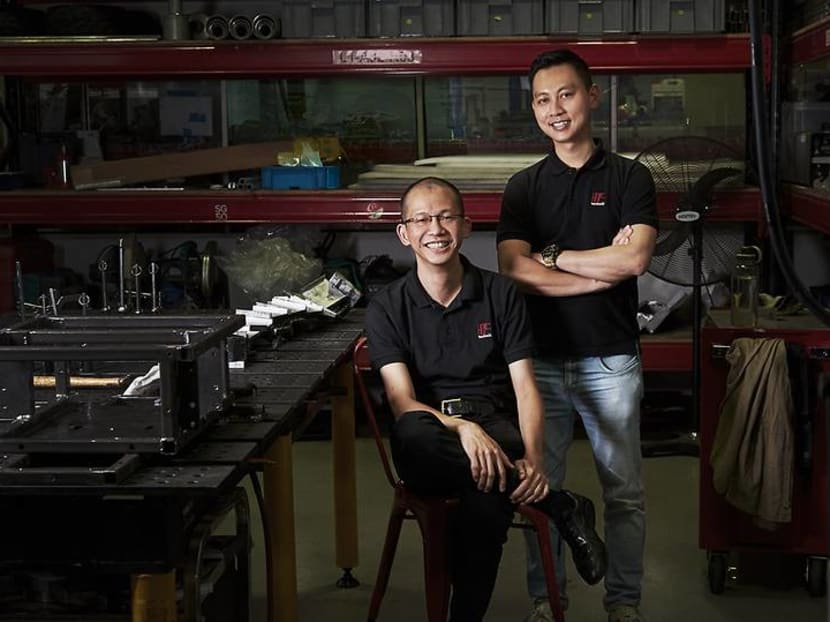 At the height of his scramble-or-slip career in motorsports engineering, Peter Ho saw his plans go up in acrid, eddying smoke. It was the evening before his first qualifying race as chief engineer of Team Petronas' Touring Cars, and before their title sponsor at Sepang International Circuit, that his team's vehicle caught fire due to a mishap.
"The first half of the car was burnt to a crisp, even the rims had melted; it was quite legendary," he recounted, with a dash of levity. Fuelled by a paroxysm of panic, what followed were some 14 hours of frenetic activity, as Ho commandeered an international team to successfully reconstruct the scorched car overnight.
Today, out of the soot-daubed paddocks and strapped into the driver's seat as CEO and co-founder of multimillion-dollar engineering firm Hope Technik, the 42-year-old reflects upon his decade-long stint in motorsports as having a seminal influence on his entrepreneurial path. "Under tremendous pressure, I saw the power of many when everyone works together and does the job they are best suited for," he mused.
The son of a pest control businessman and homemaker proclaims that he plumped for his future profession at the age of five. "I had built a Lego contraption that resembled my mother's fake Singer, and my Dad told me that I would have to become a mechanical engineer to create a real sewing machine," he recounted.
As an incipient engineer, he indulged his technical bent by cranking out robots for school science projects, and dismantling a veritable disassembly line of household appliances. "Nothing at home was safe; if the water heater couldn't work, 11-year-old me would have removed it from the wall and ripped it apart in the bedroom," he shared.
The gangly and animated mechanical engineering graduate plays the part of the zany inventor convincingly. Exuberantly greeting me at Hope Technik's lobby – anomalous for a CEO – he reveals that the precariously inclined steel slide linking the second and ground floors was built on a lark to test his engineers' welding skills.
The self-proclaimed "happily married father of two cats" betrays a proclivity for jokes referencing his baldness, and committed Dr Evil impressions. Though he no longer builds machines (there's a running joke in the office that his engineering skills leave much to be desired), he still tinkers with vintage automobiles. Prized possessions include a 1960s Lotus Seven formerly owned by his late boss, though I'm told he hasn't made much progress on it.
Yet, for all his quirks, Ho is adamant that his team's efforts should take centrestage. These are not limited to feats such as an aircraft built for aerospace giant Airbus Defence and Space to navigate the outer limits of space; defence equipment for countries across Asia, and most recently – a contactless temperature self-check kiosk deployed in MRT stations and other locations across Singapore and the region.
"Under tremendous pressure, I saw the power of many when everyone works together and does the job they are best suited for." – Peter Ho
THE FUTURE IS HERE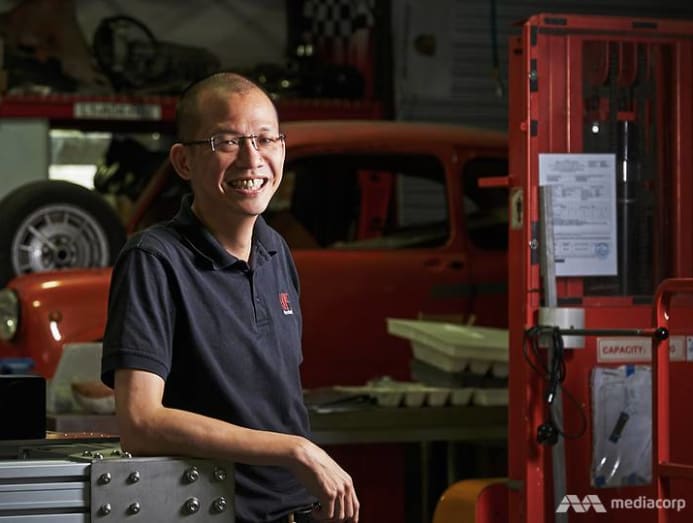 Founded by Ho and his National University of Singapore (NUS) schoolmates Michael Leong, Ng Kiang Loong and Jeff Tang in 2006, Hope Technik has since delivered more than 500 projects across 20 countries.
But how did a four-man outfit rise from virtual obscurity to clinch plum government contracts including one that entailed improving Singapore Civil Defence Force's (SCDF) iconic Red Rhino firefighting vehicle?
According to the petrolhead, the co-founders – who have all represented NUS in Formula SAE, an international race car design competition for students – rode on their competitive edge.
"In professional motorsports, I have two weeks to make my race car faster than the last idiot who beat me. We just took that spirit and started with small contracts, delivering better results than others," he shared.
Sequestered in a tiny workshop without the right tools, the friends ratcheted up  credibility by accepting a raft of performance-based contracts to build drones and robotic systems.
"We ran sliding scales with customers and bluntly speaking, our fees seemed like they were worked out with rounding errors. We were fortunate that we were able to go to extremes in producing lighter, faster and more fuel-efficient equipment," said the adjunct assistant professor at NUS' Faculty of Engineering.
This led to other projects that run the gamut from assistive exoskeletons to an autonomous marine craft and SCDF's Red Rhino vehicle – of which they have developed five iterations. Ho shares that the company balances the interests of its competing public and private sector clients by ensuring teams work in strict silos. Underpinning their ability to punch above their weight is a fundamental appreciation of engineering's ability to push limits.
"If someone told us to make a plane that can fly halfway around the world, we would probably say, if you have the money, you'll get your plane," said Ho, though he claims unethical endeavours are verboten. When pressed, he maintains that they've declined requests from "interesting potential clients'" to create robots with a "scope not aligned to Hope Technik's' core values".
"If someone told us to make a plane that can fly halfway around the world, we would probably say, if you have the money, you'll get your plane." – Peter Ho
PARADIGM SHIFT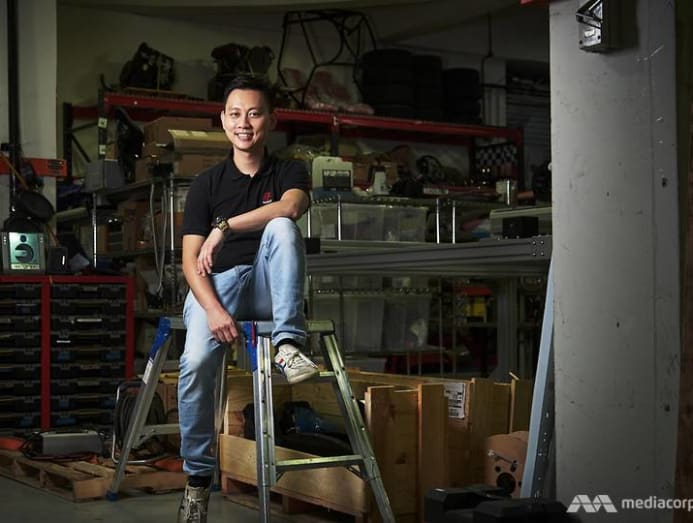 Prevarication aside, it's clear the self-made businessman has moxie. In his adolescence, he elbowed his way into Malaysia's motorsports arena as an unpaid mechanic's assistant.
"It's called child labour – you sleep on the floor of the hotel room and polish and clean cars for experience," he recalled. From his grease monkey days shunted to the back of the bus, to occupying the coveted chief engineer position, Ho jammed the brakes on his high-octane career due to its arduously itinerant lifestyle.
"Travelling weekly, I could be in Australia for a four-hour stint, or told I was to spend a week there only to return with a trolley bag nine months later," he explained. Job security was another consideration, in an era laden with financial woes precipitated by the 2003 SARS epidemic.
"During an economic downturn, the first thing to go is corporate sponsorship for race cars that run round in circles really fast," he said. Hope Technik was born out of rejection, after Ho's job applications were dismissed by numerous firms. "We could also have been called desperate engineering," he quipped.
As it turns out, the more than 100-man strong company's agile manoeuvres have proven that Ho's leap of faith was no exercise in futility.
Hope Technik product owner Daniel Nia shared that it took his team just four months to develop the recently adopted Temperature Assessment System (T.A.S), which underwent rigorous clinical trials to attain certification as a Class B medical device. This was in response to the Defence Science and Technology Agency's call for a more accurate and portable temperature scanner. "The device is being used in countries including Australia, Vietnam and Thailand. Surprisingly, we've had the most orders from Japan," he said.
And while the word pivot has – in the upheaval of COVID-19 – swivelled its way into our common lexicon, Ho contends the specialist firm hasn't exactly changed its tack by producing the T.A.S in bulk. Among its concurrent projects is a robotics middleware framework for healthcare to facilitate smart system development, which will go live next year.
Innovation, the former GovTech board member asserts, is paramount. He believes that Hope Technik's success is partly attributed to its hands-off approach to staff management – plus a good measure of irreverence.
"You can tell from the Tamiya tracks in our lobby that we have the maturity of nine-year-olds. We operate this way because when people have a voice and don't have to worry about outward appearances, they can concentrate on what they need to do," he stated.
Leaving the facility, I spot a lanky employee whizzing down the metal slide, past a tangle of toy race tracks, to join his colleagues for the company town hall. It's apparent that these engineers have found their fraternity.