Pierre Png and Andrea De Cruz's Christmas tradition for lonely friends who need family
In the Yuletide season, the leading man shares his favourite Christmas memories – and tips on how to buy a Christmas present for your wife.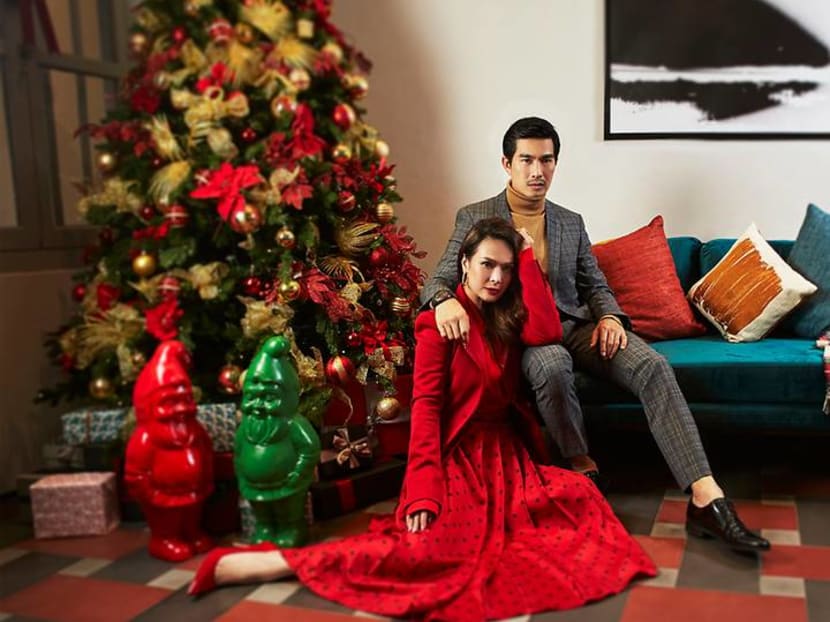 Christmas has always been about family for Pierre Png. But our perspectives change as we grow older, and as the actor has matured, his priorities have slowly shifted outwards. Now, at the age of 46, Christmas is also a time to think of those who might not have family to spend the holidays with.
This Yuletide season leading man Pierre Png and his wife Andrea De Cruz share their heartwarming new Christmas tradition.Through 16 years of marriage, Pierre Png and Andrea De Cruz have always believed Christmas is love. CNA Luxury decided to sprinkle a little Yuletide magic on top of that in a festive short film we call Finding Christmas. Happy holidays!
Of course, he and his wife, Andrea De Cruz, love a good celebration complete with feasting and merry-making. But while the festivities were previously kept within an inner circle, in recent years, Pierre has started instituting a new practice.
"Andrea loves to throw parties. Normally, it's just family and close friends. But I'm slowly changing tradition by inviting friends who might be lonely, or with whom I've not caught up during the past years," he shared.
That probably has something to do with the fact that the couple always makes it a point to go to church and attend mass on Christmas Day, turning the focus away from themselves.
"Every Christmas, I pray for all our dearly departed friends and family, the sick and their families, the lonely and the sad. This year will not be any different," said Pierre, who was raised in a Catholic family, served as an altar boy growing up and nearly became a priest.
That calling didn't quite materialise, and he fell into acting instead when, on a whim, he auditioned for and landed a part in the 1998 Glen Goei movie Forever Fever. That same year, he participated in and won the Fame Awards talent competition show, going on to play a pivotal role on the popular sitcom Phua Chu Kang Pte Ltd.
WARM FUZZY CHRISTMAS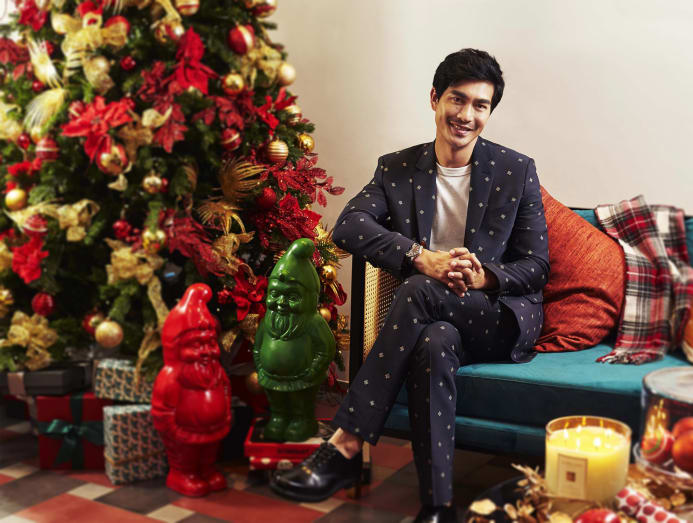 These days, Pierre is better known as the Singaporean actor who cracked Hollywood after sending pulses racing in the role of improbably chiselled entrepreneur Michael Teo in last year's much-talked-about Crazy Rich Asians; as well as one of local television's most sought-after and lauded leading men.
He's currently working on a 30-episode drama called My Guardian Angels, alongside Zoe Tay, Kym Ng and Hong Ling; and plans to keep entertaining Singapore on TV. One of his dreams is to also perform in a musical some day soon, said Pierre, whose hobbies – besides singing and dancing, which he says are part of his Peranakan DNA – have included Aikido, unicycling and ballet.
But as much as his fans, the cameras and the limelight love him, he's clearly a family man above all, choosing to spend his Christmases with his parents, siblings, dogs and several godchildren. This time of year has always been about the warmth of hearth and home. In fact, one of his most cherished Christmas memories is from his childhood, when he was nine or 10 years old.
"One Christmas, when we were still living in my house in Jansen Road, I remember I wasn't well and I had to miss the midnight mass. My eldest sister – Felicia is 11 years older – stayed behind and rocked me to sleep," he shared. "I don't quite remember the details now, but I will never forget being curled up against her chest, watching TV in the dark with the lights from the Christmas tree flashing beside us."
Considering he just celebrated his 46th birthday, this particular memory is evidently a precious one, having lived vividly for so long.
Besides a birthday, another milestone in his life in the month of October was his 16th wedding anniversary, which he marked with a gushing social media post saying, "It's great to be in love!"
CHRISTMAS IS LOVE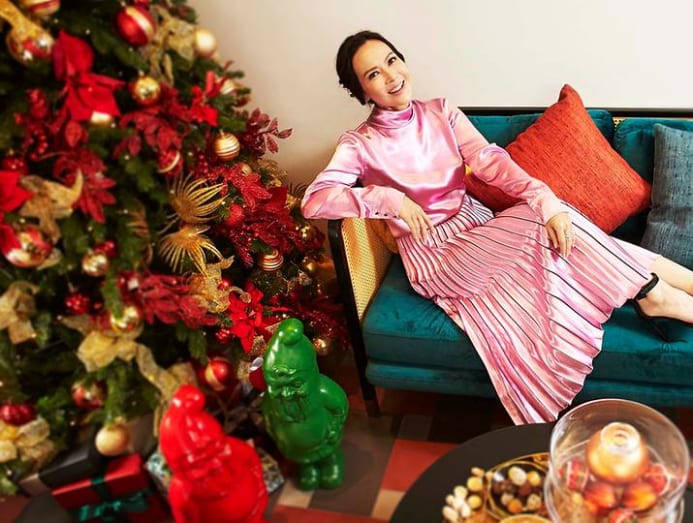 Since he's evidently winning at marriage, what tips can he offer guys looking to buy their significant other the perfect Christmas gift?
"First, there's no perfect Christmas gift," he hurried to assert. "Second, I know Andrea is very practical and would prefer something more from the heart than to be suckered into buying some holiday bargain. So, the important thing is to know the person you're buying a gift for."
For example, when Andrea was into swinging kettlebells, he gave her a pair of workout gloves. It might not have been a gift that screamed "romance", but it was certainly very much appreciated and valued.
"If you're totally clueless, a simple handmade Christmas card filled with lots of love and Christmas blessings will do," he added.
And there should be enough Christmas blessings to go around for everyone, as a recent fond Yuletide memory showed.
Andrea, explained Pierre, "remembered that I wanted to catch up with some old friends, and thought how nice it would be if we could give them a good, homely Christmas dinner. So, during dinner, I got to know some of her friends and she got to know some of my friends. We went for Christmas Day mass the next day and that was perfect for me."
In any case, he added, "We buy gifts for each other all the time anyway!"
That's surely a recipe for peace on earth and goodwill to man the whole year round.
All items from ION Orchard; Photographer: Kelvin Chia; Photographer assistant: Alvin Teo; Stylist: Daryll Alexius Yeo; Stylist assistant: Jeremy Tan; Make-up: Lolent Lee; Hair: Yer Chew Yek & Deon Liow; Manicure: Rebecca Chuang. In partnership with ION Orchard.