Harry, Meghan and Prince George's godfather donate millions to COVID-19 relief
Harry and Meghan's contribution stems from the proceeds generated from their 2018 wedding broadcast, while billionaire Hugh Grosvenor, the Duke of Westminster, is dipping into his own pot.
Britain's Prince Harry and Meghan Markle are making a big donation to COVID-19 relief. The couple, who have left their formal royal roles, are donating the profits from their royal wedding to a charity working to feed families during the pandemic.
The couple is giving US$112,000 (S$159,257) to Feeding Britain, a UK organisation that seeks to alleviate hunger in the country. According to multiple reports, it had been agreed that excess funds generated from the royal wedding would go to a charity chosen by the couple.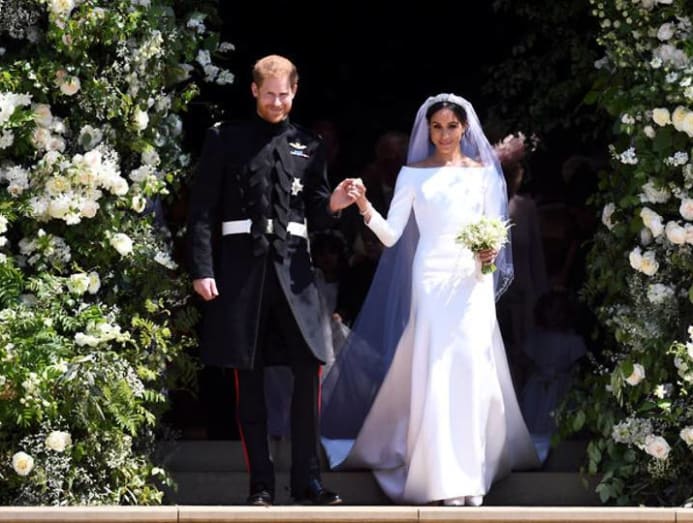 In light of the pandemic, the couple saw it fitting to give back to an organisation spearheading efforts to help those affected by the health crisis. In addition, the Archbishop of Canterbury – who officiated Harry and Meghan's marriage – is also the president of Feeding Britain.
Back in the US where the couple have relocated, Harry and Meghan have also been spotted delivering meals to people with life threatening illnesses. The pair spent two days volunteering with Los Angeles organisation Project Angel Food, dispatching meals and non-perishable items to clients with critical illnesses.
Meanwhile, British billionaire Hugh Grosvenor, the Duke of Westminster, is donating US$12.5 million to coronavirus relief efforts in the UK. Grosvenor is a close friend of Britain's Prince William and Kate Middleton. He was named one of Prince George's seven godparents when the six-year-old heir to the British throne was christened in 2013.

US$6.2 million will go to NHS Charities Together to create a foundation supporting National Health Service workers and their families. Another US$3.8 million will go to coronavirus medical research and development, and US$2.5 million will go to charities and organisations that help people facing the greatest economic and social impact from the coronavirus pandemic.

Back in March, Grosvenor had already donated US$3.1 million to charities that are feeding needy families amid the outbreak. The additional contribution amounting to millions makes Grosvenor the biggest donor to coronavirus relief in the UK. As of April 17, the country has registered over 100,000 cases and more than 13,000 deaths.