How this Singapore designer turned her quarantine into a productive 'workcation'
Priscilla Shunmugam, founder of Ong Shunmugam – which counts Tan Kheng Hua and Janice Koh among its fans – put her recent stay home notice to good use by creating new designs, and even launched a furniture collection from her hotel room.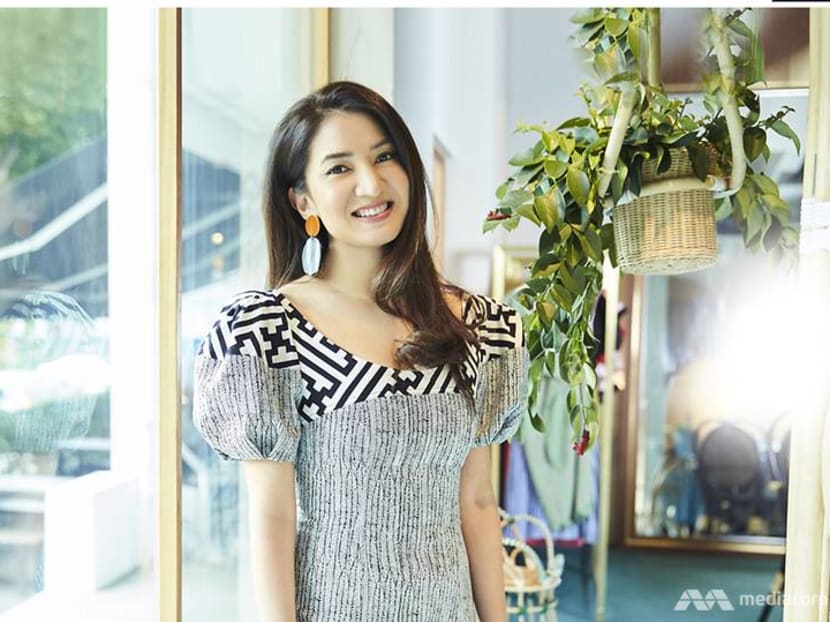 When serving a stay home notice at a hotel upon one's return to Singapore, what do people do to stay occupied and keep boredom at bay? Some post images of their meals and cocktail deliveries, while others use the time to catch up on lost sleep or to get fit.
For Priscilla Shunmugam, founder of womenswear label Ong Shunmugam, her two weeks of isolation in a hotel room became what was effectively a round-the-clock "workcation".
"I've been so productive during this period that I would highly recommend this to anyone who feels they can't work from home anymore or need a break from dealing with their spouse or kids. You will be so focused," said Shunmugam via a Zoom call during her stay home period.
Her loyal clientele will be pleased to know she has been occupied with design work – her hotel room is filled with paraphernalia such as Pantone colour chips, measuring tapes and clothing samples which she fits on herself.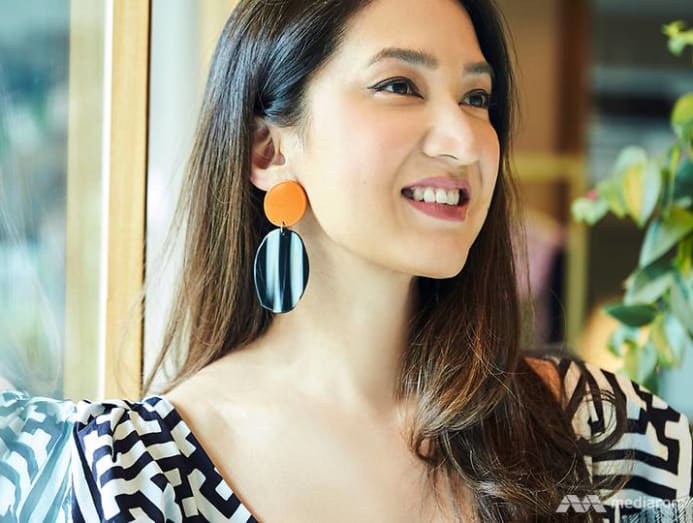 In the midst of this flurry of activity, she also remotely managed the unveiling of her new rattan furniture range under her brand's Suvarnabumi homeware line.
Shunmugam, 39, returned to Singapore in mid-September from London, where she has been partly based out of since 2018. Although she was unable to complete her stay home notice ahead of the launch date, she remained in constant WhatsApp contact with her staff and maintained an active presence on social media to drum up interest in the range.
After all, it is not like she has not orchestrated a virtual launch before.
In June and July, the designer released her second collection for her workwear-centric diffusion line, Om, via a series of Instagram Live sessions, with many pieces designed to be Zoom-friendly. The drops, which she filmed while in London, featured guest appearances by various Singaporean personalities who are fans of her clothing, including actresses Tan Kheng Hua and Janice Koh.
While she is still best known as the designer who reinvented the cheongsam with her unique flair for mixing traditional Asian textiles with modernised silhouettes, Shunmugam has in the last year expanded her design repertoire beyond clothing.
Following last year's successful Suvarnabumi tableware launch, which features tropical flora and fauna motifs, the brand is back this year with rattan furniture that are made-to-order in Malaysia.
Like her womenswear designs, the 12-piece furniture collection bears her now-distinctive design hallmarks including intricate patterns and the incorporation of batik and jacquard fabrics.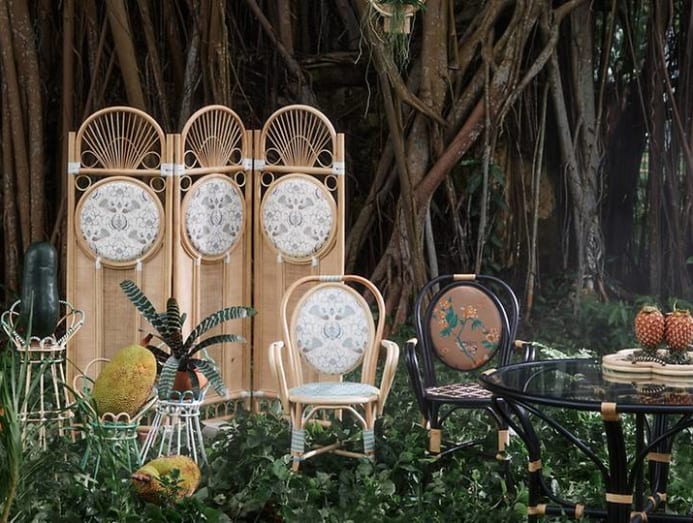 "From my design perspective, I wanted something that was cohesive as a collection, in that when you look at it in its entirety, you can see threads of uniformity," she said. Included in the range are baskets, standing planters, dining chairs, a dining table and a screen.
The idea of designing a feminine collection of furniture also appealed. She mused, "How many female furniture designers are there? I don't know but I thought it would be nice for a woman to be designing for another woman. In terms of the choice of fabrics and colour palette, this collection is quite unapologetic about being feminine."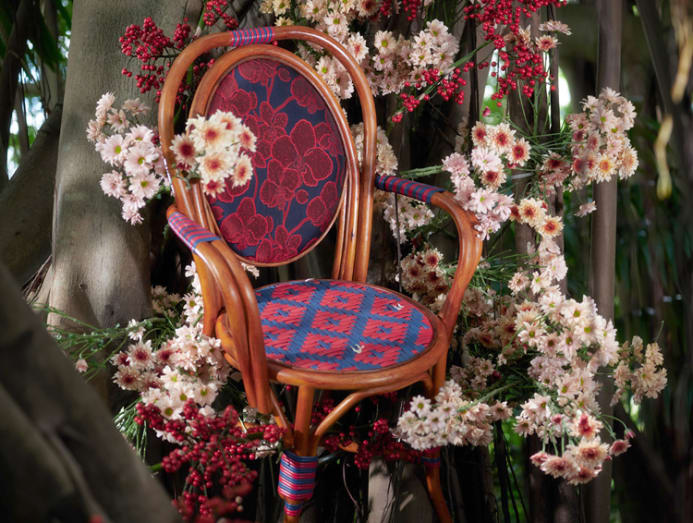 The rattan furnishings can also be considered a product of the coronavirus pandemic. When extensive lockdowns were implemented earlier this year, Shunmugam, who was in London then, found her team spread out in Hong Kong, Malaysia and Singapore.
She tasked them to conduct research on the various artisanal makers accessible to them and through the process of elimination, landed on rattan weavers. This was because her production manager, who was stranded in Kuala Lumpur, had access to a rattan furniture maker who was willing to custom-build pieces for them.
"We tried our best to take a different path by ignoring the common references of rattan furniture. Most of our pieces had no template to build upon, meaning we had to draw them from scratch and the craftsmen had to build from our drawings," she said.
The artisans, she said, took her unconventional requests in their stride and were even "excited" to try something new.
"We challenged the craftsmen with technically demanding requests to merge materials and structures together in ways that hadn't been attempted before," she added.
For example, she wanted colourful binding that would wrap around the planters – it turned out to be an extremely labour intensive and intricate process which they executed to perfection. "I am amazed that across all these distances, we were able to make this connection," she said.
Still, this year has not been without its heartbreaks.
At the beginning of 2020, she jubilantly made an announcement that she would be launching her first overseas Ong Shunmugam boutique in London's Notting Hill. But when the UK imposed lockdowns in April to bring the virus under control, she made the heartbreaking decision to shutter her boutique even before it had opened to the public. Today, all that is left of this dream is a photograph of the renovated premises on the brand's Instagram.
"It was quite brutal because I didn't have a lot of time to think about it. I just had two phone calls with my lawyer and financial advisor and that was it. I had promised myself that the London store would have to stand on its own two feet and never be a burden to our operations in Singapore," she recalled.
"I went through such a rollercoaster of emotions and experienced utter loss. I was involved in everything, from packing inventory with my team in Singapore, unpacking it in London and then finally sending the stock back to Singapore," she said.
Luckily, the business "wasn't very badly hit" despite the store closure, which she attributes to her customer base who have always understood the importance of what she terms "meaningful purchasing".
For now though, she says has no plans to reopen her London boutique and does not intend to return to the British capital until the situation has stabilised or a vaccine is developed.
"You need to be living in London to realise how badly COVID-19 has shaken it," she said with a tinge of sadness. "I remember going to this huge Waitrose supermarket and I took a video where every rack was emptied out. They were overwhelmed."
To overcome her disappointment at having to close her dream boutique, she has channelled her feelings into a bout of "creative madness". Besides the Om and rattan collections, she will soon launch a ceramics range and her next cheongsam collection. "I found an outlet to send the sadness away and the work you are going to see, these all came from turning my feelings into something positive," she said.
There is still much to anticipate, including the brand's 10th anniversary this December. It is a significant milestone, she acknowledges, but how she will commemorate it remains up in the air.
"I feel it in my heart and that's all that matters. I am my harshest critic and I feel that over the years, we have managed to change things, even just a little bit," she said. "I feel like COVID-19 has made me realise how resilient I am as a person and also how resilient the business is."