'A decision I didn't want to make': Maddy Barber on why she left radio
The popular media personality may be closing the chapter on her time in radio, but with a firm vision in mind for her jewellery business, the future looks bright and sparkly.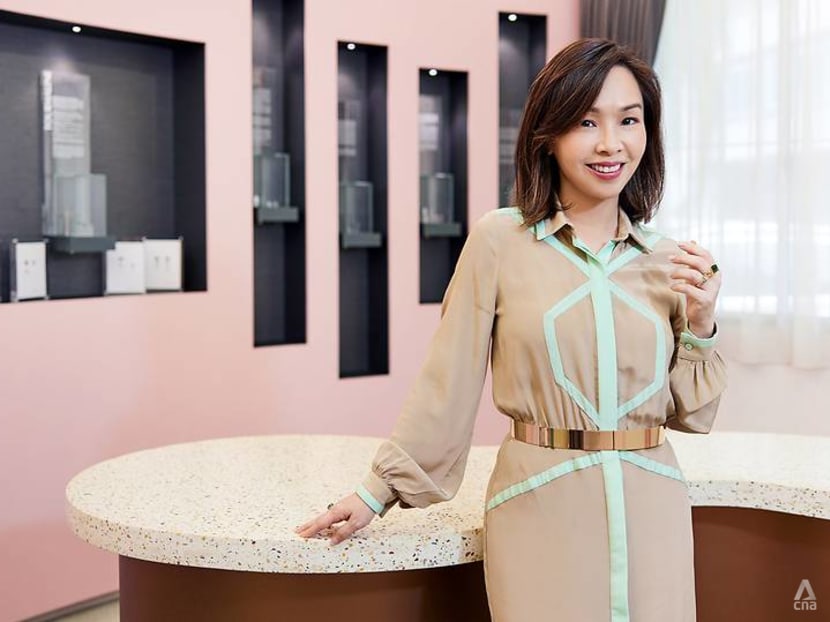 For fans of Kiss92's breakfast show, listening to Maddy Barber's chirpy and chatty voice in the morning is a familiar routine. For almost a decade, she was the voice that accompanied many through their morning rituals, from stepping into the shower and driving to work, to grabbing a coffee and settling into the workday.
So when the 47-year-old announced that she was leaving radio after 25 years to focus on her jewellery business, Madly Gems, listeners were naturally heartbroken. "Gonna miss you. You're such a diamond in the show," read one comment on Kiss92's Instagram page. "Omg (sic) I am crying buckets," read another.
But for Maddy, kissing the airwaves goodbye has been "a long time coming", she shared in a sit-down interview with CNA Luxury a few days after her last show on Jul 16. "For years, I've always felt like I was being pulled in many different directions. The team at Madly needed me, the radio team needed me. It has always been a struggle from the start. I was doing my best for everyone, working 12 to 14 hours a day, but it still wasn't enough," she lamented.
Even for a self-proclaimed extrovert like Maddy, talking for hours and hours a day did get exhausting. "My days were pretty crazy. I would do my morning show, and after that, I'd have meetings to attend, or voiceovers to record. Then I'd have to come to the Madly boutique to meet with clients. There are also certain days where I would be hosting events. Literally, I would be talking 12 to 14 hours non-stop!" she shared.
"It got to the point where by seven or eight o'clock, as the Chinese would say, I would have no qi left. I would be breathless, so when my family tried to talk to me at home, I had nothing left to offer," the mum of two daughters continued.
Still, making the call to step away from radio didn't come easy. "It was a decision I didn't want to make," she said of the move, but one that would allow her to finally do "one thing at a time".
"Radio was my first job, my first love. But I do feel that I've fulfilled that calling. I've left a few times then came back, but this time, it just feels more final," she reflected.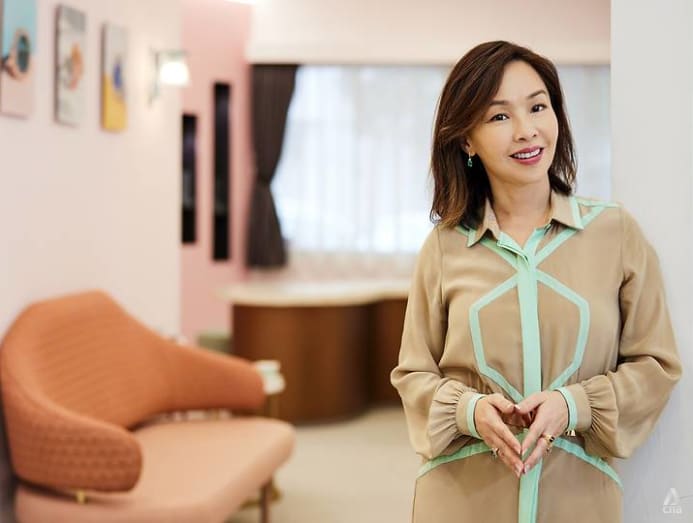 A LOVE FOR JEWELLERY
So, what's next for one of Singapore's household media personalities? Well, she's now focusing on her second love – jewellery.
Maddy founded Madly Gems with a partner in 2014, but took full control of the business in 2018. The bespoke fine jewellery brand focuses on coloured gemstones, and its vibrantly hued creations have garnered the brand several awards, including Best Bespoke Jewellery House 2021 by APAC Insider and Best Jeweller in Asia (2018 and 2019) by the Luxury Travel Guide Lifestyle Awards.
It was Maddy's mother who instilled in her a love for jewellery. "My mum was fond of buying jewellery. She didn't buy a lot, but she had a regular jeweller that she visited occasionally and I would tag along, just to be a little nosy," she recalled. 
As she grew older, she realised that there weren't many jewellers in Singapore that would take in bespoke requests.
"Radio was my first job, my first love. But I do feel that I've fulfilled that calling. I've left a few times then came back, but this time, it just feels more final." 
"When I got my first paycheque, I tried to go to my mum's regular jeweller to make something but she literally told me that my budget was too small," Maddy laughed. "I met a lot of traditional jewellers along the way, but for many of them, bespoke jewellery was only something they do on the side. None of them gave me the time of day to sit down and listen to me, to come up with something that was special for me and that reflected a certain point in my life."
This left "something to be desired" in the jewellery market, she said. "There is something magical and extremely personal when you actually get to think about what you want your jewellery to represent. What do you want it to reflect? What memories do you want it to hold? I'm a heart-and-soul kind of person, and bespoke jewellery is really heart-and-soul."
As a bespoke jeweller, Madly's designers put "a lot of time and effort into every piece, regardless of your budget", said Maddy. "It could take days, weeks, or sometimes months to complete, depending on the piece."
The brand also prides itself on using only the top 0.1 per cent of gemstones from around the world. To acquire these gems, last year, the company opened two sourcing offices in Tanzania and Sri Lanka. This gives the brand access to some of the world's most desirable coloured gemstones.

On what sets Madly apart from other jewellers, Maddy says it's the brand's sense of fun and vibrancy, embedded firmly into the company culture. This was something she picked up from her time in radio. "The main thing about radio is that it's really about fun. It showed me that we can take your job seriously, but not ourselves," she said.
By making the Madly office feel like the "happiest place on Earth", Maddy believes the brand has been able to attract a diverse team of designers, one of whom is her eldest daughter Elizabeth, a former architect.
"You want something edgy, we've got a girl who's edgy. You want something more flowery and feminine? We've got a girl who's great at that. All of them bring something different to the table."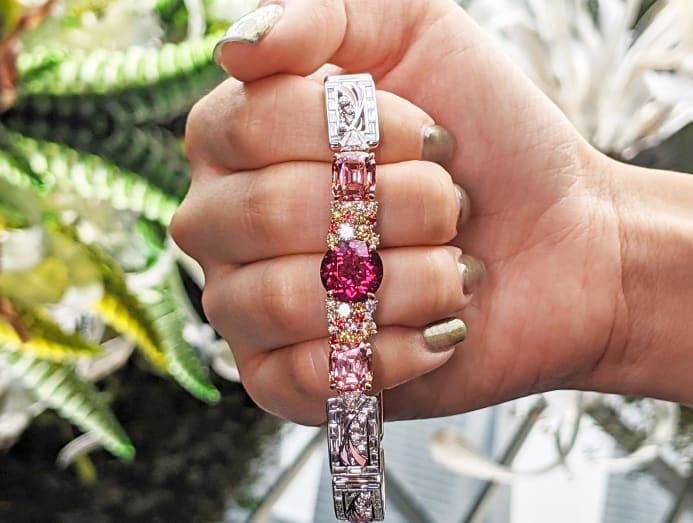 GO BIG OR GO HOME
With more time on her hands, Maddy now hopes to take the business to the next level. She sees endless potential on the horizon, something she admits she stopped seeing in radio.
"With radio, I've already gone the furthest I can. I've done the best shows and I'm never going to be prouder of the shows I've done. But with Madly, I've never been 100 per cent in it. I haven't really gone big and I've got to give it my best shot at some point," she said. "And I'm not getting any younger, I'm not going to have the same energy I do now. Better do it before I hit 50!" she cheekily added.
Currently, the only Madly Gems boutique is located in the quaint neighbourhood of Tiong Bahru. The plan, Maddy revealed, is to have "more Madly-s, whether it's here in Singapore or overseas".
"As long as I had a full-time job in radio, I wasn't going to be able to fly somewhere and set up a Madly. I'm a very hands-on person, so I want to be down on the ground with my staff," she said.
While the plan is definitely to "go big or go home", "I don't mean creating big, elaborate pieces of jewellery. I mean doing things to the best of our ability," Maddy explained.
In classic Maddy candour, she continued, "I've always believed that if you're going to do something, make sure you're going to be the best in it. When I was young, people would tell me to be a model because I was photogenic. But I always knew that I wasn't going to be in the top 10 because I'm too short! I need to know I have a chance in something. And if I don't have a chance, then I'm not interested in doing it."
"I've always believed that if you're going to do something, make sure you're going to be the best in it."
In the grander scheme of things, Maddy is on a mission to empower women to feel confident in their love for jewellery. There's still a negative perception that a woman who appreciates jewellery is "high-maintenance".
"There are very little things that can qualify as art, and jewellery is art in its highest form. Firstly, the stones are formed by the hands of nature. Secondly, they are cut by master cutters who have trained for decades to hone their craft and thirdly, they are designed by a talented jewellery designer. 
"There's a lot of work that goes into putting a piece together before it ends up on you. Why then is jewellery something people feel ashamed of loving? I think there's something wrong in the way the world views jewellery, so I'm going to change that," Maddy mused.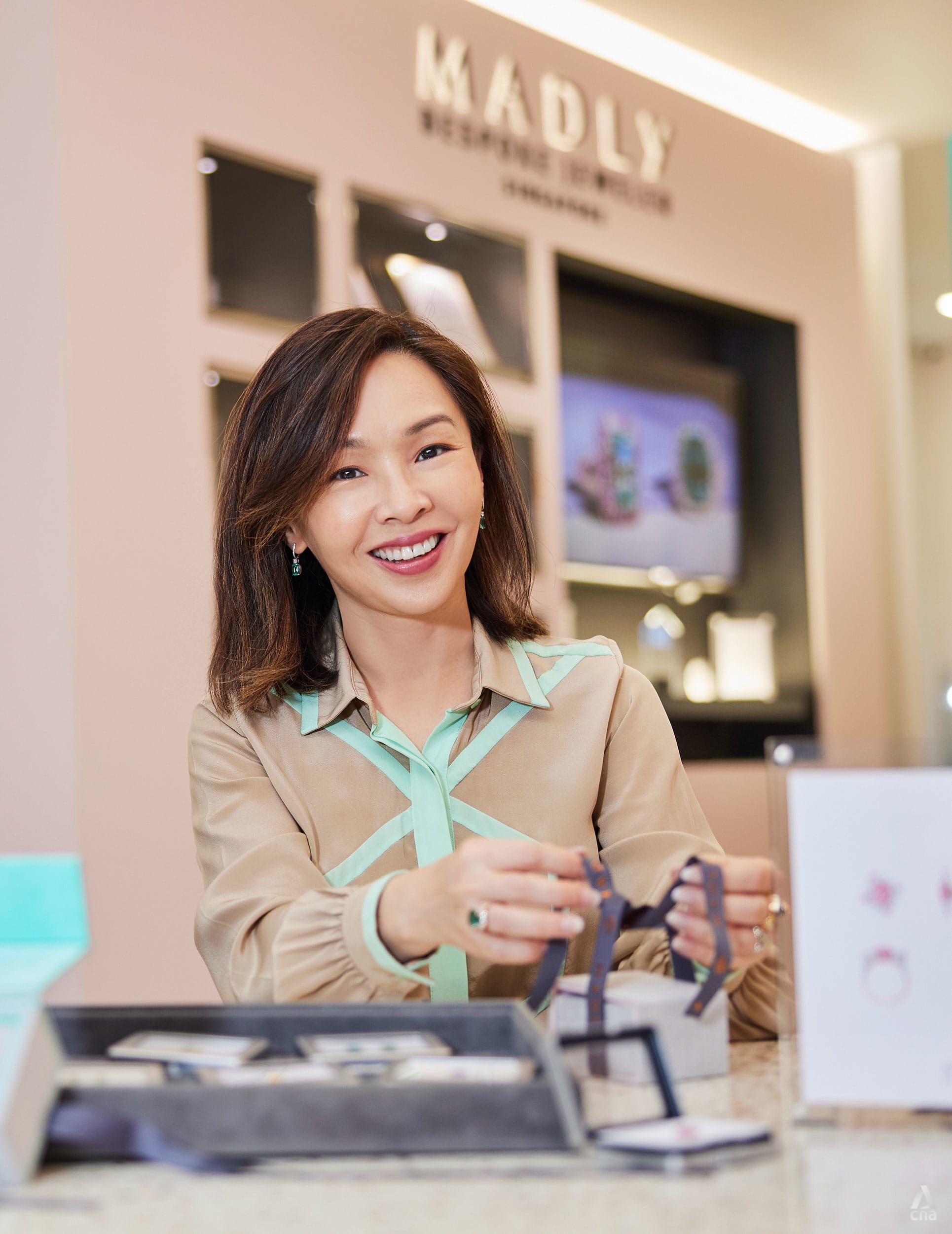 THE FUTURE IS SPARKLY
Jewellery aside, what else is Maddy looking forward to now that her chapter in radio has come to an end? "Sleeping till 7am!" she chirped. "I know it's such a small thing, but people take it for granted. Just being able to start your day by going to the gym…When you wake up at 4am or 5am, you'll never be able to do that. For one period of time, my producer and I were going to the gym at 4am. It's ridiculous, it's not fun! So you know, it would be really nice to be able to start the day right and not have to rush anywhere."
Although she enjoys watching TV and has done some acting work, don't expect her to return to the screen anytime soon. "No acting for me, no thanks," she laughed.
However, "it's not beyond the realms of possibility" that she may one day write a book. "Maybe when I've done more and feel that I've achieved enough," she quipped.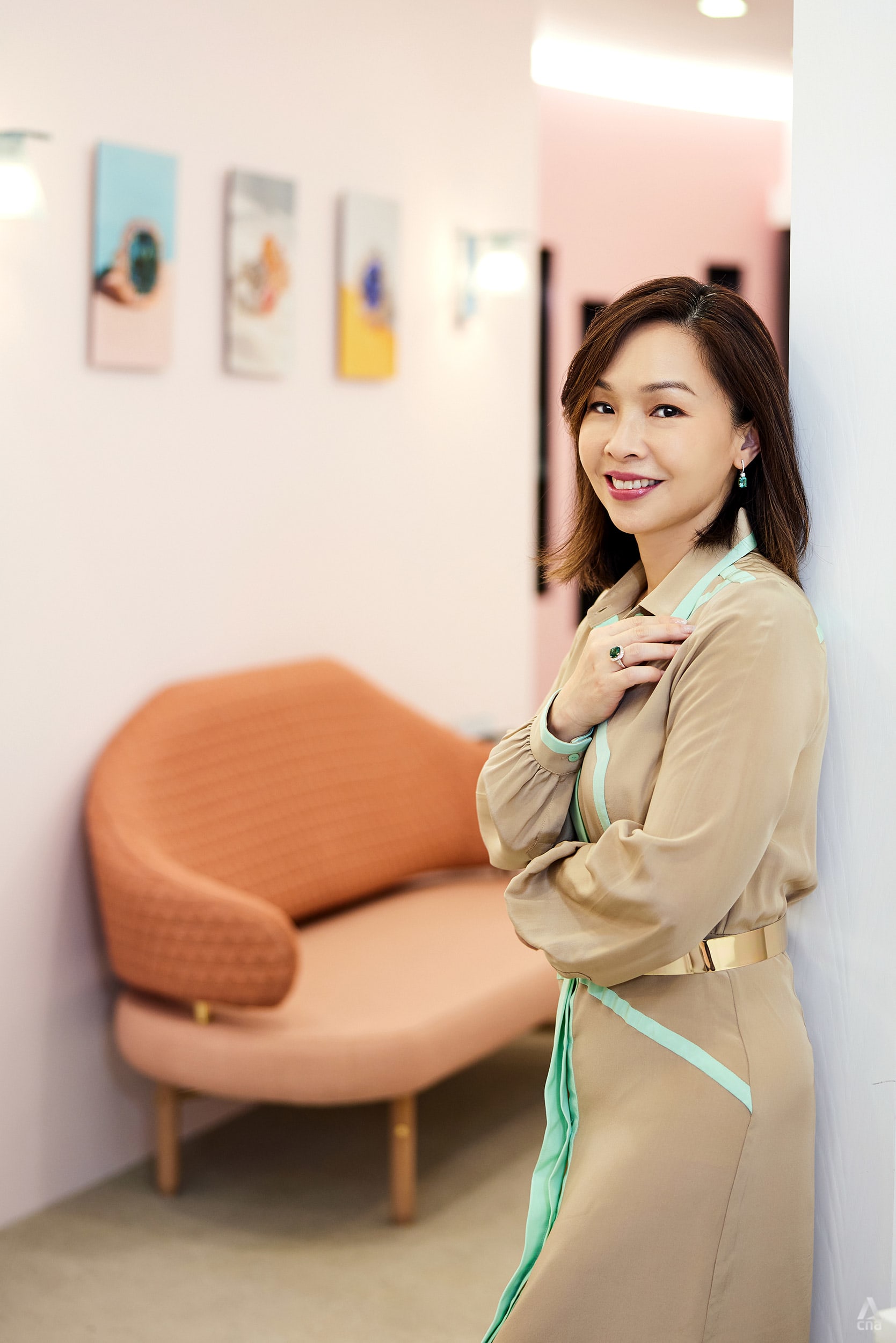 But for now, she's relishing the opportunity to focus on just one thing on her plate. Looking back, Maddy never imagined that one day, she'd be the owner of her very own jewellery business, let alone one as successful as Madly. 
"I do really believe that things take on a life of their own and Madly really did. But now that we're here, I can see the future, I can see the runway, I have a vision," said Maddy. "I just want to change the world, one gemstone at a time."

"I think there's something wrong in the way the world views jewellery, so I'm going to change that." – Maddy Barber