It's all about quality: Why Rimowa's CEO doesn't like the word 'luxury'
From crossbody bags and sunglasses to watch- and phone cases, Alexandre Arnault – scion of French billionaire Bernard Arnault – is steering Rimowa towards being a purveyor of everyday essentials rather than a travel specialist. Just don't say that he's the chief of a luxury brand.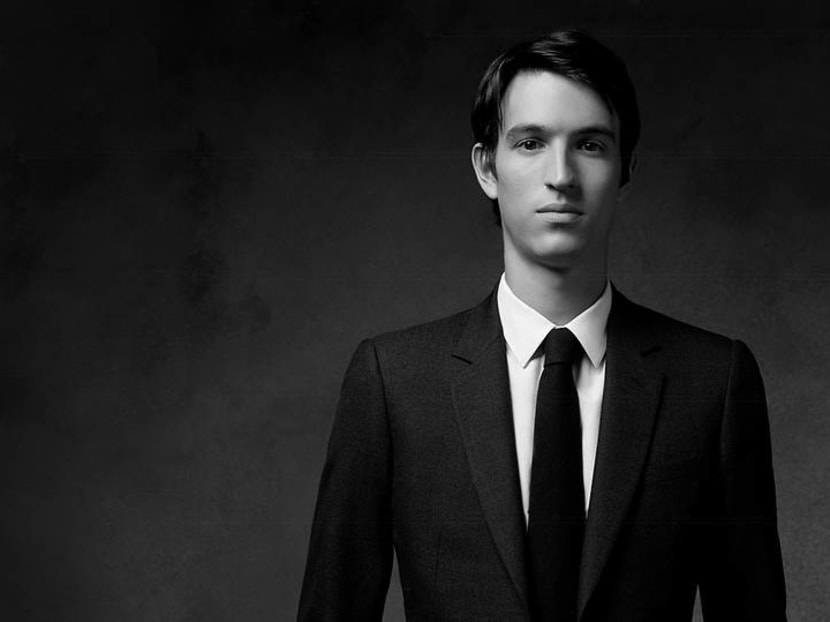 In a light blue shirt overlapped with a dark cardigan, Alexandre Arnault, CEO of Rimowa, cuts a soft silhouette and a calm, old soul air as the morning Parisian sun shines through the window behind him. The city has been in lockdown since Oct 29, its second for the year, and all shops and entertainment places are closed.
If steering a 122-year-old premium luggage brand through a global pandemic is exerting a toll, it is not immediately apparent on the 28-year-old's face.
What is clear, though, is his vision for the German Maison, whose rich know-how and family legacy he had admired since he was a teenager. Arnault played an instrumental role in convincing his father, LVMH Moet Hennessy's billionaire CEO Bernard Arnault, that it would be a worthy member of the conglomerate. In 2016, LVMH acquired an 80 percent stake in Rimowa for €640 million (S$1.02 billion).
Since then, Arnault has unveiled a more modern visual identity for the brand, gone all in with e-commerce and collaborations edgy and chic, and opened a slew of flagship stores across Europe and Asia – Paris, Tokyo, Singapore, Hong Kong –  that are contextually designed to their locations.
The message is as impeccably clear as the logo's thin, clean sans serif font: Rimowa is timeless and reliable, yet relevant and surprising.
The brand is definitely on a roll, especially in the accessories arena. Casings for iPhones were launched last year, and in the last five months, eyewear, watch cases, hard shell crossbody bags have left the Cologne factory floor.
Today (Nov 19), the Never Still collection meets the world – soft bags made of durable water-repellent canvas and soft full grain leather with practical compartments and flexible features like travel straps that lets you fix them to your Rimowa luggage (but of course).
Speaking to CNA Luxury over Zoom, Arnault said, "I was frustrated that our products were with clients only in the bad parts of travelling, like having your suitcase only when you're at the airport and the rest of the time you don't really see it.
"We want to be part of people's lives during their travel journeys in a more present way. I expect Rimowa to be the leader in this segment; as long you're going somewhere, you'll have a Rimowa with you, be it an iPhone cover, a briefcase to the office or a big suitcase for your clothes."
Thousand-dollar garment carriers, S$160 phone cases and S$500 sunglasses aside, Arnault doesn't like the word "luxury".
He said, "Luxury is too linked to price. A much better (phrase) would be 'high quality', because to me, whether you sell a champagne bottle for €20, a lipstick for €30 or a crocodile handbag for €5,000, all of them are still luxury items.
"Luxury is too linked to price. A much better (phrase) would be 'high quality', because to me, whether you sell a champagne bottle for €20, a lipstick for €30 or a crocodile handbag for €5,000, all of them are still luxury items." – Alexandre Arnault
"I think the definition has really changed because, over the years, it's less about owning and more about experiencing things and being around incredible craft and know-how."
In Europe, Arnault has observed a "more classic, minimalist and traditional" profile that favours tried-and-tested luggage models such as the Original and Classic. In Asia, there is "a strong appreciation for exclusivity, seasonal products, limited editions and personalisation", particularly among the younger clientele.
While the fashion world watched whether he would rock the boat or put Rimowa on cruise mode, Arnault has so far deftly balanced both. Despite being armed with a computer science degree from Telecom Paris Tech and Ecole Polytechnique, and work experiences in investment and technology companies (McKinsey & Co, KKR & Co, Groupe Arnault), he didn't immediately set out to put a hodgepodge of gadgets in the trunks.
"When I came to Rimowa, everyone was asking when we are going to put trackers in suitcases, solar panels and stuff like that," he recalled wryly. "I said, wait, we're selling a product that's supposed to last 15 years, because once you buy one you can keep it forever, it never breaks. And you want us to embed technology that lasts, three months, six months, maybe a year? It doesn't make sense. I don't want us embedding anything in our suitcases."
Instead, he focused on Rimowa's reputation for distinctive reliability, ensuring that it gained a wider, global audience while retaining existing loyalists who love the backstory and practicality of groovy airplane aluminium.
Bottomline: Keep the same level of quality and attention to detail in the product.
"People love Rimowa not because it's cool or desirable, it's just a great product with amazing features. It looks great, the wheels roll super well, it is super durable and resistant. If you don't change that, there's no reason for the customer base to be alienated," he said matter-of-factly.
Even in collaborations with brands from fashion stalwarts Dior and Moncler to cult labels like Supreme, Off-White and Anti Social Social Club, the objective was never about targeting a certain age group (although it's hard to deny that transparent polycarbonates and hot pink logos probably made it blip on the radar of the cool crowd).
Arnault said, "We don't say that we need to talk to young millennials between 18 and 24 and then find who to collaborate with in this area. It feels weird. We're open to collaborations with everyone as long as it fits our DNA, our customer base, and it matches our values. It's the same whether with artists, luxury brands or celebrities."
His finicky attention to details means frequent store visits and calls prior to lockdown, in order to find out what sells and doesn't. He said, "The best advice I ever got was to focus and spend as much time as possible in the details or you'd be unable to have a big picture of what's happening. I ask the factory workers what they like and don't, and if they have ideas for me, instead of just being in a glass office on the top floor getting the numbers and taking decisions from there."
Lockdown may have put a brake on these visits, but it hasn't put a stop to Arnault's discipline. The accomplished pianist, who has previously held concerts, has been tinkling the ivories more – "It's usually early, early in the morning or late at night. That's never good because it makes too much noise for the people around, but it's the only thing I can do." – and, according to his latest Instagram post, running at dawn.
His mind still races on with ideas and inspiration.
"Novel product drops, seasonal collection, and coveted limited editions all fuel demand, particularly in (Asia). As we expand our product categories to encompass new organisational accessories, like Packing Cubes, and bags like the Personal or the Backpack, Tote and Weekender from the Never Still collection, we will see brand recognition and demand for Rimowa continue to grow as we move beyond travel into a larger mobility ecosystem," he said.
"The best advice I ever got was to focus and spend as much time as possible in the details or you'd be unable to have a big picture of what's happening." – Alexandre Arnault
Editor's Note: A quote attributed to Mr Arnault on "quality" has been clarified for greater accuracy.