'By Singaporeans, for Singaporeans': The brothers making furniture from local trees
After taking over their father's carpentry firm six years ago, the Yeo brothers of Roger&Sons share what's next on their quest to modernise the woodworking industry, with sustainability at the core of their business.
The origin story of carpentry firm Roger&Sons is one based on legacy and the love of family. Six years ago, the Yeo brothers – Morgan, Lincoln and Ryan – lost their father to cancer. Not only did they have to grapple with this loss, the trio found themselves having to take over the carpentry business – then called JR&P Industries – that he had left behind.
At the time, both Morgan and Lincoln were still in their 20s, while youngest brother Ryan was only 19. "Although each of us had our own interests and ambitions, we always knew that we would be part of the business, in whatever capacity. But we didn't expect to take over at such a young age," eldest brother Morgan admitted.
Since assuming the mantle of the business, the trio rebranded the company, moving away from making mass-market system office furniture, to creating custom, bespoke fine furniture. The firm's new name – Roger&Sons – is a tribute to their father, Roger.
Today, 32-year-old Morgan handles business development and sales, 29-year-old Lincoln handles product development and marketing, while 25-year-old Ryan handles production and day-to-day operations of the company.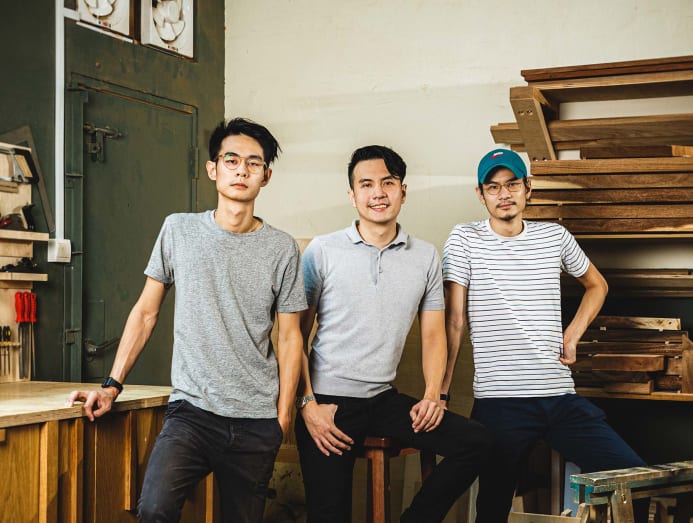 Roger&Sons's extensive portfolio includes objects and furniture for brands like The Balvenie and Ethan K, and companies such as Mandai Park Development. The firm also furnished the interiors of businesses such as Atlas Bar, Employees Only, PS Cafe at One Fullerton, Kevin Seah Bespoke, The General Co and William Grant & Sons.
It's been a six-year journey, and the brothers have since embarked on the next phase of the business. "When we first started out, we were known as the three brothers who took over the family business because their father had passed away. The support that we got was partly a sympathy vote. People didn't really understand what we were trying to do," Morgan confessed.
"Now we want to be known as…" Morgan continued, as Lincoln chipped in, "People who actually know their stuff."

With several years of experience now on their backs, the brothers are looking at expanding the business beyond carpentry work. In a bid to modernise the carpentry trade, the company is now focusing on three new aspects – research and development, education, and at the heart of it all, sustainability.
A NEW LEASE OF LIFE FOR LOCAL TREES
Sustainability, the brothers shared, has long been a passion of theirs. The idea of zero-waste may have only recently become a buzzword, but it's something the brothers have been working towards throughout the years.    
"Going into a sawmill and actually seeing with our own eyes how much waste there is in Singapore really changed our perception of how we should move forward," Lincoln reflected. "As individuals, we can't do much to help with this problem. But as a firm, we can do what we can based on the resources that we have."
According to Morgan, Singapore cuts "unofficially about 100 trees a day" for urban redevelopment purposes. These trees sit in sawmills for "five to ten years", waiting to be turned into mulch or pallet wood.
"To put things into perspective, there are three to four sawmills in Singapore. At one of the sawmills that we go to quite often, there's about four to five football fields filled with trees, stacked on top of each other," Ryan added.
This desire to reduce wastage led to the birth of The Local Tree Project – an initiative that salvages abandoned local trees, such as angsana, khaya and suar (rain trees), which have been felled for urban redevelopment, and turns them into durable objects and furniture.
When the project was first launched, the team worked with Mandai Park Development to create outdoor furniture such as benches, tables and bike racks from rain trees that were felled to make space for the new bird park.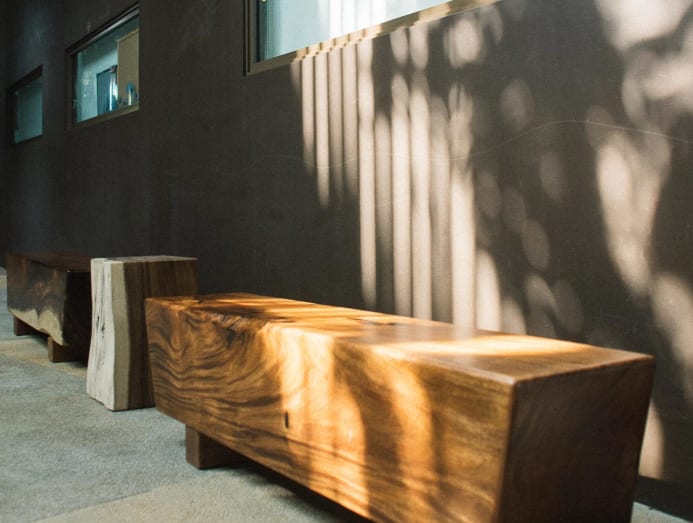 "We're not the only ones who work with local wood," Morgan clarified. "But most of the time, people just cut the trees into slabs, put legs on and create a tabletop. For us, we wanted to see whether we could do small objects, like capsule holders and bookmarks."
"We try to turn offcuts into other products. Our idea is to really think how we can use the entire tree, not only for wood material, but as adhesive and finishes as well," Lincoln elaborated.
This is where the company's work in research and development comes in. Roger&Sons was recently awarded funding from the Good Design Research initiative by the DesignSingapore Council, which will be used to conduct further research into local wood. "We're going to try to densify and stabilise the wood, get it a lot more usable," Morgan shared.
The company is also in talks to create its own sustainable adhesive, sourced from shellfish. "We are constantly trying to make The Local Tree Project better. It's a journey, trying to be more sustainable," Morgan said, as Lincoln added, "We are not a zero waste company, definitely. It's quite hard, but we strive for that."
"We are constantly trying to make The Local Tree Project better. It's a journey, trying to be more sustainable." – Morgan Yeo

BIRTH OF A RETAIL LINE
Like many other businesses, Roger&Sons felt the pinch from the effects of the pandemic. The silver lining during this difficult time, however, is the birth of Roger&Sons's first retail line, something the brothers admit had been sitting on the back burner for a while.
Though launching a retail line had always been a goal of theirs from the start, the brothers agreed that in order to release their own furniture line, they had to gain more experience first.
"We didn't want to put a product out just for the sake of putting a product out there. We wanted to do something that's meaningful," Lincoln explained.
For now, the line has been launched with just three products made from local angsana and khaya trees, namely a work desk, bench, and dining table.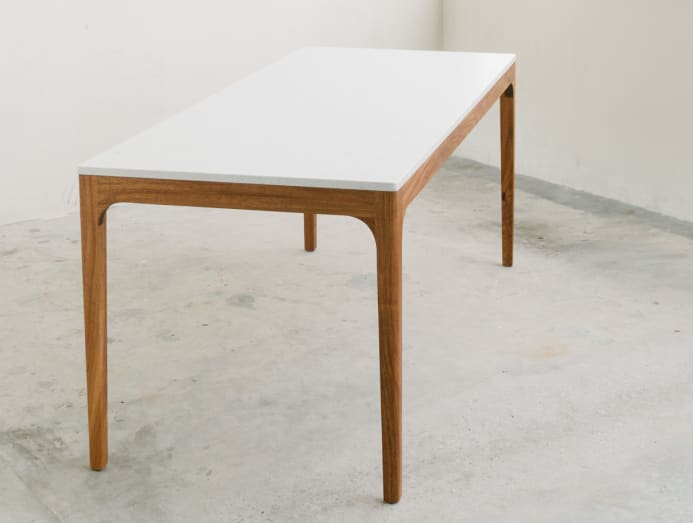 In mid-October, the team will release a second launch featuring a whisky cabinet, coffee table and daybed. Later in the year, smaller objects will be introduced into the line, including jenga blocks, chopping boards, catch-all trays and a kalimba (a musical instrument from Zimbabwe).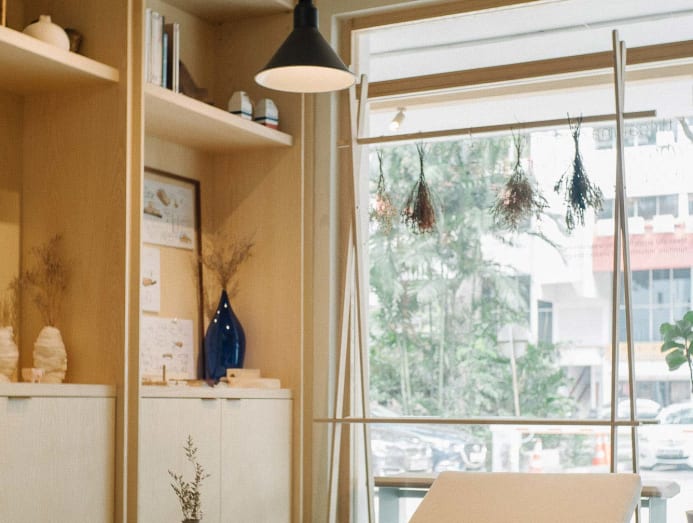 "We understand that it's difficult to support The Local Tree Project by buying a big item like a table. So we're looking at smaller items where the barrier of entry is lower, so more people can support the project and and buy a nice, locally made, locally sourced object that they can use in their home," Morgan said.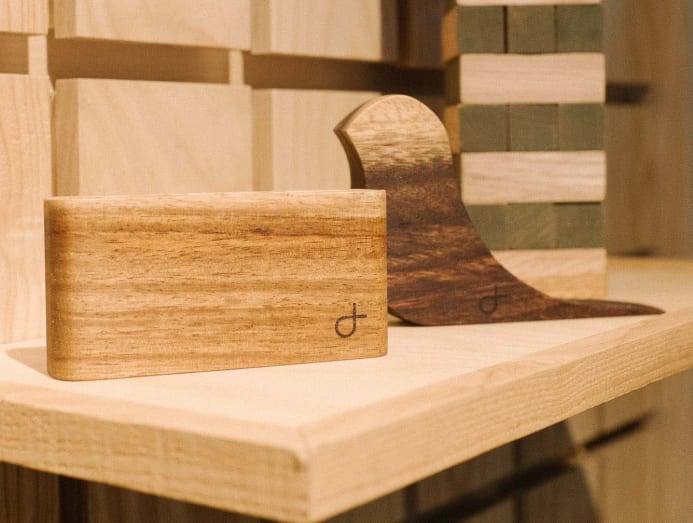 With the product line, the brothers are trying to fight the "buy and throwaway" culture. By incorporating thoughtful design, they hope to create pieces that people would be willing to invest in and keep for many years to come.
"We did a lot of research into the ergonomics of Asian bodies. We also designed our furniture based on the size of homes in Singapore. It's the idea that our products have been designed by Singaporeans, for Singaporeans, using Singaporean materials," Lincoln said.
"We... designed our furniture based on the size of homes in Singapore. It's the idea that our products have been designed by Singaporeans, for Singaporeans, using Singaporean materials." – Lincoln Yeo
TRAINING A NEW GENERATION OF CARPENTERS
The team behind Roger&Sons may be young, but with youth comes fresh new ideas that can help revive what is essentially a sunset industry. Not only does the company hire young carpenters, it also holds public workshops and masterclasses for anyone keen on learning the art of woodworking.
"We want to break away from traditional carpentry and to do that, we need new ideas and young blood," Morgan explained.
Moving forward, the brothers hope to partner local polytechnics and universities to educate students on the carpentry industry, and help "bridge that gap between what they learn in school and what is done in Singapore", Morgan said.
Eventually, they hope to open a school, with classes open to anyone keen to learn about woodworking, including ex-offenders and the disabled.
With big plans on the horizon, and with all three brothers involved in the family business, one can't help but wonder if they fear putting all their eggs into one basket.
"I think we're quite simple people. As long as we have food on the table, we're happy," Ryan opined.
"Our objective was never to be billionaires, or to make tons of money. I think if we wanted that, we would have never continued in this business, not in this industry," Morgan said.

Instead, Lincoln shared, the brothers are more preoccupied with "giving love in everything (they) do". "If you don't love what you do, then why are you doing it? Not a lot of people appreciate what we do. But we just try our best to be happy with our work, and do the best that we can."
"Not a lot of people appreciate what we do. But we just try out best to be happy with our work, and do the best that we can." – Lincoln Yeo