Ryde's CEO on overcoming adversity and the value of hard work
Terence Zou doesn't believe in self-entitlement. Losing his mother at a young age spurred him to "work harder than other people". Today, he's the founder of Singapore's homegrown ride-hailing app, Ryde. 
It's a rainy morning when I first meet Terence Zou, founder and CEO of homegrown ride-hailing start-up, Ryde Technologies. Coincidentally, the date is Aug 19, the first day in which 50 per cent of work-from-home employees were allowed to return to the office following the loosening of COVID-19 restrictions in Singapore.
As we settled in for our chat, Zou points out that in the morning, he had seen an uptick in fare prices on the Ryde app. That's good for business, but it's also good for the drivers on its platform. After all, Zou founded the company precisely to help these drivers earn an income.
The pandemic, of course, hasn't been kind to the carpooling business. But Zou is optimistic. He has spent the past few months improving the business, sharpening his strategy. Despite the circumstances, "things have worked out pretty well" for Ryde, the 46-year-old shared.
In any case, Ryde is "more than just a business", its founder believes. At the heart of the company is a larger social mission to create a positive impact for the community.
'YOU NEED TO WORK HARD FOR WHAT YOU WANT'
Ask Zou about his growing up years and he'll tell you it's an "ordinary story". "I was from a simple family and I had simple childhood," he shared.
From young, Zou's parents instilled in him the importance of studying hard in order to get into a good school, and working hard to get a good job.
At the age of 15, Zou's mother passed away. He doesn't like to talk too much about it. "Everyone has their own stories," he explained.
But the loss did have a profound impact on him. As the eldest brother, Zou had to shoulder more responsibilities, having to take care of his two younger siblings while his father worked. But if anything, the experience made him tougher. "I had to work harder than other people, I had to fend for myself, pay my own school fees. That instilled in me a sense that there's no such thing as self-entitlement. You need to work hard for what you want," he said.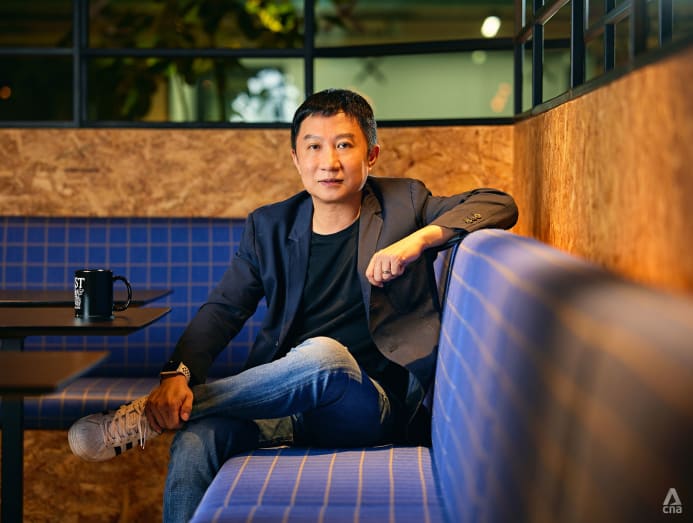 And work hard he did. In his school years, Zou studied hard enough to earn a place in Raffles Institution and Raffles Junior College. After graduating, he wanted to further his studies overseas. "But I couldn't afford the hefty fees, so I got a scholarship with the navy," he shared.
That paid for Zou to study at the London School of Economics for his bachelor's degree, and subsequently the Massachusetts Institute of Technology, where he did his master's. When he returned to Singapore, he readily embarked on a career in public service, serving in the navy for eight years. "I was indebted to the people who sponsored me," he said matter-of-factly.  
Zou thrived in the navy, even becoming the commander of a patrol vessel. But he always had an interest in finance and economics, so when his bond came to an end, he enrolled in Harvard Business School to do a Master's in Business Administration (MBA). He describes his time at Harvard as a "transformational experience". "I thought I had learned quite a bit during my time in the navy. But at Harvard, I learned that the world is very, very big, with very, very smart people," said Zou.
"I had to work harder than other people, I had to fend for myself, pay my own school fees. That instilled in me a sense that there's no such thing as self-entitlement." – Terence Zou
THE BEGINNINGS OF RYDE
The idea to start a carpooling app came to Zou as early as 2004, back when he was still in the navy. He would drive himself to work every day, a journey that required him to travel from Bishan to Tuas. "Most of the time, I was driving alone. It was a waste of three empty seats," he said.
Considering the fact that cars are left in a carpark most of the time, "the utilisation rate is very low," Zou added. It was impossible to hail a taxi early in the morning and taking public transport would have taken him two hours.
Was there a way to maximise the use of a car and reduce traffic congestion? Could drivers earn an income from this? Could he create a business that would be of value to everyday Singaporeans?
Zou knew there was a gap in the market, but he wasn't ready yet to take the plunge. Instead, after his time in Harvard, he went on to work in the finance sector for a couple of years. Only in 2014 did he circle back to the idea of starting a carpooling app.
The timing was right then, and so was the technology. "We had GPS, we had handphones, and we had digital payment systems. All these technologies were not there in the early 2000s," he said.
Zou quit his job and dove headfirst into the tech start-up world. He was acutely aware of the risk. "Ninety per cent of start-ups fail within five years. So it was a very low probability of success. But I believed that what we were building, a carpooling app, had a niche. It's a more sustainable way forward and it solves the issue of getting from point to point," he said.
The early days of Ryde were tough. Zou had the idea, but he was neither a programmer nor a coder. Thus, he outsourced the technological development of the system, but has since brought it in-house.
In order to get drivers on board, Zou recalls heading down to far-flung carparks in various parts of Singapore late in the night to distribute fliers with his team. Nighttime was when all the cars would be parked at home. "We started at midnight and just nice, we would finish at 7am," he recalled.
When Ryde first started, it was the only app in Singapore to offer a digital carpooling service. Two years later, Grab launched a similar service called GrabHitch. This should have worried Zou, but instead, he believes it helped make carpooling more ubiquitous. It's a tough industry, and Zou is aware that he has "huge competitors".
"But I think competition is good, it forces you to think harder and come up with more innovative ideas. That's why we have expanded our suite of offerings," he commented.
CREATING A 'SUPER-MOBILITY APP'
Today, Ryde doesn't just offer a carpooling service. Its portfolio now includes private hire bookings with RydeX, taxi bookings with RydeTaxi, pet-friendly transportation with RydePet, premium private-hire service with RydeLuxe and more. In 2018, the company also launched RydeSend, an on-demand courier service for small goods.
Zou believes that one of Ryde's key competitive advantages is its lower fees. Drivers are charged a 10 per cent commission, while other competitors charge an average of 20 per cent. "We know that passengers want to pay less, and of course, drivers want to take home more," said Zou.
This strategy panned out well during the pandemic. Lower fees helped to attract more drivers to the platform during a difficult economic situation. In fact, Ryde says that its driver pool increased by 1.6 times between Q1 2020 and Q2 2021. It currently has more than 10,000 active drivers on the platform and to date, it has facilitated more than 16 million bookings.   
In addition, Zou says that the company was "cashflow positive" in Q4 2020. It is now targeting an IPO in 2022.
On whether Ryde has ambitions to become a superapp, much like other competitors in the industry, Zou had this to say: "I think our first priority now is that we need to become a super-mobility app. Focus is key. Every business, no matter how big or how small, needs to maintain a good amount of focus."
"I think our first priority now is that we need to become a super-mobility app. Focus is key. Every business, no matter how big or how small, needs to maintain a good amount of focus." – Terence Zou
MORE THAN JUST A BUSINESS
Driving may have been the spark for Zou to start Ryde, but a few years ago, he sold off his car. He now uses the app to get around.
Being on the ground helps Zou "feel the pulse of the drivers", he shared. But do drivers recognise him as the CEO when he gets on board? "It's good that now we're wearing masks," he laughed. "I prefer to go incognito, so I can hear the real feedback from drivers."
When it comes to Ryde, it's not the company's numbers or returns that Zou is most proud of. It's the fact that he has built something that makes a positive impact on its community. "Our drivers earn by the day. So what we are doing also impacts their families and their children," he said.
The company's support for its drivers goes beyond helping them to earn a stable income. In 2020, it launched the Ryde Education Merit Awards, where the children of Ryde's driver-partners who have performed well academically are awarded cash prizes on top of tech gadgets. The aim of the awards programme is to encourage and inspire the children of its driver-partners to work hard.
"This is something I hold dearly. Not only do we have to focus on this generation, we also have to focus on the next," said Zou. Drivers spend a lot of time on the roads, and the Ryde Education Merit Awards is a way for the company to thank them for their contributions in a meaningful way. Zou hopes to one day turn the programme into a full scholarship.
Beyond its driver community, Zou says that the company tries to give back where it can. In May, it launched the Ryde Supports Hawkers, an initiative aimed at helping hawkers who were affected by lockdown measures. The company purchased food items from these hawkers and distributed them for free to its drivers as well as frontliners in the fight against COVID-19.
"These are some of the CSR efforts that we do not just to tick the box. But we are doing what is right and has an impact," Zou said.
Zou's career journey may be a remarkable story, but at the end of the day, he is still that young boy from a simple family, who was taught to work hard to achieve his dreams. Now, he's giving back in his own way.
"I think you just need to pay it forward and create value for other people. It will then come back to you full circle," he shared.