Scanteak CEO Jamie Lim: 'The role of the second generation is to stir the pot'
Jamie Lim, the second generation leader discusses giving up a career in Hollywood to join her family's furniture company, implementing changes to the business and why Scanteak will always be "a brand for families".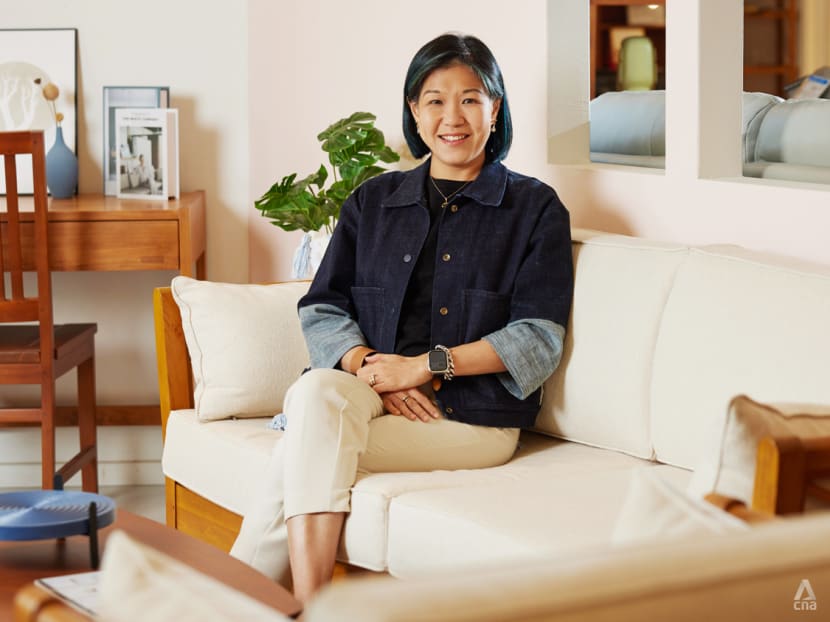 As a young girl, Jamie Lim recalls playing hide and seek with her brother in the furniture showroom owned by her parents. Lim, 44, is the eldest daughter of Lim Pok Chin, the founder of homegrown furniture retailer Scanteak.  
"As my brother and I grew older, we have a lot more memories of doing our homework in the showroom," Lim reminisced. "My parents went from rags to riches. They were not privileged. So we had to follow them to work because they didn't have any extra help." 
Scanteak started out in 1974 as Hawaii Interior Decoration, before it was renamed to Hawaii Furnishing in the 1980s. Lim's father started the business with a mere 400 sq ft office space in Joo Chiat. It was later rebranded to Scanteak in 1988, focusing on quality teak and wood furniture inspired by Scandinavian design.  
Today, Scanteak has a wide network of 180 stores. It is an established household name in Singapore and a leading furniture brand in Taiwan and Japan. Over the years, the Scanteak portfolio of brands has also expanded to include leather sofa retailer Scanliving, mattress brand Scankomfort and furniture retailer Nova Furnishing.  
"My mum was my dad's first employee. I always say that Dad was very smart. Mum only drew one month's worth of salary before she started doing things in the name of love. This 'name of love' had a very high return on investment (ROI), because now, both my brother and I are also involved in the business," Lim laughed.  
LIFE IN HOLLYWOOD 
Lim joined the family business at 25 and worked her way up to her current position as CEO. Her younger brother, Julian Lim, is in charge of regional procurement and also leads Nova Furnishing as CEO. Both parents are still with the business – their father as chairman of Scanteak Taiwan and their mother as executive director of the group.  
As a kid, Lim's first unofficial role with the company was as a babysitter. She recalled: "My role was to keep our customers' kids as entertained as possible so that they wouldn't disturb their parents as they shopped. As I grew older, I started helping out with basic tasks such as photocopying and filing documents." 
Yet Lim was adamant that life in the family business was not for her. "Building the family business didn't sound easy. Over family dinners, 80 per cent of the conversation was dominated by business talk. My parents sounded really stressed and I saw them struggle," shared Lim. The company had faced tumultuous times, including almost going bankrupt when a distribution deal with an upmarket French brand went awry.  
Due to her parents' busy schedule, quality family time was hard to come by. "My friends were playing board games with their parents and would go to East Coast to cycle but I would go to our East Coast showroom to play hide and seek with my brother. At that point, joining the business just felt like a lot of responsibility."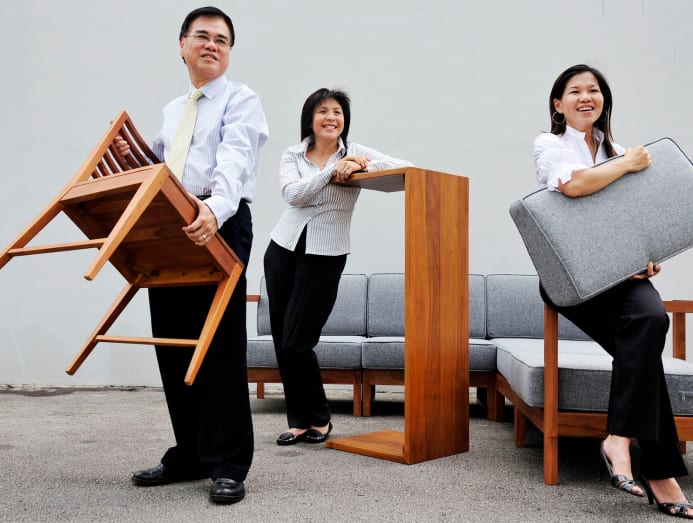 Hence, she decided to pursue her own dreams. "I really loved telling good, inspiring stories. I loved the feeling of leaving the theatre after watching a really good movie. I remember watching Robocop and walking out feeling that no matter how low in life you can go, you can still be the best cop in the world," said Lim.
She set her sights on working in Hollywood and secured a scholarship to study film in the US. While in school, she discovered her love for marketing and decided to focus her career on marketing films. After graduating, she clinched an internship with Universal Studios before joining Walden Media full-time.  
Lim had "the best time" working in Hollywood. "I've always felt that if you want to play, you should play to the fullest. So if you are going to spend most of your time working, you should at least make it fun," she quipped.  
It was a "butt dial" from her father that eventually brought her home. "He called me one day saying it was an accident. In those days, an international butt dial on a Nokia phone is almost impossible," Lim said. As Lim was due to return home, her father invited her to stop by his office in Taiwan. "If I dropped by, he said he would let me fly business class," she added with a laugh.    
While in Taiwan, Lim was shown a different side to the business. "I've always been driven by the desire to make an impact. Imagine falling in love, buying a house, getting married and building a home. Our customers are building a dream and I thought that being a part of that would be meaningful," she said.  
At that point in her career in Hollywood, the projects Lim was working on were wrapping up, and her roommates were also leaving the US to pursue other opportunities. "Some people call it faith, some people call it fate," quipped Lim. "But all the signs were pointing towards coming home."  
STARTING FROM THE BOTTOM 
Once Lim formally joined the business, she soon realised that her father didn't have a specific role for her. "I started with a 'chapalang' role and just learned on the job. There was no structure or proper training," said Lim.  
She decided to take ownership of her role. Putting her marketing skills to use, she created a customer survey for distribution at Scanteak's showrooms. "Once I got back the results, I dissected the survey and came up with suggestions on how we can improve the business," Lim recalled. "My dad said, very good, now you go and do sales!" 
For almost nine months, Lim worked the sales floor. "I worked Tuesdays to Sundays, and then Monday I reported back to HQ. It was pretty intense so I asked my dad for a day off. He said, sure, if you become our top salesperson," she laughed. "Eventually I got my ticket out of sales. It was a difficult period but I learned a lot. As a second-generation leader, I think that experience gave me some credibility because I was really on the ground."  
As the bosses' daughter, Lim also recalled feeling out of place. She had trouble fitting in with her fellow colleagues as they were understandably cautious around her. "I was a somebody, yet I was a nobody. My parents, on the other hand, told me 'don't be proud'. You're not part of management, you are one of them," she said.
Lim took things in her stride. "In the midst of feeling out of place, I decided to find joy in what I do. I believe that a fool is one that does the same thing over again expecting a different result," said Lim. Through her experience working on the sales floor, she knew the brand needed a facelift. "People were pronouncing Scanteak as Scantek," she chuckled. She decided to create a new TV commercial for the company, which ended up winning multiple awards.  
"I love to play but since I was stuck working, I decided to spend all my sacrificial hours doing the best I can, whether it was in sales or in marketing. That kept me going," Lim reflected. "People remember who's the best, they don't remember who's second best. So everything I did, I wanted it to be the best."
STIRRING THE POT 
Since joining the company, Lim has injected ingenuity in the design of Scanteak products by partnering with local designers. Its award-winning Prologue collection, for example, is a collaboration with local design studio, Outofstock. The collection won the 2015 President's Design Award. In September last year, the company launched its Leika collection, a collaboration with local design practice Forest & Whale.
Together with her brother, Lim also began introducing sustainable practices into the company. "If you asked me if I joined the company on day one wanting it to be sustainable, no, because we didn't know what we didn't know," she said. "Now after understanding the effects of global warming and having children myself, I know how important it is," added the mother of three.  
There were many painful decisions the siblings had to make on their sustainability journey. This included cutting relationships with some of the company's long-term suppliers. Scanteak now sources its wood from mills in Indonesia with SVLK certification, which requires suppliers to fell an ethical number of trees from legal plantations. For every tree that is cut, a new one is planted.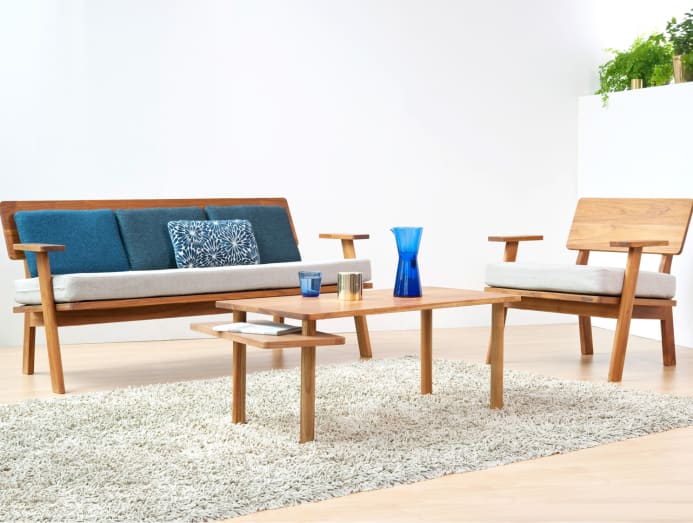 Lim and her team have also started experimenting with new technologies such as an artificial intelligence platform that will help forecast demand and supply. The company recently launched an augmented reality (AR) service on its website that allows customers to envision how a product might look like in their home.    
When asked about what she brings to the company as a second-generation leader, Lim playfully responded with "trouble". "Some people call it change, some people call it trouble. But we are here to rock the boat. The role of the second generation is to stir the pot. Sometimes, it causes discomfort, but that is when new opportunities arise," she believes.  
THE WINNING FORMULA 
Lim describes Scanteak's typical customer profile as couples between 35 to 40 years of age, "usually with family responsibilities". "This includes children, fur kids and aged parents. Some live in multi-generational homes." A significant number of Scanteak customers are also owners of investment properties. As they continually rent out their properties, they require furniture that can last.  
Lim believes the key to Scanteak's success thus far has been its commitment to quality. R&D for a new product can take up to two years. "Even if the measurements are off by one cm, we don't sell it," she said. All of Scanteak's sofa and cushion covers are also machine washable, so customers don't have to worry about spills or stains. "In our latest customer survey, we found out that 70 per cent of our customers have children or are animal lovers. The home is a place for you to come back to after a long day. You just want to relax. I have heard people telling their kids not to have ice cream or milo on their sofa. That cannot be a Scanteak piece. You don't pay that amount of money to feel restricted around it," she elaborated.  
Lim wants customers to "feel at home" with their Scanteak pieces. All Scanteak products are designed with the intention of fostering meaningful family connections. "The conversations between family members is the primary purpose of a home. The product is secondary," she believes.  
There are customers that have been using their Scanteak products for more than 10 years. Some purchase Scanteak furniture second-hand, indicating its strong resale value, shared Lim. "I believe what sets us apart is that we think long term and we have built a legacy of trust with our customers," she said. "Are there smarter entrepreneurs out there? Yes. Are there nicer sofas and tables? I think so. Are there cheaper alternatives? For sure. But we have a group of customers that we want to please, and we continue to cater to them." 
"Some people call it change, some people call it trouble. But we are here to rock the boat. The role of the second generation is to stir the pot."
A BRAND FOR FAMILIES 
As a business leader, Lim continues to look up to her father for inspiration. "My dad is able to make difficult decisions. I have learned resilience from him because even in the brink of bankruptcy, he fought back," said Lim. She also admires his innate business acumen. "My dad once told me – we spend so much money on expensive machinery in airports to detect drugs but what do they still use? Dogs. At the end of the day, it is not about how great your business report or analysis is, or how expensive your technology is, you still need to be able to sniff out what your customers need, and where the opportunities are."  
"I also learnt people management from him. He leads from the heart and his staff have been with him for many years," Lim continued. It is something Lim hopes to inculcate in her own leadership style. "I believe there is no perfect person, but there can be a perfect team. Everyone is a misfit in their own way so in my leadership style, I try to be as inclusive as I possibly can."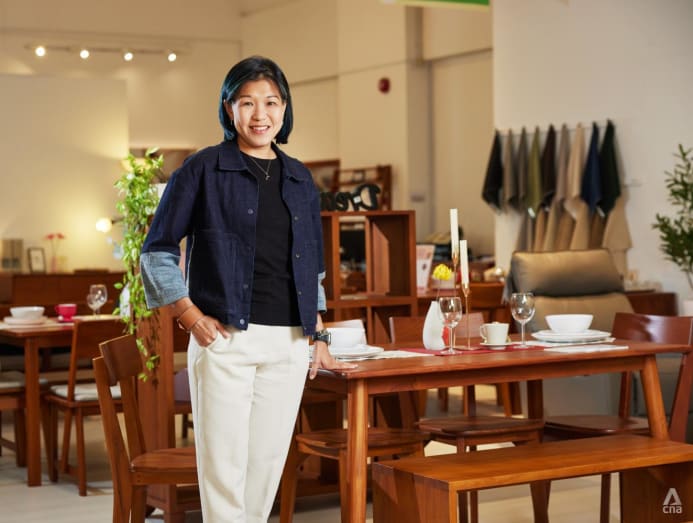 Lim hopes to further enhance Scanteak's footprint in the Southeast Asia region, starting with Malaysia, where they have recently established an office, distribution centre, and warehouse in Johor. "We are hoping to make more inroads within the region," she revealed, adding that the company is also exploring the possibility of expanding into Indonesia, Thailand and Vietnam. 
Despite all that Scanteak has achieved, "it doesn't feel like we have made our mark", Lim reflected. "It feels like we are running a long marathon and we are only at the 200-metre mark."  
On whether Scanteak will always remain within the family, Lim believes that it is "more important to be a successful business, rather than a family business". "We do hope for Scanteak to be a brand for families. Whether it is my family member who runs it, or somebody else, competence will be the most important criteria."  
Meanwhile, the Lims can take great satisfaction at having taken a homegrown brand international. As Lim expressed, "We are happy to be able to say that we are a local brand. When customers in Taiwan or Japan ask about our origins, we take pride in saying we are from Singapore. We are proud to represent our country."