Inside Singaporean brand Scene Shang's new home at the Raffles Hotel
Scene Shang co-founders Pamela Ting and Jessica Wong take pride in the fact that theirs is the only local retail brand among international names at the iconic landmark.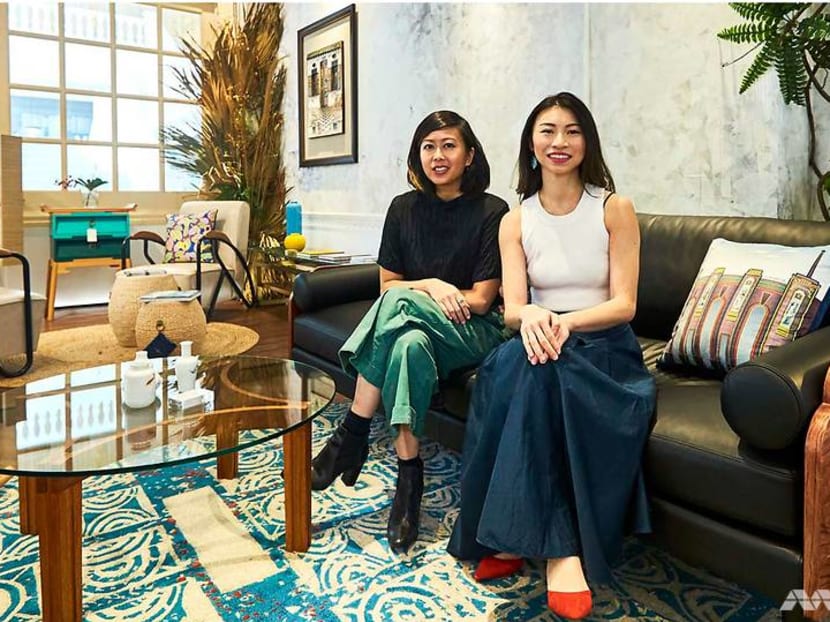 Step into the Scene Shang's new abode at Raffles Hotel Arcade and you'll feel right at home.
The space is less showroom and more apartment-like, with natural light flooding the high-ceilinged interior, enhancing the sense of spaciousness without compromising on that cosy, welcoming feel.
I could live here, I think to myself, as I'm introduced to the brand's co-founders, Pamela Ting and Jessica Wong.
This lived-in ambience was the pair's initial intent for their second store, as they sought to create a space where visitors could peruse their award-winning furniture and objets d'art while absorbing a new understanding of time, history and culture – over dainty cups of hand-blended tea.   
To express the patina of time, Ting and Wong worked with artists who painted an aged moss relief on the walls, and added green vines and creepers within the store. Specially sourced vintage wood trim with Western-style leaf mouldings and geometric links emblematic of the Great Wall of China skirt the walls.
Art pieces by local artist Arthur P.Y. Ting, renowned for his storied Singapore streetscapes and who happens to be Ting's father, adorn the walls.
"We imagined our shop as a respectful, gentle and new inhabitant of the space – where the aged walls touched our newly-laid floor, and the old and new meet," said Wong.
The duo also added personal touches, such as a tiled entrance comprised of small hexagons – a shape valued in Asian cultures for stability and harmony – that form abstract plum flowers, symbolising strength and beauty.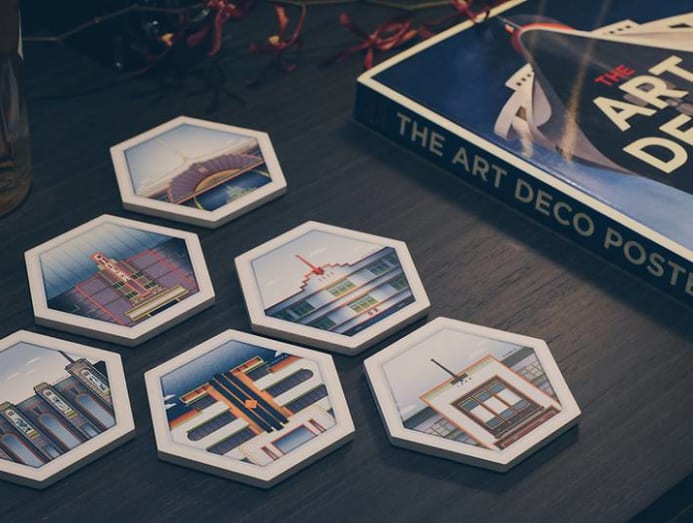 The tiled threshold, reminiscent of the foyer of Scene Shang's conceptual birthplace in an art deco building where pair lived in Shanghai five years ago, serve as a sort of insider secret between the two, harking back to where and when their entrepreneurial journey first began.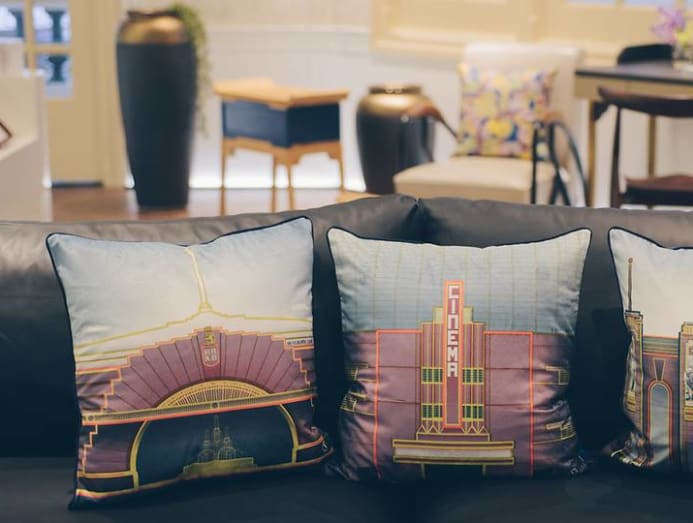 The pair met 15 years ago, as schoolmates in Raffles Junior College, and it seems somewhat apt that their brand now calls the newly refurbished Raffles Hotel home.
"Raffles Hotel has always been quite grand in terms of architecture, and it's almost intimidating to step in here. So, when we were given the opportunity to be a part of it – knowing it's not contrived as it really gels with the brand – is quite humbling," shared Ting, a former banker. "And to be the only local retail brand among international names here is quite an honour."
For Wong, the feeling is almost poetic.
"Before the renovation, there used to be an antique store at the corner that sold beautiful Chinese furniture. I stepped in once and I was very inspired. So, being here is very meaningful in the sense that we get to continue that love for artistry and culture, but in our own Singaporean voice," said the trained architect.
"To be the only local retail brand among international names here is quite an honour." – Pamela Ting
A BEAUTIFUL NARRATIVE TOLD IN DESIGN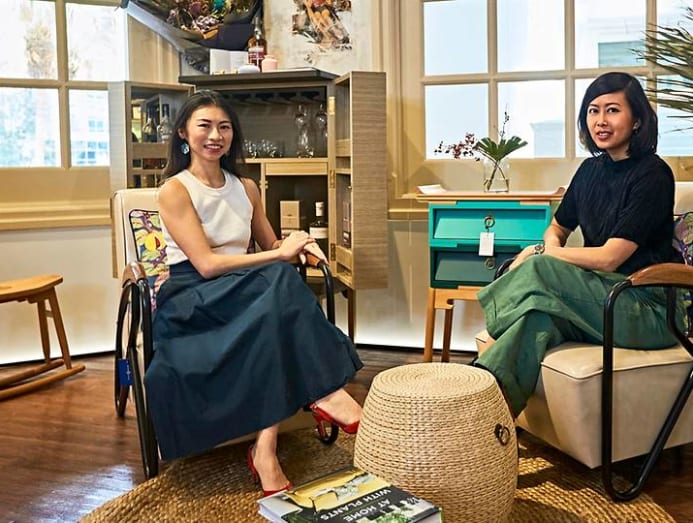 It's a story of classic Chinese design told through a contemporary lens. And the 132-year-old landmark in which it is now housed is indeed the perfect dais to articulate this story so beautifully encapsulated in Scene Shang's tagline: "Ode to the old, nod to the new".
Its 1818 collection, for example, is rife with narrative. Named after the year before Singapore's founding father, Sir Stamford Raffles, landed here, the collection of blue and white porcelain plates feature paintings by Wong's brother, an illustrator, with famous Singapore icons like Marina Bay Sands, the Esplanade and the ArtScience Museum hidden within the artwork.
"This series is inspired by Ming dynasty porcelain. We try to draw in legends from Singapore's past, but we also try to include some elements from today," offered Wong.
Though almost imperceptible, these tiny details are redolent of the thoughtful and punctilious approach to design that has garnered the young brand accolades such as the prestigious Golden A' Design Award in Furniture, Decorative Items and Homeware Design in Italy three years ago.
This was for its signature SHANG System, a modular storage system featuring several hallmarks of Ming dynasty design but interpreted with a modern aesthetic, which also attained a special commendation at the President's Design Award 2014 in Singapore.   
More recently, the brand bagged silver for its XUAN Table at the Singapore Creator Awards 2019.
"We try to draw in legends from Singapore's past, but we also try to include some elements from today." – Jessica Wong
While most of its pieces are manufactured in Malaysia, China and Vietnam, just two proudly carry a Made in Singapore label, which is an immense source of pride for both Ting and Wong.
The first is the Brass Chinese Chess Set, designed by Wendy Chua and Gustavo Maggio, and manufactured by Mr Yee from Hup Yick, a 70-year-old proprietor who is ceasing his auto parts workshop in Jalan Besar due to dwindling demand.
"Through this collaboration, we managed to use his skills for an industrial product and channel it towards a lifestyle product," said Ting.
The second Singapore-made item is the Yan sofa.
Are there plans to manufacture more furniture in their native country? "Definitely; for as long as the manufacturing industry and the craftsmanship allows, as there are only a few such craftsmen left. And bearing in mind the cost," said Ting.
COLLABORATION IS KEY
Such collaborations, the ladies believe, are the key to take the brand forward.
"Working with other designers who may not be in the same field as us can give us a different perspective and add more layers to the story of whatever we're trying to design," Wong explained.
Scene Shang began roping in other design minds in its fourth year of business; first for the Brass Chinese Chess Set and later for the special Invisible System version of its Shang System.
Designed by renowned local designer Larry Peh, the limited edition in acrylic (only 10 pieces) comes with a S$2,899 price tag.
"Working with other designers who may not be in the same field as us can give us a different perspective and add more layers to the story of whatever we're trying to design. " – Jessica Wong
"That's the way forward – to work with other designers to provide a different perspective to our classic designs," Wong added.
The other, is expansion. "The challenge we face is the market size," she noted. Taking the brand international is, therefore, on the cards.
"We are proud that it's a Singaporean brand run by Singaporeans, which speaks a lot about our culture. But we will do it step-by-step," said Ting.
How do they think their largely Asian-centric designs will fare in overseas markets?
"We do have a lot of customers from Europe, the United States and Australia who find what we are doing very interesting," Wong stated. "The voice of the brand is a bit more of a new Asian lifestyle, and we are trying to find a way to bring that voice overseas. However, we need to work out what the product offerings for the different markets will be."
Ultimately, the duo does not see the brand's future limited to only furniture and homeware.
"We see Scene Shang as fronting Asian contemporary design and a way of life – enjoying and appreciating the beauty of Asian culture so we could grow laterally as well," said Ting.
"We are proud that it's a Singaporean brand run by Singaporeans, which speaks a lot about our culture." – Pamela Ting