School holidays at home: How Singapore mums are entertaining their kids
From morning walks to family game nights, Singapore's society mums share how they're keeping their children occupied this June holidays.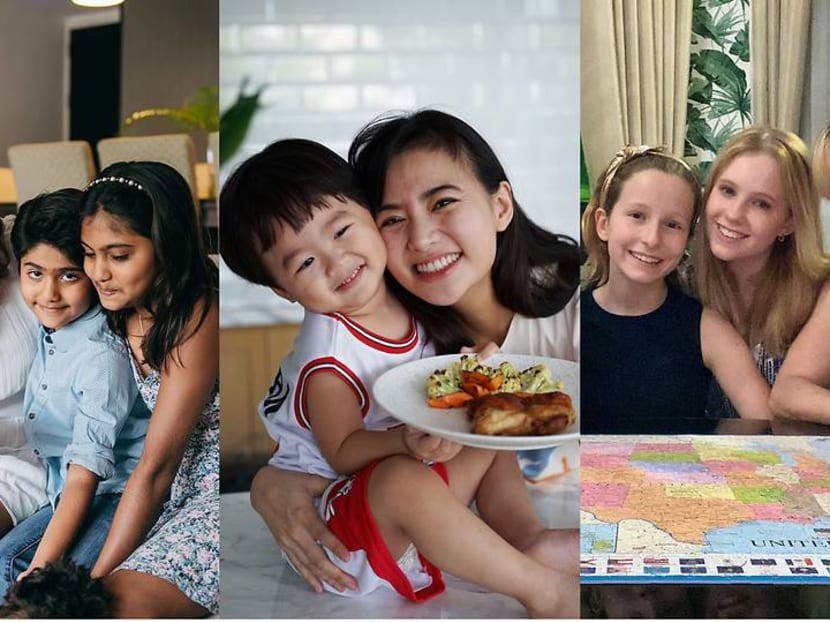 Last year, children in Singapore spent the June school holidays at home, with the country still in the thick of the circuit breaker period. This year, however, is not too different, with the first two weeks of the holidays spent in Phase 2 (Heightened Alert).
Thankfully, the circuit breaker has given Singapore families some ideas on how to fill their days this time around. If the thought of having bored children at home sends shivers down your spine, take inspiration from Singapore's society mums, who share how they're keeping their kids entertained.
If you're planning to continue self-isolating even when restrictions ease, these tips will surely come in handy.

ASTRIE SUNINDAR-RATNER
We recently moved to a new apartment and as if the stress of moving wasn't enough, Phase 2 (Heightened Alert) went into effect two days before our move started. So apart from worrying about how two people were going to pack all our stuff in two days, I also had to juggle a new round of home-based learning for my older children.

The first time around, the kids took home-based learning in their stride. After all, it was something of a novelty. I knew this time they would be a bit deflated, as most of us were when we heard the news! To not get overwhelmed, I decided I needed to shift my thinking about the move; I would no longer see it as a stressful event but instead as a family project.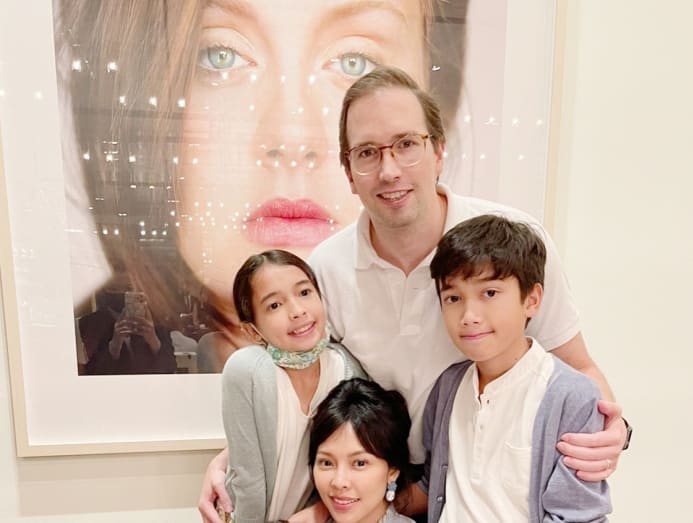 Apart from giving the older kids 100 per cent responsibility to unpack, clean and decorate their new rooms, I created different tasks for different rooms every day. Once we were in the new place, my first priority was unpacking the kitchen, the heart of the house. I was pleasantly surprised to see the children so excited about organising the kitchen. I really wanted the kids to feel that their inputs were important in creating our new home, so they have accountability in how things work and the place feels like home to all of us.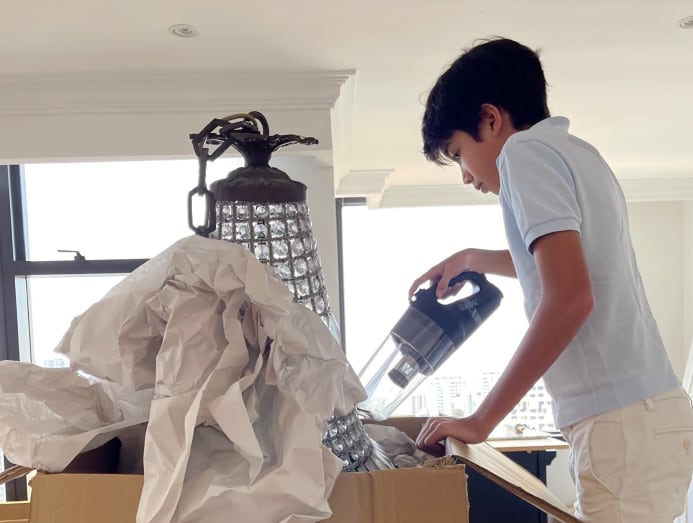 My hope is that by doing different chores assigned to them, such as laundry, mopping, cleaning the chandelier, organising the kitchen, walking our dog, making dinner and much more, they will learn important life skills that will help them understand what it takes to run a household. It is also important to me that they don't take things for granted and develop an appreciation and respect for the hard work of not only our helper but all the service people they will encounter throughout their lives.
Now that we have finished the move (for the most part), I am so grateful for the time we spent together as a family and I believe the experience has taught them to be more resilient and appreciative. At least it has for me!
CHERYL WEE
During the circuit breaker period last year, my daughter Emma was six months old while my son Marc was turning two. The things we did were a bit more informal and we were going with the flow. We did activities such as icing cookies, making pizzas, water play, Lego and colouring on our Busy Mat, a washable mat for kids.
This year, I wrote a timetable as Marc is already in nursery school and Emma, who is 20 months old, is a lot more interactive and needs more stimulation. With work on hand and being pregnant (which wasn't planned), I really needed a timetable to help split the tasks between myself, my helper and my husband, Roy.
As Roy is a lot busier at work, I take on more of the kids' activities. We do arts and craft activities, such as painting on rocks. Learning resources from Julia Gabriel, De Kinder Club and Dough N Me have been helpful as well. We also engage the kids in baking and cooking activities such as making our own dough and pancakes. They love to mix, whisk and pour ingredients!
Marc and Emma enjoy running around with their little bikes and scooters. We would sometimes pitch our own tents and pretend like we are in a safari. Or we would turn on Spotify and sing and dance to their favourite songs, or imagine ourselves as characters in the song.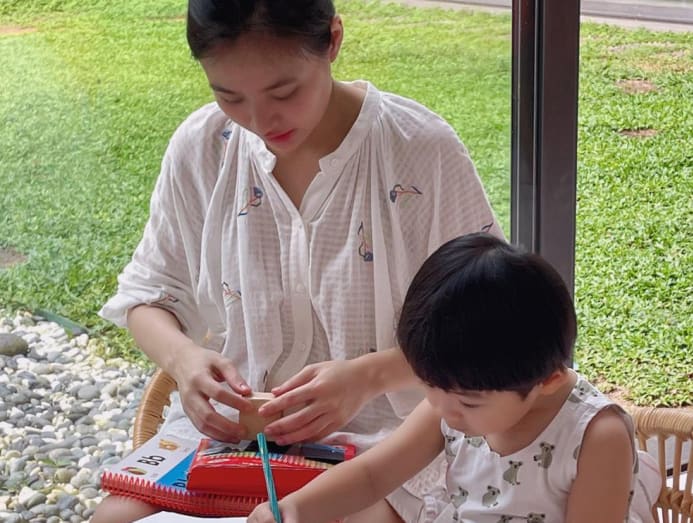 Sometimes, my parents and Aunty Dawn would have karaoke time and involve the kids too. Roy would also teach Marc and Emma tennis. Of course, there's also TV time for the kids.
DR IROSHINI CHUA
This period has given our family the opportunity to spend time (quality and quantity) with our otherwise busy teenagers. Our daughter, Aiyana is in the school dance team and is well used to a very vigorous training regime. She kindly volunteered herself to be our fitness instructor, putting us through the paces albeit with a less strenuous exercise routine. It was a fun activity (in the beginning) to start off our day together!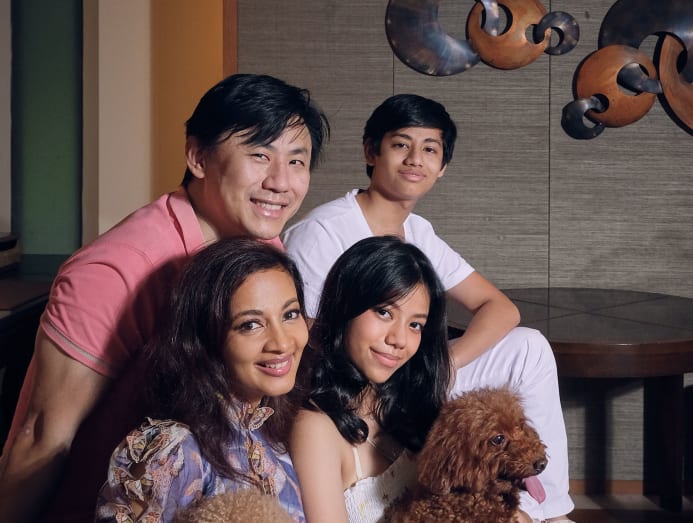 We decided on the various healthy food options we should be stocking in our pantry making sure that we kept ourselves well nourished. Our one indulgence – sugar, was deliberately left in because we spend time together baking and sharing our bakes with family and friends. It is one of our many creative outlets.
My husband Kevin, my son Jorim, Aiyana and myself are self-professed nerds. We thrive on board games and family favourite locked-room games. We do best on the latter where we work together to escape environments where all the players are trapped in a scenario and need to piece together puzzles and answer riddles in order to progress and escape. 
We each bring our A-game with Jorim excelling in the math puzzles and Aiyana the pattern recognition puzzles. The parents mostly nod in agreement and wonder how each of our children reached the puzzle solutions. Many a wondrous hour was spent this way with much screaming in delight and laughter a plenty. 
This hiatus has offered us a rare chance to just sit and ponder. Some nights, we would relax on the swing in the garden and take in the stars. Some of our most treasured moments have been spent like this, simply whiling the time away enjoying each other's company – in silence.
PAIGE PARKER
Since my daughters know my mantra, "Only boring people get bored", they rarely utter the b-word. Fortunately for us parents, this June holidays, though much of it will be spent at home, will be far from dull, since the options here to occupy and educate our children are as vast as the sea is deep!
The obvious go-to activities in our home include reading, baking cookies and bagels, cooking simple dinners, creating a home spa, journalling, playing board games like Singapore Monopoly, and fooling around with our miniature labradoodle Bella, who thinks #stayhome is utopia. Last year during lockdown, we completed a USA map puzzle in two weeks, working both independently and jointly. My 13-year-old daughter Bee and I will do a world map puzzle this June holidays.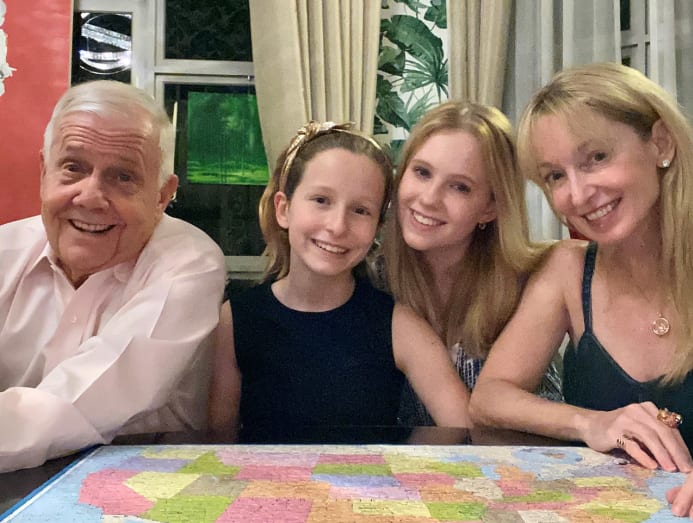 If we watch a movie, I let my daughters choose, though my husband Jim and I have veto power. Occasionally, we sit outside for a picnic, listening to music, usually from Bee's Spotify playlist. I feel quite chuffed when a song dates back to my youth.
We like to create a party for no reason and splurge on ice-cream delivery. My go-to is Kind Kones, since the delicious ice-creams are free from dairy, soy, refined sugar, eggs, preservatives, and artificial additives.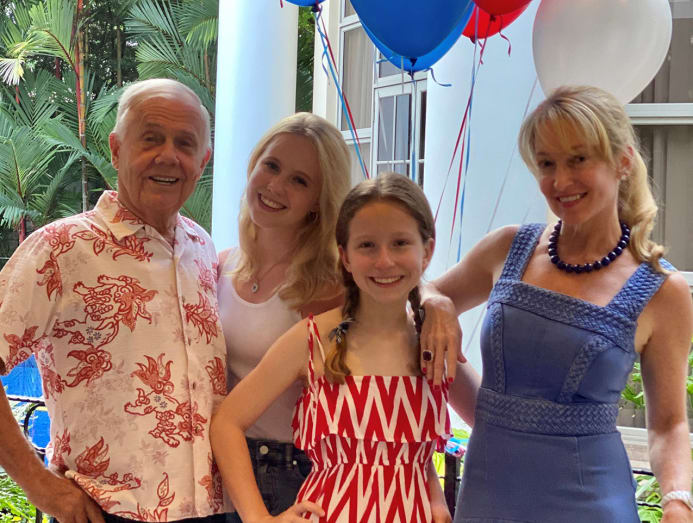 Mercifully, online offerings for little ones, who need more tending than teens, are in abundance.
Singapore Repertory Theatre is offering a Digital Stage Camp for kids aged four to six. Singapore Symphony Orchestra has an ongoing online concert for children aged four and up that may be downloaded and played till Jun 19. Singapore Dance Theatre has filmed its much-loved Peter and Blue's School Holiday ballet, which anyone can watch, whenever they want, on YouTube.
As a mother of a daughter in secondary one, I vow not to over plan. School for our children can be intense with homework for the holidays, so we parents should not add more stress to their lives. They need downtime too (which doesn't mean phone time) and no, a bit of idle time doesn't mean they are bored. Time for introspection is healthy. Treating June as a holiday – and not another opportunity to "enhance" our children – will be beneficial for everyone.
SHIREENA SHROFF MANCHHARAM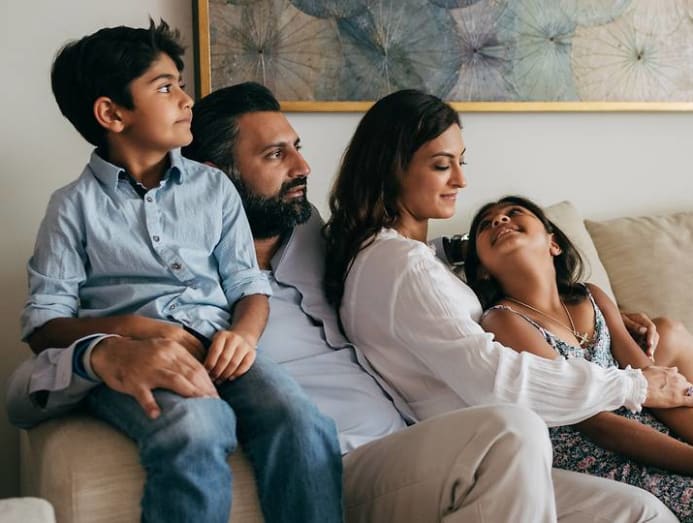 From circuit breaker last year and based on all the activities my family and I did, I created Getting To Happy, which is a box set of 31 cards that inspire ways to bring happiness into your life. By practicing these daily reminders, I hope to increase the physical and mental well-being of everyone in our community.
Some things we implemented as a family during circuit breaker last year, that we continued this year, include daily walks, meditation, yoga and stretching, reading, and practicing gratitude. We found that creating a routine for the kids, which started with them getting fresh air in the mornings, helped them start the day with a clear and fresh mind. The morning walks are short, but they are also a chance to bond with their father before he starts his day. They talk about their dreams, current affairs, make up stories, or just enjoy the peace and quiet around the neighbourhood.
For the mental well-being of my kids, I also encourage them to do a little round of yoga stretching and meditation each evening before dinner. It helps them unwind and they use it as a chance to "let go" from the ups and downs of the day.
We plan family nights during the week, where we play board games, sing karaoke, or watch a movie together. It helps the children look forward to small moments in the week, and also provides glimmers of happiness, especially when we feel burnt out from work.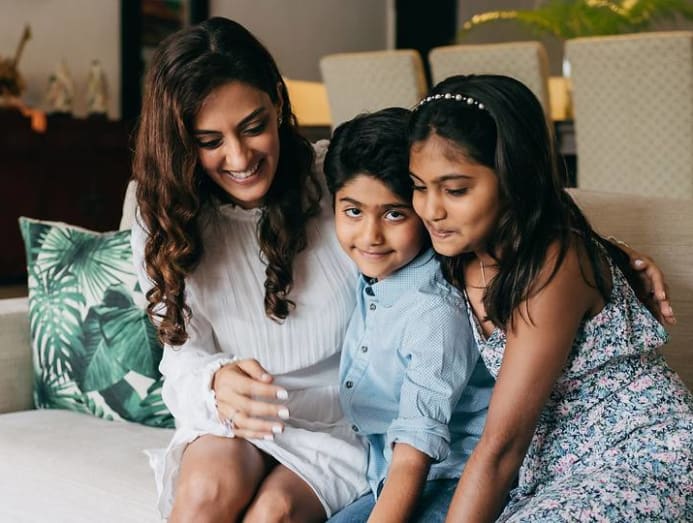 During the school holidays, I think it's important to also encourage daily life-long habits of responsibility, so my kids help to set the table for meals, tidy their own rooms at the end of the day, take the dog out for walks, and as a family at dinner we talk about the high and low points of each of our days.
We need to look at our children's time outside of school as moments to recharge while also maximising the time they are home with us to teach them about self-care, exercise, gratitude and planning to make the most of this precious time.
TJIN LEE
We have been keeping eight-year-old Tyler and five-year-old Jake busy with creative activities and games at home. We've been making stop-motion videos, helped Tyler start his own YouTube channel, built a Lego city, and have been busy with making art, crafting and painting.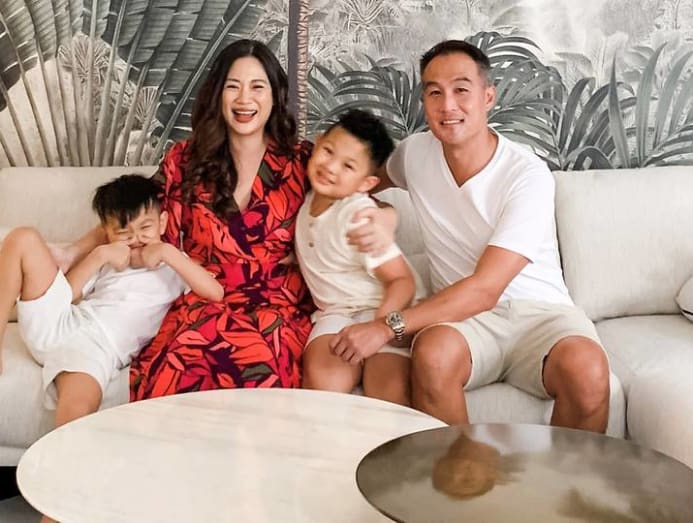 I also let the boys take part in activities I am involved in, such as making floral arrangements and helping to bake and decorate cakes. We made trips down to the Dale Chihuly: Glass in Bloom exhibition at Gardens by the Bay, which was quite a lovely time outdoors. I created a scavenger hunt game for them at the Natural History museum (such as finding the biggest spider, or the caveman's skull) to let them stretch their legs, blow off some steam and get off their screens.
It is challenging to find a balance of staying home and keeping kids off their screens. Going out with them one at a time on limited outings helps them get some exercise and fresh air.