'I was definitely not a good student': Secretlab co-founder Ian Ang
Despite a subpar performance in school and being a university dropout, Ian Ang, 28, went on to co-found gaming chair company Secretlab and was recently named Singapore's youngest Entrepreneur of the Year. CNA Luxury chronicles his journey.
By all appearances, Secretlab's co-founder and self-dubbed "architect" – the youngest winner in the history of Singapore's EY Entrepreneur of the Year for Consumer Products –appears to fit the paradigm of a progressive millennial start-up CEO. For one, he eschews a hierarchical slant on management for one that is more egalitarian.
"Here, the best ideas win. Yes, we have our managers, but if the intern has a better idea, we want to ensure it doesn't get drowned out," he said.
Ang admits, somewhat impassively, that his mother still proffers him brochures advertising higher education courses. Such unsubtle hints to pursue a conventional degree are still directed at the university drop-out, despite the fact that his gaming chair company Secretlab was valued between S$200 million and S$300 million last year. Since then, the global empire has charted multifold growth, and is on track to selling a million chairs this year.
Perhaps what's more surprising, is how the 28-year-old erstwhile business student does not blithely disregard the notion of returning to school. In retrospect, he regrets not studying engineering. "Having a hard skill gives you the ability to create something. I work with a lot of industrial designers at Secretlab, and seeing how these guys think and work is inspiring," he shared.
Secretlab's youthful dynamic and quick pulse are apparent. Inside its Tardis-like showroom/office, an excitable creative consultant provides art direction for Ang's photoshoot with suitable ebullience, while at the sidelines, his smartphone-toting teammate captures the tableau.
Banking a fiefdom of employees ensconced in sizeable gaming chairs, are the Game of Thrones-inspired lairs of the "Protector of the Realm" and the "Warden of the North", as Ang and his co-founder Alaric Choo are respectively dubbed.
The former's is strewn with personal paraphernalia: A tub of protein powder and electric guitars propped up behind the amateur musician's desk. "It's important to note the tempo of the games when I direct videos for new launches," he said, adding that both him and Choo are personally involved in everything from product design to marketing.
A mutual love of gaming crossed the trajectories of the pair of semi-professional StarCraft II players when they met at a local e-sports tournament. Since then, Ang shares, they have transitioned into adulthood together as gaming buddies and – later, in 2014 – business partners.
"Here, the best ideas win. Yes, we have our managers, but if the intern has a better idea, we want to ensure it doesn't get drowned out." – Ian Ang
SCORING SELF-IMPROVEMENT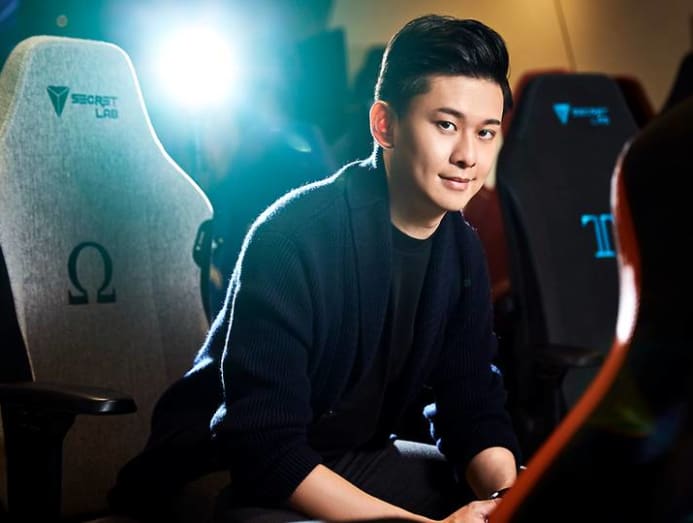 Like countless adolescents who came of age in the noughties, and have woolly memories of subpar internet connectivity, Ang's initiation into the gaming circuit played out in a LAN shop.
These were typically frowzy establishments tuned to a soundtrack of clacking keyboards and sporadic laughter. He began playing games such as Counterstrike and Dota competitively when he was 13, which culminated in a win at a regional StarCraft II tournament at the age of 18.
"My win caused quite an upset, as Australians were better gamers than Southeast Asians back then," he recounted.
Apart from the buzz associated with trouncing opponents, the contemplative player asserts that the energy he channelled into the real-time strategy game has been parlayed into skills such as self-discipline and awareness.
"The game taught us the concept of self-improvement. If you want to improve at all costs, you have to set aside your emotions and ego, and assess your abilities," he asserted.
Trust an inveterate gamer to wax lyrical on the cerebral qualities of commanding a fractious sci-fi universe – StarCraft II's – premise. "Games are a platform where you can make mistakes and still be alright at the end of the day, whereas real life isn't so forgiving," he added.
As it turns out, soaring rankings that materialise in the glare of a computer screen don't necessarily translate to outstanding academics.
"I was definitely not a good student. Growing up, I gamed and played a lot of sports. There's always a trade-off when you do so many things, and for me, it was sleep and my performance at school," he confessed.
The fresh-faced entrepreneur reveals, puckishly, that his parents were oblivious to his habit of rising at three in the morning to play computer games till it was time for school.
Standard youthful transgressions aside, Ang carries the patina of discipline. The son of automobile workshop owners shares that his parents unknowingly moulded him into an entrepreneur.
"My mom, who is the accountant of the family, made me fill out an excel sheet with projected expenses before I could claim my allowance. This has made me very pragmatic about business expenditure," he mused.
Later on, his parents overcame their initial reservations and were supportive of Ang's decision to quit school and pursue his business venture. The then 22-year-old made what he calls a calculated risk, pooling S$50,000 in savings with Choo to bootstrap Secretlab.
"I was definitely not a good student. Growing up, I gamed and played a lot of sports. There's always a trade-off when you do so many things, and for me, it was sleep and my performance at school." – Ian Ang
LEVEL UP
While the company broke even within a month of launching their first product, Secretlab THRONE V1, the duo were not satisfied with a "gaming chair du jour" distinction. Over the years, they have invested significantly in research and development.
One of the team's low points, Ang reveals, is realising that they had underestimated the effects of humidity in earlier iterations of their chair. They subsequently worked with A*STAR to improve its leatherette's durability, and offered existing customers replacement programmes tagged with subsidies.
On the creative front, Secretlab has partnered titans of the entertainment and gaming worlds – including HBO, Warner Bros., and Blizzard Entertainment – to release limited edition products. Collaborating with video game developers behind seminal franchises he grew up playing, Ang, effuses, is akin to describing a full circle.
"Being able to talk to the team behind Warcraft and listening to their take on artistic direction has been amazing. We initially had the perspective of fanboys, but our relationship has evolved to hold a lot of mutual respect," he said.
Steering a business fuelled by a personal hobby, he shares, has not diminished his passion for it, though he admits that busy intervals may be punctuated with weeks devoid of gaming. When he does, however, find time to play, the highly competitive individual dives right into ranked games.
"It's difficult for me to just sit down and play casually; there needs to be a goal and constant improvement," he shared, offering that he counts Diablo, World of Warcraft and PUBG among his favourite games.
But why not pursue a career as a professional gamer to begin with?
"The Koreans are just too good at Starcraft. It's like a national sport to them, so the gap in ability was too big," he said, grinning. Nonetheless, the self-professed introvert is closely watching the global e-sports industry – which, according to market research resource Arizton, is projected to reach revenues of US$3 billion (S$4.07 billion) by 2025.
"Right now, the entire gaming ecosystem is being built around the premise of watching video games being played. We are not even halfway there, and stakeholders – from game publishers to sponsors – are still figuring out how to bring value to the ecosystem," he explained.
According to those in the know, at least, Secretlab's value proposition is plumb where it should be, with the company having won accolades from geek pundits such as CNET and PC Gamer.
Ang, who is cognisant of the pains of global expansion, complacence is untenable.
"The safest way to guarantee a company's survival is to keep innovating and growing. If you think what you have is enough, it is just a matter of time that somebody with more resources and motivation will knock you off your perch," concluded the business mogul, who offered that his personal avatar would best be described as an "agility hero".
"The safest way to guarantee a company's survival is to keep innovating and growing. If you think what you have is enough, it is just a matter of time that somebody with more resources and motivation will knock you off your perch." – Ian Ang