This Singaporean chef wants to usher in a new age of Asian cuisine
Restaurants all over Asia look to the western world for inspiration and technique, but why not plumb the depths of culinary treasures that Asia has to offer? That's the ethos behind Singaporean chef Ace Tan's "progressive Asian cuisine".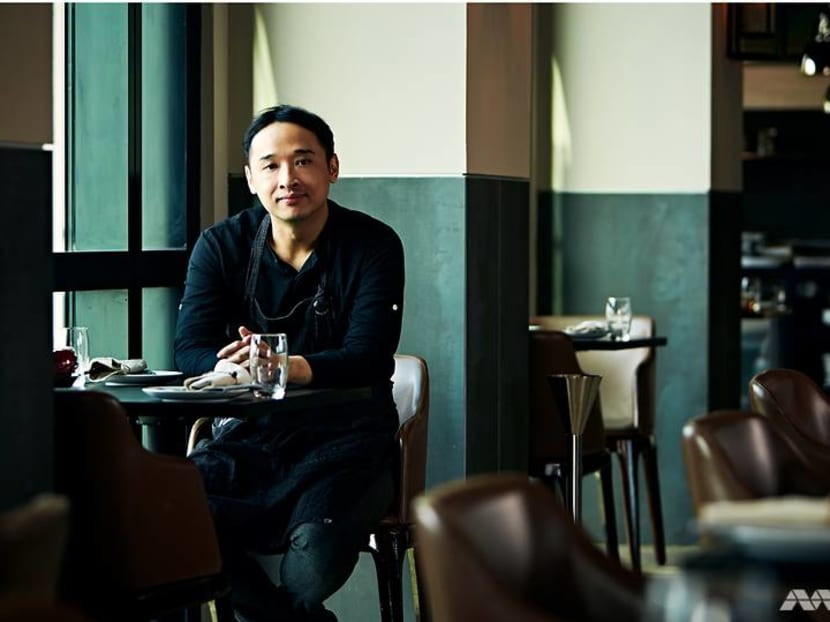 If there's one thing chef Ace Tan has in spades, it's ambition. Three years ago, along with chef and business partner David Lee, he opened a fine-dining restaurant of lofty scale; one that even far more established chefs would think thrice about.
The restaurant had all the trappings of a big-name fine-diner: Two-storey shophouse, sombre dining room, starched tablecloths and a unique cuisine they labelled New Asian, which essentially translated to Asian ingredients parsed to fit into the traditional Western fine dining format.
When Restaurant Ards – an acronym for Asia, Roots, Distinct, Singular – shut barely six months later, few pundits were surprised. The duo lacked the experience, maturity and recognition needed for a project of that scale to succeed.
But that was then. Now 38, Tan recently returned to Singapore's dining scene after a year-long stint as executive sous chef at Michelin-listed Flowerchild Restaurant in Seoul.
Today, at the newly minted 1-V:U (pronounced "one view") Day Club and Restaurant at the rooftop of Sentosa's The Outpost Hotel, where he has taken the mantle of head chef, Tan looks relaxed, confident and ready to usher in his new brand of Asian cuisine that he hopes other chefs will embrace as well.
FIND A WAY, OR MAKE ONE
"Ards was a good learning experience," he said reflectively. "We thought that as long as the food had a point, success would come if we persevered. But that didn't translate to good business. We realised that a two-storey fine dining restaurant in Duxton was a challenge to sustain, especially in Singapore where the competition is tough. David and I didn't feel like the cuisine was a failure; we just weren't mature enough to understand the business."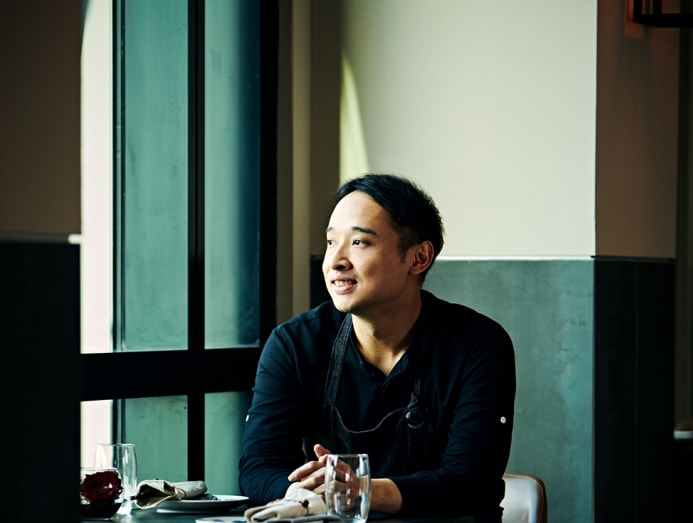 At 36 years old when Ards closed, Tan could not be considered a young chef. But he'd had a late start in an industry where many chefs begin their careers from as young as their teenage years. His passion for cooking was ignited when he found himself watching cooking shows round the clock after taking a break from his advertising job at age 27. With no culinary experience to speak of, he wrote to fine dining restaurants across Singapore asking for a job. Not one replied.
Undeterred, he walked into a mid-range mall restaurant and asked if they would hire him. "I knew I had to start somewhere. I just wanted them to give me a job; they didn't have to pay me," he recalled. Naturally, they said yes. The next year was spent working from the ground up, washing rice, making salads, chopping onions and peeling potatoes. In the years since, Tan has worked his way up from mall restaurant to higher-end mall restaurant, to mid-range standalone restaurant, and eventually the likes of acclaimed establishments like Pollen and Les Amis.
"Ards was a good learning experience. We thought that as long as the food had a point, success would come if we persevered. But that didn't translate to good business." – Ace Tan
LOOKING INWARDS
Time and experience hasn't tempered Tan's passion for redefining Asian cuisine. Over the last 18 months, he has thrown himself into gleaning a deeper understanding of the origins of Asian food and questioning what he thinks he knows.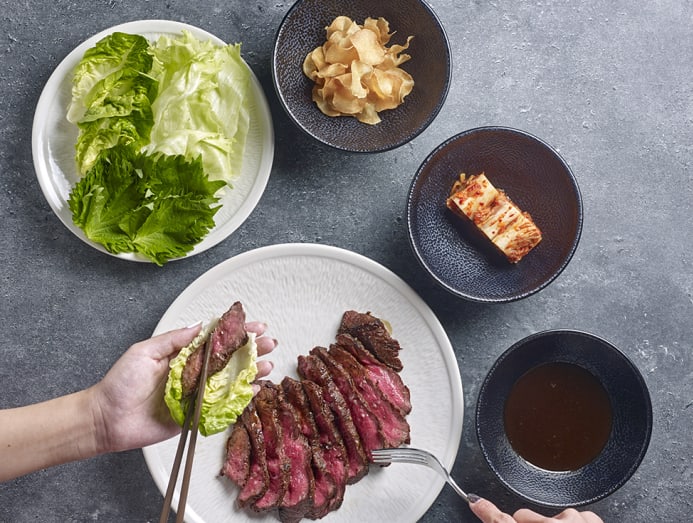 He has since parlayed that knowledge into a new dining experience, one rooted in a solid identity and the desire to connect with people through food. "I don't need the white tablecloths and five servers around each table checking on what cutlery diners have anymore," he said. "The food just has to be good."
1-V:U which is owned by the 1-Group, which is behind concepts like Stellar at 1-Altitude and Monti – comprises a breezy day club and an adjoining restaurant appointed with an open kitchen, sumptuous wicker chairs and teal sofas. Here, Tan serves a menu that is described as a "bold, progressive take on North-East Asian cuisine". The food is served communal-style, even if you order the tasting menu.
Happily, Tan manages to harmoniously meld influences from all over the region, such as in a starter of Indian puri shells filled with diced yellowtail sashimi tossed in a korma, coconut and lime dressing, or a hot French bean and wing bean salad dressed in an Indonesian bumbu sauce and natto.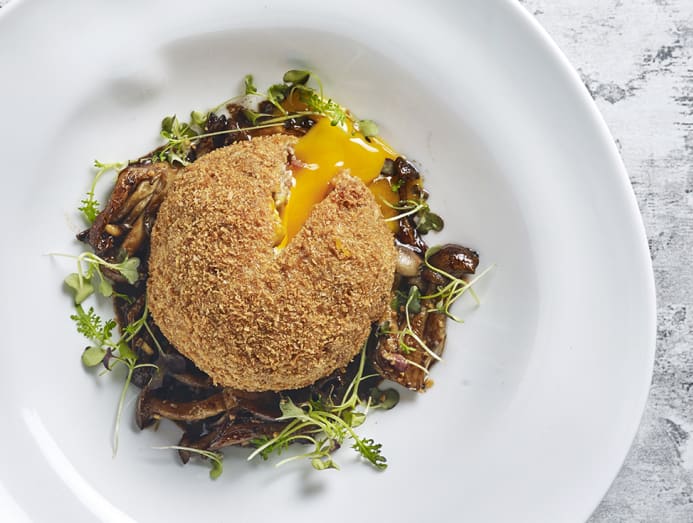 If there's anything he's learnt in the last couple of years, it is that people need to recognise what they are eating in order to understand the food. "At Ards, we experimented with a lot of fusion components and called it 'New Asian'. Now I'm calling it 'Progressive Asian' as I designed a menu where people who are not from Asia can recognise what they are eating without the servers having to explain too much to them. That is the starting point of the progression.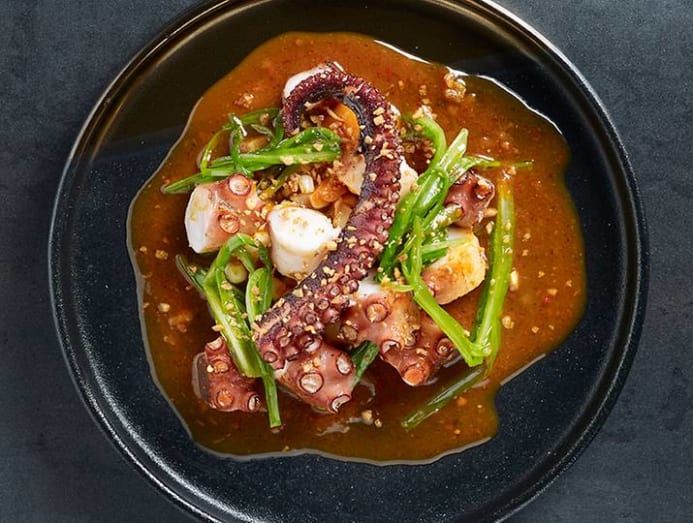 "As we progress, I want to strip away my dependence on French and western techniques and instead use what I've learnt from my travels to Korea, for example, to improve the identity of the cuisine so that it can evolve into its own persona. People won't question whether it's east or west, or what percentage of each is in the food. It can stand on its own as a new form of Asian cooking."
Little effort has been spared in his research, from experimenting with making his own koji and soy sauce, to learning the history behind now quotidian Asian condiments such as oyster sauce. "For our cuisine to be stronger, we need to understand our history. I'm trying to extract different parts of Asia and combine them in my dishes."
"For our cuisine to be stronger, we need to understand our history. I'm trying to extract different parts of Asia and combine them in my dishes." – Ace Tan
ASIA MAJOR
Where many chefs have looked to the western world for inspiration, Tan wants to turn the focus back to Asia. "The region is so big and I think it's important to find out what's happening in Asia, and not so much about what's happening in the west. I want people to see Asia in a new light through my Asian cuisine.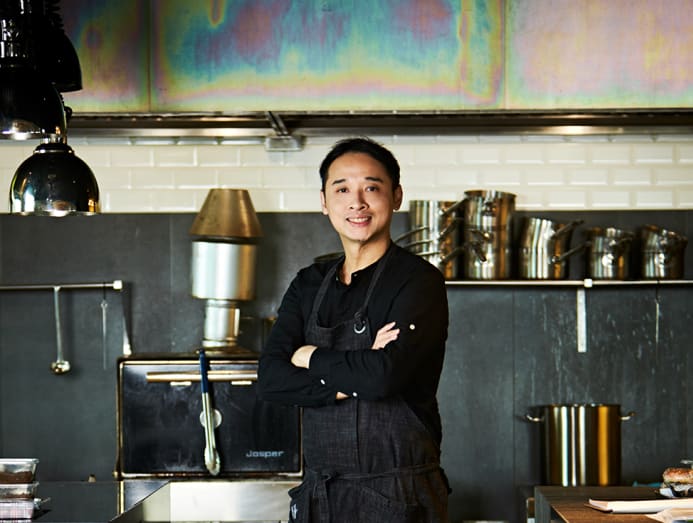 "What I want to achieve eventually is to inspire a new generation of Asian chefs to create their own version of Asian cuisine. I hope to build a community of Asian chefs with different perspectives, who will open themselves to researching Asian culture."
To that end, he is planning collaboration dinners with other Asian chefs so that they can learn from one another, but the most pressing matter at hand is getting diners to come to the restaurant which opened just as the COVID-19 outbreak hit Singapore.
"Our timing could not have been worse," Tan said with a smile, "but I've told my staff that this is a good time for us to settle in and concentrate on doing our research." Evidently, with this endeavour, Tan is amply prepared.
"What I want to achieve eventually is to inspire a new generation of Asian chefs to create their own version of Asian cuisine. I hope to build a community of Asian chefs with different perspectives, who will open themselves to researching Asian culture." – Ace Tan