In Singapore, an 80-year-old vintage car collector with a thirst for adventure
Former businessman Larry Lim fulfilled a boyhood dream with a classic car collection comprising two Rolls-Royces and two Bentleys. He now spends his retirement years going on epic adventures around the world.
In partnership with Diageo.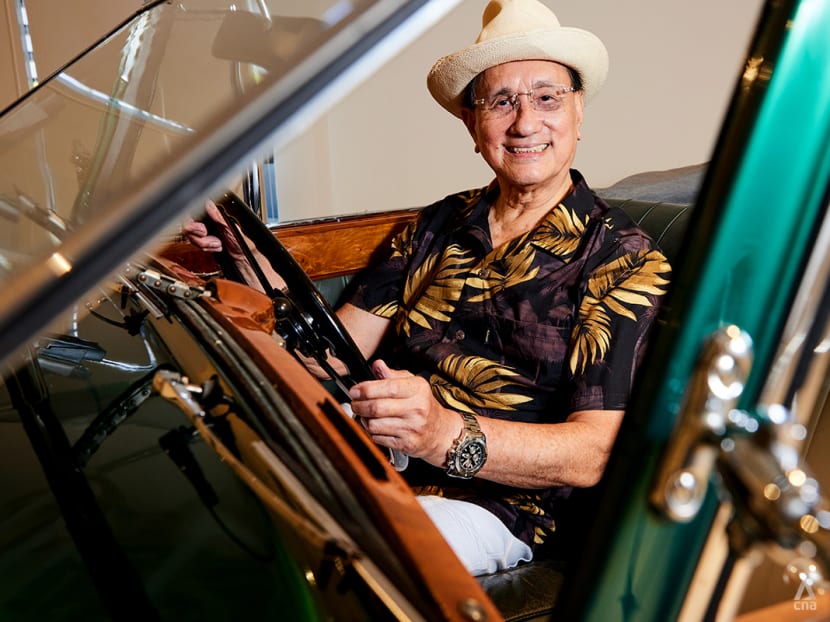 Once in a rare while, even a lifetime perhaps, you meet a gentleman like Larry Lim: A spritely octogenarian as precious as the vintage automobiles in his marvellous classic car collection. 
Garbed in a dark-coloured floral shirt and light grey trousers with a newsboy cap on his crown, Lim looks just as you would expect; like he's just stepped out of the frame of a far more romantic epoch, and with the era-defining social graces to match. On his feet, curiously, a pair of Skechers sneakers. They must be very comfortable, I think quietly to myself.
We are at Wearnes Automotive's Bonded Gallery, a S$30 million, climate-controlled storage facility in Singapore where, amongst the parade of flashy Ferraris, vintage Jaguars and impossibly beautiful Bugattis, Lim's collection of four classic cars take pride of place.
I notice fewer cars showcased today than when I was here last, and a Wearnes representative tells me some of these prized possessions have gone home with their owners who have bid farewell to Singapore due to the prolonged pandemic. Some back to Indonesia and others, belonging to former expats, migrating much further west.
THE JAMES BOND BENTLEY
Watching the 80-year-old retired businessman and Alex, his mechanic-turned-friend of 40 years dressed in much the same style, potter about the cars is quite a sight, reminiscent of a scene straight out of an old Hollywood film. 
They're preening and prepping a starlet for our shoot, making sure that every inch is spotless and sparkling; aluminium glorious and gleaming, and leather supple and at her lustrous best.
The "she" in question is a 1939 Bentley 4¼ Litre Drophead Coupe, the very last of the Derby Bentley MX series ever made, named such as they were built in the Rolls-Royce factory in Derby, England.
Incidentally, the Drophead 4¼ Litre has its place in movie history as it also starred in the 1983 movie Never Say Never Again alongside the late Sean Connery as James Bond.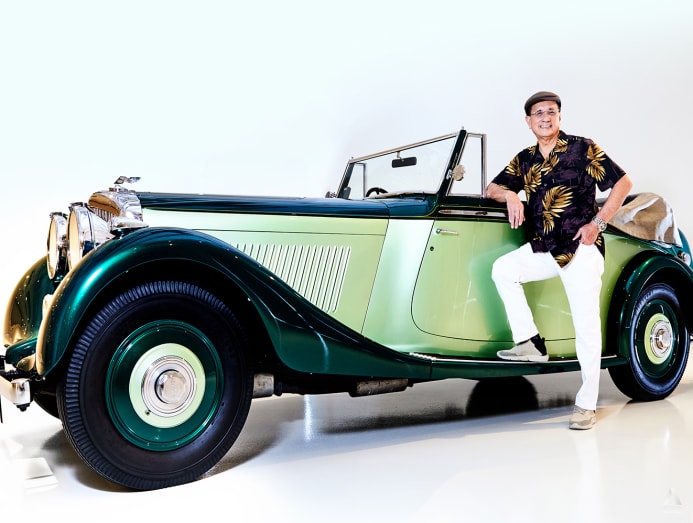 As for the one in Lim's custody, it's a two-tone beauty a gorgeous shade of British racing green with a metallic sheen, matched with a much lighter mint.
"Back in the day, metallic car paints were made from fish scales," he offered.
Storing the cars in this facility ensures a constant relative humidity of 55 per cent, which helps protect the metal, leather, woodwork and paintwork from rust and other environmental degradation.
When the facility opened in 2019, Lim shifted the four cars here from his home.
"I used to keep them in my lounge but after my daughters gave birth to my grandchildren, we needed more space so I moved two of them out of my living room and put them in a car cocoon in the car port and then in car capsules within my compound," shared Lim, whose current daily drive is a Mercedes-Benz GLE450.
A BOYHOOD DREAM
It's Lim's other Bentley, though, that first fired his passion for automobiles.
He recalls the exact moment when, at the age of 12, he was browsing car magazines at a bookshop along Bras Basah Road and the Bentley R-Type Continental caught his eye and captured his imagination for decades to come.
"The year was 1953 and the writer had written in the magazine: 'To sit in a Bentley R-Type is like riding in a modern magic carpet. To shift the gears is like a hot knife cutting butter.' And I said to myself, 'Someday, I hope I can own this'," he reminisced.
Decades passed and Lim dabbled in motor sports racing in the 1970s and 1980s, in autocross racing and carpark rally events in Singapore whilst working in the automotive industry during this period.
In 1987, he left the country to start a supermarket business in Papua New Guinea, which evolved into a successful wholesale business and his empire grew to include a travel agency and a hotel, later expanding to Australia with a hospitality business comprising hotels and motels.
He was also appointed Singapore's honorary-consul general for Papua New Guinea from 1994 to 2002.
It was around this time that Lim would set his boyhood dream in motion.
"I started looking for people who owned the Bentley R-Type Continental and I found a handful of owners in the whole continent of Australia and I called them up one by one," he recounted.
"The first and second said 'no' to selling it but the third one said 'yes', as he had incidentally just had a leg operation and was considering selling it."
From Sydney, Lim flew to Melbourne to meet the fellow car collector and scooped up his dream car in 2001. Only 208 units of the model had ever been produced and it is believed that just 70 per cent of which remain in existence today.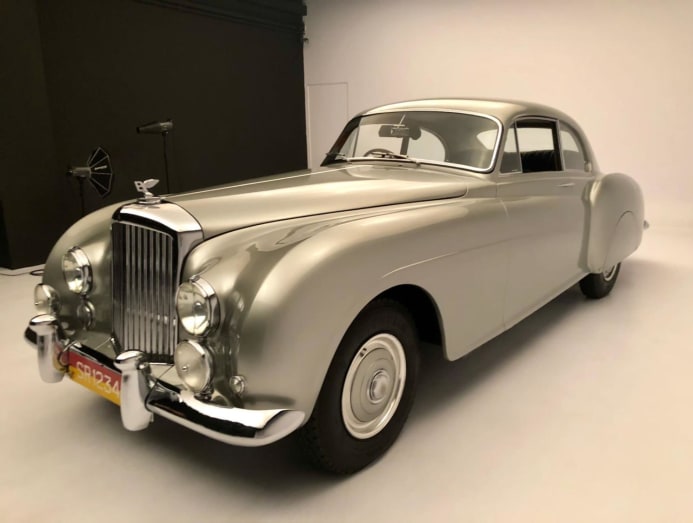 The car, however, was not in the tip-top condition it is today.
Thankfully, Lim was introduced to a well-known restorer in Perth, Western Australia, who already had a working relationship with Rolls-Royce and left the car in his care as he spent the next two years painstakingly restoring the 1953 Bentley to its former glory.
"It's the world's longest two-door car and was the world's fastest four-seater coupe at the time," Lim spoke of his pride and joy with a glint in his eye.
About a year later, Lim had the serendipitous chance to drive his Bentley some 3,800km from Sydney to Perth in the 2003 Rolls-Royce Federal Rally, as well as in another event in 2005, where he drove it coast-to-coast from Fremantle in Perth to the Central Coast in New South Wales. 
These might have been the catalyst for Lim to put his retirement plan into effect.
Itching to travel the world, he sold the business in Papua New Guinea in 2005, but kept his hospitality business in Australia, which was managed by one of his daughters until seven years ago when he finally sold everything.
In addition to the two Bentleys, Lim also owns two vintage Rolls-Royces, each with their own storied histories.
The first, a 1926 Rolls-Royce Twenty Connaught Tourer, is a striking yellow and black head-turner that was found in a jungle in Perak and brought back to Singapore to be lovingly restored with Alex's help 40 years ago. It is one of only three cars of its kind ever made, and has won several titles in vintage car categories in Singapore and Malaysia since the 1980s.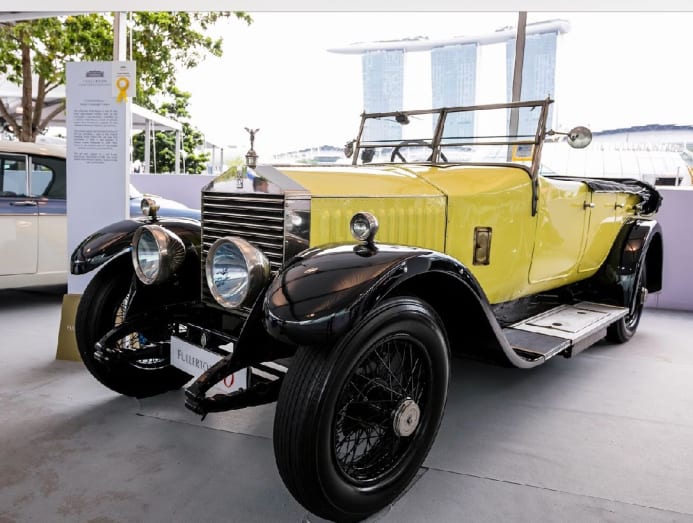 In 2001, Lim even drove the now 95-year-old Rolls-Royce from Singapore to Penang and Cameron Highlands and back. Three years later, he shipped the car to Kuching, Sarawak, to join the Tour of Borneo drive trip with 64 other Rolls-Royces and Bentleys organised by Rolls-Royce Enthusiasts' Club of England, driving up to Bandar Seri Begawan in Brunei and finally finishing in Sabah before shipping the car home.
The fourth and final model in Lim's prized collection of vintage vehicles here in Singapore is a black 1970 Rolls-Royce Corniche Convertible, another award-winning classic beauty that Lim had driven from Sydney to Darwin in Australia, and from Singapore to Thailand before being shipped to Northern China and driven all the way home back in 2006.
"That was a very memorable trip. We went right up to the Russian border, down to Central China, crossed into Myanmar, Thailand and Malaysia back to Singapore," he shared.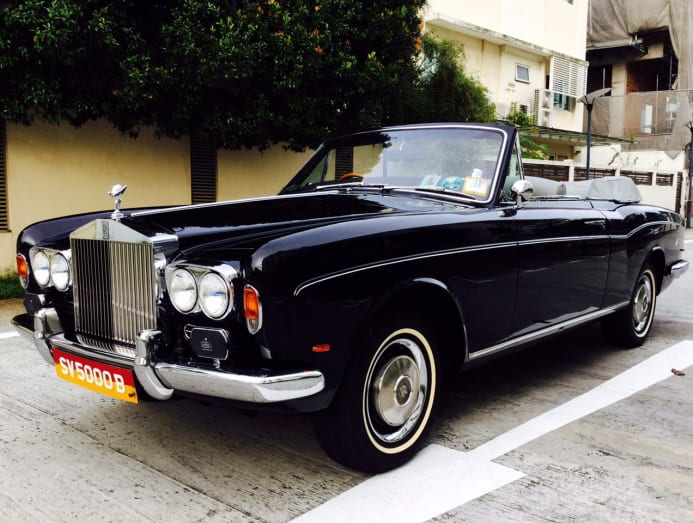 At his Australian residence in Sydney, where he had been living for 30 years pre-pandemic, Lim has a Bentley Azure, a four-seater convertible grand tourer which he bought in Singapore 22 years ago and shipped Down Under, as well as another Mercedes-Benz SUV for daily runabouts.
He also has a Toyota Land Cruiser, good for rough and rugged road trips around the world. The Australian-registered vehicle is now residing in Johor Bahru and awaiting its transfer back to Australia.
A THIRST FOR ADVENTURE
Becoming a grandfather has not slaked Lim's thirst for adventure one bit.
In fact, he's been making the most of his retirement years these past 20 years, organising exotic drive trips with friends for two to three months at a stretch.
These are planned about a year or two in advance for a 60- to 80-day trip, and his wife Daisy will come along for a total fleet of five cars travelling together.
"She enjoys a four-wheel-drive more than a Rolls-Royce or Bentley trip, and she's down-to-earth so if there is no hotel accommodation, she's happy to camp," he said.
So for these trips, it's their trusty Toyota Land Cruiser he'd ship over.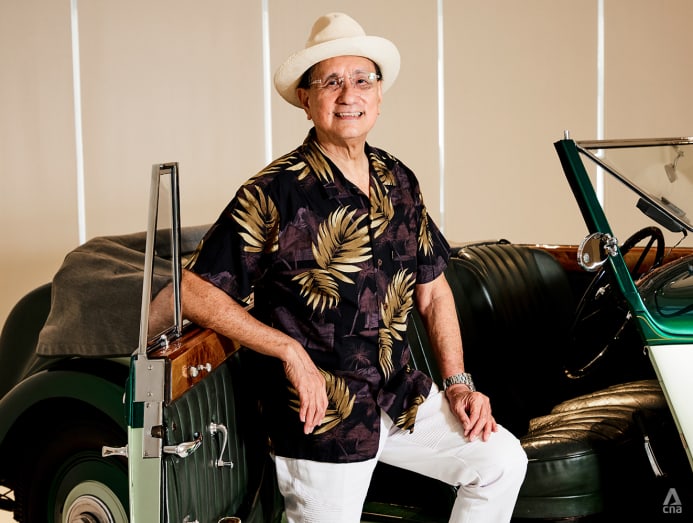 Sometimes, though, the deep travel nature of their trips makes it unwise to bring their own cars – like the time they adventured through Patagonia traversing Chile and Bolivia; their last drive trip before COVID-19 shut down borders.
"We did it in a hired car because we were advised by friends in Colombia not to bring our own cars as it's not safe and might get carjacked," he revealed.
Another big tip Lim offers when planning such cross-country road trips is to always engage a local guide, especially in higher-risk areas and where police corruption may be rampant.
"Crossing the different borders in Africa, for example, could mean a different language. And for us, we're new there and can't negotiate and we don't have time to wait. So we normally have to pay and go and let the local middleman settle it then reimburse them later," he said.
On another fantastic voyage, Lim and friends drove from Cape Town to Cairo, journeying through 12 countries including Kenya, Malawi, Tanzania, Ethiopia, and North and South Sudan.
"There are no roads in some of these places; only tracks. Such drive trips allow us to go to remote places such as Makgadikgadi Pan in Botswana, which we really enjoyed. It's one of the largest salt flats in the world and you see nothing but flatlands 360 degrees all round. The sunsets and sunrises are fantastic here and you feel like you can touch the stars above you," he said, beaming widely at the memory.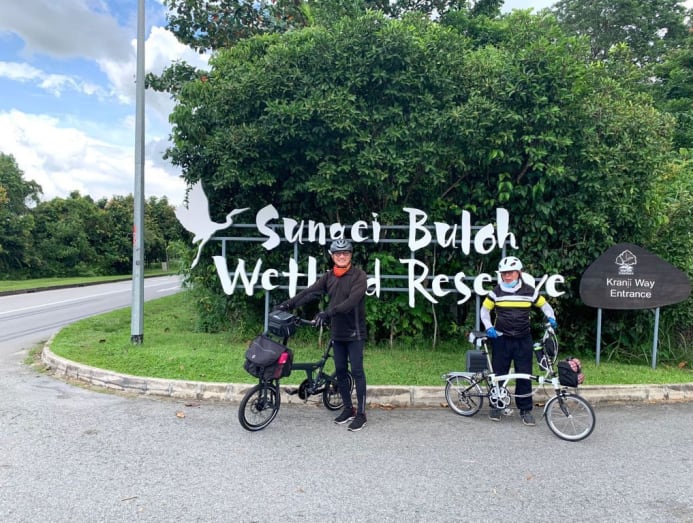 In Sudan, the retirees battled a fierce sandstorm that hit unexpectedly.
"We could not reach our hotel in time so we had to spend the night in the desert. My wife and I decided to recline the seats and sleep in our car while the rest pitched tents. After dinner, the sky suddenly turned dark and we were hit by a sandstorm. We realised my camera was on the table outside but the pressure of the sandstorm was so strong I couldn't even open my car door," Lim described.
"You could see the tents moving with the lights on, like clothes in a tumble dryer. And when our friends emerged from the tent the next day, they looked like mudmen covered in perspiration and dust," he continued with a chuckle.
While the pandemic put pause to such epic escapades, Lim and friends have not stopped planning for their next trip: Taking on South America again but this time, to Brazil and other regions they didn't cover in their previous Patagonian expedition.
In the meantime, the energetic octogenarian has been staying fit and healthy cycling with his buddies regularly, even riding up to nine hours covering 145km around the entire island of Singapore.
And, of course, keeping his boyhood dreams alive through his passion for these precious vintage beauties displayed in Wearnes' gallery.
"Not to sound like Patek Philippe but I restore and preserve these cars for future generations to appreciate," he said.
The Prima & Ultima Second Release Collection by Diageo Rare and Exceptional consists of eight bottles of ultra-rare vintage single malts from Diageo's historic stock of its finest distilleries. Only 376 full sets are available globally.
In Singapore, The Prima & Ultima Second Release Collection is available from Diageo Rare and Exceptional Singapore. Email PrivateClientSG [at] Diageo.com