The Singaporean fashion designer who dresses brides, politicians and royalty
Kavita Thulasidas took over the reins of her family's Indian fashion boutique, Stylemart, at the young age of 24. Since then, she has infused other Asian cultures into her designs, creating uniquely Singaporean creations.
Stepping into Stylemart's boutique on Selegie Road, you are immediately greeted by a resplendent array of colours. Hanging on the racks and elegantly draping over mannequins are saris, lehengas, gowns and more, each intricately embroidered and exquisitely tailored.  
The designer behind them all is Kavita Thulasidas, who took over the family business from her mother.
The history of Stylemart, in fact, can be traced back to the 1950s. "It started off as a shop in Changi Village where my grandfather used to tailor suits and uniforms for British officers of the Royal Air Force (RAF)," the 47-year-old shared.
In the early 1980s, her mother, Huri Buxani, took over the business, turning it into a high-end Indian bridal fashion boutique. "She was actually the first to bring high-end Indian fashion to Singapore," Thulasidas revealed. "For brides who were getting married, there was no question of them stopping by Stylemart to shop."
Thulasidas was involved in the family business from a very young age. One could say that a penchant for fashion design runs in her blood. "I was one of those fashion-savvy teenagers, and I was just naturally interested in the business," she shared.  
The designer recalls travelling to India with her mother on merchandising trips, where she was exposed to the fascinating world of fabrics, textile weaving and embroidery. "I think I was a bit of a pain to the team in India at the time. You know, this little girl comes in, doesn't really know anything, but starts pushing them to try this, try that," she recounted with a laugh.  
At 18, most youths would still be finding their passion in life. But at that age, Thulasidas had already launched her debut collection.
She officially took over the reins of the business six years later, at the age of 24. That was 1999, and the world was still reeling from the Asian Financial Crisis. Back then, Thulasidas was married and living in France (more on this later) but decided to return home to help her mother.
"It was a very difficult time and I think that was when my input was most valued," she recalled. "I told my mother, 'Let's combine my strength, my youth, my energy with your wisdom and years of experience, and let's make something happen.'"
Armed with fresh ideas to turn the business around, Thulasidas embarked on a rebranding of Stylemart in order to expand its clientele.
"I wanted to do something more exclusive, more upmarket and diversify from bridal wear to couture, evening gowns and party wear," she recounted. That's when she began experimenting with fusing other Asian cultures into her designs, creating uniquely Singaporean creations.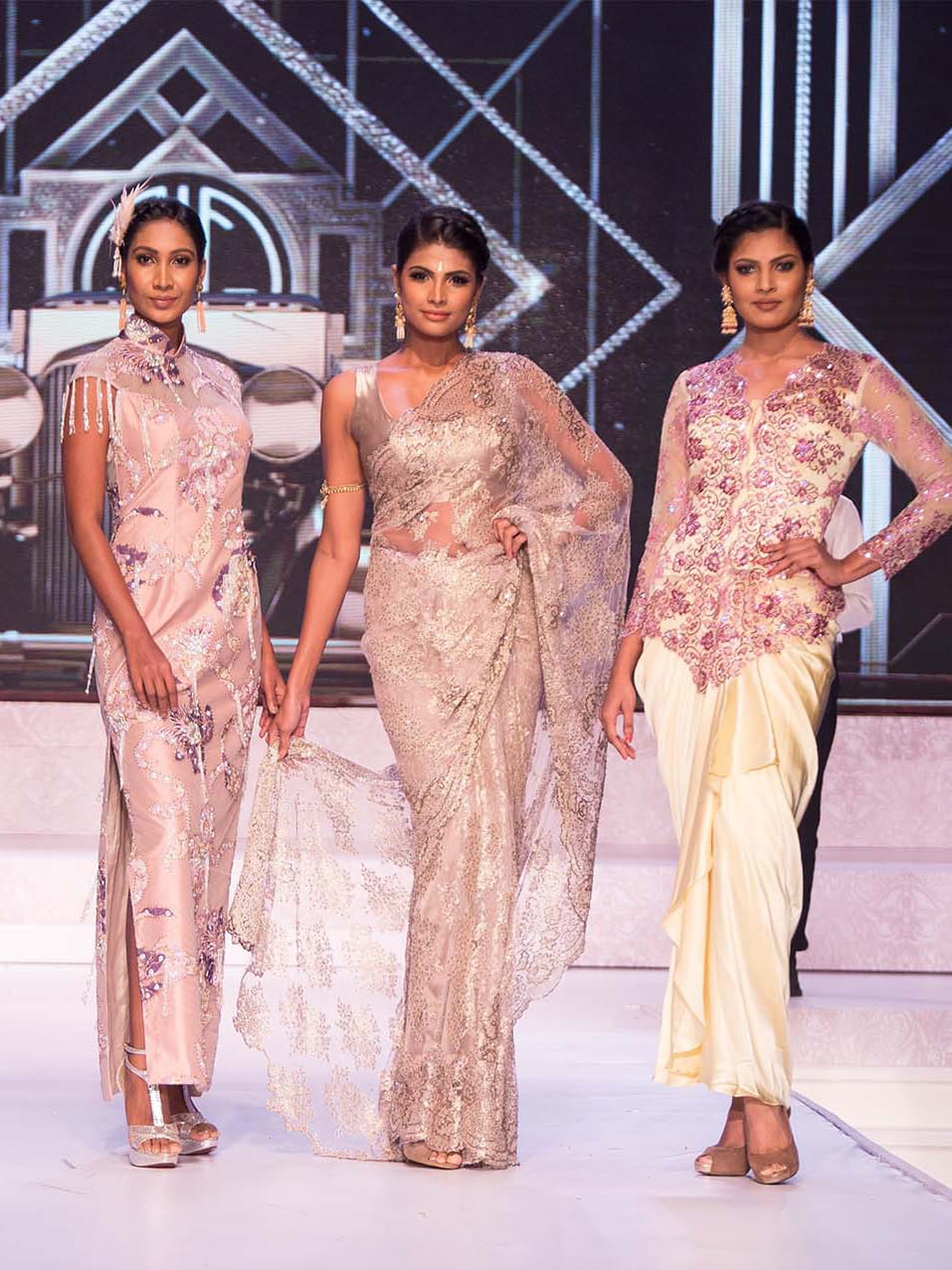 For example, qipaos and kebayas are designed with Indian embroidery, while batik is used for saris. "We moved from being a household name within the Indian community, to becoming a Singapore fashion label," she said.
UNIQUE CREATIONS WITH AN ASIAN TWIST
Today, Thulasidas is one of Singapore's most established fashion designers. She counts ministers, media personalities, as well as royalty from around the region as some of her clients.
This year, she was one of eight local designers chosen to showcase at #SGFASHIONNOW, the first contemporary fashion exhibition by the Asian Civilisations Museum (ACM). For the showcase, Thulasidas designed an elaborate kebaya sari, featuring intricate silk thread embroidery.
"I think it's really important to have clothes and designs that are classic," she says of her design philosophy. "My signature style is one-of-a-kind pieces that use very skilled craftsmanship. Each piece has an Asian twist and is true to the ethnicity it belongs to."
In 2005, Thulasidas also branched out to launch her own label, Asian Woman. The label has a high society following, with "more Westernised evening gowns" designed for red carpet events and parties. True to her signature style, she describes the designs as "Western wear with an ethnic twist". 
In 2019, she debuted her eponymous label – Kavita Thulasidas – in Colombo, Sri Lanka. The boutique is located in One Galle Face Mall, a prestigious shopping development in the nation's capital.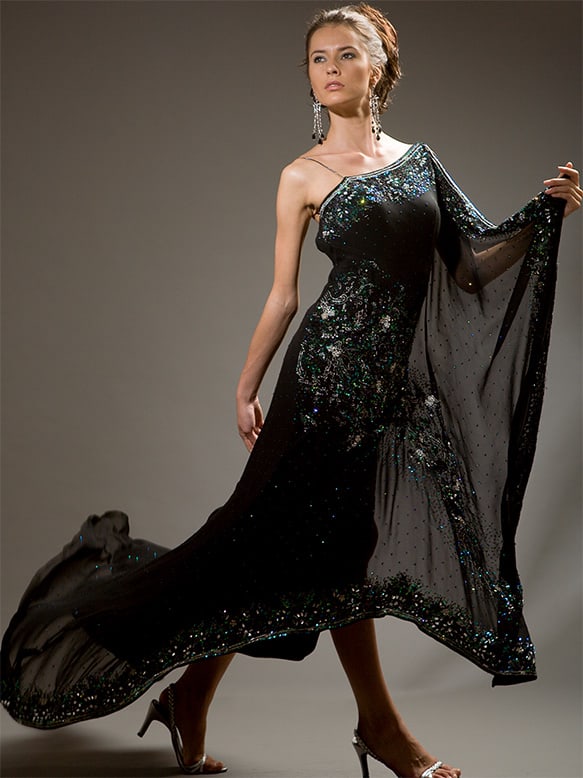 Compared to Stylemart, the label is "a little more exclusive, with couture bridal wear", Thulasidas explained. "It is a very personalised and detailed design process for both the bride and the groom."
After waiting for a pickup in the wedding scene in Singapore, the designer is now preparing to launch the label here. Although it was originally slated to launch in September, she decided to hold it back a little longer in order to focus on the Deepavali festivities.
OPTIMISM IN DIFFICULT TIMES
Being an events-oriented fashion label, Stylemart as well as its sub-brands have not been spared from the pandemic. But robust business during this Deepavali period is pointing towards "a very promising recovery", Thulasidas commented.
"It was very unpredictable at first. We started production very early, but when Phase 2 (Heightened Alert) was announced, we tried our best to pull the brakes as much as we could. But now, we realised that we actually need our stocks. Even if it's a home event, people want to be dressed up."
Thulasidas is no stranger to navigating through tough times, having steered the business through the Asian Financial Crisis. The key, she believes, is to remain optimistic.
"It's not about how the pandemic affects you, but how you cope through it. I've seen this business through many different cycles, including the ups and downs of the Asian Financial Crisis," she said.
"I won't boldly say that I have become immune to difficult times, but I have just become very used to saying, "Okay, this is just a phase". We just go back to basics, tighten the belt. We're going to run a tight ship to get through these stormy days and in a matter of time, we will see the sunlight again."
HARD WORK AND SACRIFICE
Pandemic or not, the life of a fashion designer may seem glamourous on the surface. But behind the scenes, churning out designs, along with managing an entire business, is a lot of hard work.
For Thulasidas, getting to where she is required a lot of sacrifice. Prior to taking over Stylemart, she had just given birth to her first daughter the year before, the mother-of-two shared.
When asked how she balanced life as a young mum together with leading a business, she answered with a smile: "I don't know how I did it, I just did it."
"But I must say, the business really took a big part of my life," she mused. "Sometimes, when I think about it, I do feel that I missed out on a certain phase in my life. I was working [from such a young age] and sometimes I feel that my youth was spent working very, very, hard."
Still, she counts herself lucky to be doing something she's passionate about. "Not many people can say that," she acknowledged.
She describes the time she spent living in France – the fashion capital of the world – as an eye-opening experience that allowed her to fully embrace her love for design.
"I spent a lot of time reflecting, researching and just dabbling in fashion. When you get into something so young, sometimes you don't think too much about it. But those three years away from the family business made me realise that fashion is something that I am good at. And if I had the chance, it's something I want to do," she said.
Having devoted her life to the family business, would she expect her children to take over one day? "You know what I've done? I spoiled the market for myself, because my children have seen me work so hard, I think they became scared," Thulasidas responded with a laugh.
While she describes her 23-year-old daughter as "artistically talented", she is currently pursuing a career as a lawyer, she shared. Her 18-year-old son, however, has shown interest in business.
"He likes chatting with me about business processes, things I'm doing right in my company. He's also got a lot of advice on things that I'm doing wrong," Thulasidas laughed. "I think that he might get involved in multiple businesses in the future, and mine might be one among them."
But at the end of the day, she believes that the business should be handed down to the most capable person. "One thing about family businesses is that you always think it should be kept within the family. But I'm open to the idea of offering it later, when the time is right, to a deserving candidate who is talented, and not just someone within the family."
FLYING THE FLAG
Reflecting on her career, Thulasidas shares that one thing she is proud of is the ability to represent Singapore in her designs. "When I see women I dress attend state events, I take a lot of pride in that, because I think the designs truly reflect our Singaporean identity. We are a small country, but we have a strong sense of culture."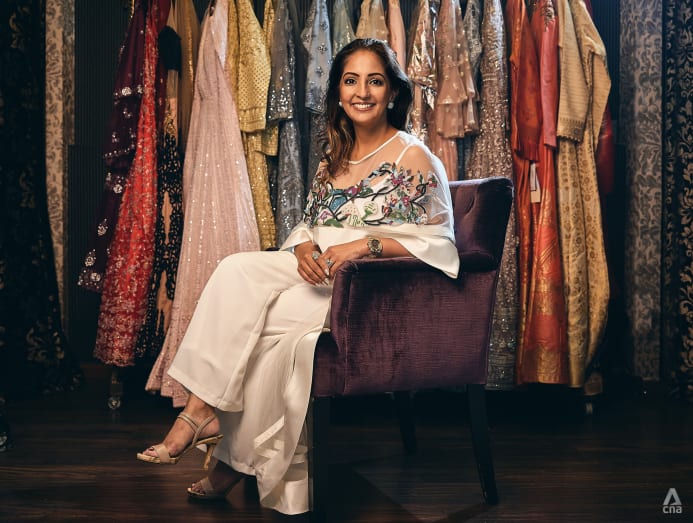 "I also cherish the fact that I get to dress women for special occasions. I get to be a part of their celebrations and bring joy into their lives. And that really gives me a certain sense of validation and satisfaction with the work that I do," she added.
Thulasidas calls it an honour to be able to continue her family's legacy. "My grandfather was very proud of what my mother achieved in her time, and my mother too is very proud that I have taken the business to new heights. It was all achieved with hard work, grit and determination. Nothing comes easy, and it is with their blessings that we grow."