Who are the Singapore fine-dining chefs flying the flag high in Hong Kong?
Barry Quek, Nicholas Chew and Edward Voon – three Singapore chefs who flew the coop to make it big globally, and are now ensconced in Hong Kong. How are they faring amid challenging times? And will they ever return to our little red dot?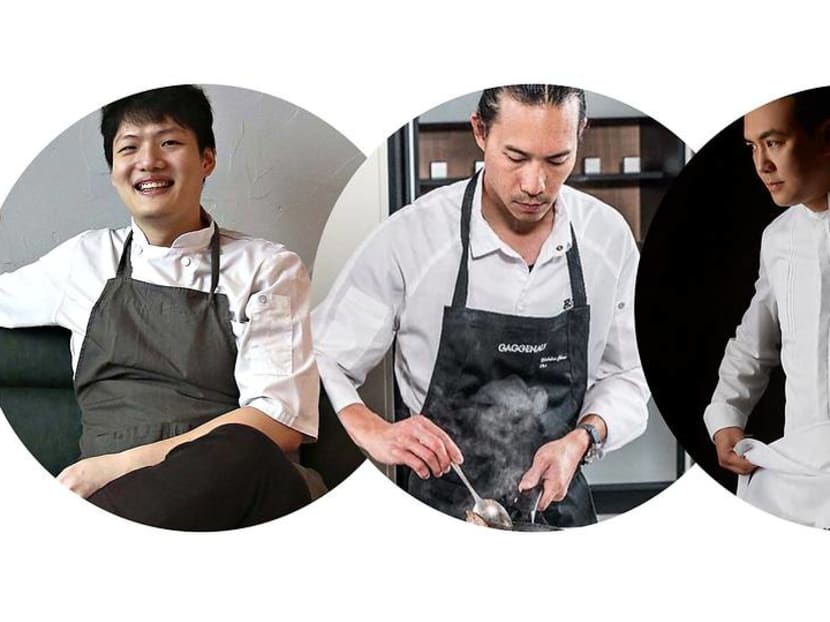 Born and raised in the heartlands of Singapore's Pasir Ris, Barry Quek is known as one of the most talented yet modest chefs in Hong Kong's culinary landscape. His first F&B role was a job at McDonald's at the age of 14. He admits today with a smile that he weighed 100kg when he worked there, but National Service saw him get in shape and cement his love for the industry.
"When I was in the army, I saw an article on a culinary school, Sunrice. I spent 15 months there, learning all the fundamentals, from knife skills through to front-of-house. Before I graduated, they asked me where I wanted to apprentice so I tried my luck and said Joel Robuchon in Sentosa. Two weeks later they said there was a cook position."
Although the restaurant might seem like a holy grail to a budding chef, Quek admits that the experience in the famed Michelin-starred spot was brutal.
"It was so hardcore, worse than the Army! Army training got me through it. The staff always had to be quiet, everything was very precise, done the Robuchon way. I then went to Les Amis in 2013, before moving to the Flemish part of Belgium to work at In De Wulf for four months. I loved every single minute of it.
"It was the first time that I travelled overseas or foraged [for ingredients]. [I also learned about] fermentation [techniques], which was very different from classical French cooking. Then I heard about Attica in Melbourne and did a stage (internship) for three months under Ben Shewry, someone so humble and down-to-earth."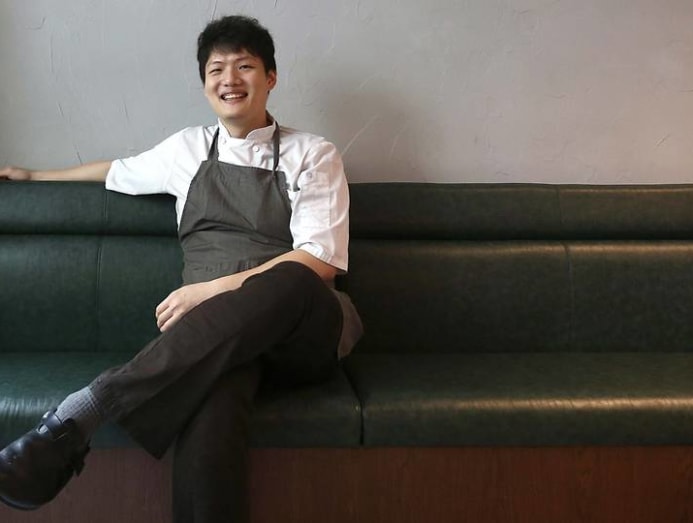 His global journey continued as he flew to work at Portland in London for 15 months, before joining Clipstone where he spent two-and-a-half-years. He also got to eat as much as possible across the British capital.
"Helene Darroze at The Connaught; St John; Picture; The Dairy – the range of cuisines was so much wider and there was phenomenal produce. I went down to Cornwall and Devon and would speak directly to the farmers."
He then got a call from the owner of Beet in Hong Kong asking if he was interested to work in Asia.
"I wanted to be somewhere closer to Singapore so Hong Kong came along at the right time and I moved there in September 2017. People don't cook at home much in Hong Kong; they eat out more. What people are willing to try has a better chance than in Singapore, but having said that, in the last few years Singapore has also really come along."
To the huge disappointment of Hong Kong's gourmands, Beet shuttered this year, but consultancies, including the smash hit Return of Lemak at the city's BaseHall food court, have kept Quek busy. He also has a number of exciting projects with the ZS Hospitality Group that are set to open in the next few months.
"Return of Lemak has been an amazing experience at BaseHall and made me realise how much I miss Singaporean and Malaysian food. I didn't appreciate it until I left, the knowledge in terms of [how to cook] a simple curry or rendang, the art of cuisine. I take my hat off to hawkers in Singapore and everywhere. [At Return of Lemak] I made a hybrid of all the laksas I've tried, a Peranakan version with achar. We also serve Milo dinosaur, Cendol and even a Michael Jackson!"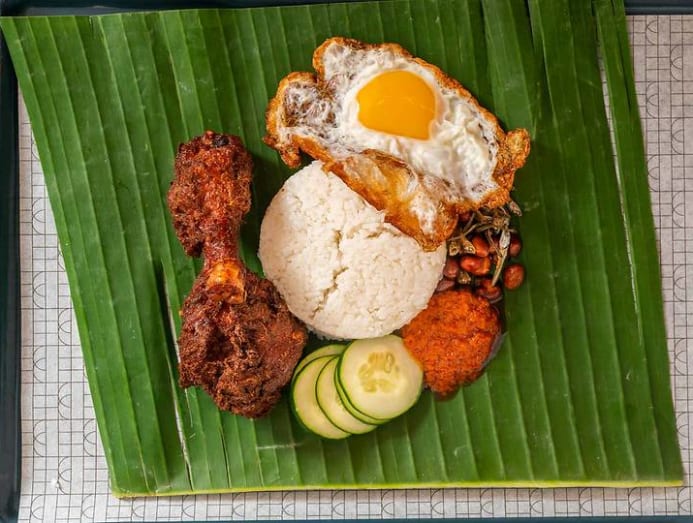 As to a move back home, Quek said: "In the future I might move back, but not within the next five years. For me to move back it would be because of family.
"I also want to cook something Singaporean and approachable, closer to my roots. I'm Hokkien so want to do something Hokkien and Singaporean, maybe [an equivalent of] Candlenut for Hokkien cuisine or a restaurant like (the hugely popular Thai restaurant in Hong Kong) Samsen – not stiff, relaxed, like a neighbourhood hawker with aircon!"
"I take my hat off to hawkers in Singapore and everywhere." – Barry Quek
KATONG BOY MADE GOOD
Another very well-respected name in Hong Kong's fine-dining scene is Nicholas Chew, who is of Peranakan descent.
"[When I was growing up], I lived in Katong. My dad is Singaporean but my mum is Malaysian, so I have a lot of childhood memories of Malaysia – especially Johor Bahru and Petaling Jaya – where I spent my school holidays.
"I'm from a Peranakan background. My immediate family is very close: We used to gather around our grandparents' homes on weekends and our multicultural mix meant we celebrated all the festivals with big feasts."
Chew explained that his father was an expressionist painter, so his childhood was surrounded by "a lot of art". He enrolled in art school, studying environmental design, interiors and architecture. One of his projects was a Japanese restaurant.
"That was the first time I saw a Japanese chef, getting so hands-on with everything. It was my first taste of seeing food as an art form – the culture of tradition, from the start to the end, a master in creation, this was another level of design. You stimulate emotions and the mind as an artist, but as an artist in food you start nourishing the body."
At 19 he finished national service and went to Japan for a few months to apprentice at restaurants. There, he started out washing dishes and met some less than warm Japanese chefs. "You are third or fourth class, washing rice every day for two months. You start to learn perseverance!"
After returning to Singapore, he worked in Japanese restaurants for seven years including at the now-defunct Restaurant Kei at Robertson Quay and Nadaman at Shangri-La.
By then, Chew had met his future wife who was headhunted for a post in Hong Kong, and when he arrived in the +852 he got a call he couldn't turn down.
"The restaurant L'Atelier de Joel Robuchon called me. It was a very junior position with a very old-school French chef, my first take on how the French brigade system worked. We'd see Monsieur Robuchon coming in every three months. Everything had to be tip-top and in the Atelier a lot of produce was Japanese, so I knew a lot of it already. It was an open kitchen with planchas (hotplates) which felt like a teppan, so I thrived in this mix of east-meets-west."

He spent just under a year in what was then a two-Michelin-starred restaurant, then joined famed restaurateur Alan Yau's St Betty at the International Finance Centre.
It was run at the time by the hugely-respected Australian chef Shane Osborn, who opened Chew's eyes to the reality of two-Michelin-starred levels in London, where Osborn had come from.
Thereafter he joined restaurateurs Charles Pelletier and Fred Peneau at a restaurant called Serge et le Phoque, located in the heart of Hong Kong's Wan Chai Market.
"We had to sponge as much information as we could as fast as we could. We'd work from 8am to 2am for the first few weeks and sleep on sofas in the restaurant as we were so exhausted. We were experimenting so much, removing layers of cuisine, learning how less is more. If you've got a good product to begin with, let it shine. We were in awe learning this new concept of cuisine."
The restaurant was quickly awarded a Michelin star, but unfortunately closed when Pelletier and Peneau relocated to London. Chew's next move was to Bibo, an art-filled space on Hollywood Road where he was to make his own name and win a Michelin star.
"I had a blank canvas at Bibo, so we did a 'Singaporean-meets-French' menu – my roots mixing with what I learnt over the years.
"The Southeast Asian flavours were so intricate to combine, but eventually we were confident and the first dishes emerged. So for example we cooked celeriac like a risotto, sucking up the flavours like rice. We used the influence of laksa to make my signature dish, a laksa-based, non-starch risotto. We had variations on chicken rice too – again, my heritage – interpreting the concept as something else."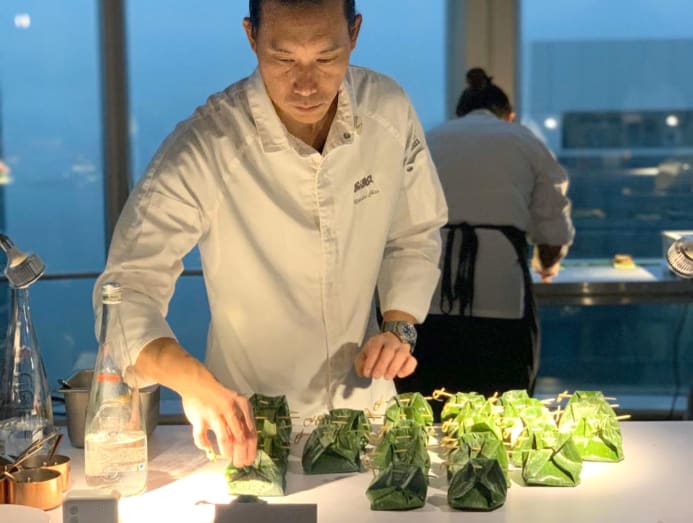 Since Bibo shuttered earlier this year, Chew has been running Guerrilla Lab, taking on exciting projects with private clients while cooking in beautiful, luxurious homes.
As to if or when he'll return to Singapore? "I'd never say no to future projects, in Singapore or anywhere. My wife is Singaporean, so we consider Singapore home. I've been out of Singapore a good 15 years, a long time. Over the last five to 10 years, Singapore's restaurant landscape has been growing fast, but the finesse in the Hong Kong market and dining scene is still a level up."
"You stimulate emotions and the mind as an artist, but as an artist in food you start nourishing the body." – Nicholas Chew
NO MICHELIN STAR, NO WORRIES
For Edward Voon, who left his native Penang at age 15 to pursue his culinary dream in Singapore, the Mandarin Oriental proved to be the starting point that gave him a platform to learn the craft, the produce, and the techniques.
He clearly made a positive impression as, following a stint where he next worked at the Tower Club as sous chef, the Mandarin Oriental invited him back again to open their poolside Italian favourite, Dolce Vita. Thereafter Voon opened the first molecular gastronomy dining destination in Singapore, Aurum.
"It gave me an opportunity to learn something out of the box and to be very creative in taste," he said. "We engaged a Spanish chef who was a disciple of Ferran Adria. It was so rewarding learning a new culture, cuisine, fundamentals."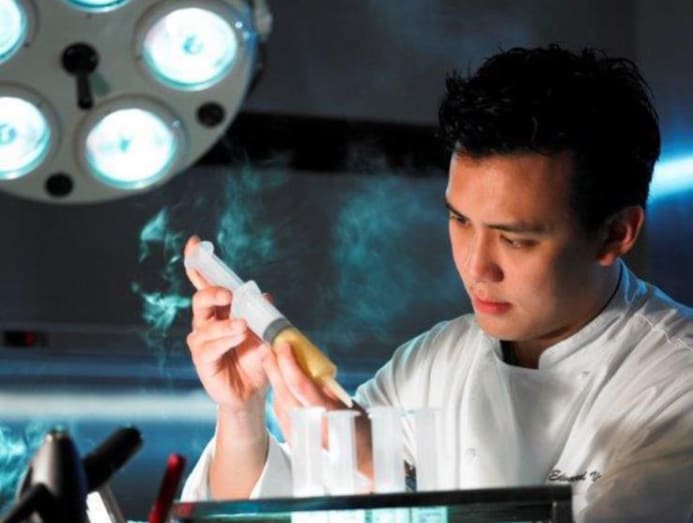 Then along came Hong Kong billionaire Pan Sutong. Voon had visited Hong Kong 14 years previously, invited by horologist Richard Mille to cook at an event. Sutong was one of the guests, had Voon's food and rang him up, asking him to cook dinner.
"I was about to open my own restaurant. I had money in the bank, it was ready to go, a modern Japanese concept. Mr Pan told me to postpone my plans as he said 'I'm going to open the restaurant of your dreams'."
He hired Voon to work for him as a private chef and travelled the world, cooking for him in the Napa Valley, Bordeaux, London, and across China. But after seven years, Voon felt that he had lost his edge cooking in the same kitchen every day, so he began planning the opening of his current restaurant, Le Pan.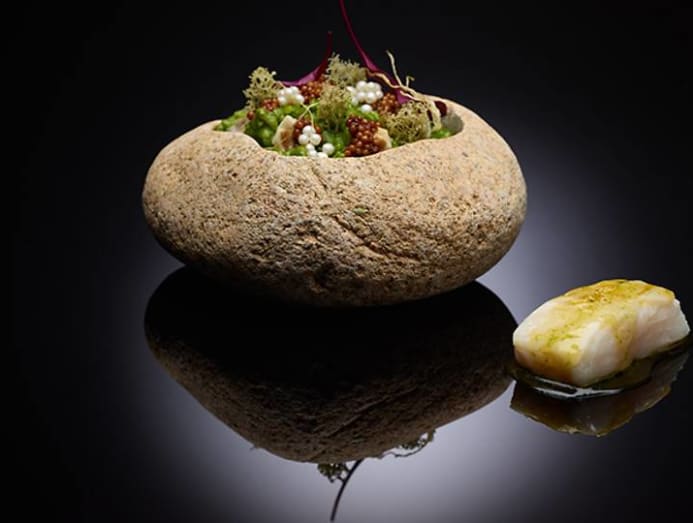 "Food has to be exciting and I want to present my roots and story. My mission is contemporary French… [but I also want my guests] to taste something familiar. So [for example] the sauce for my ravioli is beurre blanc, but modified with black bean."
Despite his years of being away, the lure of Singapore remains strong, especially its food.
"I love to eat everything, particularly in Singapore! The bak chor mee on Hill Street. They open at 9am, but I'm there at 7.30am as the queue is so long! I eat three bowls. I actually just moved my family back to Singapore from Hong Kong as it was time to go back. Maybe I'll be next. I love Hong Kong but my wife and children followed my dream in Hong Kong for 11 years – I feel I need to return these 11 years to them."
The difference between the two cities is clear, however.
"Singapore is a small island surrounded by great local food. Among those looking for fine-dining, I believe Hong Kong has the edge. In Singapore everybody is waiting for someone else to pay the bill, in Hong Kong everyone is fighting to pay for it! People in Hong Kong are willing to take risks – they go out, they drink like crazy. It's a different culture and upbringing."
With one of Hong Kong's most elegant dining rooms, flawless service, a strong wine list and Voon's exceptional cooking, it's a great surprise that the Michelin Guide has not recognised Le Pan with a star.
But Voon is laid-back about it, focusing instead on his creativity. "[The Michelin Guide reviewers] are doing their thing, let them be. My friends are artists, celebrities, business people, so I have exposure to different minds, tastes and reasons. If you mature through conversation, you mature through cooking."
When Voon eventually returns to Singapore, as with Quek and Chew, the city's diners are going to be in for some serious culinary excitement.
"Food has to be exciting and I want to present my roots and story." – Edward Voon