Who are Singapore's very own independent whisky bottlers?
A small but growing group of independent bottlers have emerged in Singapore to offer rare and lesser-known whiskies to dram lovers.
If you have been drinking in Singapore's whisky bars like La Maison du Whisky and The Auld Alliance, you would have tried an independently bottled whisky. Your bartender may have even poured a wee bit of it into your Glencairn glass for a blind tasting game.
For the uninitiated, independent whisky bottlers are bottlers who bottle whiskies from casks that distilleries did not officially release or sell to the market for various reasons, such as a cask that was considered very rare or experimental and thus set aside, or a barrel that did not match the taste profile required by the distillery for its signature whiskies or official bottlings.
To avoid confusing consumers, some whisky producers do not allow independent bottlers to mention their brands on their labels. Some independent bottlers have also bottled whiskies from shuttered distilleries, effectively capturing lost history.
Think of independent bottlings – or "IB" for short in whisky parlance – as little known, unreleased works of art from your favourite late artist, author, or filmmaker. That unseen Van Gogh painting; the lost Hemingway story; the incomplete Orson Welles movie… Voila, they exist.
There are hundreds of independent bottlers around the world but Gordon & Macphail and Signatory in Scotland are probably the two most famous and common names you'd come across in whisky bars.
In Singapore, a small but growing group of independent bottlers have started to emerge.
One of them is Spirits Castle, a whisky distribution company established by Zerlina Zhuang.
A visit to a whisky fair in Taiwan in 2017 turned into an opportunity for Zhuang, then a whisky blogger, and her husband to start Spirits Castle. The fair organiser, a bar owner in Taiwan, had asked her if she would like to distribute his whiskies in Singapore. She also met representatives from a Welsh distillery who wanted to enter the city-state's market.
"I do think there is a lack of awareness about [independent bottlers] in Singapore. I'd like to see more people coming to whisky bars and exploring what kind of whiskies – or rums – they like." – Marcus Chng
"Our company is a product of coincidence," said Zhuang, who still runs her blog, Whisky Geeks. "I wanted to share whiskies and distilled spirits with others, especially ladies. Whisky is traditionally [seen as] a 'man's drink' and I want to challenge that. I guess I am a rebel in some ways."
Rather ambitiously, Zhuang has picked a less mainstream selection of spirits for Spirits Castle. The portfolio consists of just five brands; a mix of lesser-known distilleries and independently bottled sips.
The former includes brands like Cognac Park, which makes a cognac finished in Japanese Mizunara casks; and The Borders Distillery, a new whisky distillery in the Scottish Borders.
The independent bottlings consist of whiskies from Dram Mor, an independent bottler from Scotland, and the Mahjong Series, which Zhuang joint-bottled with friends who run whisky shops in Taiwan, Hong Kong, and China.
The Mahjong Series, which has engraved pictures of mahjong tiles on the bottles, comprises single cask whiskies bottled from BenRiach, Drumblade, Aultmore, Highland Park, Craigellachie, Glen Garioch, Invergordon, and Caol Illa. Currently, only the bottles from Craigellachie, Invergordon, and Caol Illa are available as the rest have sold out.
Zhuang said she had to cut the joint bottling project when COVID-19 turned up. "I'm not sure if we would restart the bottling but I hope we would eventually," she added. "Many of those whiskies were from lesser-known distilleries. That is the beauty of IB whiskies. You get to try interesting, lesser-known whiskies."
Brendan Pillai, co-owner of The Single Cask, a whisky bar in Chijmes that also functions as the Asian outpost of a UK-based independent whisky bottler of the same name, said a common misconception customers have about independent bottlings is that IB whiskies are bottled from inferior casks from distilleries.
"That could not be further from the truth as there have been some truly exceptional expressions from both well-known and obscure distilleries over the years," said Pillai.
"A small number of customers may also think that independently bottled whiskies are basically official [releases] that have been rebottled under different brands. This is untrue as independent bottlers operate under different constraints and do not have the same level of access to casks as distilleries do.
"We do not see the appeal in putting out a product that is similar to a well-established brand and would rather release an expression that provides a different facet to what patrons may be used to."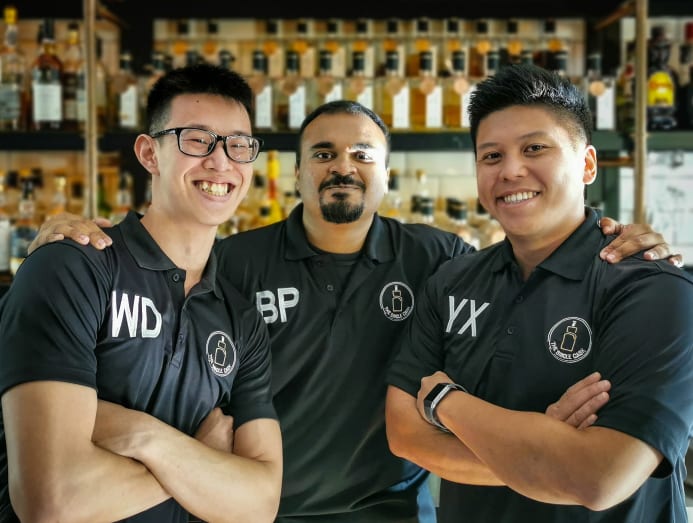 "A small number of customers may think that independently bottled whiskies are basically official [releases] that have been rebottled under different brands. This is untrue." – Brendan Pillai
Pillai said the main difference between official bottlings and independent bottlings would be that the former are larger batches that provide consistent flavour, while the latter come from smaller batches or single casks, with the intention to "celebrate the variance of these casks rather than strive for consistency".
Customers at The Single Cask do not have a menu or list from which they can select their independent bottlings. They pick from four categories of flavour profiles: Sweet; Smoky; Salty or Saline; and Spicy. Their preference is then broken down into sub-categories to allow The Single Cask team to narrow down their selection to a handful of expressions. Cask and regional preferences, if any, are also taken into account.
Marcus Chng, founder of independent spirits bottler Malt, Grain & Cane, said one could view the independent bottler's selection of the cask as something akin to a chef's personal style of cooking.
"Chefs have different styles of cooking. Bottlers have different taste buds, so all of us select casks differently," he said.
"Independent bottlers tend to release single cask whiskies. Sometimes, we manage to find 'sister casks' that [contain whiskies] distilled on the same day but matured in different casks and sometimes bottled in different years."
Chng, who began drinking whiskies in 2014, started his company a year ago after "spending too much time playing Final Fantasy 14 during the circuit breaker period".
"I woke up one day in late August and decided I couldn't continue with the current state of things," said Chng, who has a day job in the service provider industry. "Jumping into the whisky retail industry was a bit of a learning curve for me."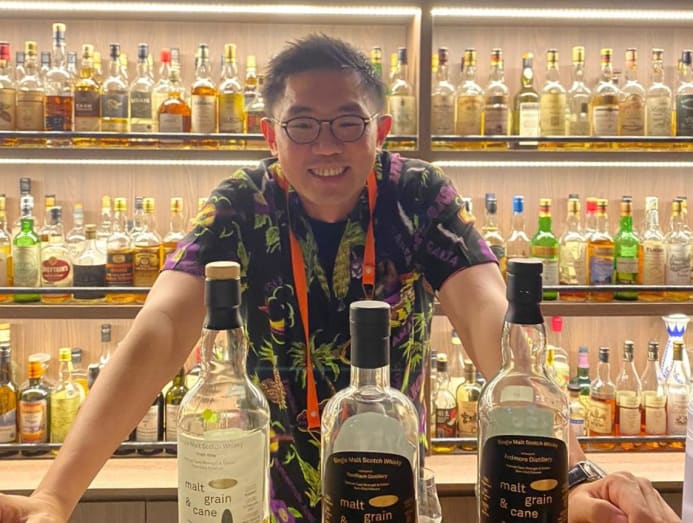 Malt, Grain & Cane is a small company. It currently offers only seven IB spirits; a selection of four rums and three whiskies. The latter includes a Benriach 1997, 24 Year Old; and Caol Illa 2008, 13 Year Old. Chng said he deals with cask brokers such as The Single Cask to source for his spirits as his venture is "too small to be dealing directly with the distilleries". He recently held an event at The Swan Song bar to promote his spirits.
"I do think there is a lack of awareness about [independent bottlers] in Singapore," he said. "In my opinion, Singaporeans are too comfortable with the 'safe' selections that they'd find at duty free shops in airports. I'd like to see more people coming to whisky bars and exploring what kind of whiskies – or rums – they like."
Pillai said customers should not be afraid of asking questions about IB whiskies.
He added: "As IB whiskies tend to be a less familiar concept to most patrons, they may be rather intimidated. We believe that having a conversation and engaging with them to determine what would best fit their flavour profile, preferences and budget allows us to better attend to their requirements.
"If the option to sample a small sip is available, they should definitely do so as it allows them to form a better opinion of the whisky they're looking to purchase."
"I wanted to share whiskies and distilled spirits with others, especially ladies. Whisky is traditionally [seen as] a 'man's drink' and I want to challenge that." – Zerlina Zhuang