This jeweller is the first Singapore designer to showcase at Harrods
From online masterclasses to a booth at prestigious London department store Harrods, Simone Ng, founder of Simone Jewels, isn't letting a pandemic stop her from internationally expanding her brand.
When rumblings of a strange new virus first began spreading across the globe late last year, Simone Ng, one of Singapore's top jewellery designers, and the team behind her eponymous label Simone Jewels, recalls feeling afraid.
"We were all wondering, what is happening? This virus was affecting not just our country and neighbouring ones, it was spreading worldwide," the 46-year-old Malaysian-born jeweller shared.
In the works were plans to showcase the high jewellery label at various trade and fashion shows around the world this year, including Couture Las Vegas and Jewellery Arabia in Bahrain. The label was also meant to debut at Paris Fashion Week.
While all these plans had to be shelved, Ng understood that in the face of crisis, there's always a silver lining.
"This is the time when I hear my grandmother telling me, 'You have to be a master of opportunities, not a slave to challenges'. That gave me the strength to look at the situation and see what opportunities we could create out of it," she shared.
JEWELLERY WITH STORIES
In a way, Simone Jewels, which was launched in 2006, was prepared for a world where the rules of retail have been rewritten. Rather than operating out of a physical boutique, appointments with clients are an exclusive affair, conducted at the label's private studio.
The label's creations are just as exclusive as its buying experience, with only one piece per design. Describing her jewellery as "wearable pieces of art", Ng works primarily with coloured gemstones, drawing inspiration from historical dramas and her travels around the world. 
There's an intriguing story behind every one of her designs, and most of the label's jewellery are also designed to be multi-functional.

"Every year, we have a collection theme, which is always based on history," Ng shared. "I love history, and I find it very meaningful to share historical stories with my clients through my designs."
Simone Jewels' latest collection is titled Bombshell, inspired by the documentary of the same name. The collection tells the story of 1940s Hollywood star Hedy Lamarr. Aside from being known as one of the most legendary actresses of her time, Lamarr is also credited as the inventor of "frequency-hopping", which today is used in some of the world's most ubiquitous technology including WiFi, Bluetooth and GPS.
"These are not fictional stories, they're real," Ng shared. "And because our inspiration changes every year, our designs also change drastically. Customers are very happy to follow us on our journey. Even though we're only 14 years old, a lot of them have been with us for more than ten years."
"We're changing perspectives to say that it is okay to buy high-value luxury items online." – Simone Ng

DISRUPTING THE BUYING SCENE
While the pandemic has spurred traditional businesses to adopt digital operations, Ng was already one step ahead. In 2019, she launched Jouer by Simone – a customisable jewellery label that operates fully online.
As a diffusion brand, Jouer by Simone was created as a "stepping stone for those aspiring to own Simone Jewels' high jewellery creations," Ng shared. "Price points are a lot more accessible. But more importantly, the jewellery is designed for daily wear, and for people who want a say in creating their pieces."
The new label lets customers choose from a range of chic, contemporary designs, with collections that speak to different personality types, including Artist, Edgy, Rockstar and Ocean Girl.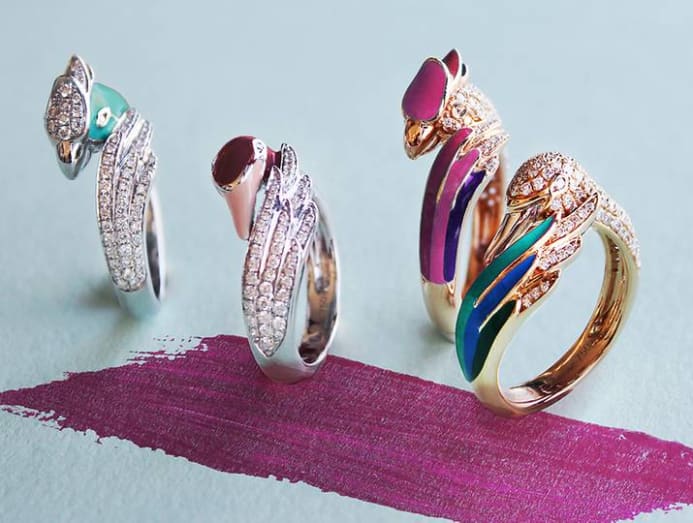 On the label's e-commerce site, customers can also customise designs to fit their own individual preferences. For example, on a single ring, customers can choose the gold purity, enamel colours, and even engravings they'd like on a piece.
"We felt that this was very current. In fact, I think we are too current," Ng mused. "When customers go to any e-commerce website, they expect to choose the design they like, size and quantity before checking out. But for Jouer by Simone, customers get a different combination of choices for each design. They don't realise that they can do so much more on our site, and once they get to our customisation option, it's just mind-boggling to them."
While Jouer by Simone is definitely disruptive, Ng admited that when the label first launched, people couldn't wrap their heads around the idea that its system could be so sophisticated. Clients, especially those in Singapore, were also quite hesitant to purchase jewellery online, especially if they hadn't seen the designs in person.
Undeterred, Ng describes this as a "happy problem". Alongside images, videos have been added to the site for customers to have a better perspective on what they're buying. "We just need to educate people about what this platform stands for."
GEM EDUCATION
As countries around the world hunkered down at home in quarantine, to continue interacting with its customers, Simone Jewels took its masterclasses online.
"We started our masterclasses about two years ago, but it was always conducted as an actual class in person. But I have to say, this pandemic is quite a blessing. When we held our masterclasses before, we could only take in a maximum of 12 students due to the hands-on nature of the experience. But now that we have taken the class onto a digital platform, there are no more borders and we are able to take in more students," Ng reflected.
Beyond educating the public on a variety of topics surrounding gemstones, these online masterclasses are also a way for the brand to reach new clients, especially at a time when people prefer to stay home.
Ng revealed that during Singapore's circuit breaker period, Simone Jewels witnessed an uptick in sign-up and attendance rates. The masterclasses are complimentary, and open to anyone wishing to learn more about gems. Topics include differentiating between spinels and rubies, understanding the difference between heated and unheated stones, and how to spot a fake pearl.
"Before, customers were not so comfortable buying jewellery online because they didn't know enough about what they're buying," Ng said. "We're changing perspectives to say that it is okay to buy high-value luxury items online."
"During this time, what has changed in the jewellery consumption scene is that people don't want to buy small. They want to buy big." – Simone Ng

LONDON CALLING
Through the years, Ng has been steadily building international recognition for Simone Jewels. London, Ng revealed, is an important market for the brand. "The UK caters to a very international crowd that's mostly affluent, which is our target market," Ng shared.
In London, Simone Jewels is represented by international agency, The House of Luxury. The brand has a permanent installation at House of Luxury's boutique at Mayfair, and earlier this year, it made its debut at London Fashion Week.
This year, however, has proven challenging for any brand to make a foray into overseas markets. Despite the odds, this month, Simone Jewels scored what is perhaps the brand's biggest break yet – a pop-up showcase at London's world famous department store, Harrods.
Harrods, Ng shared, is notoriously selective when it comes to the brands it showcases. She believes that it's Simone Jewels' exclusivity, and the investment value of its jewellery, that garnered Harrods' attention.
"During this time, what has changed in the jewellery consumption scene is that people don't want to buy small. They want to buy big. They want to buy jewellery that they know have investment value. A lot of the brands out there don't offer that, but that's what we are all about."
"We're extremely, extremely excited," Ng chirped. "It's a dream come true for any brand to get into Harrods. Showcasing at Harrods ensures that you're taking a big leap from being a small brand towards being recognised worldwide."
This makes Simone Jewels the first Singapore-based jewellery label to debut at Harrods. The pop-up showcase, helmed by House of Luxury, will run from Oct 15 to Nov 14. It will showcase the label's Quintessentially British collection, which takes inspiration from the English Georgian period.
"I'm still on cloud nine. In spite of a pandemic, we're still trying to internationalise the brand," said Ng. In terms of her plans for the future, Ng divulged, "While Harrods is a great start, we are hoping bigger names will get onboard our brand. Ultimately, we aim to have our very first retail store, and that would be in London."
"It's a dream come true for any brand to get into Harrods. Showcasing at Harrods ensures that you're taking a big leap from a being a small brand towards being recognised worldwide." – Simone Ng
MOTHER NATURE'S GIFTS
If there's one thing that Ng has learnt this year, it's to never let setbacks get you down. "We've had to reinvent and transform all our strategies, and move out of our comfort zone," Ng reflected.
Looking back on her career as a jewellery designer, Ng feels blessed to be working with "precious materials that Mother Nature produces".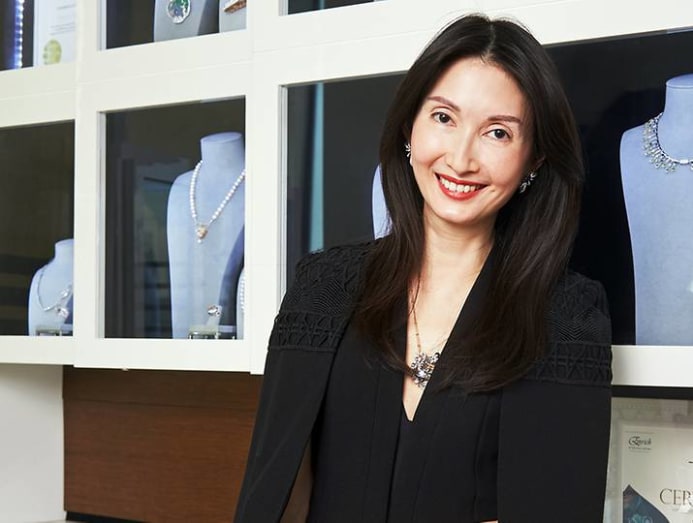 "I know that I'm not making people spend their savings on something that's frivolous. I'm helping them to buy wisely so that as time goes by, the jewellery they own will appreciate in value."
Ultimately, it's the relationship with her clients that she has built over the years that gives her the most satisfaction. "I'm in a happy business," she said. "Being a part of my clients' milestones is really priceless. I think that's the biggest pay-off."