Meet the founders of Singapore's newest nightlife venue in Amoy Street
CNA Luxury got an exclusive pre-opening look at Stay Gold Flamingo, an exciting bar and cafe concept on Amoy Street founded by Jerrold Khoo and Bai Jiawei, formerly of Jigger & Pony and Employees Only.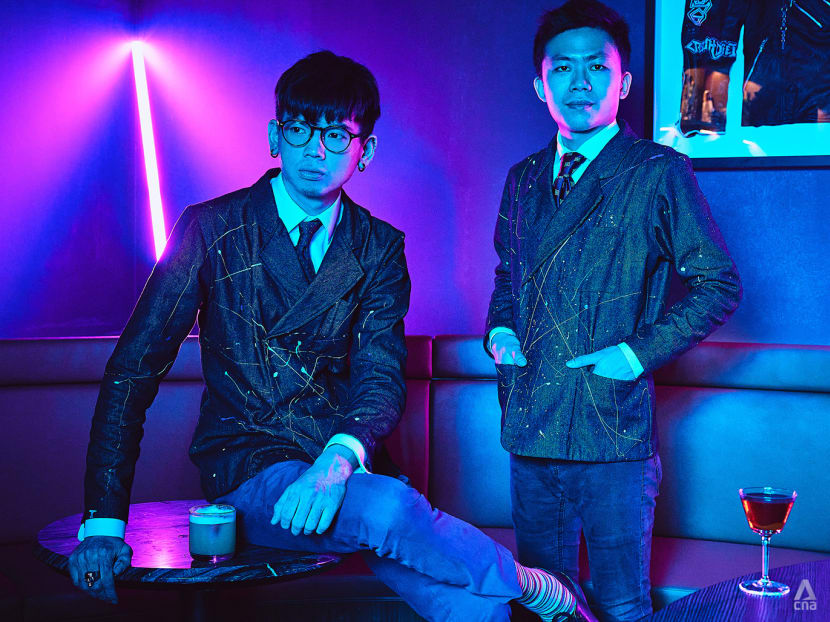 You won't notice it easily at first, especially under the dim light of the bar counter at Stay Gold Flamingo, but there are thin streaks of paint of various colours on the blazers of bartenders Jerrold Khoo and Bai Jiawei.

It's not the result of a prank. Khoo, 31, and Bai, 28, who are the establishment's co-founders, splattered the paint on themselves. It's a signature look of their uniform; a grungy, devil-may-care demeanour that seems to satirise the neat and sharp sartorial getups of modern bartenders. Even the blazer's fabric – denim – is an eccentric statement. (Bai's sister, who studied fashion design, made the jackets for the Stay Gold Flamingo team.)
But new staff don't get the Jackson Pollock treatment on their jacket immediately. According to Khoo, they will only get the paint art applied by senior members of the team once they pass a test consisting of bartending and other F&B skills. They have to earn their stripes, or rather, streaks.

It's an offbeat kind of fun that encapsulates the spirit of what Khoo and Bai are trying to create here at Stay Gold Flamingo, which opens on Sep 24. The venue at 69 Amoy Street, which took over a former office space, covers 190 sq m of space that has been turned into a dual concept of a bar and a cafe.
The bar is named Stay Gold, while the cafe is called Flamingo.

Khoo was inspired by a 1980s classic coming-of-age film, The Outsiders, for the bar's name: The movie is known for the iconic Stevie Wonder song, Stay Gold.
He chose the name Flamingo for the cafe as the bird has a fun and colourful image. It's also his spirit animal; a cheeky reference to his own tall and lanky stature.

A DUAL IDENTITY
Khoo, who spent eight years at Jigger & Pony, began thinking about the dual concept behind Stay Gold Flamingo two years ago. It's an idea that is also timely now in the pandemic when the lines between restaurants and bars are getting blurred.     

"I felt it was the right time [to open the place], pandemic or not," he said. "The concept was already well-thought-out and ready to run. It was like taking a train and going on a vacation – I had bought my ticket and packed my bags. If I don't board the train now, I'm not sure when the next opportunity would be."     

He approached Bai, a close friend who was then rustling up cocktails at Employees Only, to hop on board his new venture. The latter has always considered Khoo his industry mentor, and was glad to "jump on the train".      

The two friends come from different bartending backgrounds: Khoo was honing his refined, precise Japanese form of cocktail wizardry at Jigger & Pony, while Bai was engaging in a speedy, energetic American-style bartending at Employees Only. Stay Gold, said Khoo, allows them to combine their expertise.
Some friends and family members of the bartenders also helped invest in the venture. Local design company Studio Gin&G designed the interior for Stay Gold Flamingo.  
   
Entering Stay Gold Flamingo, you'd first encounter the cafe section, a casual space with welcoming hues of clay and terracotta. It currently seats 20 diners; a reduced capacity due to COVID-19 restrictions.      

Flamingo, which opens from 10am to 5pm, offers moreish comfort food like Pimiento Cheese, Olive Tapenade, and Shiso Chicken Sandwich. The coffee bar serves up house blends sourced from local speciality coffee roaster Cumulo Coffee. There is also a small selection of alcoholic choices – for example, refreshing cocktails like Aperol Kombu Spritz and Pink Guava Bellini – for those who are in the mood for a daytime tipple.     

At the end of the cafe, behind a draped doorway, is the bar Stay Gold, which opens from 5pm and closes at 10.30pm (in view of the current alcohol consumption restrictions).     

Bar customers can order small bites such as Nahm Prik Chicken Wings, which are marinated with chilli and deep fried; and Not So Stinky Tofu, crispy pig ears with tau kwa and pickled cabbage. They can also order food from the cafe's menu.
Khoo said: "You can come in during the day to have a coffee, and then [move to the bar to] have cocktails or even dinner as well."     

"The root of our concept is being a 'third place' in the community. So if the 'first place' is your home and private sanctuary, and the 'second place' is your workplace – which for some of us also happens to be our home now – then the 'third place' is somewhere between your private and professional settings."     

He added: "With Stay Gold, we hope to inspire people in a busy world to stay true to the best versions of themselves as they chase after their goals."     

The bar, which currently seats 55 instead of 90 because of safe distancing, is, according to Bai, "a marriage of street and posh elements". During CNA Luxury's exclusive preview, the Stay Gold Flamingo team were still applying some final aesthetic touches to the decor and rearranging some furniture. Construction had taken two months, and Bai himself even spent a few nights in the venue while overseeing the progress.     

The interior is painted in deep cyan and blue. Neon lights and fluorescent tubes at the booth seats cast soft, dappled reflections on the rippled mirror ceiling. The space has a rather retro vibe; the feel of a pared down Miami Vice set.     

The cocktail menu offers a mix of classic and modern drinks in the sections Stay Gold and Nothing Gold Can Stay respectively.
The tipples in Nothing Gold Can Stay are like the alter ego versions of their classic equivalents in Stay Gold. For example, the Sazerac, a classic cocktail with a cognac base and a small amount of absinthe (an anise-flavoured spirit that is an acquired taste), finds its alternate version in the Intro to Absinthe, a cocktail in which the absinthe becomes the base spirit.    
 
Khoo and Bai also plan to introduce a seasonal cocktail menu based on fresh fruit. "The early days of the cocktail scene in Singapore were driven by cocktails made with fresh fruit," said Khoo. "This art was kind of lost along the way, so it'd be nice to go back to our roots."   
 
With the current restrictions on playing background music, Stay Gold may feel oddly quiet. But once the curbs are lifted, Khoo plans to play a mix of hip-hop, rock and roll, and classics. Stevie Wonder will also be on the playlist.     

For now, let the bartenders entertain you with their stories. Can't tell who they are with their masks on? Look out for the ones with paint on their blazers.