These sneaker titans are putting Singapore on the global map – not by being resellers
Thanks to their frequent collaborations, longtime friends Mandeep Chopra, Weston Corp scion and founder of sneaker boutique Limited Edt, and sneaker artist Mark Ong aka SBTG, are putting the little red dot on the global sneaker map.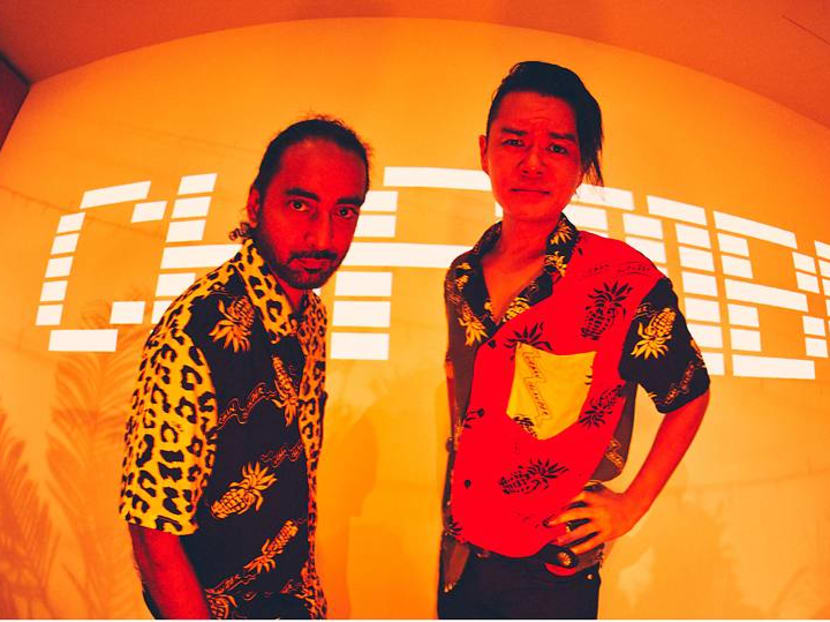 With plastic flower garlands slung around their necks and a cheeky brandishing of plastic martini glasses, Mark Ong and Mandeep Chopra are having fun hamming it up. They raise a "toast" to their latest – and biggest – collaboration to date, the New Balance Urban Islander Collection by sneaker artist Ong's brand SBTG and Limited Edt, the chain of cult sneaker boutiques founded by Chopra.
The capsule collection, which comprises New Balance's classic 327 sneakers, the utilitarian chic 900 strappy sandals, short sleeved Hawaiian-inspired shirts, a tote bag and towels, are a tropical take on streetwear. With bright colours and summery designs tinged with urban motifs such as a pineapple shaped grenade and camo prints, the designs are very much a hallmark of Ong's signature style.
And to complement this collaboration, the team also set up an immersive pop-up at Chamber, Limited Edt's swanky new ready-to-wear and lifestyle concept store at Wisma Atria, featuring colourful wall-to-wall prints, park benches and even a tiki shack.   
"This is our most ambitious project thus far, in terms of the scope and collection of products," said Chopra, whose boutiques in the pre-COVID-19 days were a popular shopping destination for sneakerheads – what sneaker enthusiasts are known as – on vacation in Singapore because of the range of coveted sneakers available.
These days, much of the shopping action takes place on Limited Edt's e-commerce store, with sneaker lovers snapping up the hottest sneaker drops practically as soon as they are released. The 327s, he said, were especially popular with the overseas market and have mostly sold out, save for limited amounts of the smallest sizes.
The success of the Urban Islander shoe does not surprise Ong. The veteran designer, who is legendary in the sneaker world, has made shoes for celebrities including rapper Travis Scott and Samuel L. Jackson as well as basketball stars Steph Curry and Kobe Bryant.
"In Singapore, we take it a bit for granted that we have tropical weather all year round but a lot of people live in places where there are four seasons and they yearn to go to the beach," said Ong, who has also been tapped by brands beyond the sneaker world including Hermes and Johnnie Walker for various projects.
Urban Islander's global popularity also underscores the impact that these two streetwear authorities have made on the sneaker world beyond the little red dot.
"Mark and I go back a long way – we've charted our individual paths, but are intrinsically linked in our goals, which are to always do what we love, and shine some light on our tiny island to the rest of the world," said Chopra.
Like so many of the best friendships in Singapore, it all began in Zouk. Almost two decades ago, in the early noughties, these two cool cats used to party together at Phuture in Zouk when it was located at its original premises on Jiak Kim Street.
But back then, before the two made their names in the sneaker scene, what sealed the bromance was their common love for retro sneakers like Air Jordans, which was then just a niche hobby enjoyed by a select few.
"It was a subculture to be interested in such sneakers and they were actually not widely available then. There were no shops where you could buy such shoes easily," said Ong, who at that time was mostly doodling on sneakers as a hobby.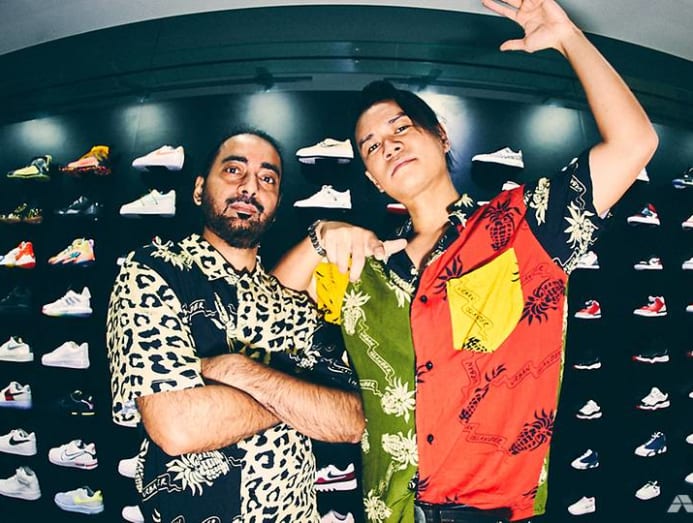 Then in 2003, Chopra, who is the third generation member of football merchandise and sporting goods company Weston Corporation, launched Limited Edt, Singapore's first dedicated sneaker boutique in Queensway Shopping Centre. At last, local sneakerheads had a place to hang out and purchase old-school, pumped up kicks like Nike Air Force 1s and Adidas Superstars.
Concurrently, Ong was slowly but surely building his cachet – he was an active member on online message board Niketalk and had won a sneaker customisation competition they had organised. His win garnered him more attention and he began to score orders from top boutiques such as Atmos and Chapter in Tokyo.
In 2006, Ong and Chopra embarked on their first collaboration – a release of Nike Dunk Low SB sneakers. They were blown out of the water by the enthusiasm for the shoes.
"There were 500 people queueing up overnight and sleeping in the Queensway Shopping Centre Carpark to get the shoes. If you think sneakers are a new thing and wasn't hyped previously, that is not true. We even had people paying domestic helpers and foreign workers to queue up for them," said Ong.
The collection even made headlines in the global press, including New Zealand and Bangkok and not surprisingly, it sold out in minutes.
"We have collectively done about 30 collaborations with the top shoe brands around the world… But… we have to fight harder and punch above our weight to create something enduring that will appeal to global audiences." – Mandeep Chopra
The rest, as they say, was history and the duo have been teaming up for various partnerships since then. Besides shoes, Ong also worked with Chopra to design some of Limited Edt's stores, including the back alley concept with a brick skateboarding wall for the Queensway store and a basketball locker room design for a store at 313@Somerset.
Another one of their more recent shoe collaborations was the Asics Monsoon Patrol Gel Lyte III shoe which was launched to acclaim at Singapore-based street culture festival Culture Cartel in 2018.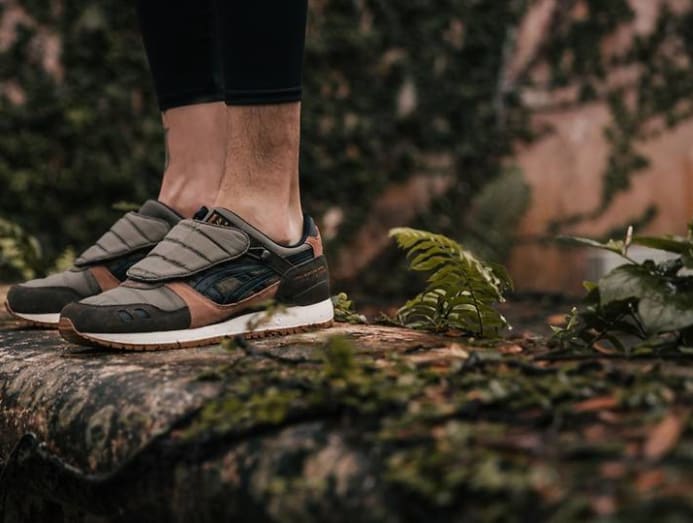 This year, Culture Cartel – of which Chopra is a partner – will return on Dec 5 as a free virtual event, as well as another launch in the duo's Monsoon Patrol series, which sneakerheads are anticipating will match the success of the previous iteration.
There is more to come, they say. They believe that there is potential to turn Monsoon Patrol and Urban Islander, their two most promising collaborations, into standalone brands that can even be stocked in boutiques around the world.
"We've learnt from the Urban Islander experience that the storytelling element such as building a microsite and having the pop-up makes a collaboration bigger than just one collection. It could live on as a separate brand – and that is good because this is something that is different from any other store in the world and we own it," said Chopra.
It will also be something that they can proudly declare to be a Singaporean brand.
"We have collectively done about 30 collaborations with the top shoe brands around the world and I honestly think that is a lot, especially because Singapore is so small. But that is exactly why we have to fight harder and punch above our weight to create something enduring that will appeal to global audiences," he added.