How this Singapore social entrepreneur is planting smiles amid these dark days
BloomBack founder Hazel Kweh gave up a high-flying finance job to start a floral business that benefits marginalised women who come from abused or disadvantaged backgrounds.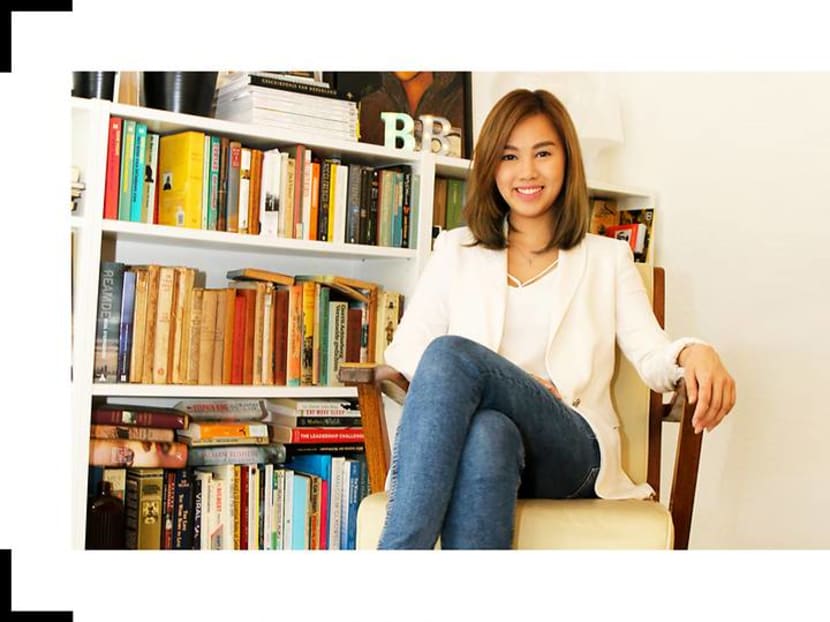 Countless marriages may have been saved since Gary Chapman's seminal book, The Five Love Languages, first hit bookshelves around the world in 1992, but we can't help but wonder how many more could have been salvaged if he had included a sixth: Floriography. 
Ah yes, the language of flowers, vaunted for centuries by lovers and romantics, and immortalised in our cultural vernacular by literary greats.
A rose from Shakespeare's day may no longer smell as sweet today, but all it has come to represent surely endures.
The art of floriography has taken on more meaning in modern times, with every flower ascribed a measure of emotion in their expression of sentiment; their purpose amplified in lighting up lives during these dark times.   
"People are still buying flowers and gifts to perk each other up. There may not be an occasion, but they're sending them randomly to put a smile on someone else's face. We're seeing messages like that and it's very heartwarming," shared Hazel Kweh, founder of BloomBack.
The three-year-old social enterprise finds itself living its mission and purpose of "spreading love and hope" more so these days, Kweh elaborated.
The floristry business, which began as a passion project to coax her elder sister out of depression, blossomed into a social movement they endearingly christened Bloom It Forward, where flowers from large-scale events such as weddings were repurposed and delivered to hospitals and nursing homes to cheer patients up.
Several months later, the movement evolved into an e-commerce business followed by a full-fledged retail outlet. The latter has been temporarily shut in line with the government's circuit breaker measures.
According to Kweh, sales have dipped about 20 per cent since the start of the outbreak, but it has also spurred more creativity and innovation in the business, as well as a sense of urgency in shortening the speed-to-market of new products such as its new DIY BBCraft Kits (not available for home delivery from May 1 to May 10).
The various gift and floral kit packages can be ordered online (starting from S$25) and delivered to homes for individuals and families to assemble during this period of self-isolation with the help of instructional videos BloomBack has developed, along with the necessary tools.
"COVID-19 has not only led to physical suffering, it's also causing a lot of emotional distress. Flowers have been proven to help with mental and emotional health so I thought it would be a nice gesture for a small business like ours to plant as many smiles as possible in the community during this period," she elaborated.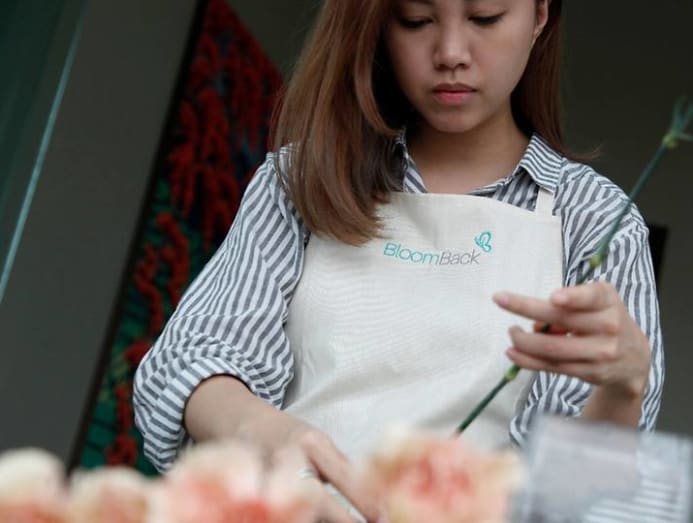 BloomBack's corporate workshops have also been moved online, and are now available for anyone who wishes to spend their time at home constructively learning the art of floristry.
"We are hoping that it will be time well spent for families to enjoy these therapeutic sessions together," she added.
The company is also working towards partnering with the SkillsFuture programme so that eligible Singaporeans can use their available credits to offset the course fees.
"This period is about social cohesion and resilience. The flower and gift industry is definitely impacted, but I guess it's not as bad as the F&B sector," observed the first-time entrepreneur who left a high-flying career as a financial advisor with Prudential and took a leap of faith to start BloomBack.
"Flowers have been proven to help with mental and emotional health so I thought it would be a nice gesture for a small business like ours to plant as many smiles as possible in the community during this period." – Hazel Kweh
PITS, PEAKS & PURPOSE​​​​​​​

At a crossroads then and unsure about which way forward, a friend suggested she read The Purpose Driven Life by Rick Warren. It provided the impetus she needed.
"During the peak of my career was actually the lowest point in my life," she confided. "I grew up in a low-income, single-parent family and there was always a fear of being poor again so wealth and materialism motivated me to work really hard."
Within five years, Kweh's hard work paid off and she qualified for the Million Dollar Round Table, quickly rising to a leadership position in the firm.
"I thought all those things would make me happy but I was wrong. Not only did I feel incomplete and empty inside, I was so jaded and I didn't look forward to going to work every day," Kweh explained.
Shell-shocked by the sudden feelings of void after having "made it", she tried to fill the cavernous space with God.
"That was the turning point because it changed my perspective on life. After reading the book, it made me reflect and realign my life purpose and to fix things that were close to my heart. So I made up my mind to put aside my successful career and decided to follow God's calling," she recalled.
Kweh roped in her sister for the Bloom It Forward initiative and when she incorporated the business, her sister Faith, who has visual and hearing impairments, was the first "beneficiary" of the new social enterprise, taking charge of the workshops.
"I witnessed how being part of the movement had positively impacted her; she felt that she could be a source of hope and spread love to others despite her own circumstances and therefore rise above them," she shared.
Working with non-profits such as Daughters of Tomorrow and the Singapore Council of Women's Organisations, BloomBack has to date helped over 20 marginalised women from abused or disadvantaged backgrounds get back on their feet and regain not just financial independence but their confidence, too.
Every purchase of BloomBack gifts and flowers also contributes towards providing marginalised women with holistic training and employment opportunities in skills related to floristry, sales, marketing and technology.
The company has since expanded its social mission to extend employment opportunities to more beneficiary groups such those with physical impairments as well as chronic medical conditions.
Currently in its employ, for example, is a hearing-impaired colleague who handles customer service (except phone calls) as well as operational functions such as stock-taking.
Another employee, a content writer in BloomBack's team of nine, suffers from epilepsy.
"Before she joined us, she found it a challenge clocking in regular office hours due to the side effects of her medication. So we worked around her condition and offered her flexible working hours and we tabulate her salary accordingly," said Kweh.
"As we hire marginalised individuals, they generally need more handholding and support so this can be a challenge," she added.
For all its efforts in empowering others, BloomBack is itself a beneciary of the DBS Social Enterprise Support Programme since 2018, in which Kweh, who has a degree in marketing from an Australian university, receives valuable mentorship by senior executives in the bank on various areas such as marketing, website analytics and product development.
That same year, the 35-year-old social entrepreneur was named one of Her World Singapore's 20 Most Inspiring Women of the Year and she also made it to Asia Tatler's Gen.T List.
Today, Kweh's dream to create a sustainable and socially conscious company continues to bloom, but to a slightly different degree, given the country's muted operational climate.
With large-scale events all cancelled, the stream of donated flowers has ceased but individuals can still opt to bloom it forward by contributing S$10 donations for preserved flower buckets to be delivered to healthcare workers instead.
"We are a brand that is very big on sustainability and this value hasn't changed since the start. We import fresh flowers preserved using modern technology and handcraft them into floral arrangements to lift the spirits of these healthcare workers – as an eco-friendly option where they do not have to worry about maintaining the flowers at all," she said.
Flowers, after all, are quite certain to put a smile on someone's face.